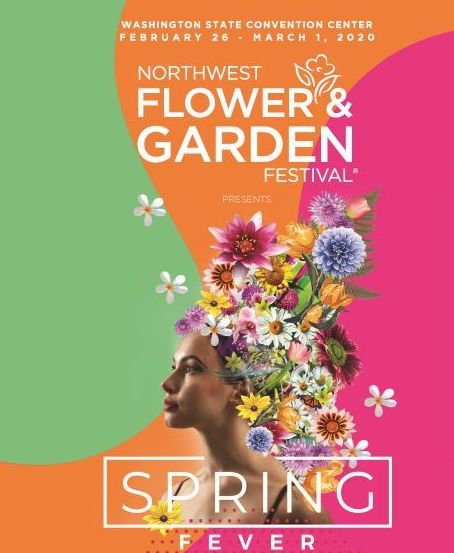 WOW – what a whirlwind week it was at Seattle's Northwest Flower & Garden Show!   
For several years now, I've flown to Seattle to speak at this event, and without a doubt, it's one of my all-time favorite garden shows.  
Inspirational demonstration gardens, tons of top-notch vendors selling things I can't find anywhere else, super interesting presentations (more than anyone could ever see!) are just a few of the reasons why this show is the best.
But the main reason why I love this show so much is the attendees.   
Every time I'm here,  I feel like I've returned home to the gardening mothership, surrounded by hundreds and hundreds of fellow-garden enthusiasts.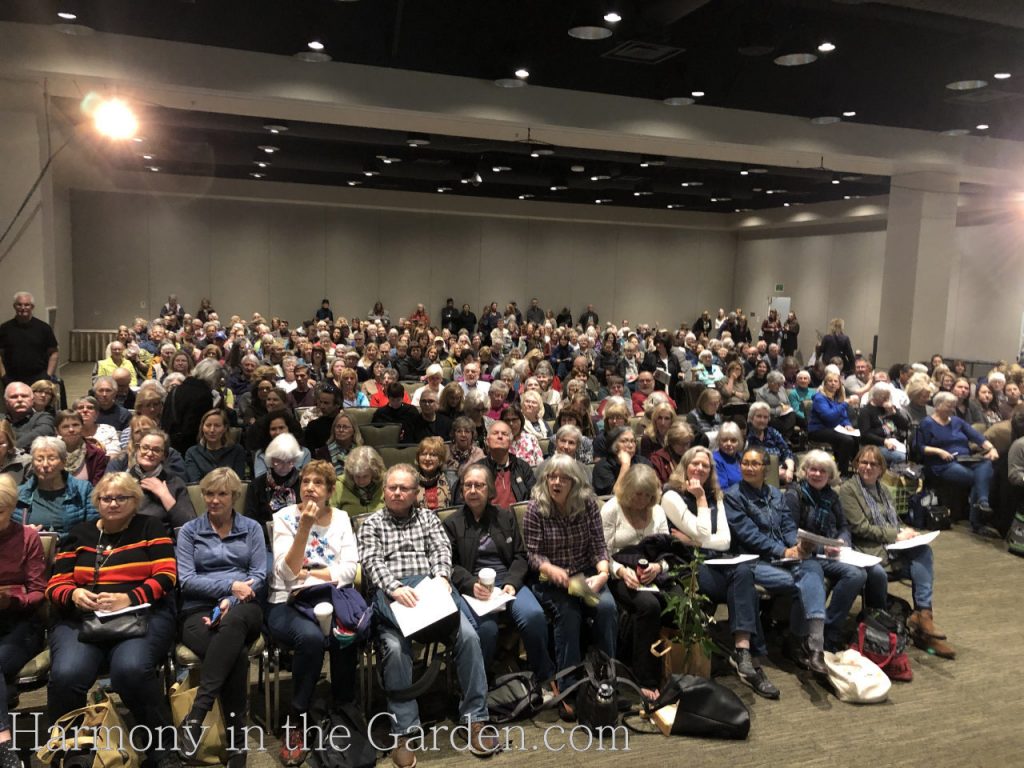 The excitement in the air is palpable, and making new friends is a given.
I think it's virtually impossible to attend this show and not find yourself talking to random strangers!
This year I not only spoke at a new-to-me garden club (hello, new Woodinville blog subscribers!), but I also presented two new talks at the show (one was standing room only in a 450-chair venue!)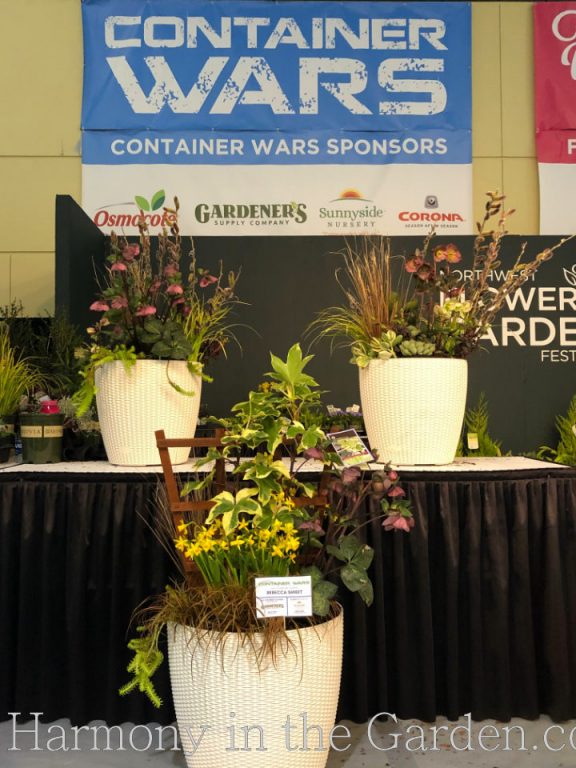 This was also the second year in a row that I competed in Container Wars which, quite honestly, is THE most stressful 30 minutes I can imagine!  
Container Wars is a competition where two designers create THREE containers using a given number of plants – all within 30 minutes and in front of a large crowd. 
And just to add to the 'fun,' the emcee throws out one challenge after another (ie: reducing our 30 minutes down to 20, having each contestant remove a key plant from our opponent's container, etc.) 
At the end, the audience claps and a Clap-O-Meter (yes, there really is such a thing as a Clap-O-Meter) registers who won the challenge. 
Oy vey – every time I've done this, I feel like I've aged a few years, but since the containers are all donated to the Children's Hospital, it's definitely worth it!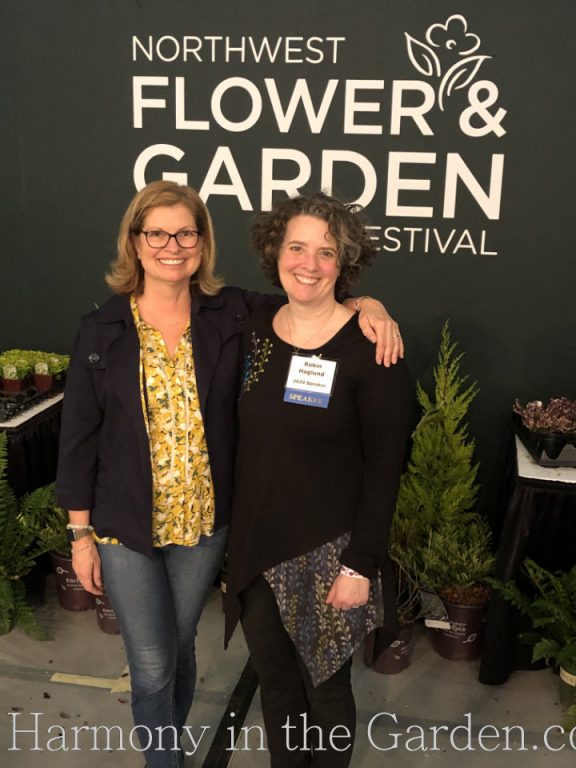 This year, my co-competitor Robin Haglund and I decided to mix it up a bit, and instead of choosing 'war,' we chose 'peace' and brought each other peace-offerings from our gardens. 
Robin brought an armful of pink pussy willow branches cut from her 5-acre farm, and I brought a 'Harmony' sign dotted with little 'Sunburst' aeoniums from my garden.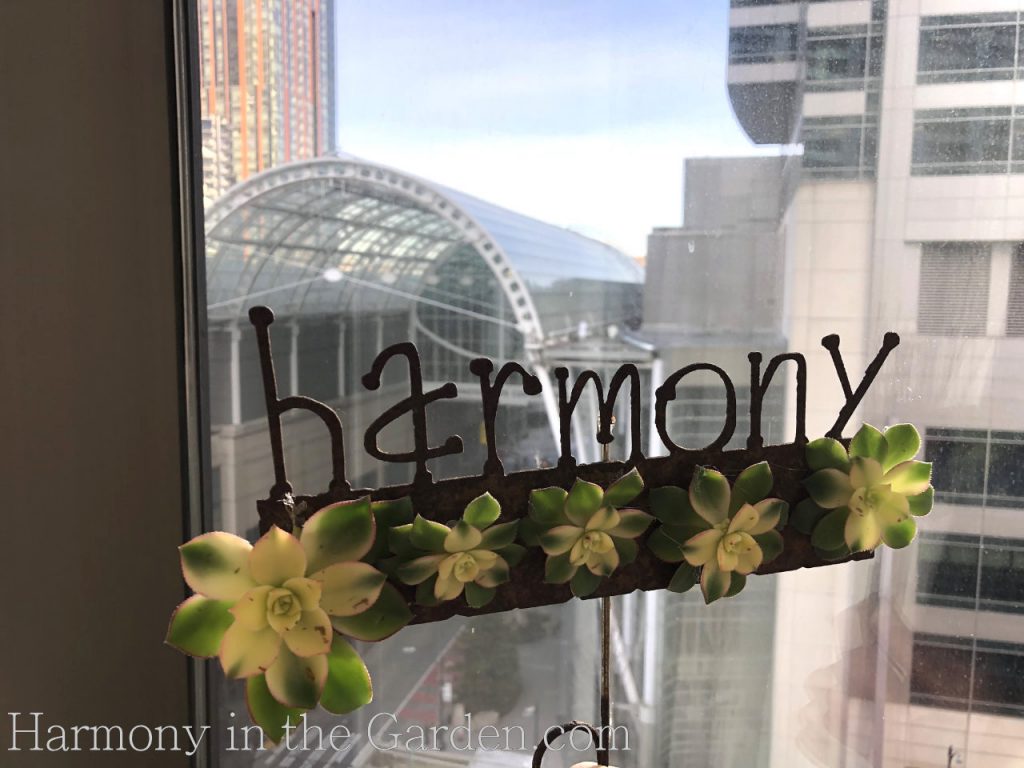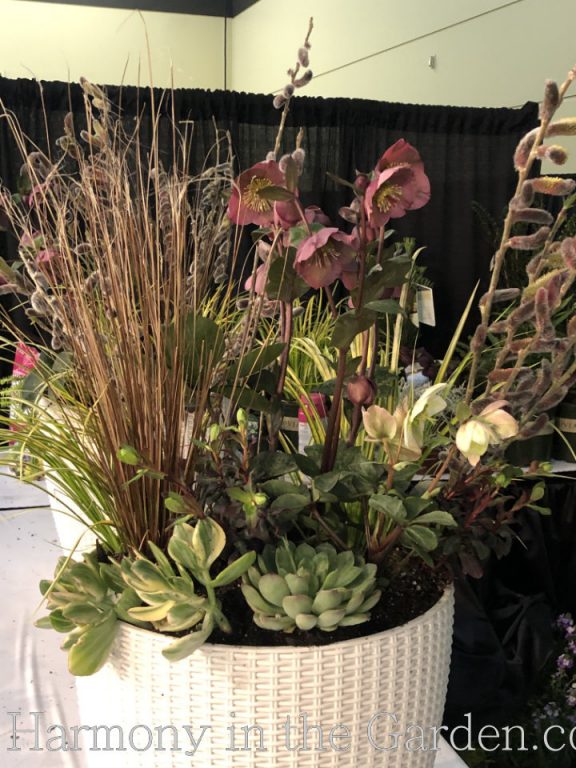 Quite honestly, I think the only reason I won was due to the gorgeous color echoes I created from the hellebore and the pussy willows Robin brought!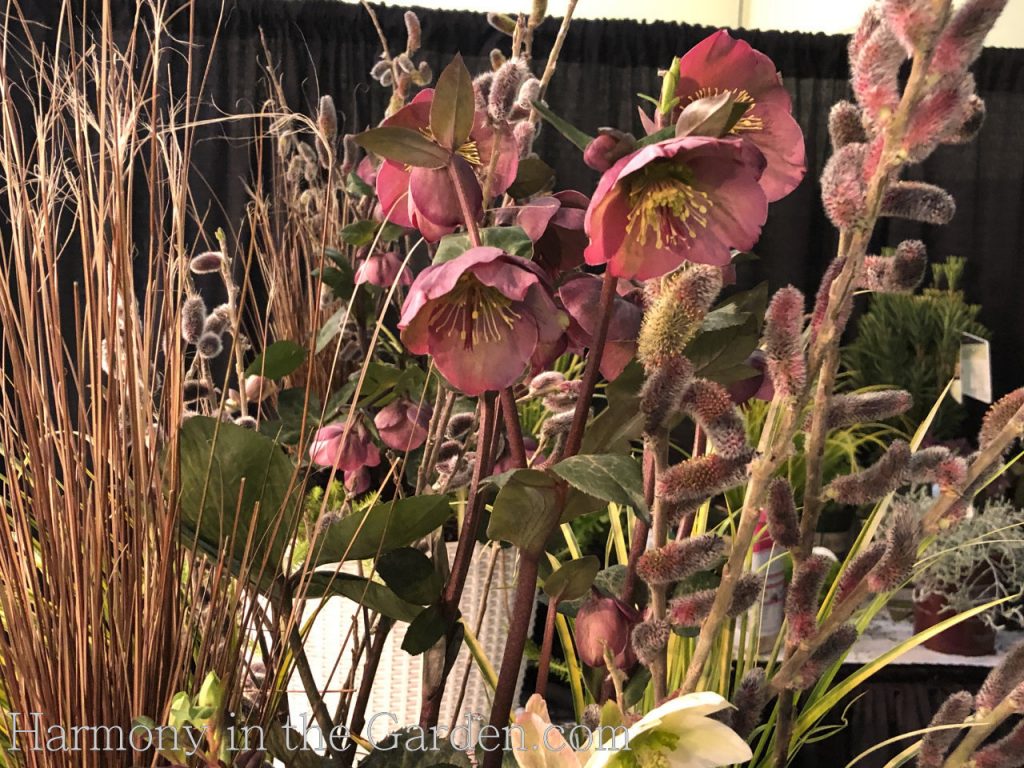 But the show wouldn't be the show it is without the show gardens.  
This year, in particular, the level of creativity took my breath away.  So today, I wanted to highlight a few of my favorites.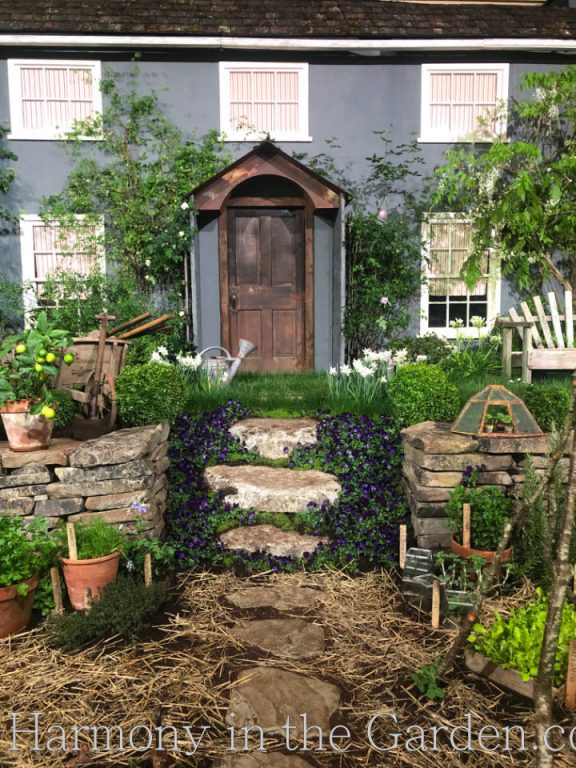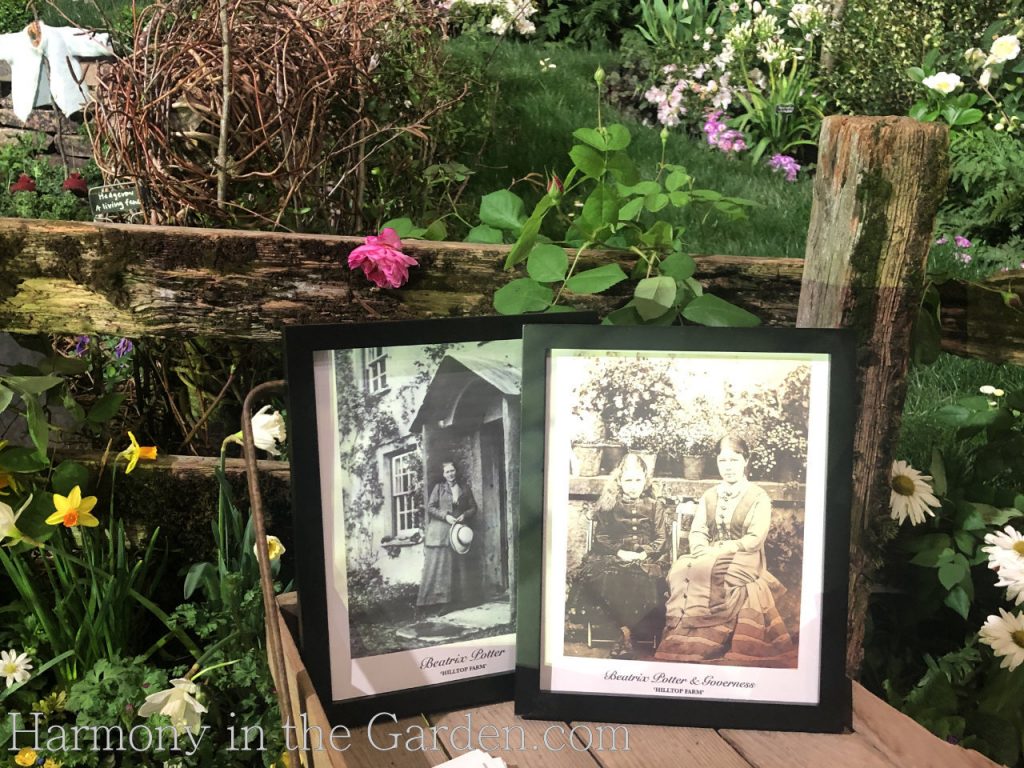 Hands down, my very favorite show garden (also the Founder's Cup Award winner!) was the Hill Top Farm – an interpretation of Beatrix Potter's home and garden in England's Lake District. 
In all the garden events I've attended over the years, I've never seen an English home of this quality built for the show.
That's Beatrix Potter in the photos above, btw.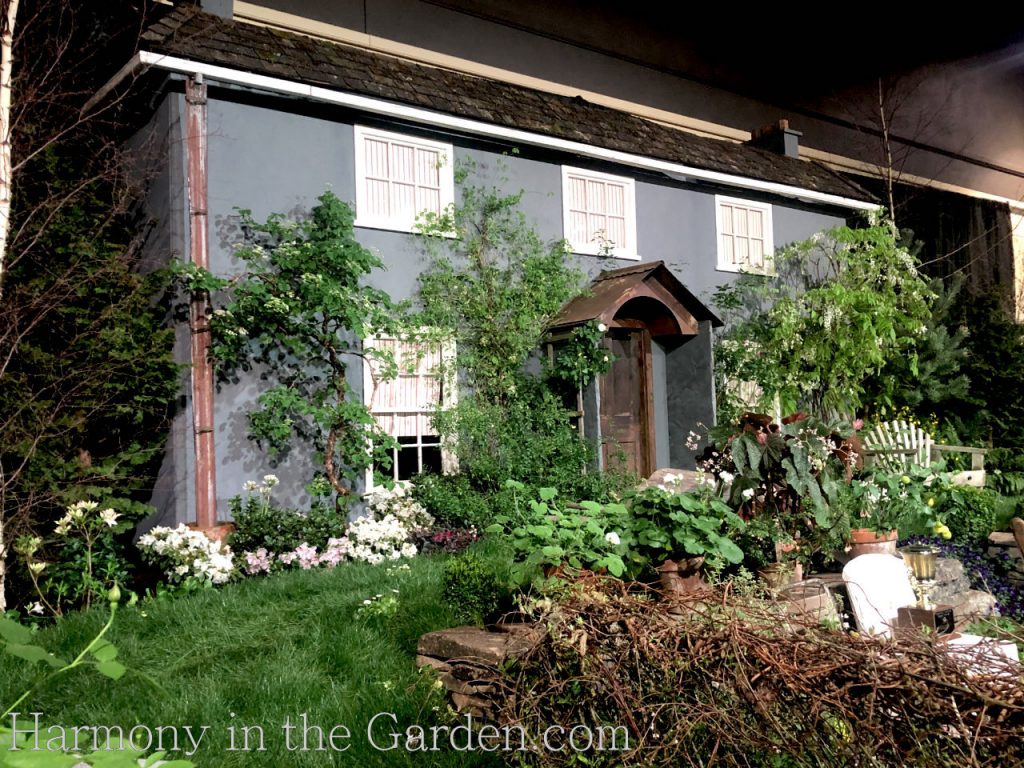 And then there's the garden itself. 
There isn't a detail left out, with a garden that's absolutely stuffed (in a glorious English country garden sort of way) with every type of gorgeous perennial you could dream of.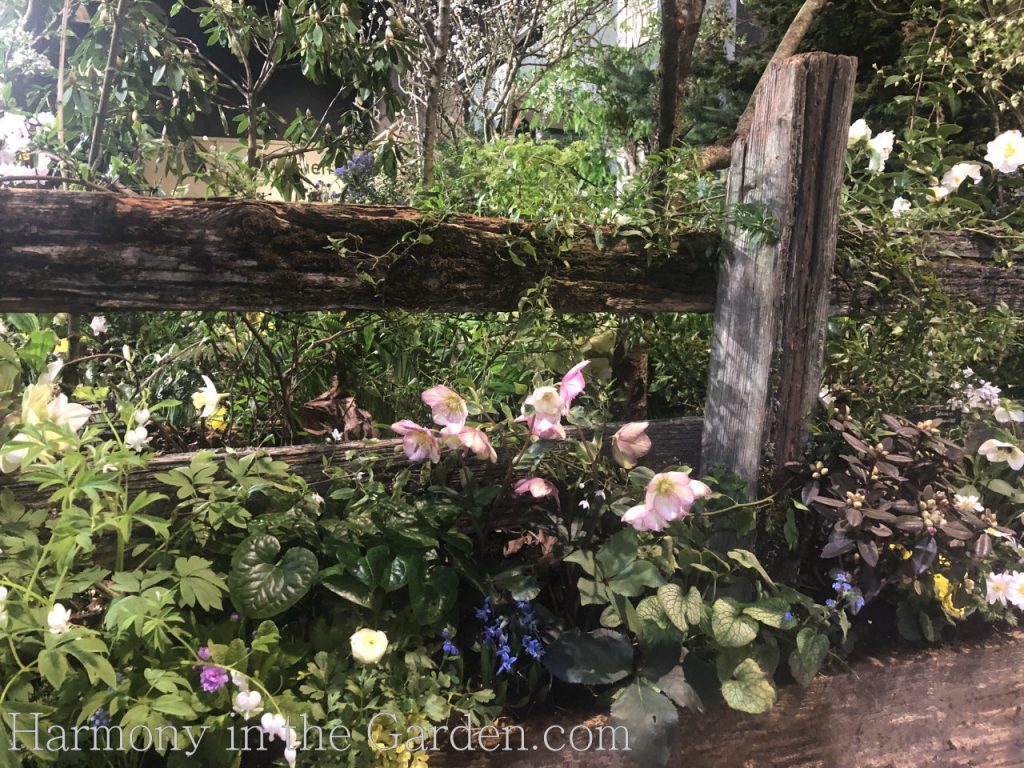 Over the course of the week, it took several visits to this garden to absorb all its details. 
There isn't just one, but THREE examples of English fences you might find in the countryside.
Examples include this rail-style fence made from salvaged wood.
I must've taken 50 photos of various sections of this fence as it was clear they hand-selected each and every post.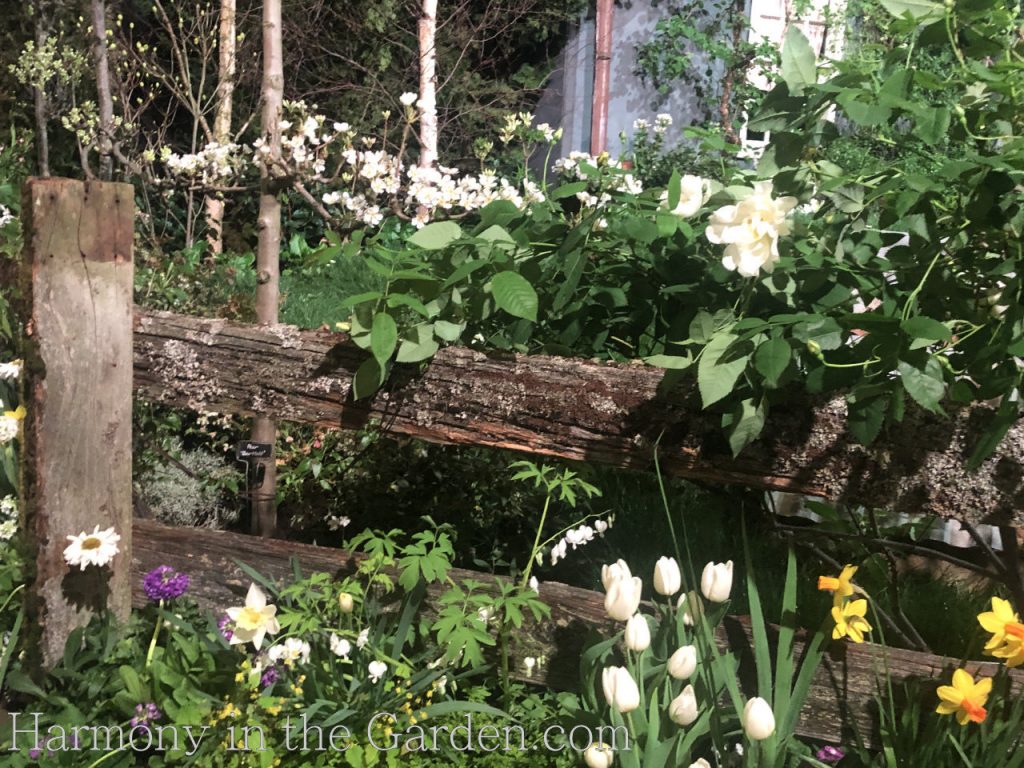 The fence looked like it had been there for decades – not an easy feat to accomplish, considering the creators of the garden only have a few days to install it!
I tried to capture the little ladybugs that wandered throughout the flowers, but alas, I couldn't.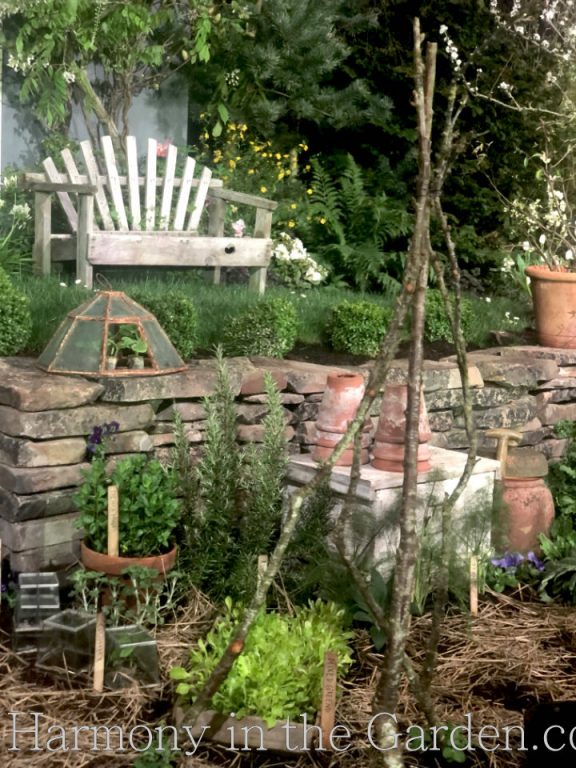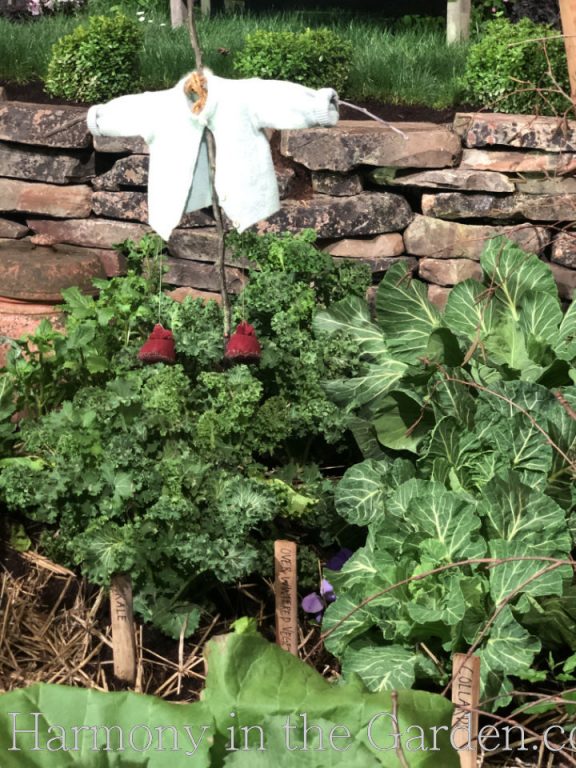 The second example of a classic English fence (well, a wall, really) is the drystone wall built by master 'Wallers' (yes, that's what they're called).
Creating a wall such as this, that can stand the test of centuries, is no easy feat! 
These artisans have studied for years the art of constructing walls similar to the 18th century walls built by European farmers.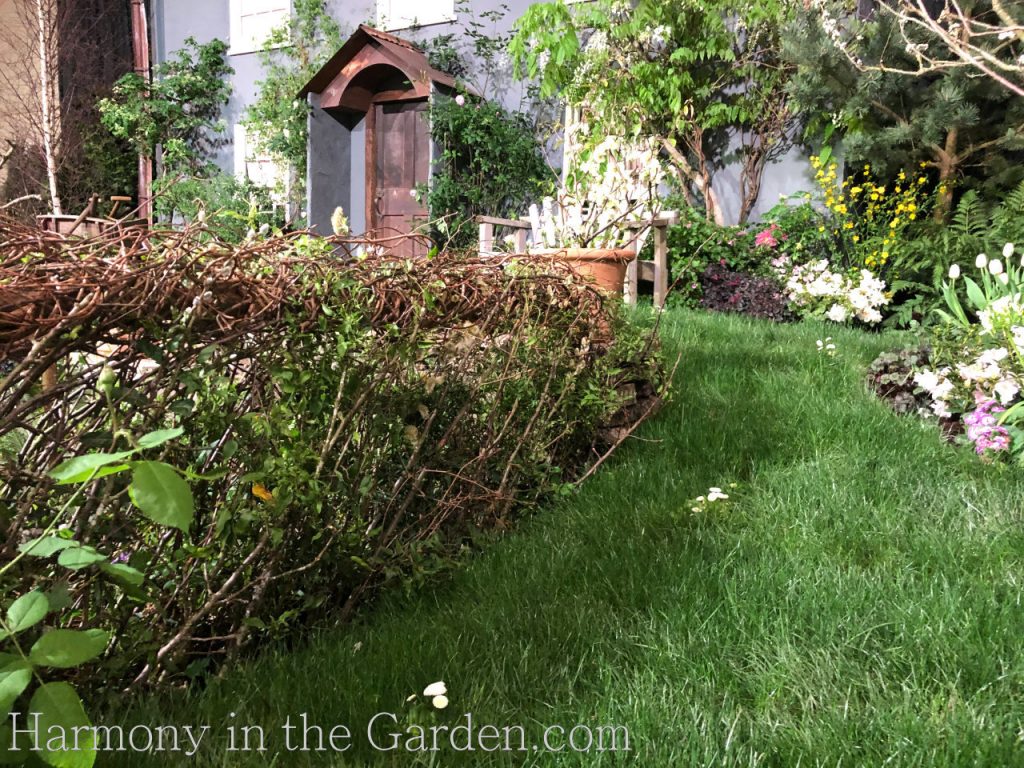 The third type of fence is the living willow and vine fence.
This seemed to be a favorite spot to hide for those little ladybugs – just out of range of my camera!
And notice the meadow path is complete with little daisies that appear to have randomly reseeded.
Other special touches from this garden, include: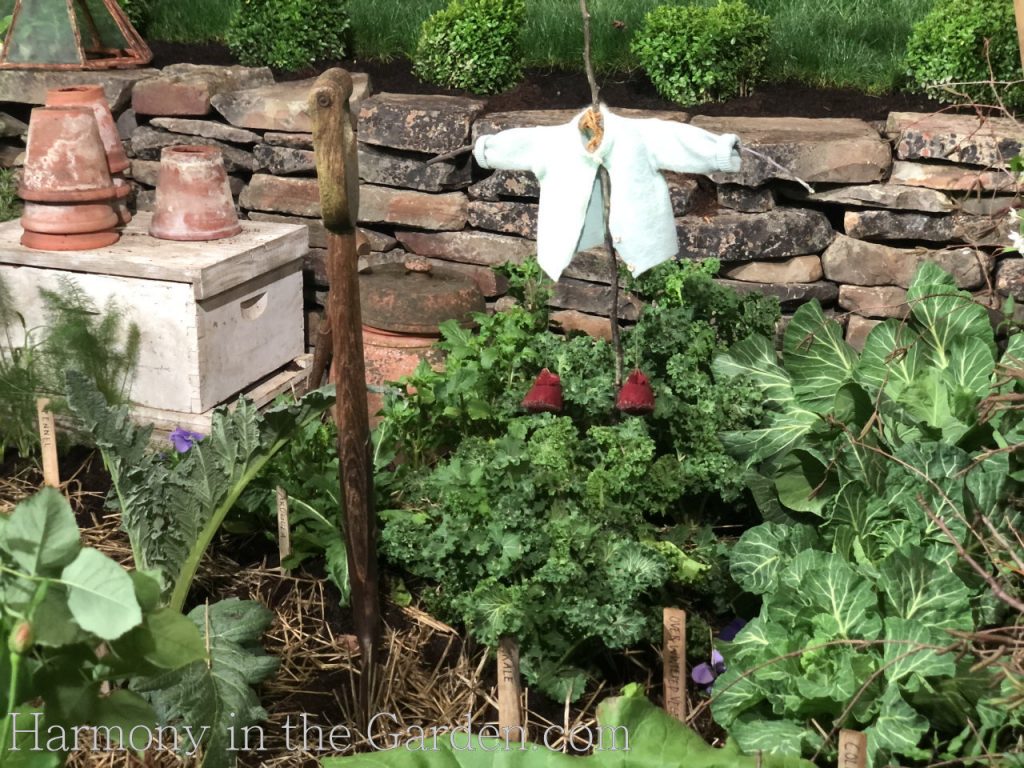 …the sweetest little scarecrow in the vegetable garden.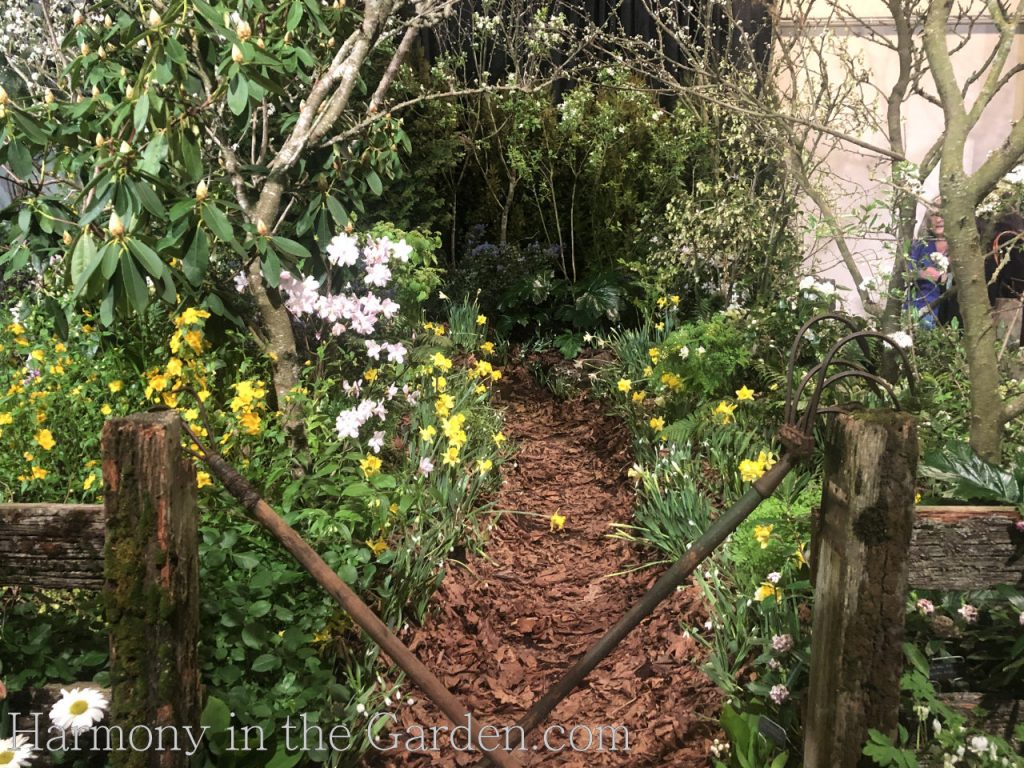 …to the grassy pathway mulched with leaves.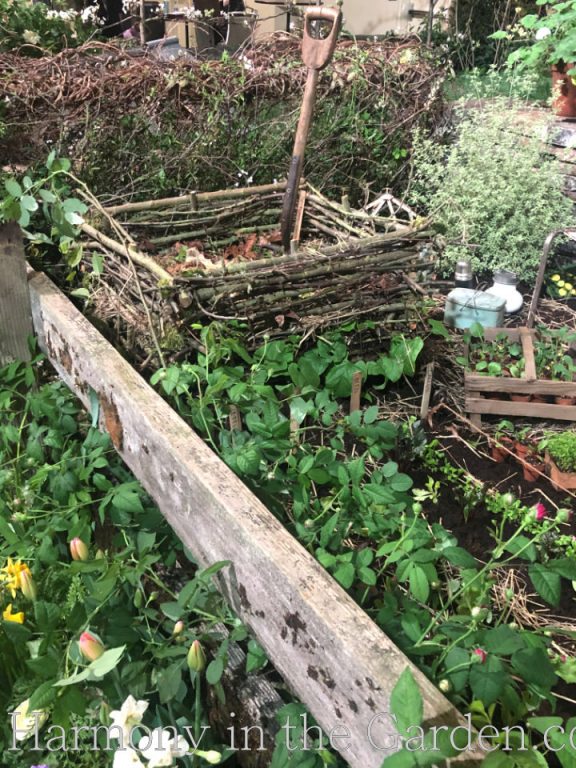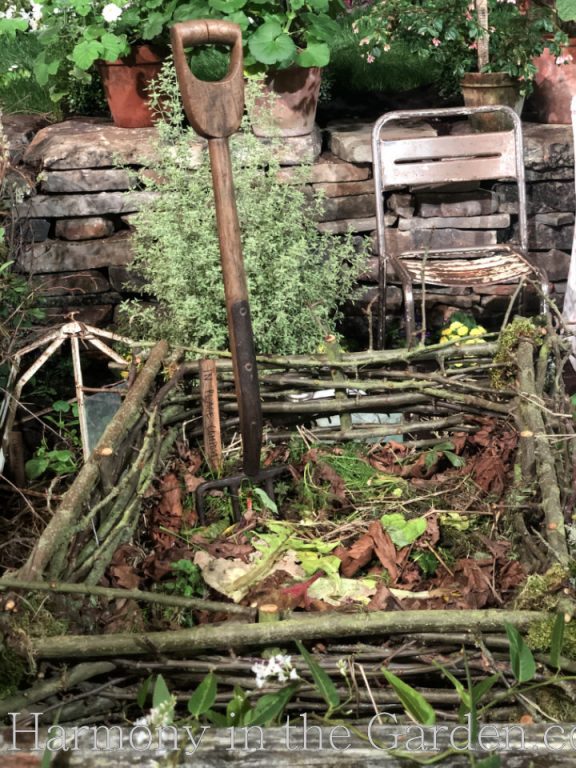 …to the most charming composter I've ever seen.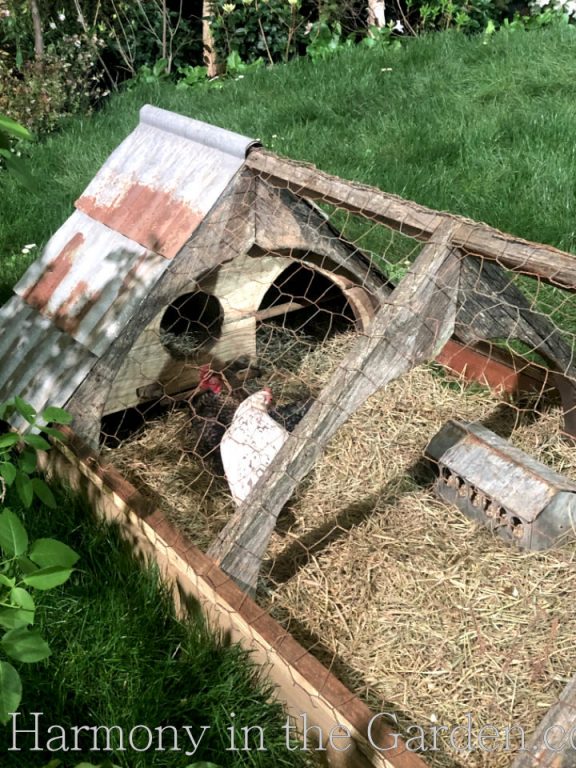 And what country garden wouldn't be complete without CHICKENS!
**If you'd like to know more about what goes into creating a magnificent garden such as this,  click here for an interesting interview by its creators.
**Remember the Notting Hill Garden from last year's show?  It's another English garden, but on the opposite end of the spectrum. 
Instead of a romantic, classic English country garden (such as Hill Top Farm), it's a contemporary small-space garden you might find in the heart of London.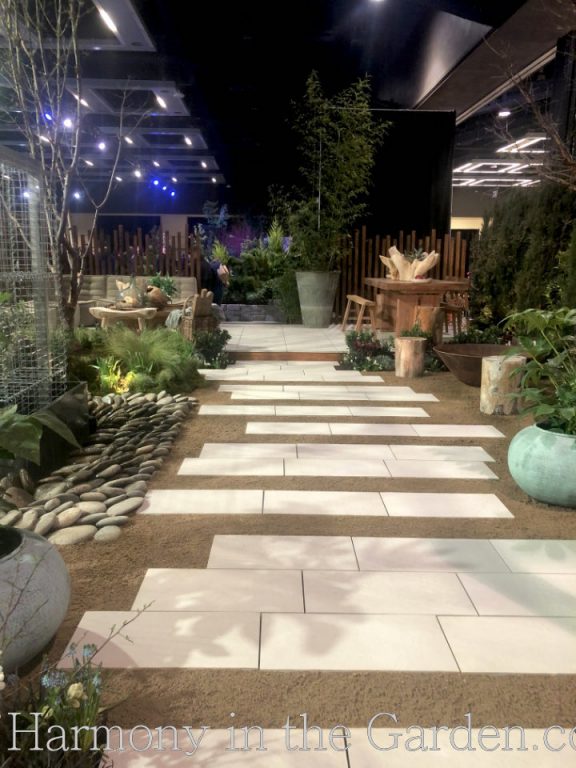 In stark contrast to Hill Top Farm, my second favorite garden was the contemporary garden (designed by Jenny & Jonathon Bossick.
 I wasn't alone in feeling this way, as this garden won 2nd place in the prestigious People's Choice Award.
Even though my personal style of gardening (for myself and others) isn't contemporary by design, I still have the utmost respect for designers who do it right.
Often times, contemporary gardens can feel cold, stark, and a bit impersonal due to its simplicity and clean, straight lines. 
But, not this one.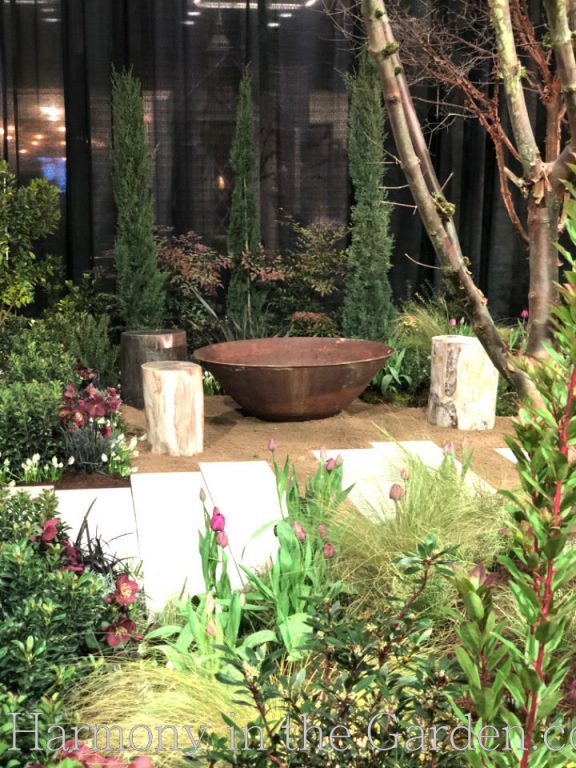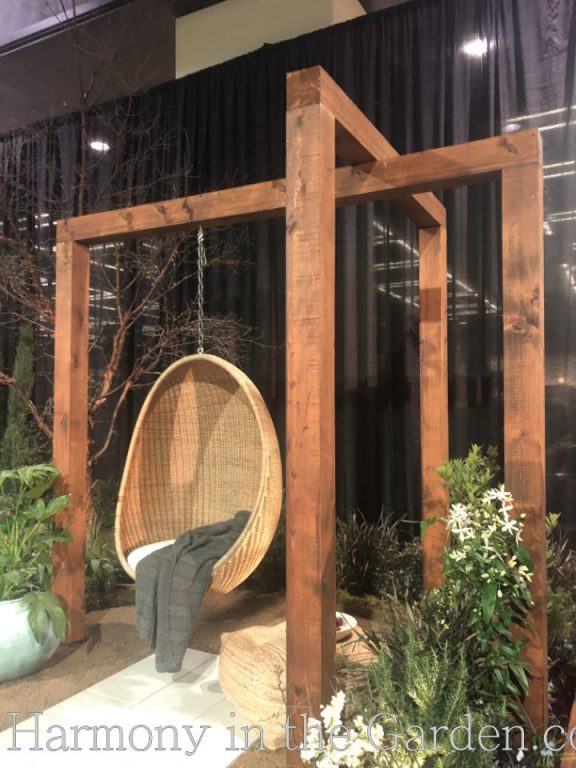 Touches like a pared-down color palette of warm maroons, reds, and greens help to soften the space.
As do the warm tones of the asymmetrical, wooden fence and the angular structure that supports the rattan swinging chair.
The simple lines, warm in color, yet contemporary and sleek in style.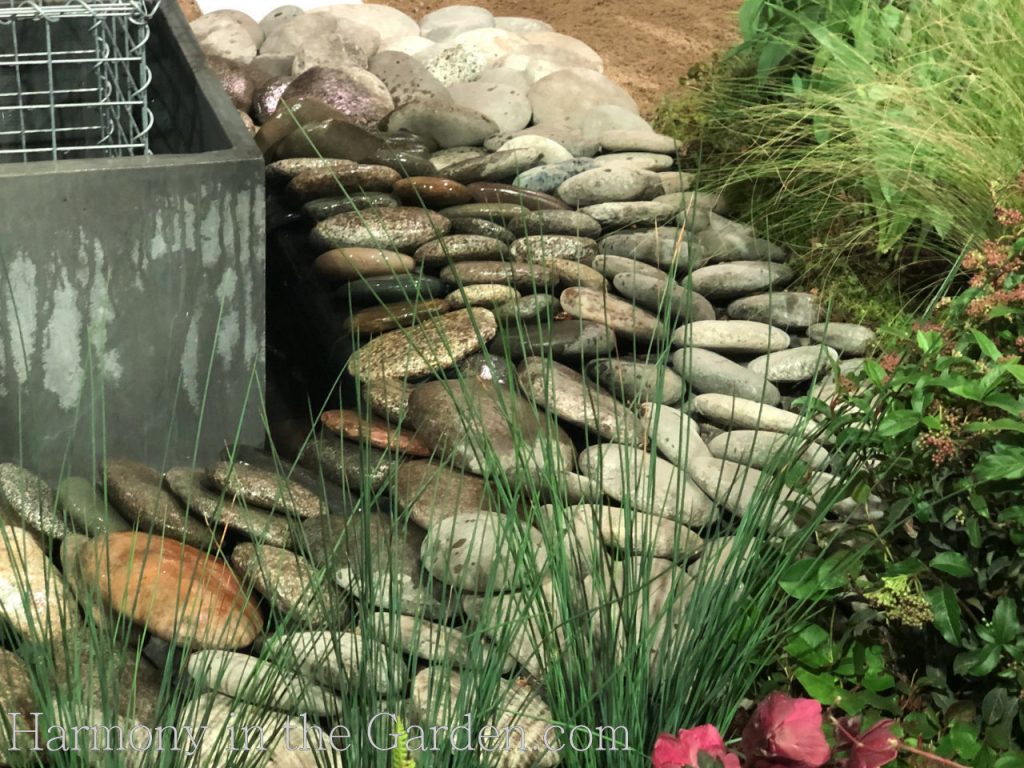 And, as with the Hill Top Farm garden, there was incredible attention to detail.
Such as the careful layering of the flat river stones at the base of the fountain.
I have a lot more to share with you so please stay tuned for next week's Northwest Flower & Garden Show Recap Part 2!