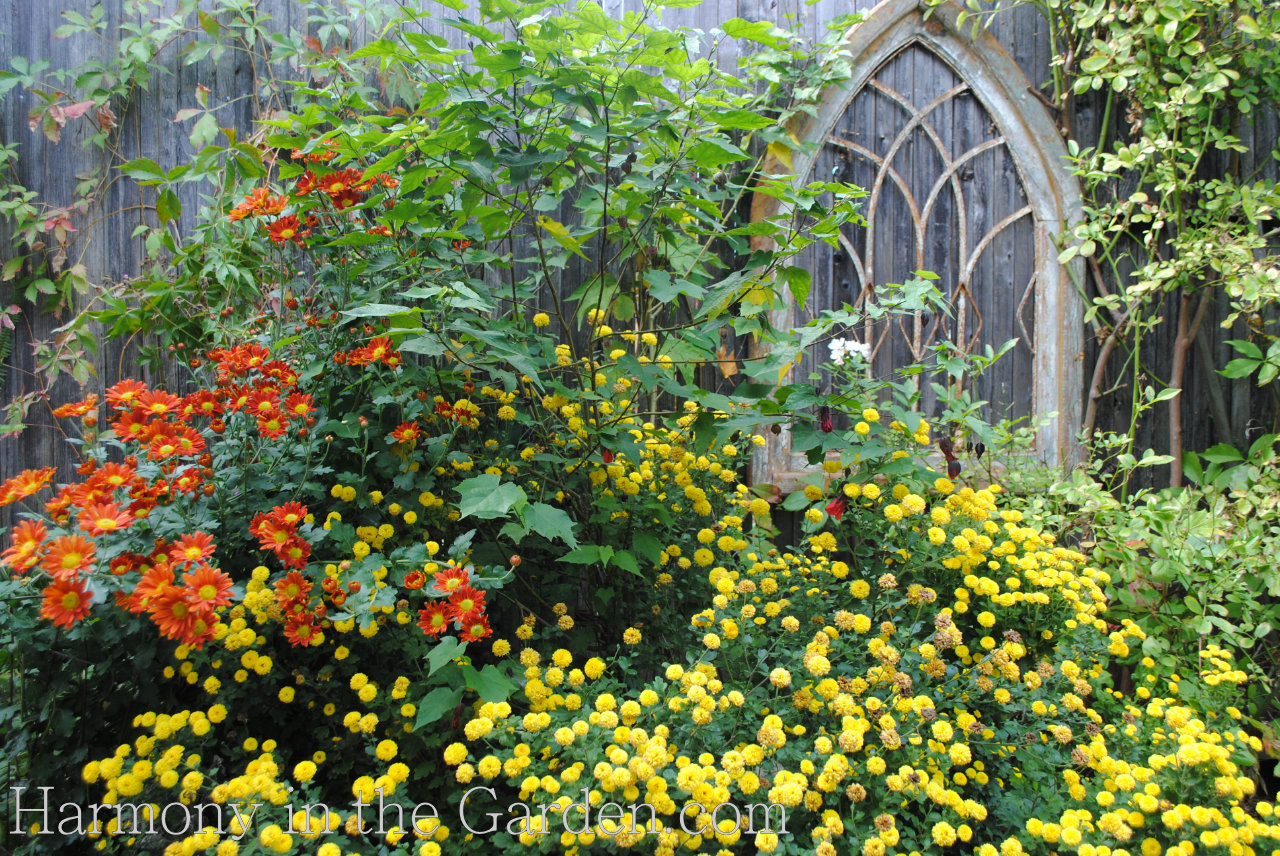 Fall is taking its sweet time showing up where I live in Granite Bay. As I currently write this, it's late October and a way-too-hot 87 degrees outside, but my garden is loving it.
Insects and hummingbirds are everywhere, buzzing from plant to plant, storing up as much energy as they can before cold weather finally makes an appearance.
Late summer/early fall can often be a tricky time in the garden.  Lots of plants are feeling like I do this time of year – just plain sick and tired of the heat, completely drained and lackluster.
And most fall and winter bloomers aren't quite ready to jump forth and take center stage, as they're patiently waiting for cooler temperatures to arrive.
The result can be less than exciting, with the most common color in the garden a washed-out, drab, tired shade of green.  But that doesn't have to be the case!
I've been in my new home now a little over 2-years, and have spent the bulk of my time remodeling my very-outdated home and even-more-outdated garden.  Actually, that's not true.  It would be a compliment to say my garden was outdated. It was more like completely neglected, but that's for another day and a different blog post.
Now that some of the plants in my garden have had a couple of seasons under their belt, they're really kicking into gear.  So today, I wanted to highlight a few of them that are hot-spots of activity right now.  These plants not only add much-needed color to my garden but also serve as valuable nectar and food sources for the wildlife (but not all wildlife – the deer, rabbits, and turkeys have entirely left them alone alone.)
'Sheffield Pink' chrysanthemums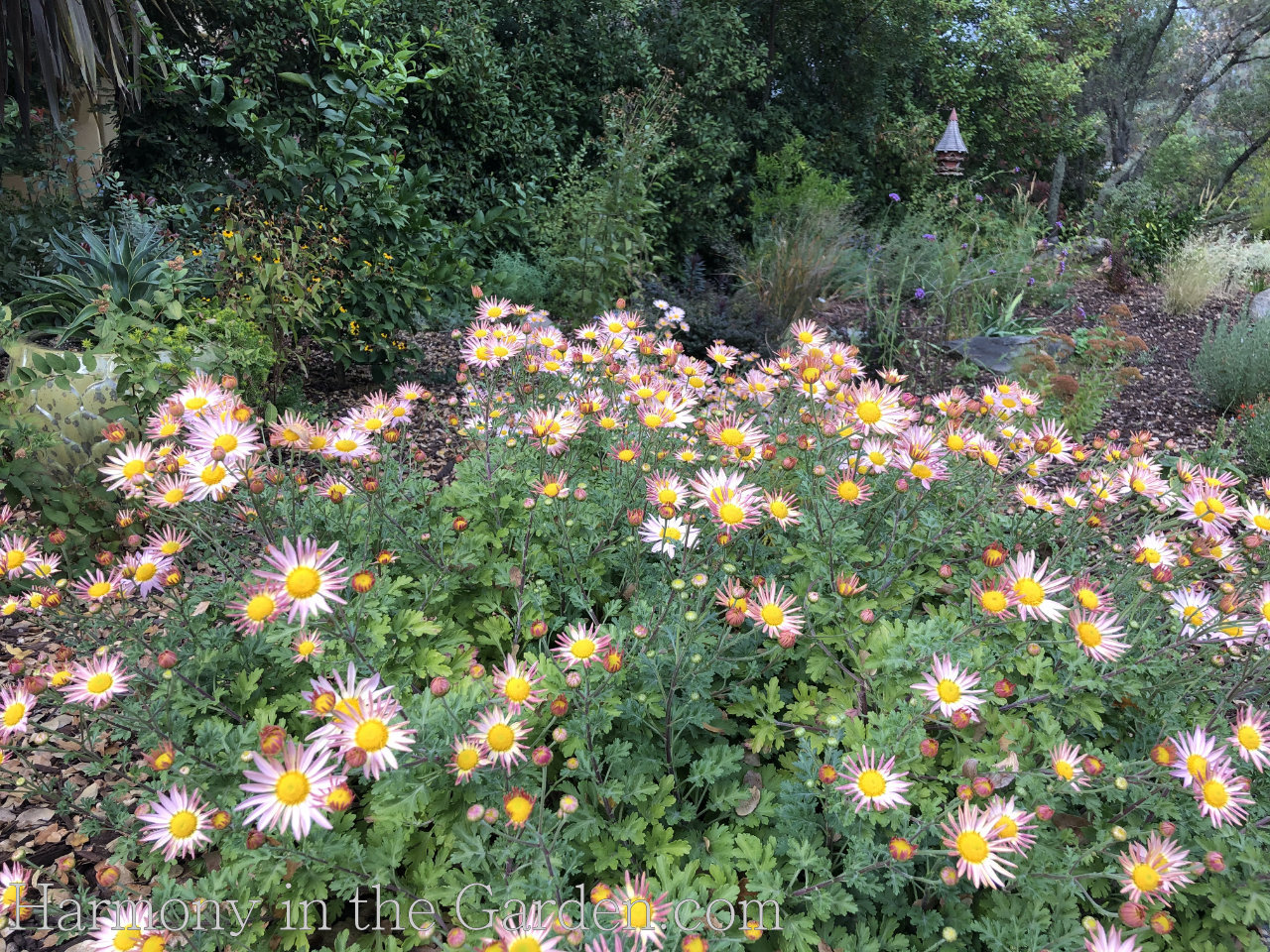 There's one plant in particular that serves as a giant all-you-can-eat-buffet in my garden – the 'Sheffield Pink' chrysanthemum.
This beauty has stolen my heart, for it not only holds up to the blistering heat of our summers (taking 105 temps in stride) but is covered with zillions of the prettiest flowers in shades of apricot-pink.
I'm usually not a huge fan of pink, but somehow I have a lot of this color in my garden.
And I'm not a huge fan of chrysanthemums either (despite the photo at the top of this article, of the two unknown mums that grew in my previous garden.)
But this pink and this chrysanthemum are both amazing.
Each flower contains subtle shades of soft apricot, peach, and light pink which glow in the garden (versus 'glare', like a lot of other pinks do).
And just LOOK at the activity happening on just one of my three plants– it's amazing!  In fact, last week there also was a giant yellow and black garden spider in there, but I had my husband relocate it to another plant so I didn't accidentally run into it.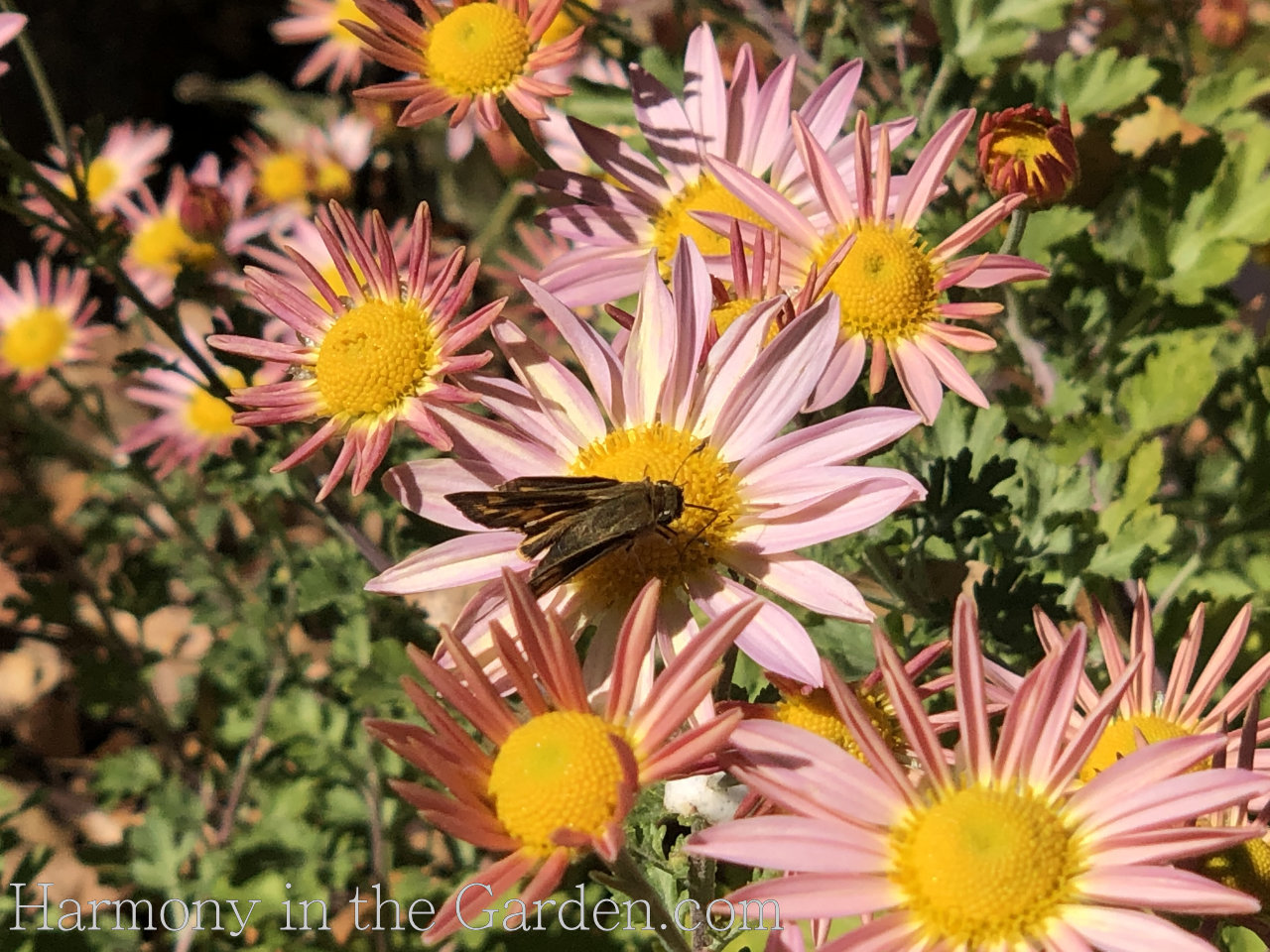 I've never seen this variety available in nurseries in my area, so I ordered it from Bluestone Perennials when I first moved here.
Each of the three plants came in the tiniest little 4" pots.  And now, they're each at least 3' wide and has been blooming for three weeks now with no signs of slowing down.
And the subtle orange colors that are in the petals perfectly blend with the other orange flowers that are in the nearby garden bed (and you
know
my feelings about
orange
!)
Helianthus angustifolius (Swamp Sunflower)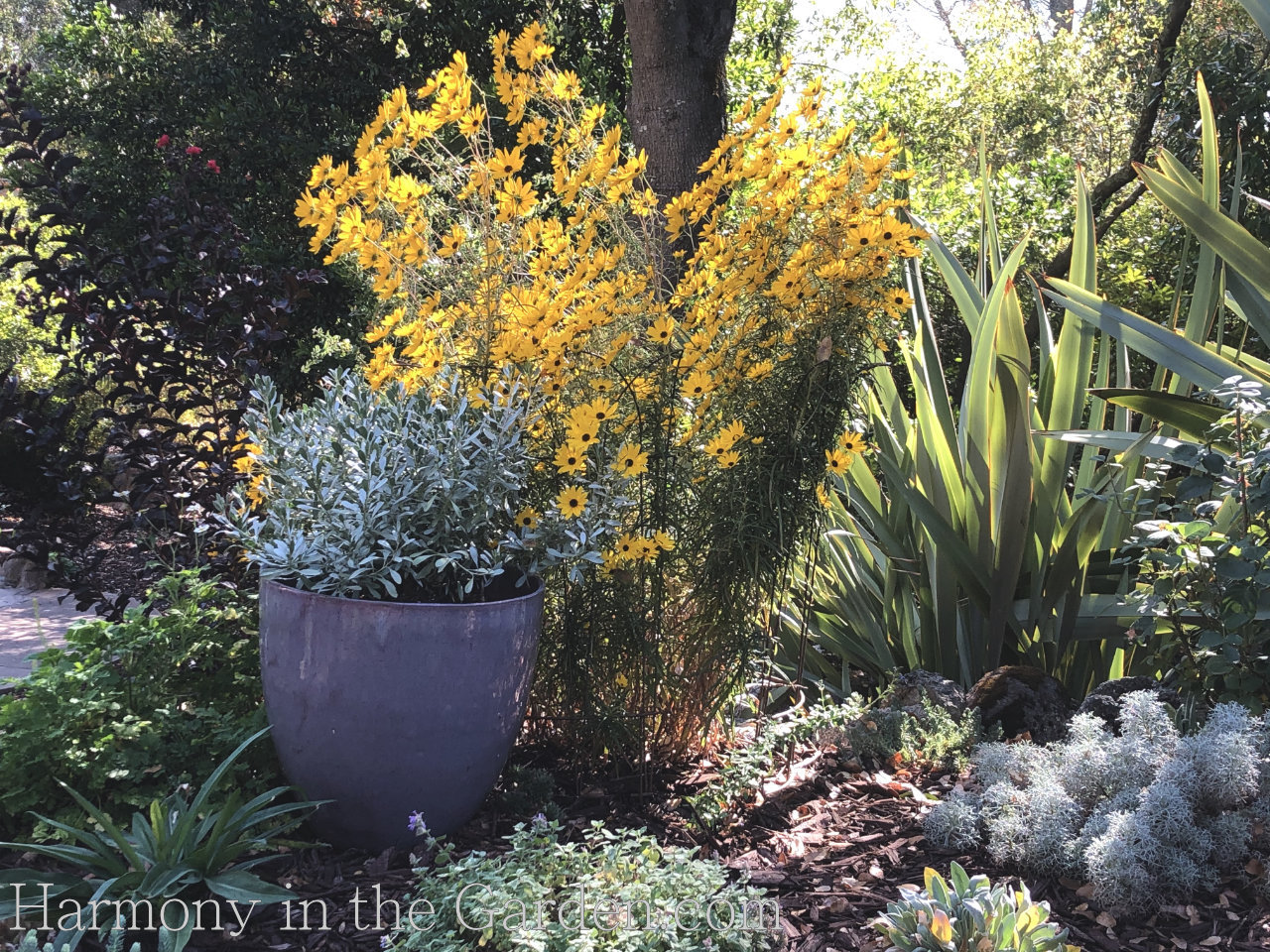 Many of the plants in my new garden were given to me by my mother, including this helianthus angustifolius (with the unfortunate nickname of Swamp Sunflower).
I suppose they might grow in a swamp (why else would they be called that, right?), but mine happily grow in my very unswamp-like garden.
Trust me, my soil is opposite of a swamp, but here they are, like a spotlight with their bright, cheery blooms.
When designing gardens for others, I always like to include as many succession-style plantings as I can.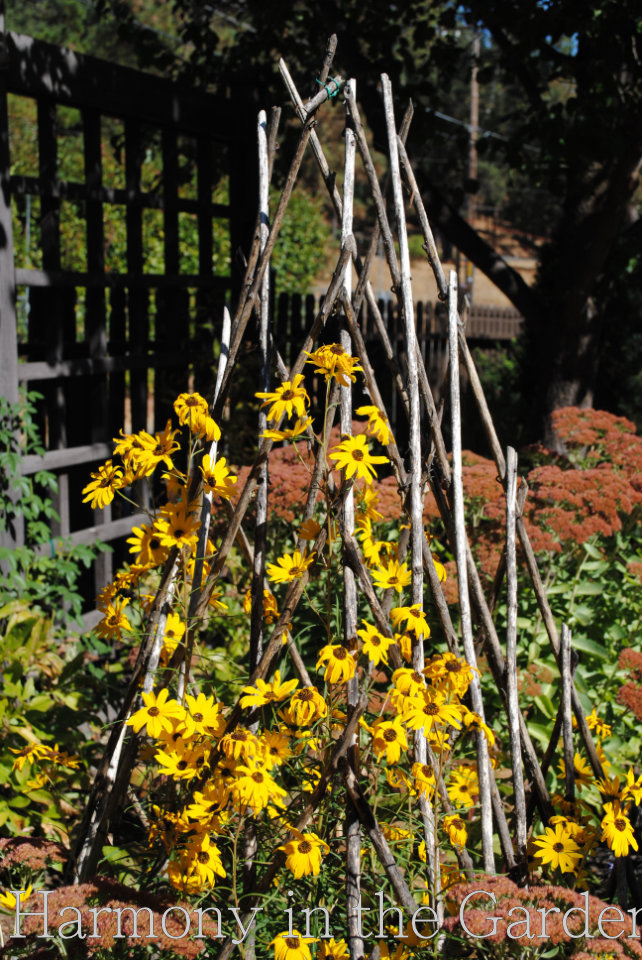 I don't mean just making sure to plant things that bloom throughout the various seasons of the year, but to plant things side by side that have similar blooms but with different times.
That way, instead of only having 3-weeks or so of blooms, you might end up with 6 to 8-weeks (or more!) of similar blooms.
Examples of this would be planting a Pink Jasmine vine next to a Star Jasmine Vine (scroll down a bit in this article, and you can see a photo of the two jasmines).
Another favorite succession planting combo are rudbeckia triloba (below, on the left) planted near a helianthus (below, on the right), which results in a whopping 8-10 weeks of gorgeous yellow daisy-like blooms.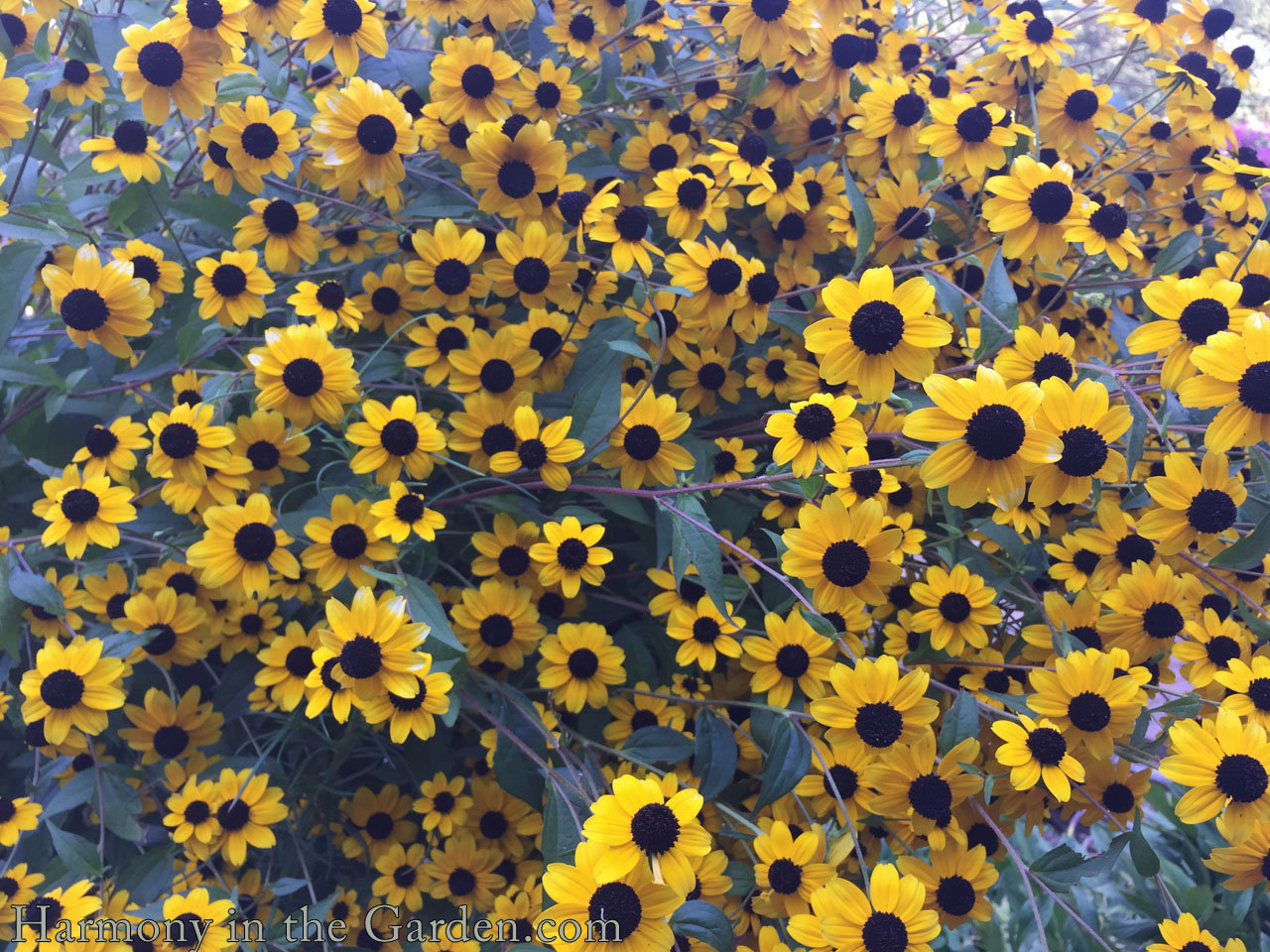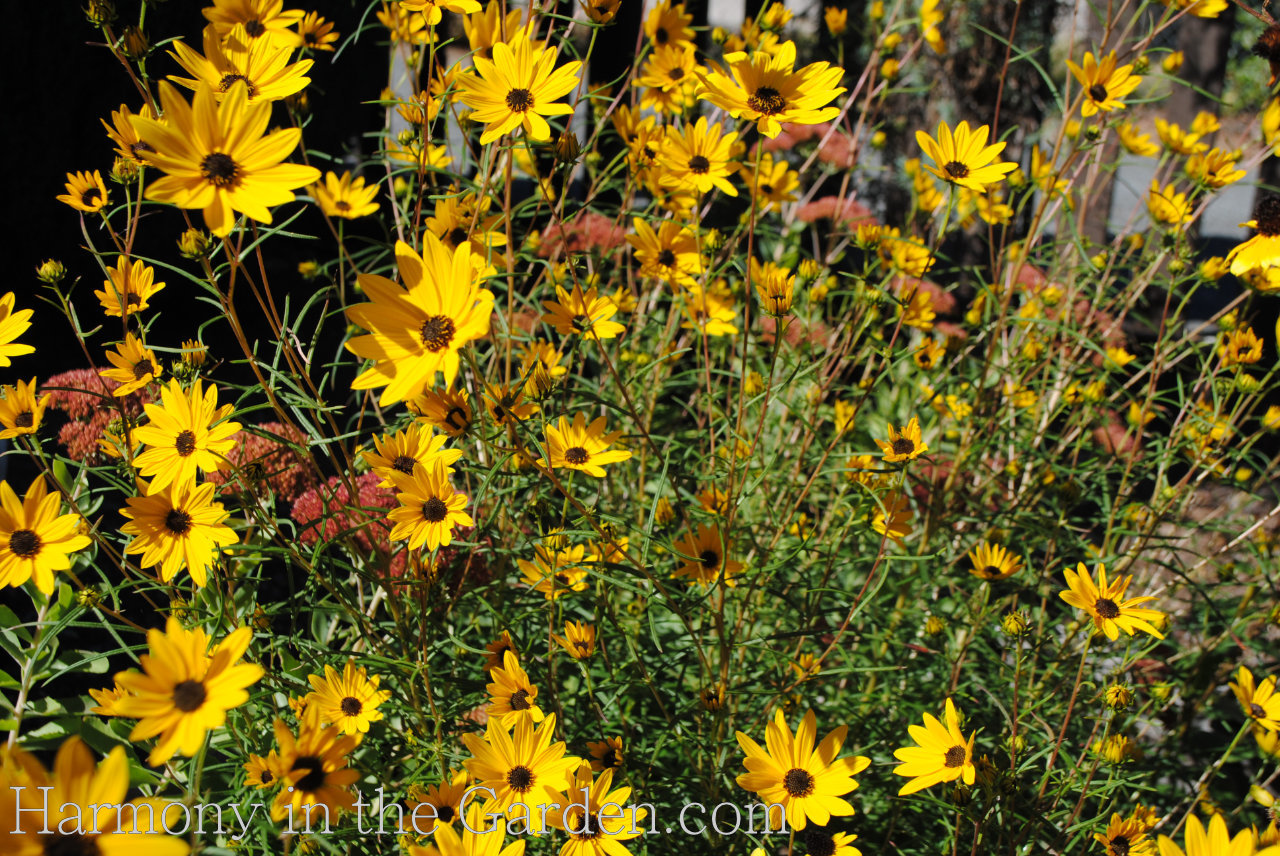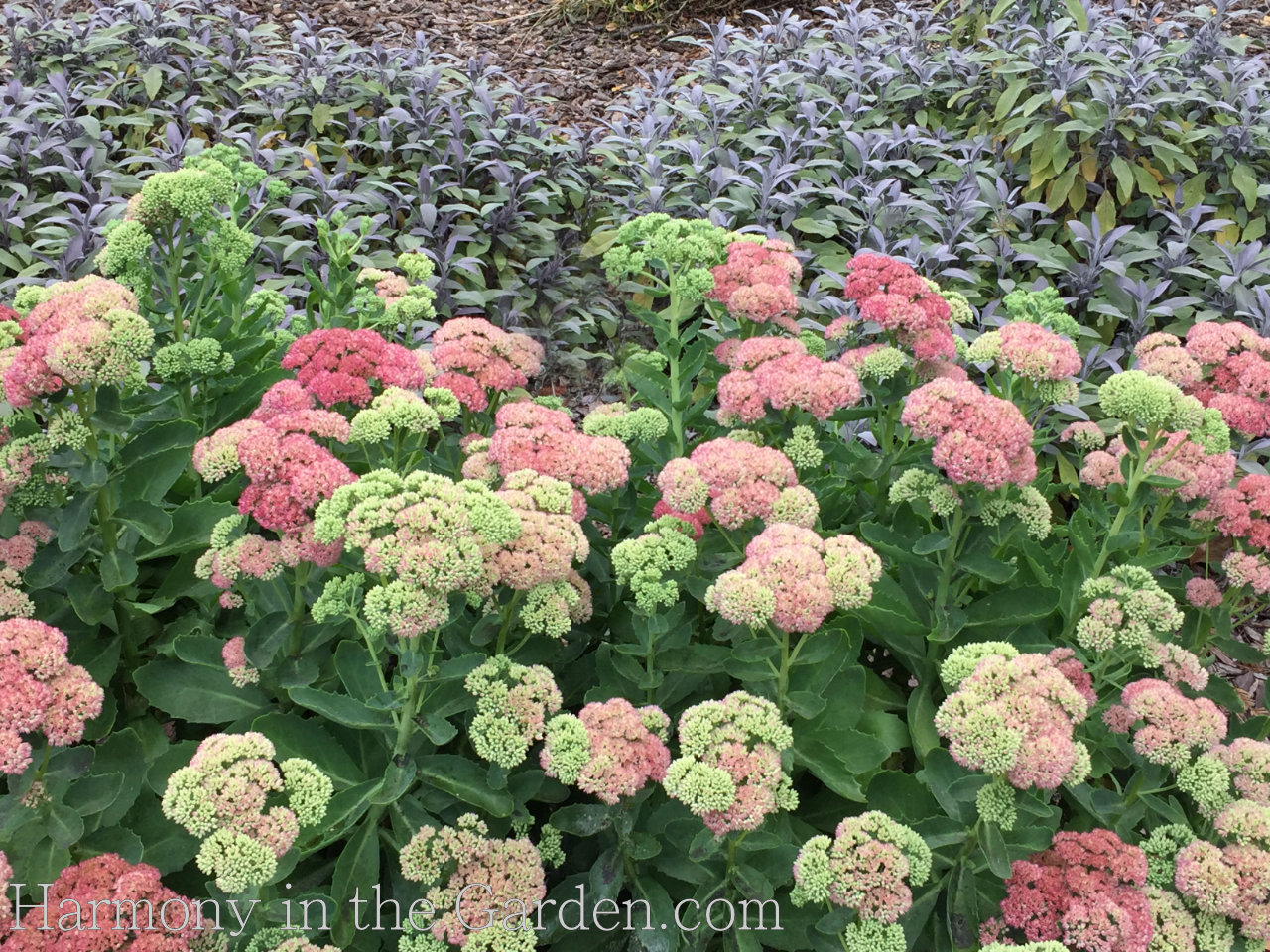 Even though this isn't a new plant for a lot of people, it's one of those that gardeners tend to forget about, which is a shame because it provides
three seasons
of beauty.
In warmer climates, it has a really short down-time, quickly leafing out once the danger of frost is gone.  It rapidly grows to 2' or more, with its broccoli-like blooms in pale shades of green that slowly turn a soft pink.
As the season progresses and temperatures increase, those pale shades of green turn into a vibrant pink (there's that pink color in my garden again, but this one's worth it!)  Here, you can see how it's changed over the course of just a few weeks (and there's that wonderful rudbekia triloba planted next to it!)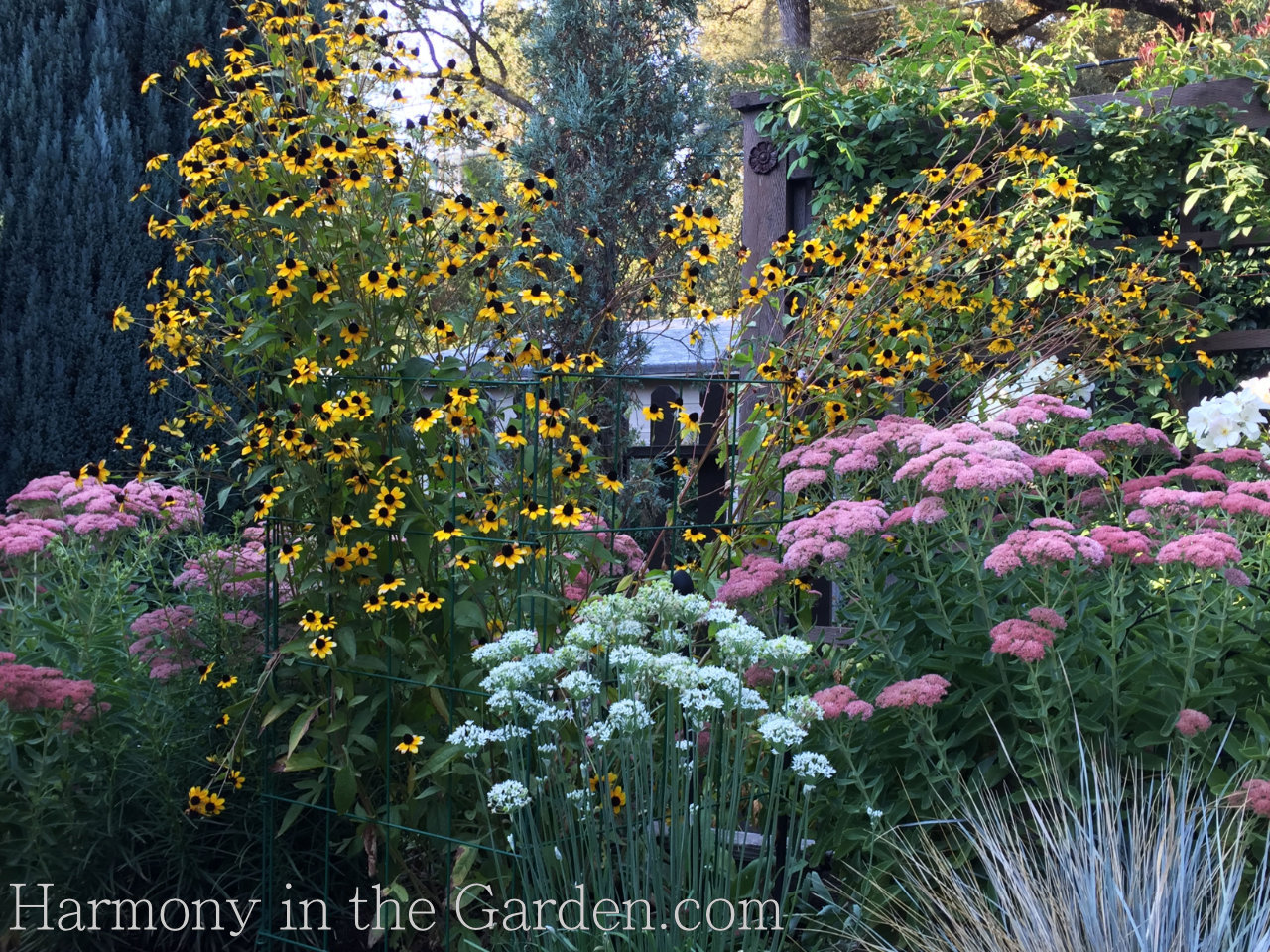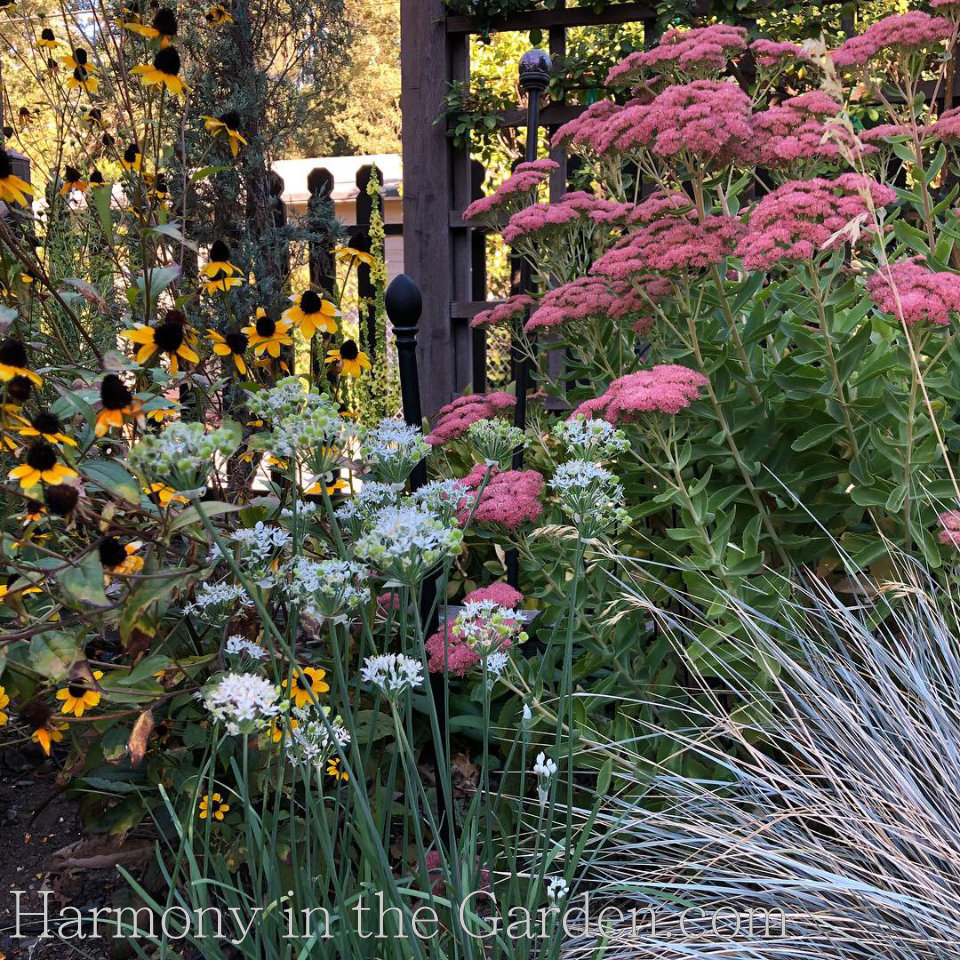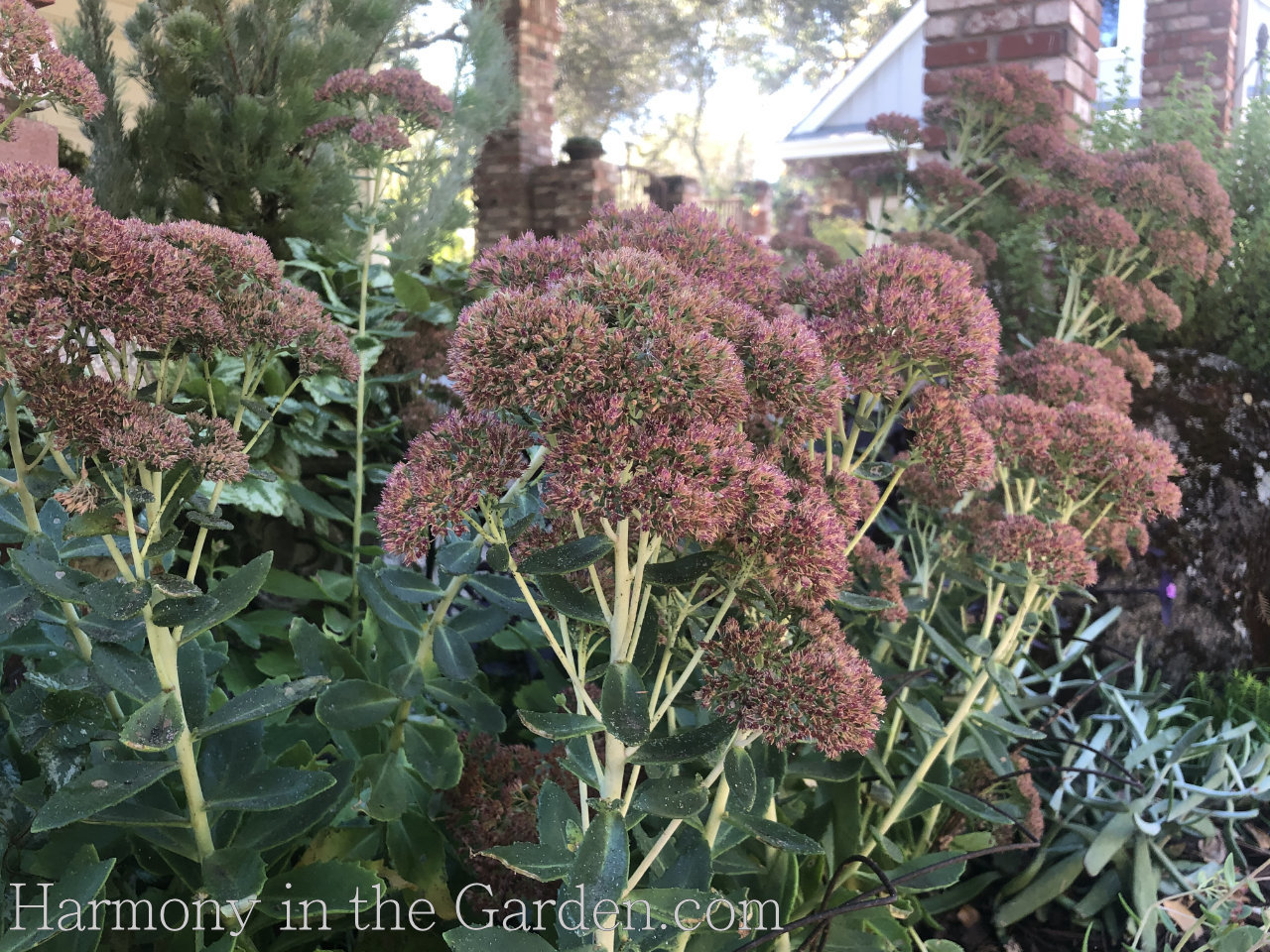 It then turns a deep, rich shade dark pink for a few weeks, until it begins to mellow out into shades of rusty brick-red.


I really do love all the colors of this flower, but I'm particularly fond of how it blends with all the brick in my new home.


It'll stay this color for another few weeks until it begins turning shades of tan and brown.


I leave the seed-heads intact until the first winter storms batter the stems to the ground.  That way, little birds can continue to feast on the seeds for as long as possible.
Salvia elegans 'Golden Delicious'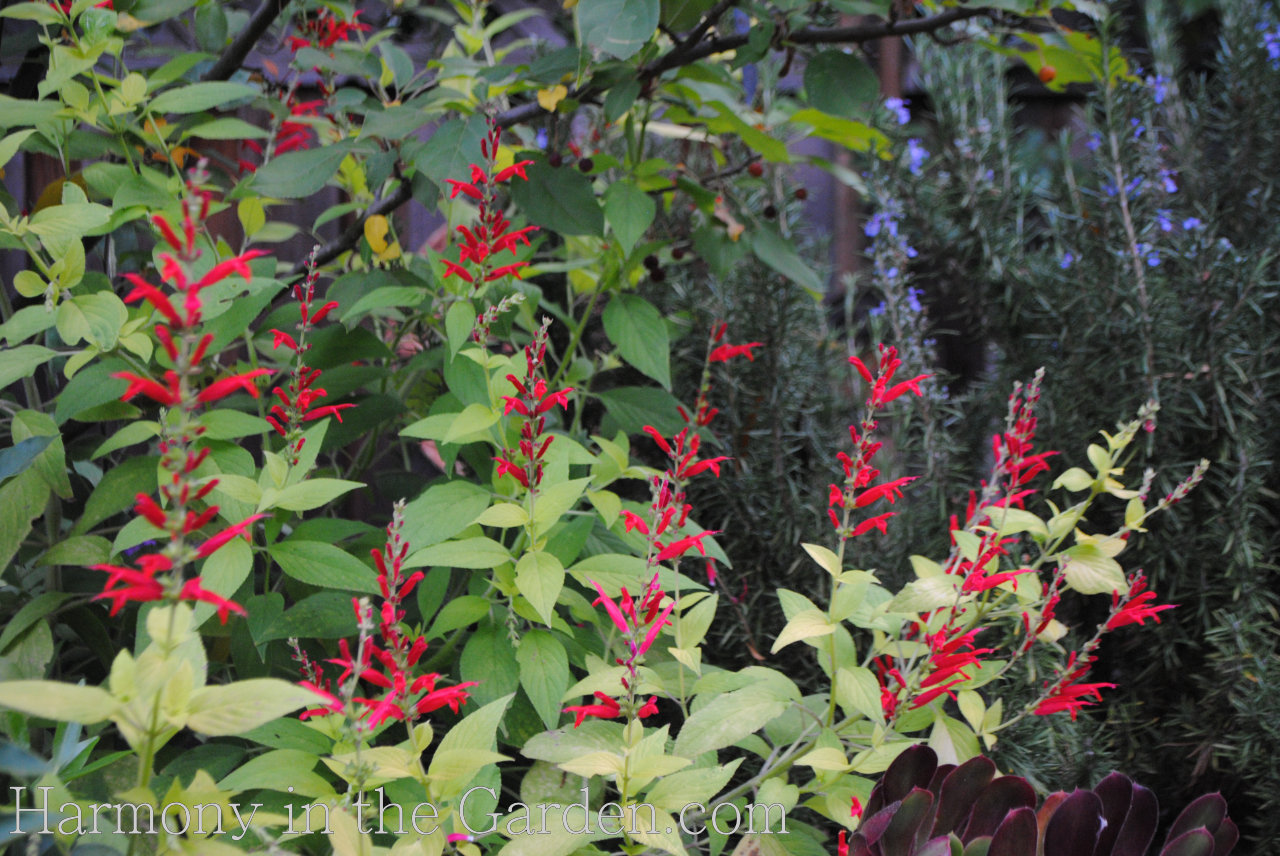 If your garden is short on color this time of year, you need to plant this Pineapple Sage!
It quietly grows throughout the spring and summer, sitting there as an unassuming (but pretty!) 2×2 mound of chartreuse leaves with a delicious pineapple fragrance.
But starting in October –
look out!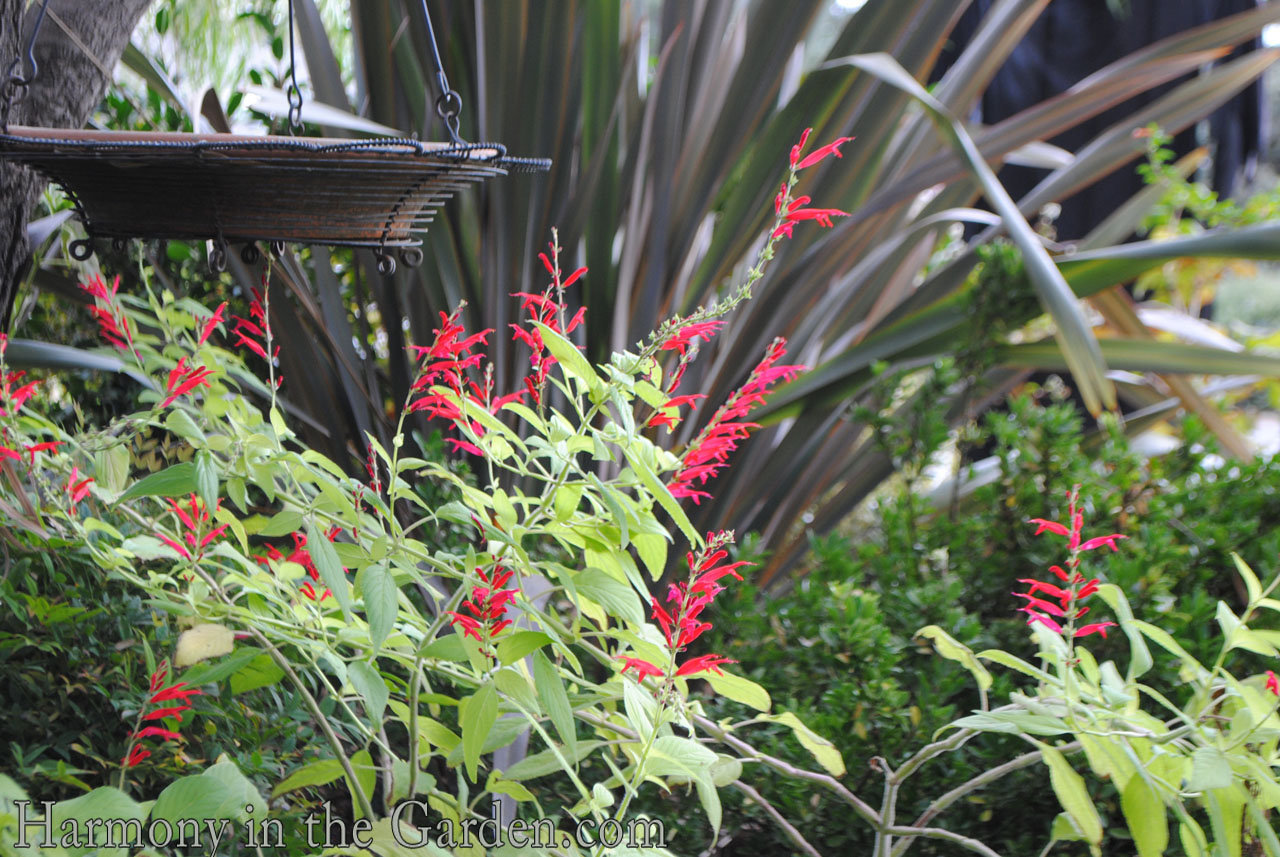 Profuse, delicate spires of crimson-red flowers tower to 4' or so, beckoning every hummingbird in the neighborhood to stop by and take a sip.
I've always had a Pineapple Sage growing in my garden, as my daughter used to toddle over to the plant to nibble its leaves.
It was one of the first plants she connected with, at the tender age of 2,  and between her and my rabbit (that had free-reign of my garden), they kept the poor plant pruned pretty low.
Even today, at 24, when she visits my garden in the fall, she'll make a bee-line to my pineapple sage for a leaf or two.
As a side note, my previous garden was featured in this month's Garden Gate magazine and it's been wonderful to visit it again through their eyes!
This magazine has undergone a makeover and it's really quite fantastic.  If you haven't checked it out in awhile it might be time to give it another look!