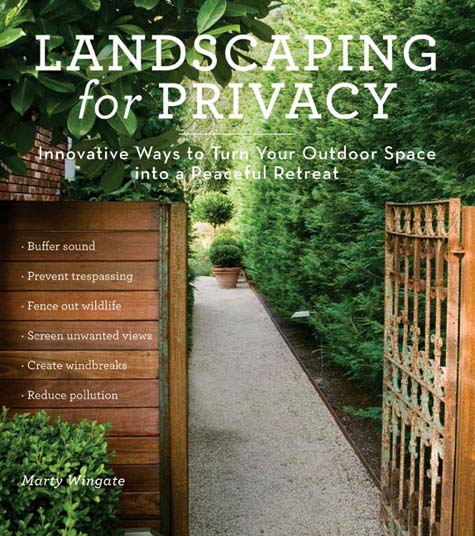 When meeting with new clients for the first time, the issue of privacy almost always tops their list of 'must-haves'.
Whether gardening in sprawling estates or in tight residential quarters, gardeners everywhere crave a sense of tranquility, privacy, and seclusion from their neighbors.
Which is why I was thrilled to receive a copy of Landscaping for Privacy, by Marty Wingate.
I can't think of a single garden that I've designed where privacy hasn't been an issue, including my own.
As I read her book, I found myself not only agreeing with everything I read, but was inspired by innovative ideas from gardeners around the country – all in the name of creating their own private sanctuary.
Here's a few of the chapters that I particularly enjoyed.

Buffers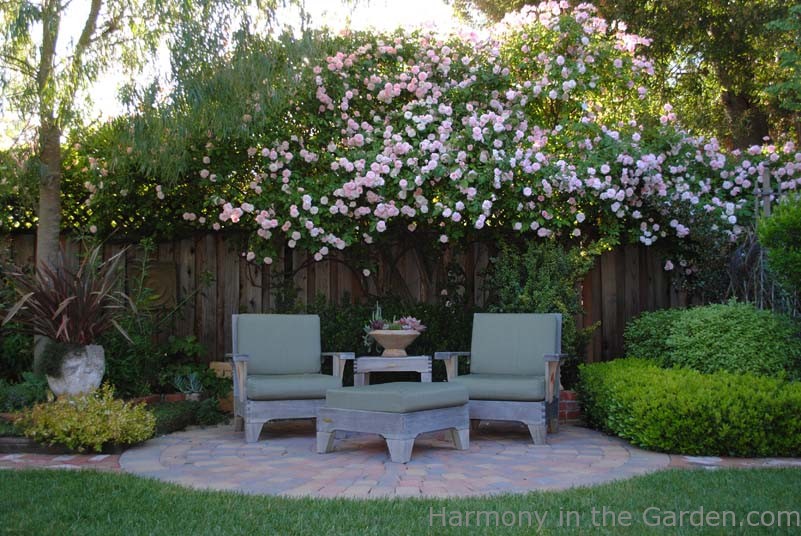 I love Marty's descriptive and humorous style of writing.
Here's what she says about Buffers:
"Like a pillow under your head, a secluded spot under a shaded canopy on a hot day, and the three place settings at the Thanksgiving table between you and your annoying cousin, Buffers smooth the way, softening unpleasant conditions.  
Buffers in the landscape can ease or dull the offensive characteristics of…life's more unpleasant realities."

In my own garden, I have a very old, very large Cecil Brunner climbing rose (above) that not only grows an additional 6-feet above the fence, but sprawls 15-feet along in both directions.
This rose provides year-round buffering from the next-door neighbors, completely blocking a view of their roofline.  Not to mention providing a refuge for various birds that live in my garden.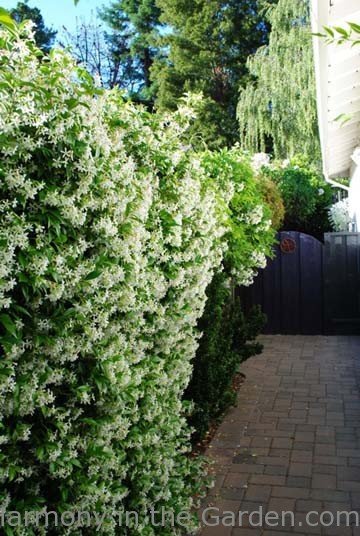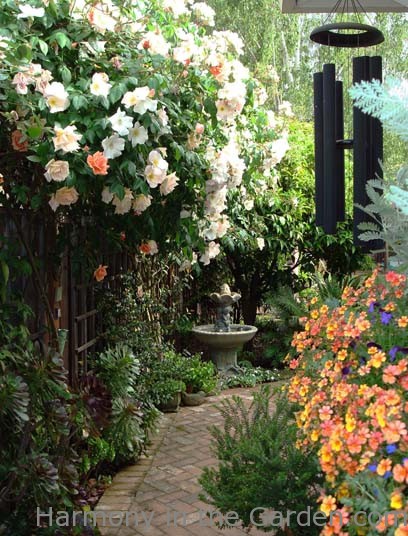 The concept of buffering extends to all of my side fences, as well.  On one fence I have 2 different varieties of Jasmine planted side by side.
The Pink Jasmine blooms first in early spring, followed by the Star Jasmine in early summer, giving me a solid 3 to 4 months of heavenly scents.
Further on down the fence, I have a climbing 'Sally Holmes' rose which not only extends above the fence line to block out the neighboring roofline, but provides me with the most beautiful bouquets throughout the summer.

Barriers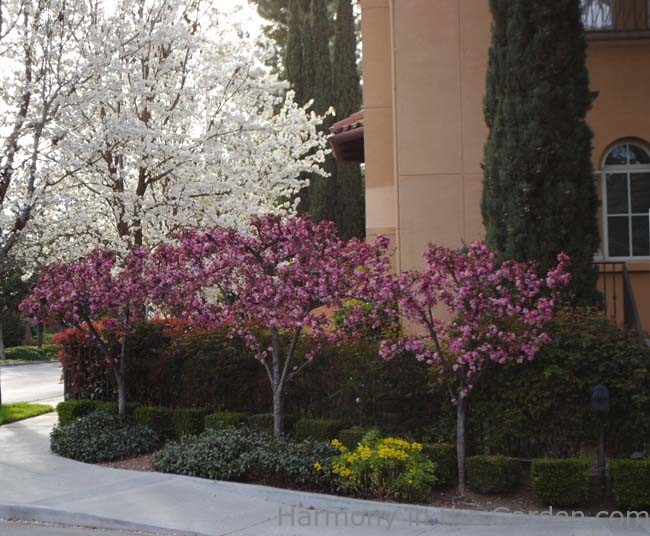 In addition to creating a sense of privacy, barriers are sometimes needed to keep people (and animals) out of the garden.
As Marty says:
"The world out there can be tough, and you need a little space to call your own-with no unwanted intrusions…cutting across your property and through your garden…but walling yourself in is not always the best way to keep the world out."
The home pictured in this photo is on the corner of a very busy street.
The obvious solution would be to build a large fence or wall to maintain privacy.
Instead, a layered garden was created in this small space starting with a sheared Photinia hedge (high enough to keep people out, but low enough to still look inviting).  In front of the Photinia is a mix of  low-growing shrubs with three colorful Crepe Myrtle trees, which provides year-round interest with flowers and fall foliage.
A lovely alternative to a common fence, don't you think?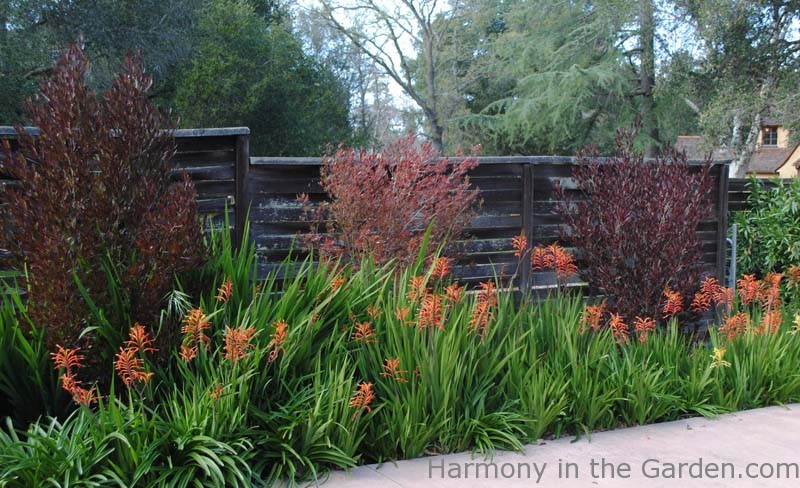 Just because you have an older, traditional fence to keep people out, it doesn't mean you can't spruce it up a bit.
My client wasn't able to replace their fence, but that didn't stop us!
We added a pop of color with these evergreen Dodonea shrubs underplanted with orange-flowering Crocosmia bulbs.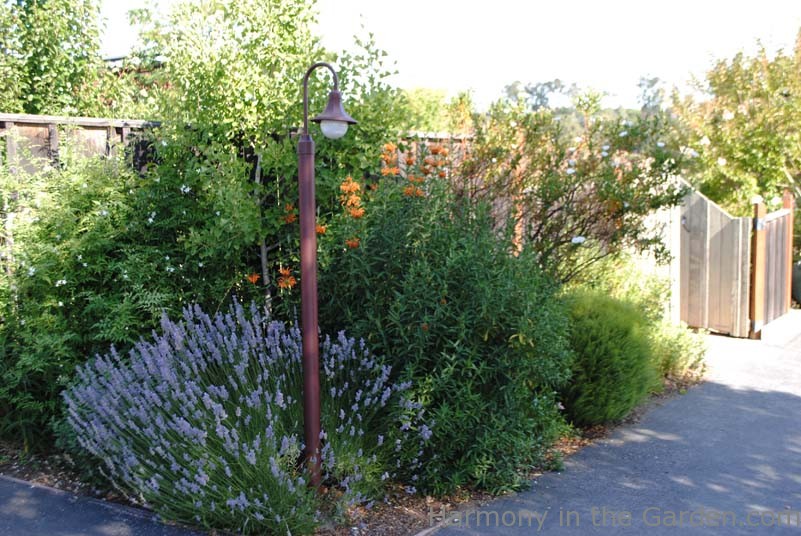 And when your garden fence faces a public walkway, why not give them a peek of what's inside?
It would've been easy for my client to install the fence and call it a day, but instead we created a garden in this small and narrow space for everyone to enjoy.

Screens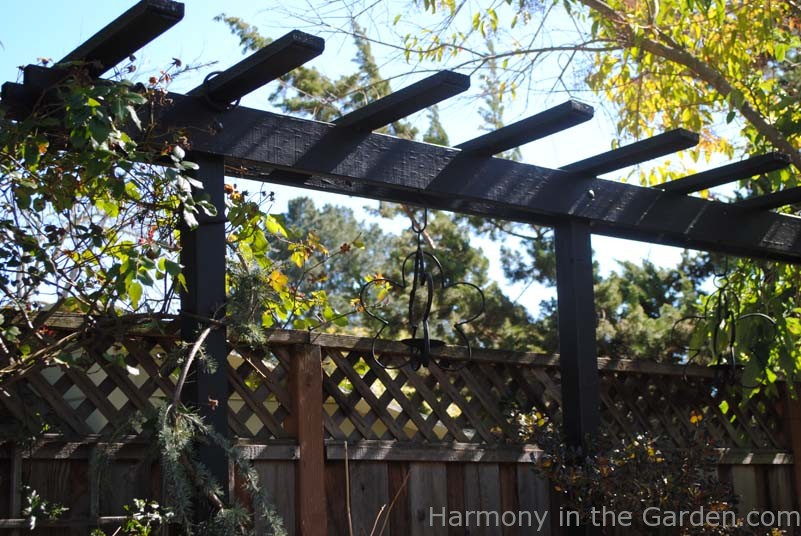 My favorite chapter of all discusses disguising eyesores (which happens to also be my favorite chapter in our book, Garden Up!)
It seems just about every garden has something in it that's less than desirable.
Whether it's an A/C unit, garbage can, your neighbor's ugly antenna, or looming roofline – we all have something like this lurking in our garden.
Marty's book offers dozens of creative solutions for just about every eyesore imaginable.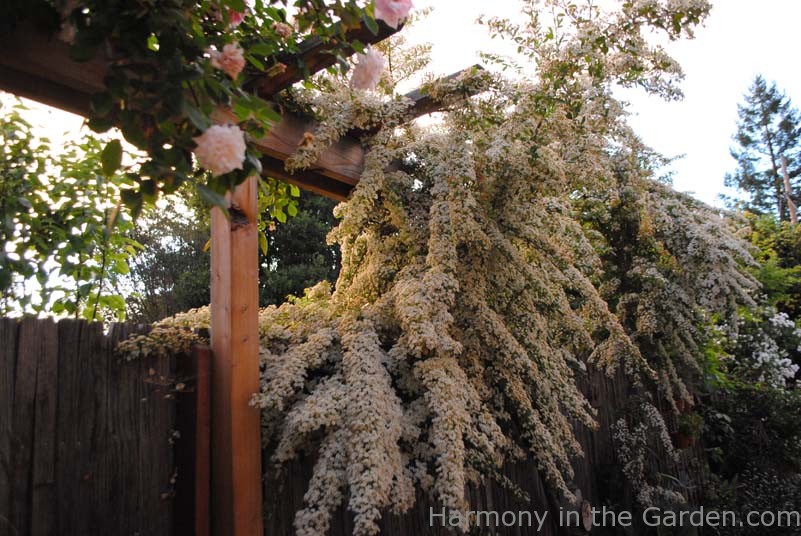 In my own garden, we built this narrow trellis and painted it black to screen and take the eyes off of a neighbor's unsightly shed.  On it, I have a climbing 'Eden' rose that I'm hoping will scramble across the top of it within a year or two.
And on the other side of my garden we built another identical trellis that we attached to the fence.
On it, we espaliered an evergreen Pyracantha to grow up and over the trellis.
Click here for an amusing Pyracantha story!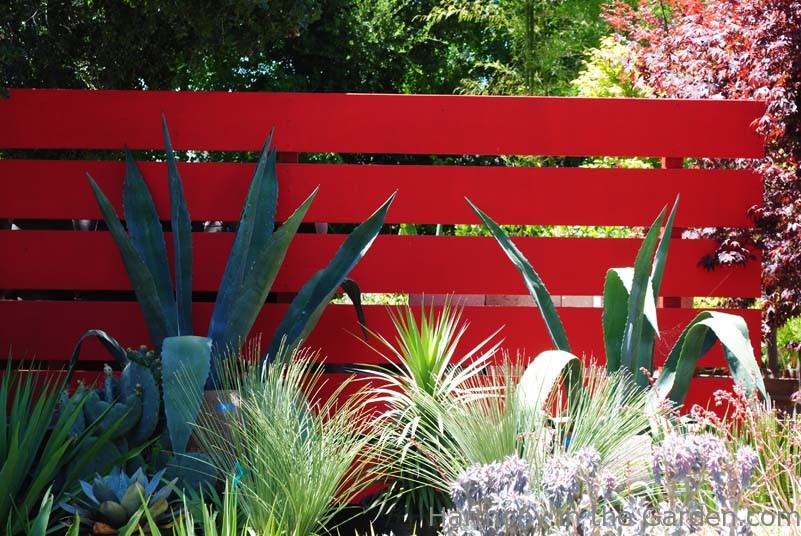 I love how this gardener hid their unsightly garbage cans by creating this eye-popping red fence.
While the color may not work in everyone's garden, it's fabulous as a backdrop for these bold and structural agaves.
I hope you all enjoy this book as much as I have.
And I'd love to hear about any screening ideas you've used in your own gardens!