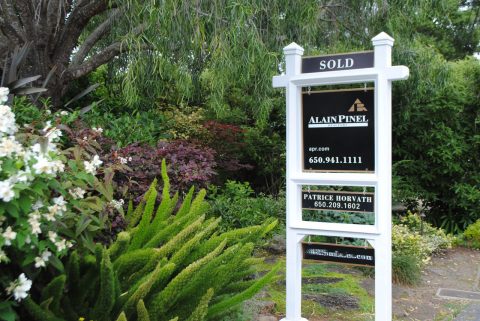 One of the smartest things I've ever done is to give myself a long, long time to say goodbye to my garden.  In just a few weeks I'll be leaving it forever, and I can honestly say that my heart is at peace.
I've given myself plenty of time to sit still and absorb as much as I can, filling my memory bank to the point of overflowing. I've given myself time to cry and mourn the fact that time marches on despite our best intentions of keeping it bottled up, and to embrace the hard fact that nothing stays the same.
After graduating college in May, my daughter spent the entire month of June here, wanting to take it all in before we all move on in life.
Before heading back to LA last week, we walked through the garden together one last time; grateful for all the incredible memories we've shared together in this magical place.
This garden has made an indelible mark in our hearts that we'll carry with us for the rest of our lives.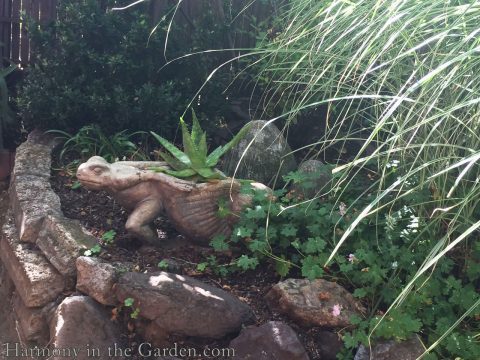 To help ease the pain of this transition, we had fun and hid little treasures around the garden for new owners' two grandsons who live one street away.
Things like shells, tumbled glass hearts engraved with the words 'love' and 'kisses,' and a planter in the shape of a giant frog are just a few of the things tucked around here and there waiting to be found by little hands.
It made us so happy to imagine the joy they'll feel at finding something left for them.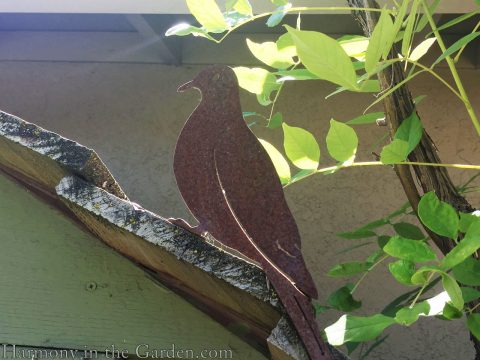 But now the time has come to say goodbye.
The bouts of sadness are slowly being replaced with moments of pure joy, imagining what lies ahead.
We've just purchased a new home, and even though the current garden is just 'okay', it needs me as much as I need it. I cannot wait to get my hands in the dirt!
But until that day, I need to focus on the task at hand and say a proper goodbye to my garden.  
Over the past few weeks, I've been spending an hour or so every day giving my babies one last haircut, tidying them up, so they all look their best for their new owners.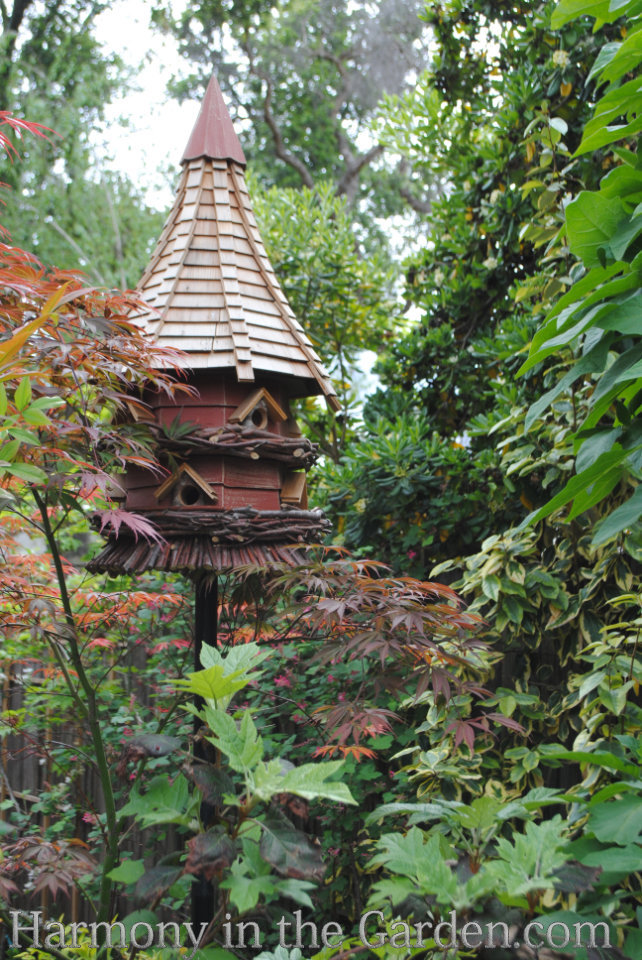 People ask why I bother to continue this hard work when the garden is no longer mine.
The reason is simple: I assume the new homeowners will be overwhelmed (for the first few months, at least) and the least I can do is to leave them a garden that won't need much tending until the end of summer.
Plus, who am I kidding – it's also my chance to personally acknowledge each plant and quietly thank them for all they've given me.
I've joked that I'm going to leave my garden looking like a moonscape, digging up and relocating every single thing to my new garden.
But the reality is I'm leaving everything pretty much as-is (except for my birdhouses, and personal objects sprinkled throughout.)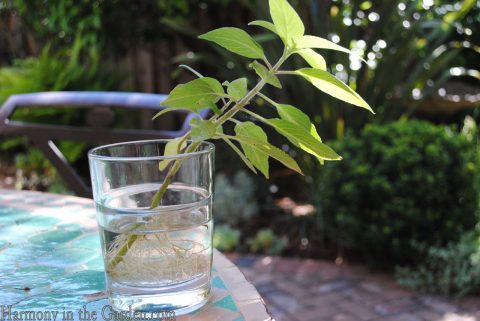 There are, of course, some plants that are making the trip with me.
The determining factor has been if they can easily be replaced, they're staying, but if they have sentimental value, they're making the trip.  
And for those of you who know me, I have a lot of memories tied to my plants (click here for proof!)  
Since I've been planning for this move over a year now, I've had plenty of time to dig up and replace some of the larger plants while they were dormant and before our home went on the market.  But for the most part, I've been growing new plants from cuttings of my favorites.
 Below are just a few that have made the cut, and why.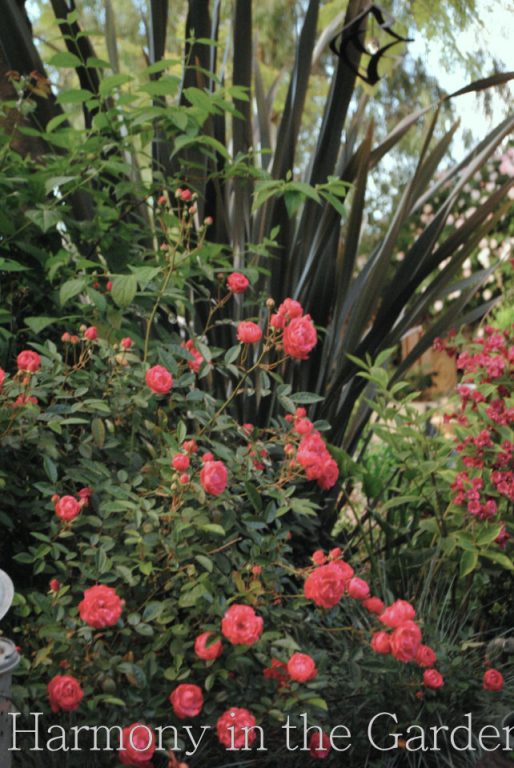 I bought this rose over 23 years ago.  
I was 8-months pregnant and visiting my favorite garden shop of all time, Heart's Ease in Cambria (does anyone remember?)
Owned by Sharon Lovejoy, Heart's Ease transformed my love of gardening into a full-blown passion.  
Little did I know that decades later Sharon and I would reconnect and become good friends!
Originally in a quart-sized pot, this rose is now over 4-feet tall, and no longer in production (if it is, I certainly can't find it!) 
'Spring Song' is one of my favorite roses of all time, reminding me of my early days as a young mother and new gardener.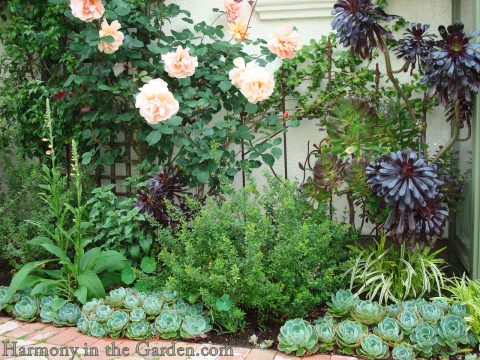 Many of my garden beds are bordered with dozens and dozens of tightly packed hens-and-chicks, making it easy to take a few with me to my new garden.
While I can easily find these succulents at local nurseries, the ones growing in my garden are the offspring of a giant cluster given to my parents when they were first married.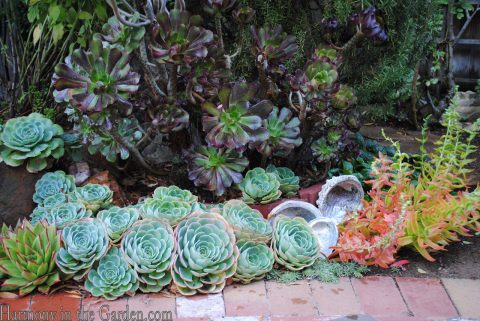 Moving into their first new home, and on a tight budget, they barely had any money leftover to spend on their garden.
One day a man was driving through their neighborhood in a pickup truck piled high with inexpensive handmade redwood patio furniture that he was selling door to door.  
The price was right and, in addition to a few chairs to put in their garden, the man threw in a clump of hens-and-chicks as a bonus.  And here they are, happy as can be in my current (and future!) garden.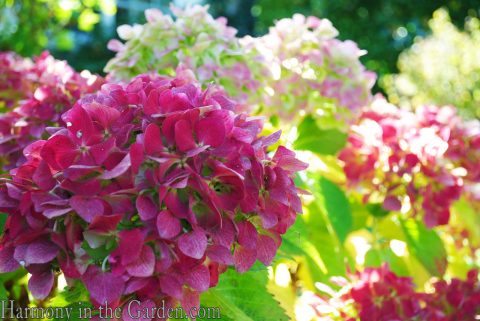 I have no idea what variety this is, as it was mislabeled when I bought it at a nursery years and years ago (it was supposed to be white!)  
I wish I knew what it was, as it's the most amazing drought tolerant hydrangea I've ever seen.  
It not only puts on a show every year with scads of giant pink clusters of flowers, but it's never wilted despite the heatwaves it's endured over the years.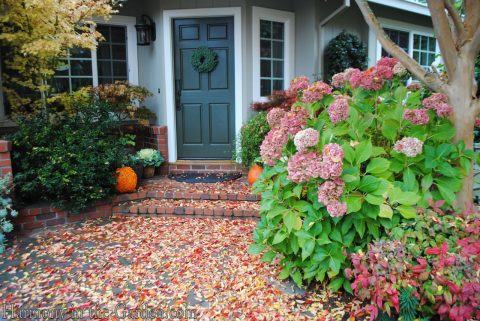 This hydrangea is located in a garden bed surrounded by other drought tolerant plants, and I'm always amazed at how it thrives with the bare minimum of water.
It effortlessly sails through our hot summer weather, never wilting despite only receiving water once or twice a week.
Once fall temperatures arrive, the blooms turn a beautiful antique rose color, too.
Luckily I was able to easily start two new plants from cuttings, and before I go I think I'll start a few more for my friends.
'Toyosho' Ornamental Pomegranate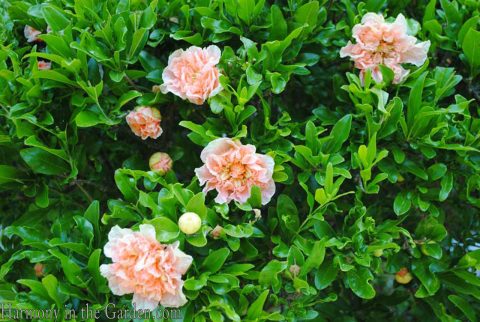 One of the more unusual plants in my garden is a drought-tolerant, ornamental pomegranate topiary.  
Purchased many years ago at a long forgotten nursery, it's one of the most talked about plants in my garden when giving spring garden tours.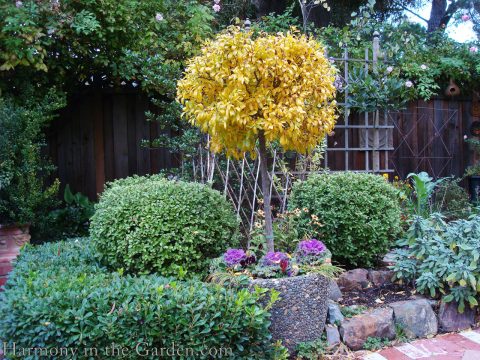 I just adore the voluptuous, soft peach colored blooms that cover it in early spring almost as much as the bright yellow fall foliage.
Since I've never seen another 'Toyosho' in a nursery, this treasure is coming with me.

On a separate note, I'm honored that Theresa Loe, with Living Homegrown, interviewed me about the ups and downs of life and how they affect our gardens and lives.  
Click here to listen as I try not to choke up while talking about moving my garden!