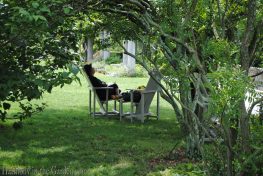 Last year, Allen Bush (a Garden Rant contributor) wrote an article about growing weary in the garden; one which resonated deep within my heart:
'I thought of an interview with the writer Reynolds Price. Price…was asked what his greatest gift as a child had been. He said his favorite gift had come from his grandmother. She had told him a story.
Reynolds Price's grandmother compared life to a traffic light. She explained that the light stays green for a long time, but eventually it turns yellow, and you have to slow down. And then the light turns red, and you have to stop. And wait.
Be patient and the light will, sooner or later, turn green again.'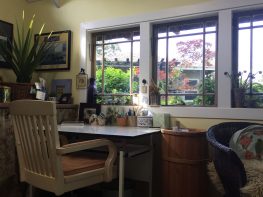 Spending the past 2 1/2 years with cancer trying to take center stage in my life has taken its toll on me.
Since my first diagnosis in 2014, I've been fighting cancer as best as I could, refusing to let it change me. I continued to design gardens throughout my treatment, continued to write articles for various publications and spoke to over a dozen garden clubs (with my bald head wrapped in a scarf, feeling sick most of the time.) Surprisingly enough, I had my most successful year (financially speaking, at least) while going through chemo.
I recently had my 2-year check up (a huge milestone with my particular aggressive type of cancer), and all the tests were negative – hooray! But even after getting the double thumbs-up from my doctors, with their encouraging 'go forth as usual and live your life…' I've realized that there is no more 'as usual' for me.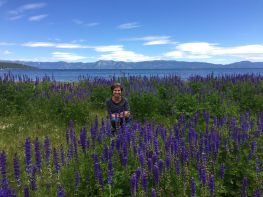 This past year I've felt like Mrs. Potato Head, trying to pick up the pieces.
It's like everything fell off and I've been trying to put things back again: growing my hair back, reconstructing my breasts, tattooing my eyebrows back on my face since they decided to take a permanent leave of absence. But after everything is said and done, the fact remains – I've permanently changed.
And I haven't been able to shake the ever-present feeling that it's time to move forward. For someone like myself, who's steeped in memories everywhere (after all, I live in my childhood home) moving forward is a particularly difficult concept. While it's easy for me to stay right where I am, where it's safe and secure, I've had this nagging sensation that something is missing.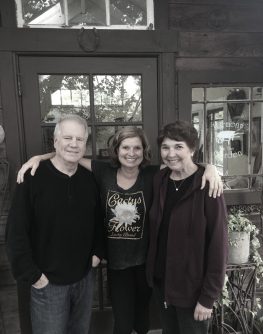 One thing I've always been good at is listening to my heart and the little voice in my head. So over the past year, I've made a conscious effort to reduce the distractions in my life so I can listen very carefully.  What it's all boiled down to is simple – to be near my family.
I'm not the only one, either. My husband, daughter, and parents have also spent the past year taking a close look at what's important to them, and we all agree that living near one another is a top priority.
So, as difficult as this is, it's time to say goodbye to my home in Los Altos and create a new future a few hours north of here.
The few people I've told so far are shocked, and invariably exclaim 'but how can you leave your garden?' But you know what? It's not as hard as I thought it would be. It's time.  It's time to pass it along to someone new who will create their own memories here. I have an amazing realtor, who happens to also be a very close friend, who assures me we'll find the perfect buyer who will cherish this home as much as I have, and I can't wait to find out who they'll be.  I imagine new, young children falling in love with their garden, making their own discoveries, making their own memories.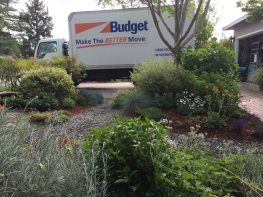 Embarking on this new adventure with my husband is exhilarating to me. The thought of having my parents nearby, being able to stop by on a whim or have regular dinners together makes my heart sing. And while my daughter can't guarantee where her life will take her in the next few years, her goal is to eventually end up living near me.
The thought of all of us together makes my heart swell with happiness.
I'll continue my design business (as well as writing and public speaking), driving to the Bay Area every few weeks or so, focusing on consulting and working on select projects.  But my goal will be to have a bit more free time to work in whatever new garden lies ahead.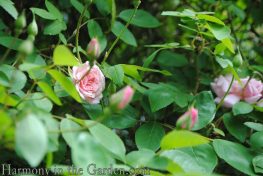 Anais Nin said it best:
'There comes a time when the risk to remain tight in the bud is more painful than the risk it takes to blossom.'
It's time for me to blossom again.
I hope you'll continue to join me in this new adventure, filled with new gardens to create and new memories to make.