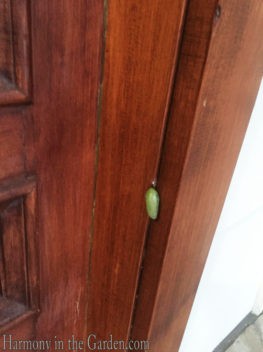 Throughout my daughter's life, I've tried just about everything I could think of to pique her interest in gardening. And while she's always appreciated playing in a beautiful garden, I realized early on that getting her excited about working in a garden just wasn't going to happen.
But, I figured if I can get her to enjoy eating from the garden, growing weird things in the garden, finding bugs, and watching birds in the garden then maybe, just maybe, the gardening seed would be planted to emerge one day when she had a home of her own.
So, when she left for college a few years ago, I figured that was it – any possible chance I had of keeping her engaged in gardens would have to take a backseat to college life.
Which is certainly did, until I received a text from her a few weeks ago saying 'OMG mom – look what's on my front door!'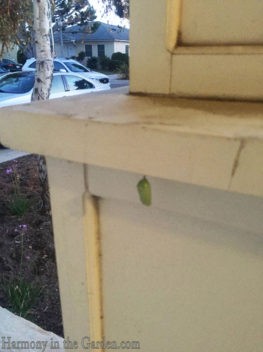 After searching on the internet, she excitedly informed me that the two little green chrysalis were going to turn into monarch butterflies!
I told her how lucky she was to have them make their home on her front porch, about the difficulties monarchs are having due to habitat destruction, and about the huge movement of gardeners everywhere to help bring back their declining numbers.
Well, that did it – she was officially hooked and excited to watch her new precious babies grow. She was even able to get her five roommates excited about what was happening on their front porch.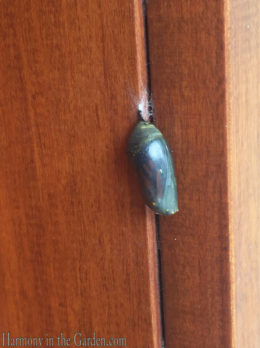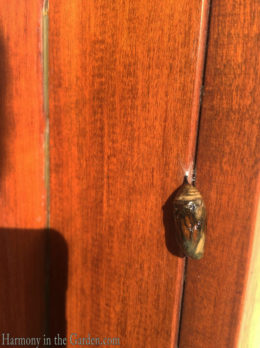 Each day, before leaving for work, she'd check on the chrysalis and send me photos of their progress.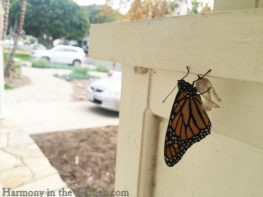 Her patience paid off when she returned home from work one day to find this!
Not wanting the excitement of raising these two monarchs to quickly fade away, I casually asked if she'd like me to send her a butterfly kit.
And to my great surprise, she said yes! So I quickly ordered one on Amazon and had it sent to her home.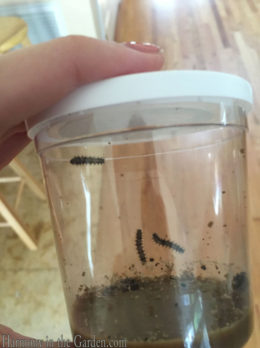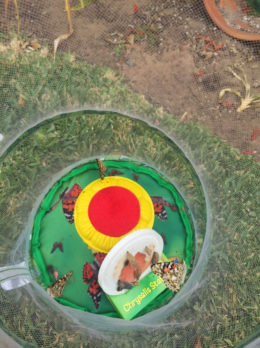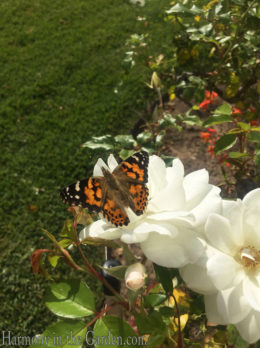 Though the butterflies were Painted Ladies instead of monarchs, the whole experience of watching the transformation of tiny little caterpillars into butterflies was fun and easy.
The result was a batch of beautiful butterflies that hatched just a few weeks later.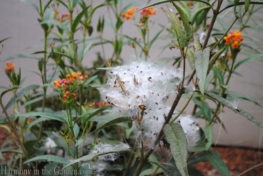 I have since visited her in Los Angeles and was curious to see what was planted in the neighborhood that was bringing the monarchs to her – and voila! In her front garden were two tiny tropical milkweed plants that must've re-seeded themselves in the garden.
Again, I used this as an opportunity to tell her about that plant and why it's so important to these butterflies (and miracle of miracles, she was actually interested in hearing about it!)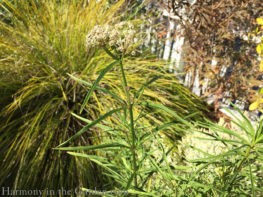 I have to admit, that after sharing this fun experience with my daughter, I'm now hooked on helping monarchs.
In fact, just recently, I purchased the native California Narrowleaf Milkweed (asclepias fascicularis) to add to my garden. This variety grows to 3' with clusters of creamy white flowers and tolerates my heavy clay soil better than other varieties.
While I've planted the more colorful tropical (non-native) milkweed in the past, I've since read that they aren't as good for monarchs as they don't provide the protection from predators (through the ingested alkaloids) that a native species does. Las Pilitas Nursery (a favorite of mine) has a wonderful explanation as to why native milkweeds are vital to the monarch.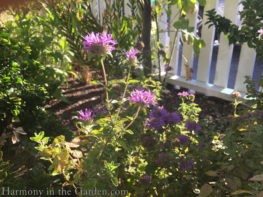 Another plant I have near the Milkweed is a Butterfly Mint Bush (Monardella antonina) which has been blooming away for the past six months.
While I've heard it may be a little tricky to get established in the garden, I've had no problems with it over the past few years. Just a tiny bit of water a few times a week during the summer is all it seems to need to bring in the butterflies.
Oh, as a side-note, since the Monarchs hatched a few weeks ago Emily and her roommates see them flying around their garden almost every day. We're keeping our fingers crossed they find more cocoons on their porch soon!