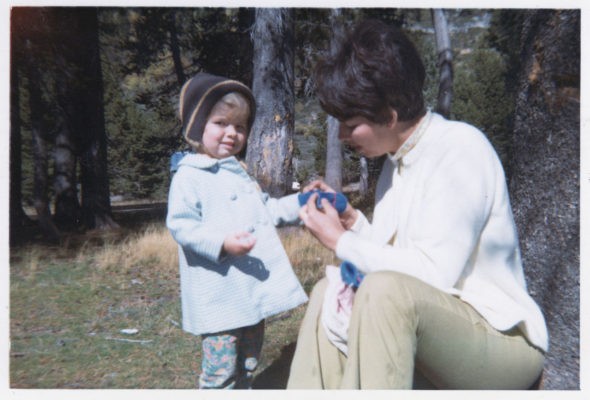 Boy, did I hit the jackpot when I was born.
I've always felt that way, even in the midst of my rebellious, bratty teenage years.
When my other friends would band together and badmouth their parents to see who's was worst, I could never bring myself to join in because I knew in my heart just how lucky I was. And believe me, I gave my parents a run for their money and plenty of opportunities to temporarily step down from her 'Parents of the Year' post, but they never wavered in their awesomeness.
On this Mother's Day, I thought I'd share with you a bit more about my mother and her impact on me and my garden.


My parents are in their seventies, but garden like they're in their twenties.
Through the decades, they've transformed not one, but three gardens into breathtaking slices of heaven.
They build fences, arbors and gazebos.  They dig and haul spine-crushing boulders out of the ground.  They use pick axes to break up the rock-hard soil.
'Slowing down' isn't part of their vocabulary.
Over the years, my mother has often helped me in my own garden doing dirty and un-fun garden chores when I was either too busy or too sick.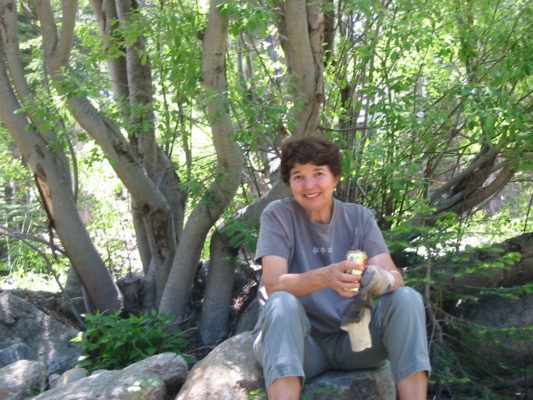 You can imagine how dependent I was on her last year when I was going through chemo. She would stay with me for long stretches of time, and when she wasn't busy being my nurse (or running a million of other errands for me) she would escape outside to bury her hands in the soil.
There was one particularly frigid morning last winter when she went outside to divide a huge clump of goldenrod for me, and while doing so accidentally sliced through an irrigation line.
One thing led to another, and when I finally went out to check on her a few hours later, I found her on her hands and knees, covered in mud and frozen to the bone, trying to fix a broken pipe – and cursing like a pirate.
While I can't repeat what she said, we both ended up laughing at just how awful this simple task turned into, and what a champ she was.

When it comes to giving gifts, my mother has given me the most amazing things that only a gardener at heart would know another gardener might appreciate.  For example, she knew that I would find just the right home for this beautiful hanging basket, and she was right. This blank section of stucco wall always bothered me and definitely needed a little sprucing up.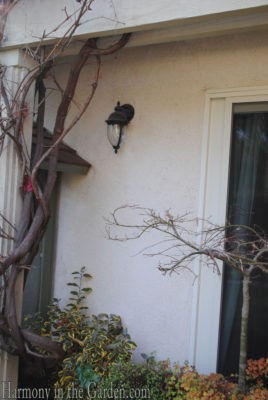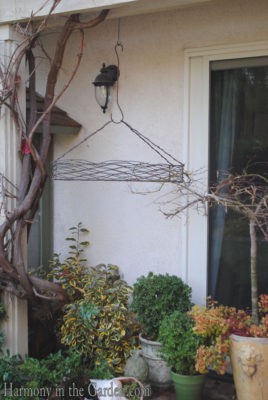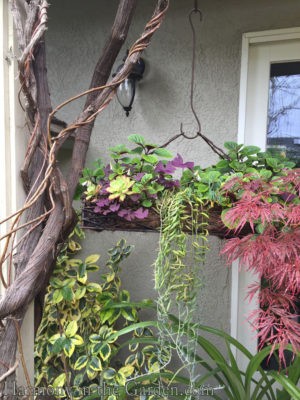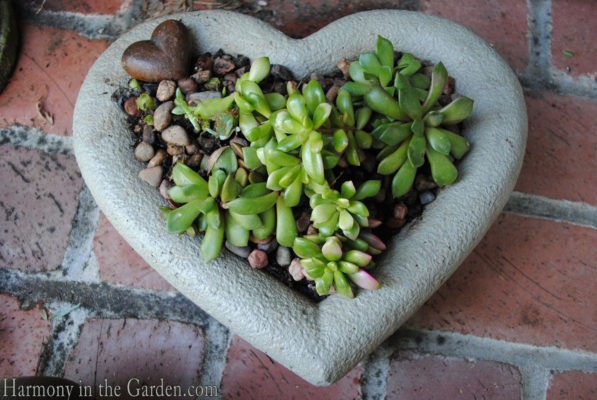 She knows I love hearts, so for one birthday she surprised me with this succulent container, complete with cuttings from her garden and a little metal heart tucked in the corner.


For another birthday, she surprised me with this stone that she had an artist she met at a craft fair inscribe for me.
Do any long-time readers remember the robin's nest she gave to me one year for Christmas?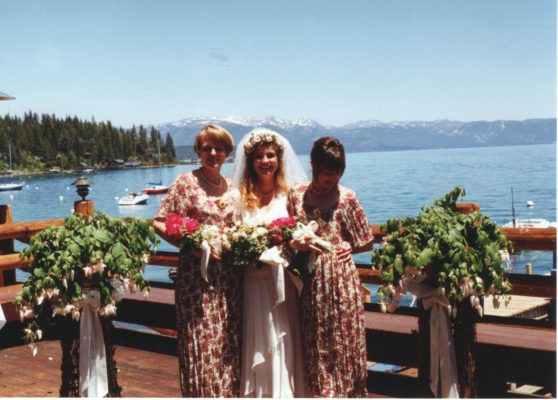 But this year, her creativity topped the charts.  Here's the story…
Twenty-five looong years ago, on a beautiful summer morning, I was married at the end of a Lake Tahoe pier.
My mother, being in charge of decorations, found two perfect willow plant stands that would be topped with two beautiful, giant fuchsias, strategically placed at end of the pier.
While my first marriage came and went, these willow stands stood tall through the decades, following me from home to home.  For the past 15-years or so they've been gracing the entrance to my office.


Growing more and more fragile with each passing year, I'd shore them up with pieces of rebar, attaching them to the wall and doing anything I could to save them.
I knew, however, that this year would be their last and watched with sadness as they precariously leaned this way and that, literally crumbling in my hands whenever I tried to re-position them.  We looked everywhere in vain to find their replacements, but came up empty-handed each time.
A few months ago my parents were pruning an overgrown ornamental cherry tree in their garden, when my mother noticed all the unusually straight branches that had been growing on the tree.
A light bulb went off, and with my father's help, she made two new stands and gave them to me last month for my birthday.
Just look how beautiful they are, with their gentle curving patterns.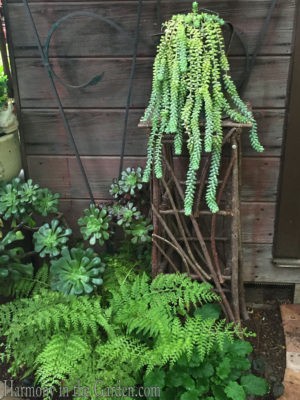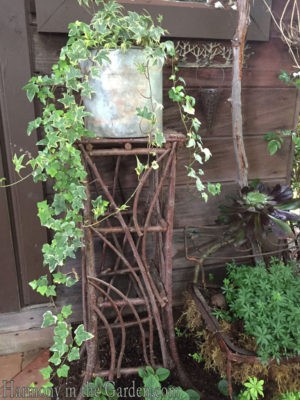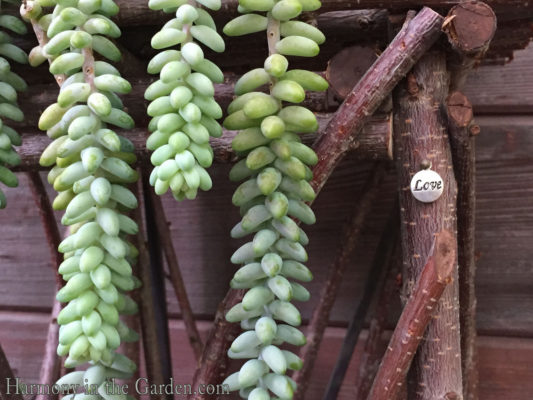 Complete with the little silver declaration of love discreetly nailed on the side.
So on this Mother's Day, I acknowledge that the best Mother's Day gift I could ever receive – my mother.
And for that, I bow down in gratitude. I'm a lucky, lucky girl.
Happy Mother's Day, everyone!