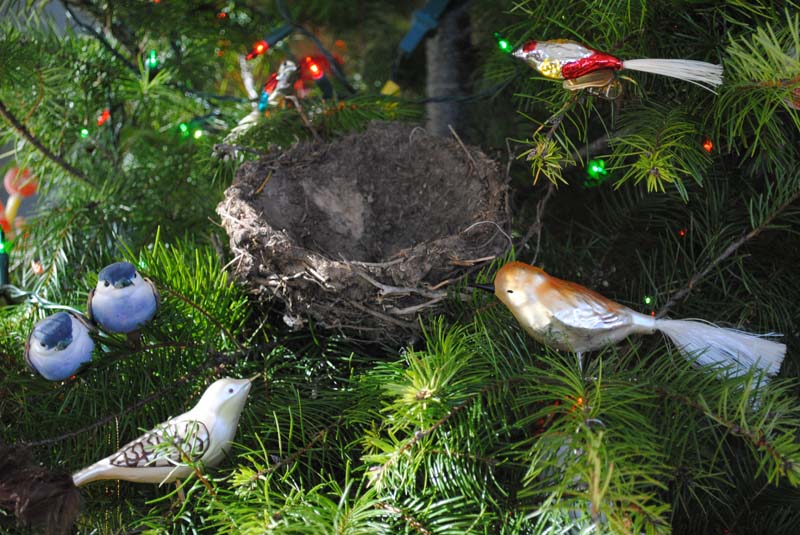 Christmas has come and gone and in its wake are a mountain of empty boxes, bows, ribbons and wrapping paper.  
My hydrangea and pittosporum centerpiece is finally beginning to wilt and the tree's dry needles are raining down upon my carpet with alarming speed.
One of my favorite gifts this year is one that didn't cost a dime – funny how the best usually don't, isn't it?
My mother gave me a simple box and within it was a beautiful, intact robin's nest.  
It's not just any robin's nest, though, but one that is symbolic of a very special time of my life. 
This summer I spent a fair amount of time at my childhood home in Lake Tahoe, and much of it was spent in my grandmother's room writing Garden Up.  
I spent hours there, strategizing with my co-author Susan Morrison; editing, outlining, writing and re-writing.  While my family would spend their days at the beach, I'd be writing away, loving every minute of it.  
And throughout the entire time, a robin (who had built a nest right outside of my window) would keep me company by singing her little heart out with the prettiest song.  The nest was tucked up safely under the eaves, and lasted through several fall and winter storms.  But this latest storm was a biggie and blew it down, with the snow below cushioning its fall.
I'll place this nest next to my desk and treasure it always.
I hope you all had a beautiful holiday and are ready to start the new year with fresh eyes and a full heart.