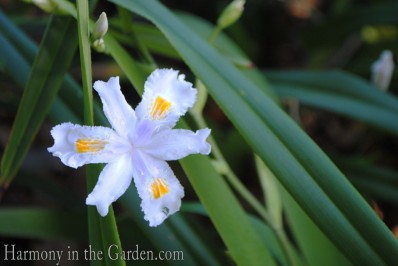 Today my mother and I took a little field trip to Palo Alto's Elizabeth Gamble Garden.
Even though it's still early spring here, with our unseasonably warm weather, we couldn't wait to see what early surprises we might find.
As was expected, there was plenty to see in this early-spring garden.

Like the Easter-egg drifts of 'Lilac Wonder' species tulips that seemed to carelessly meander throughout the garden…
Or the brightly colored flowers of this chorizema 'Bush Flame' (which I found out later is hardy into the mid-twenties!  Yes, I'll be adding one to my garden…)
Or the Velvet Groundsel shrub that I've been secretly coveting ever since I first saw it in Andrea Testa-Vought's gorgeous garden…
Or the zillions of fluorescent red flowers of the towering 10-foot salvia gesneriflora 'Tequila' that the hummingbirds (and I) just couldn't get enough of…
But to be honest, each time I'd photograph one of these beautiful treasures, my eye would be drawn to the heavily pruned Coral Tree that seemed to loom above the entire garden.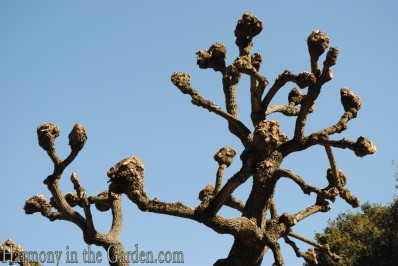 The type of pruning it's undergone is called pollarding (which people seem to either love or hate) – but that's beside the point.
What tugged at my soul was the strength it had in the strong lines of its gently twisting limbs, the deep grooves from its aged bark and the commanding presence it exuded, despite being completely barren.
I could relate to this tree as I, too, have recently been heavily pruned.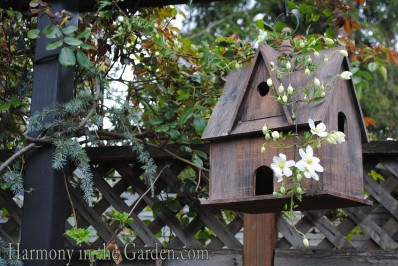 Two weeks ago I traveled down one of the final roads of the cancer 'detour' I've been on and had a bi-lateral mastectomy. And since I've been openly sharing my journey with all of you, I thought I'd let you know where I've been these past few weeks.
As imagined, the first two weeks were pretty rough, but with each passing day I'm able to spend more and more time in my garden – at least enough time to take a morning walk, or sit and watch the birds as they begin frantically building their nests and finding mates.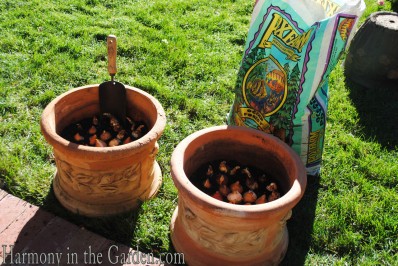 Once I knew the dates of my surgery, one of the smartest things I did was to know myself and predict just how frustrated I'd be forced to lie in bed for several weeks while recovering. During spring, no less!
So I decided to create two big containers filled with a mix of brightly colored tulips, dainty tazetta daffodils, and heirloom pheasant-eye narcissus 'Firetail' and 'Poeticus Ornatus'.
And just like clockwork the bulbs began blooming a few days before my surgery and have been showing off ever since.
Oh, how I love these containers of mine.  They've helped keep my sanity, reminding me to be patient, for as soon as they begin to stop blooming I should be feeling good enough to grab my pruners again.

Disclaimer: It was a new gardening friend of mine  who came up with the term 'heavily pruned', letting me know that just like a shrub or tree I'd end up stronger and healthier than ever. I just love that phrase – sort of morbid, but so funny at the same time. And she's right.
Just this week the doctors have told me that they didn't find a single cell that indicates there's any cancer anywhere! So yep – I'll be stronger and healthier than ever.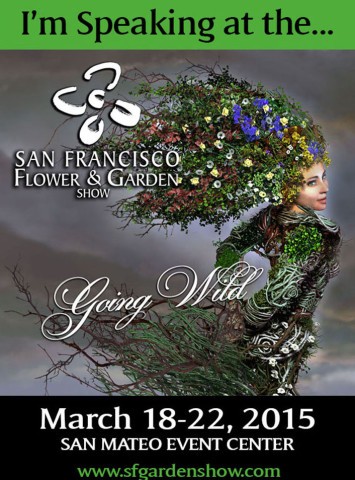 In fact, I'm feeling better already!
As some of you may know, I've been managing the Facebook page for the upcoming San Francisco Flower and Garden Show (something I've been having so much fun doing while recuperating in bed.) In fact, if you haven't checked it out you should head on over as we're offering ticket giveaways every week until the show!
But I'm thrilled to say that I'll also be speaking at the show again this year (Saturday, 3/21 at 3:30)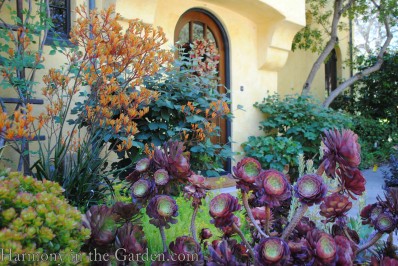 With the drought that's upon us, yet again, my topic couldn't be more timely: 'Incorporating succulents into everyday gardens'.
The emphasis of my presentation is to show how to blend low-water succulents into more traditional-style gardens, as well as how to use them as functional problem-solvers.
I hope to see some of you there!  If so, please make sure to stop by and say hi (but please – no big bear hugs quite yet.  ha!)