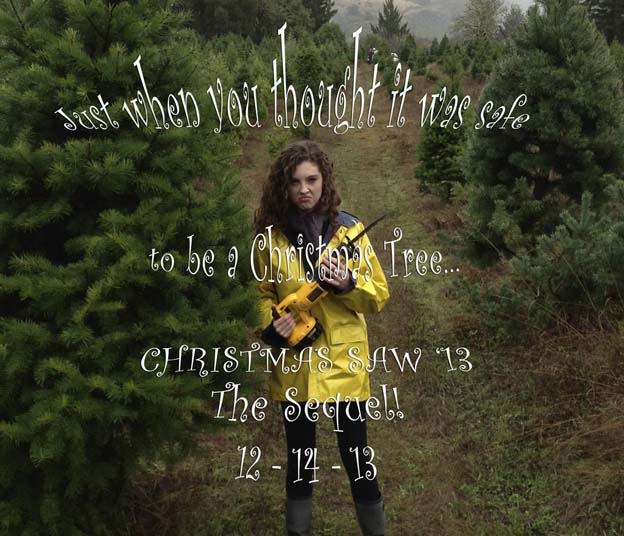 Note:  This post is rated 'R' for violence
Sometimes it seems my family lives to torment me – especially when it comes to choosing Christmas trees.
It wasn't always be this way.  But one year, when the kids were young, I decided to surprise everyone by bringing home a beautiful living Christmas tree, in hopes that a new family tradition would be born.  I imagined the year-round delight the kids would experience as they nourished our little tree throughout the year, excitedly noting each inch of new growth.
Yeah, right.  What I got in return was lots of tears.  And a new nickname – 'Grinch Mama'.  Why?  Because the tightly packed needles of the Dwarf Alberta Spruce that I had bought made it virtually impossible to properly hang their favorite oversized ornaments.  Because the largest sized living tree I could find was only about 3 feet high. Because it didn't have that freshly cut Christmas-tree-smell.  But most of all it was because I ruined an outing with their dad that they looked forward to year after year.
I used to go on these outings, driving the winding hills of Santa Cruz (usually in a drizzling fog so thick  you need a chainsaw to cut through it), but I never really enjoyed the process of cutting down a live tree.  They say if you cut it down the right way, by leaving a few branches at the bottom,  it'll grow back into another healthy tree.  And I'm sure it does.  But the fact remains that I just don't enjoy the outing.  So instead, I now stay home and make a delicious lunch for everyone while the three of them go off and bring home the bounty.
Now that my homesick daughter is a freshman in college, she's looking forward to coming home more than anything right now.  Traditions are hugely important to her, more so now than ever before.  So in an effort to squash any thoughts I might have about surprising her with a living Christmas tree, she and my husband decided to send me this warning shot (above).  Message received.
However, I did ask that they at least go to an organic Christmas tree farm (preferably nearby Black Roads Farm) to commit their heinous crime.  And guess what – they say okay!  While I may have lost the war, at least I won the battle, right?
I'm curious how many of you prefer living Christmas trees to those you buy or (gasp) chop?