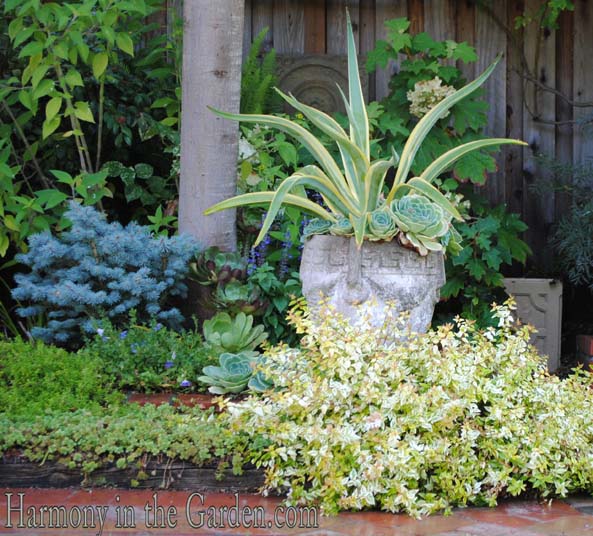 A few days ago I spoke to my friend who lives in Boston, and when I complained that my garden was taking a beating during a recent week of unrelenting 28-degree temperatures, he was shocked – in California?
Yes, even in the land of sunshine it often dips below freezing on a cold winter night, surprising out of town visitors as much as it surprises our succulents, bougainvillea, and citrus.
A favorite vignette in my garden is this tough Octopus agave (Agave vilmoriniana 'Stained Glass'), with the soft and billowy abelia 'Kaleidescope' nestled at its feet.
The agave is located in a central spot and is visible from several different rooms inside my home.  And even though it might be bone-chilling cold outside, every time I see the soft yellow and gold colors I feel just a little bit warmer.
In my book, Refresh Your Garden Design, I explain many different illusions that can be created in the garden using color, texture, and form.  For those of you who are new to 'playing magician' in your garden, color is probably the easiest element to work with when thinking about illusions.
For example, let's talk about colors and their perceived temperatures – a pretty simple concept that is easily explained using the color wheel.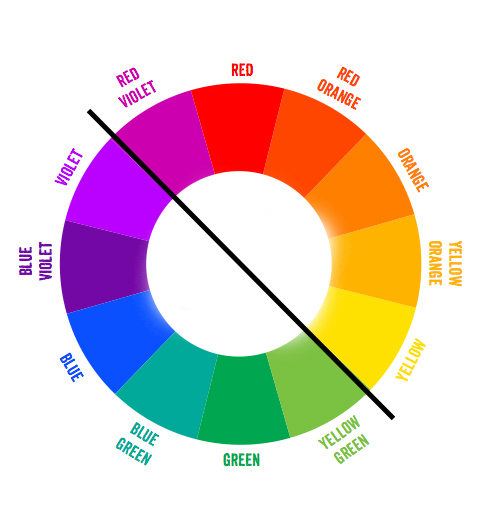 For those of you who haven't used a color wheel, it can be a gardener's best friend, helping find solutions to many different types of everyday garden problems.
One of the simplest concepts it helps to illustrate is a color's perceived temperature.
When divided in half between violent/red-violet and yellow/yellow-green, the greens, blues and purples are referred to as cool colors while the yellows, oranges and reds are referred to as warm.
And depending on which color combinations you use, you can actually alter the perceived temperature in the garden.
While this trick is easy enough to do in the spring/summer/fall using different combinations of flowers and foliage, it's a little harder to do in the dead of winter when there's not a flower or leaf in sight.  Hard, but not impossible.
Just remember to include other sources of color in your garden, such as stems, berries or bark.  And don't forget about the non-living elements in your garden, too, like artwork and hardscaping.
Here are a few examples of warming up your winter garden, using the warm colors on the wheel.
Once the temperatures plummet and there's no more foliage, shades of orange, red and yellow make their grand entrance helping to create the illusion of warmth in the garden.
Many  varieties of dogwood and Japanese maples offer this unexpected explosion of color in the garden, and can help raise the visual temperature by a few degrees. For more inspiration, check out all the winter color I found in Seattle's Washington Arboretum.
2.  Berries and Seed Pods
Rose hips and berries are another source of color that and introduce bursts of warmth in the winter garden. (click here for more).
Cold temperature related stress can also help to turn up the heat on normally green foliage, resulting in glowing hot colors to appear.
Don't forget about the  many cold-hardy evergreen plants with gold variegation that can add year-round sizzle to a wintery garden. Here are just a few:
5.  Non-living sources of color
Don't forget about the non-living sources of color in your garden as a way to add some much needed warmth – colors from flagstones, outdoor furniture, containers and even artwork (like the sun and fireplace, below).
See?  I bet you're feeling warmer already!  Have any tricks you use to warm up your winter garden – if so, please share!