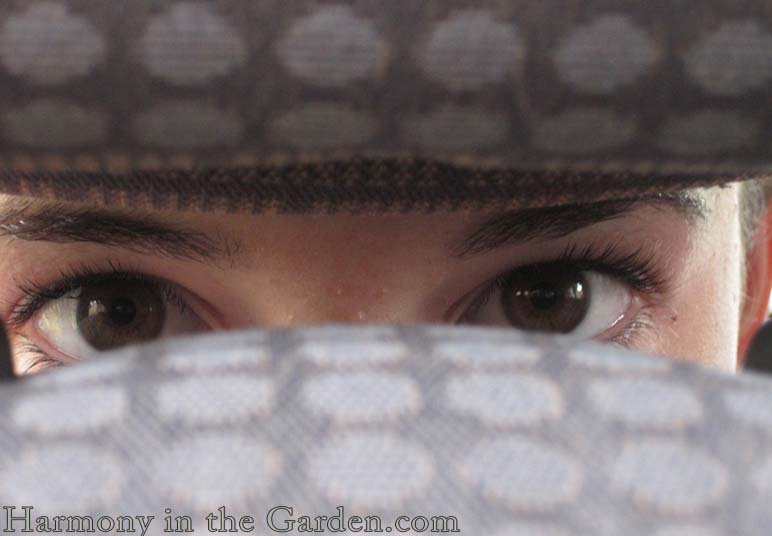 As a designer, I'm often asked how I go about deciding how and where to begin when it comes to transforming a garden bed.
While visualizing where to begin is relatively easy for me (it's what I do for a living, after all!) I realize that's not necessarily the case for others.  In fact, I experienced this feeling myself during my kitchen remodel.  I was amazed at how helpless and overwhelmed I felt when I walked into the tile shop and looked around at row after row of gorgeous tiles just waiting for me to decide.  What style did I like?  Where would I start? And where would I end up?  The more I looked, the more frustrated I became.
Over the past 15 years, I've talked to hundreds of overwhelmed gardeners who feel the same way that I felt in the tile shop.  They just don't know where or how to begin.  The first chapter of my new book, Refresh Your Garden Design with Color, Texture and Form deals specifically with learning how to look at your garden again with fresh eyes.  Easier said than done – believe me.  But once you learn to see your garden with a clear perspective, you'll then be able to figure out where to begin your garden's transformation.
One of the easiest ways to begin looking at your garden in a new light is to learn how to use your camera to help you identify your garden's problem areas.  Sounds simple enough, right?  That's because it is!  Whenever  I'm contemplating transforming a garden bed, I'll use my camera to take several photos of it.  After printing a few of the photos out, I'll sit in a comfy chair (away from all the garden's other distractions) and study the photo, with a Sharpie pen in hand.  You won't believe how different your garden looks in a photo compared to a few moments ago when you were standing in it.  Give it a try – you'll be amazed!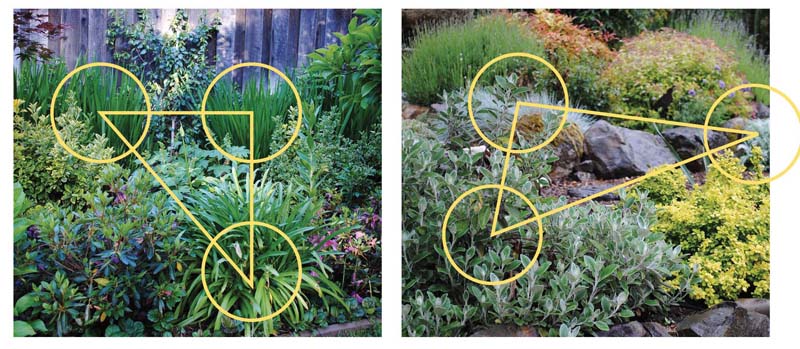 It will soon become crystal clear what needs to be done.  Perhaps there's a dying shrub that needs to be composted?  Or maybe there's no rhyme or reason to your plantings, and it needs a little continuity to help tie it all together.  Sometimes its as simple as repeating a basic form, color or texture.  Or, perhaps contrast is needed to help break up a monotonous combination. The list goes on and on.
The next step is to use your Sharpie pen to draw directly on the photo, circling the problem areas and making notes of what you think might help.  Then, take that photo to the nursery and use it as a guide when looking for a specific plant.  This guide will help narrow down your choices so when you walk into the nursery  you won't become overwhelmed and end up grabbing the nearest pretty flower.  Instead, you'll be focused on looking for the specific, problem-solving element you've noted on your photograph  (i.e.: bold foliage, upright form, delicate texture, etc.).
To help clarify this concept, I thought I'd show you a few examples of some simple before, during and after photos that I've created over the years.  The first photo will be the before, the second photo indicates my suggestions to help transform the bed, and the third photo will be the finished garden bed.

1.  Remodeled Ranch Home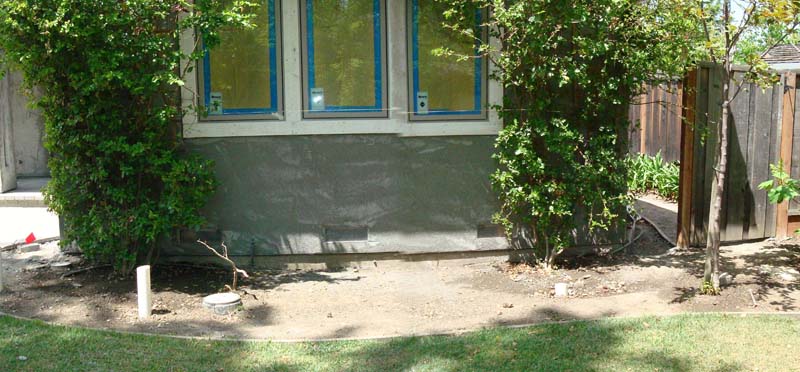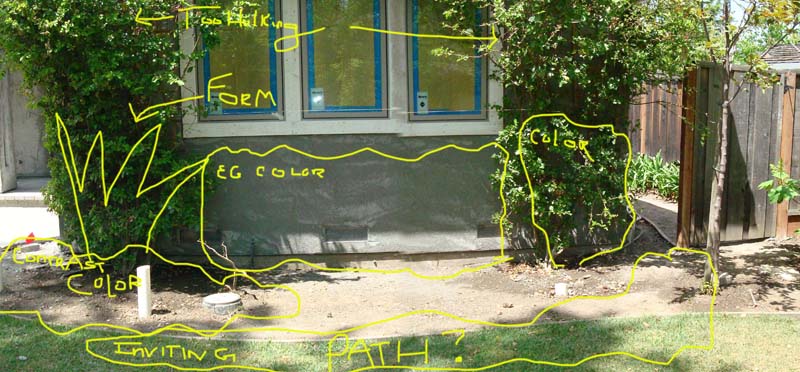 My notes indicate where I'd like to see plants with interesting shapes, where I'd like to see color from flowers or evergreen foliage ('eg'), and even the placement of a pathway in lieu of the threadbare lawn.
I wanted to remove the bulky shrubs on either side of the window to draw attention to the beautiful color and windows of their newly remodeled home.

2.  Green and Serene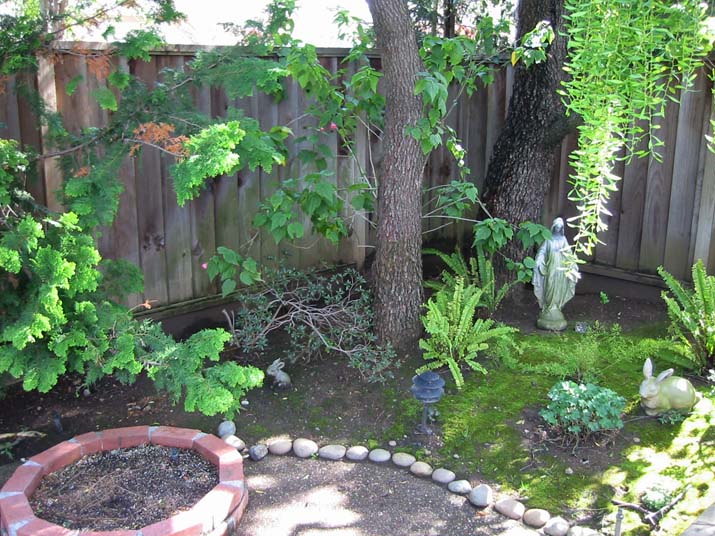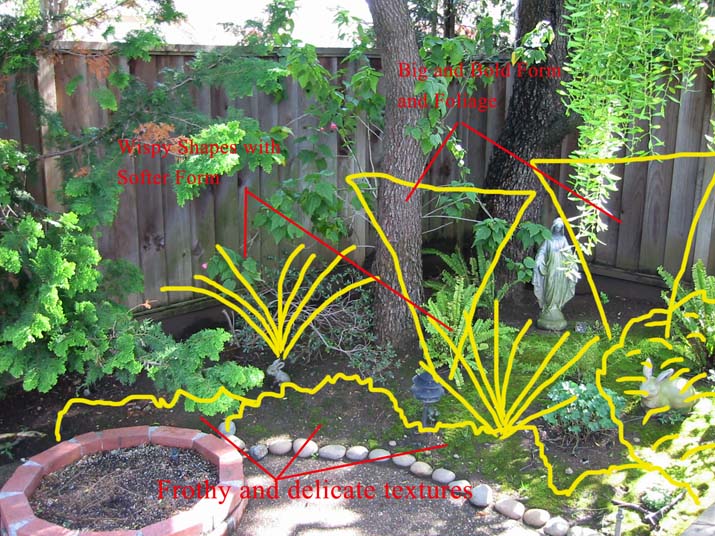 In this garden, the client wanted a simple color palette – green, green and more green.  With just a hint of white.
To keep an all-green combination from lulling one to sleep, it's important to include plenty of contrast.  In this example, you can see the contrast in foliage shape (bold, delicate, strappy, frothy) as well as shades of green (light, medium and dark).

3.  Repetition of Form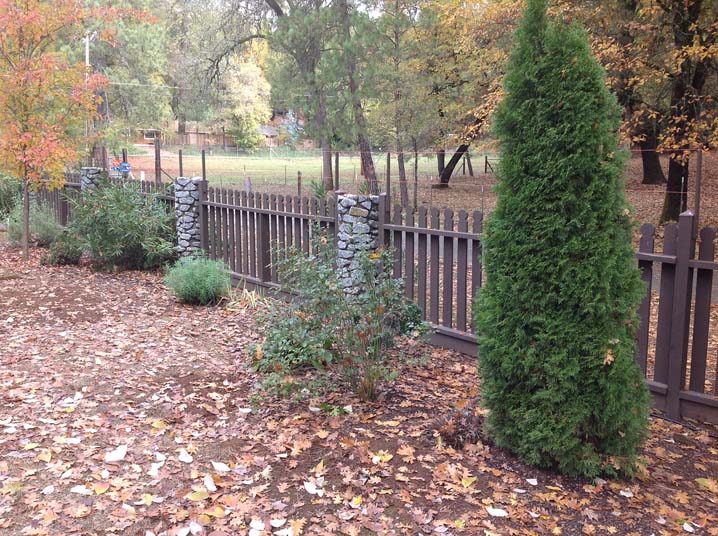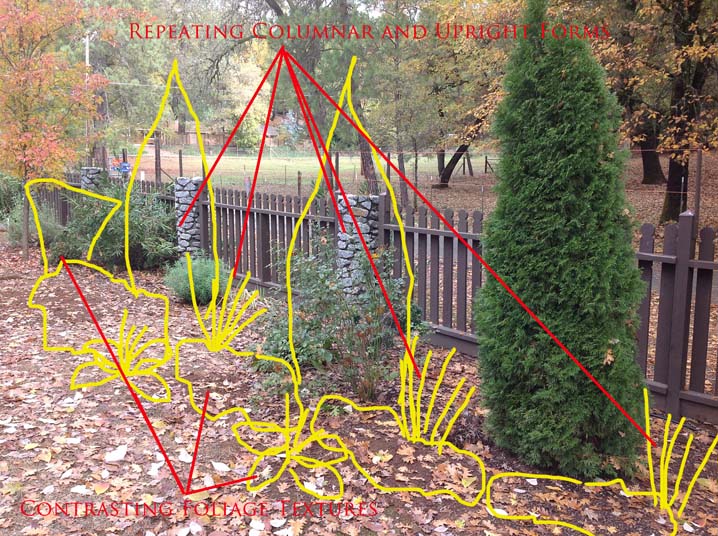 In the original photo, the lone Thuja stood out like a big, vertical sore thumb.  The solution?  Repeating the Thuja's strong upright form by adding a few more nearby, and echoing the shape with the vertical flowers of the iris, lilies and veronica.
To wake things up a bit, we added a little contrast in foliage size and shape, thanks to the large and velvety leaves of verbascum and silver sage.

I hope these simple examples have shown you just how easy it is to begin identifying problem spots in a garden bed, and how you can start the transformation process – all thanks to your trusty camera.