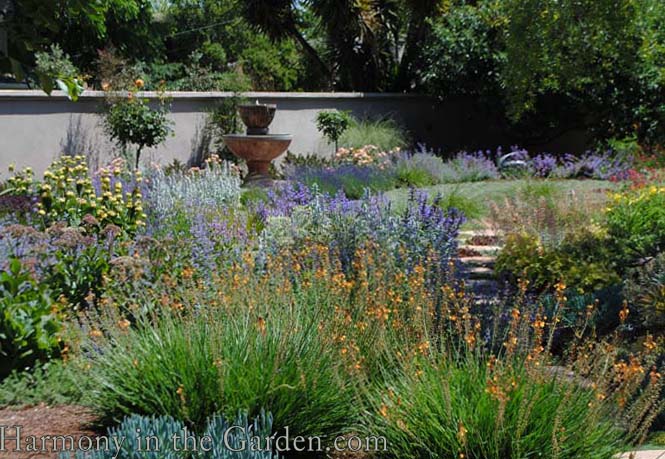 I'm thrilled to announce that one of the gardens I designed for a client is featured in this month's Sunset magazine.
In today's post, I thought I'd talk about another aspect of this garden – using the very-gray colored dymondia margaretae as a lawn substitute.
And not just the ground cover itself, but the tricks I use to keep the color looking lush.
But first, a little background and a few before & afters.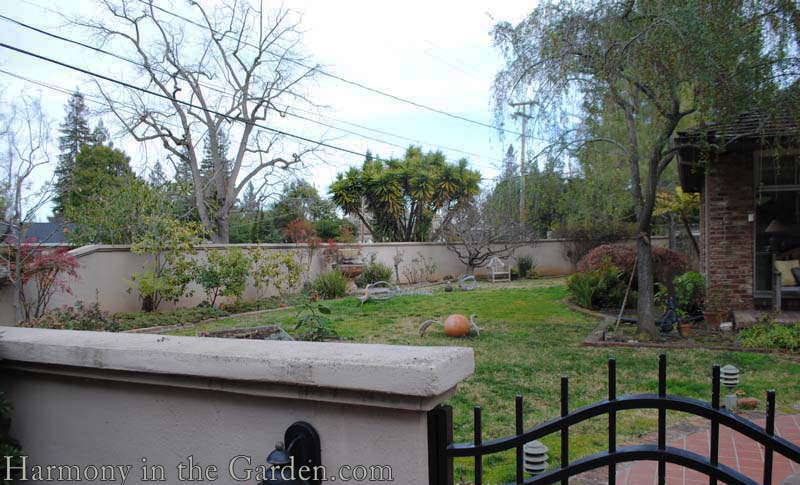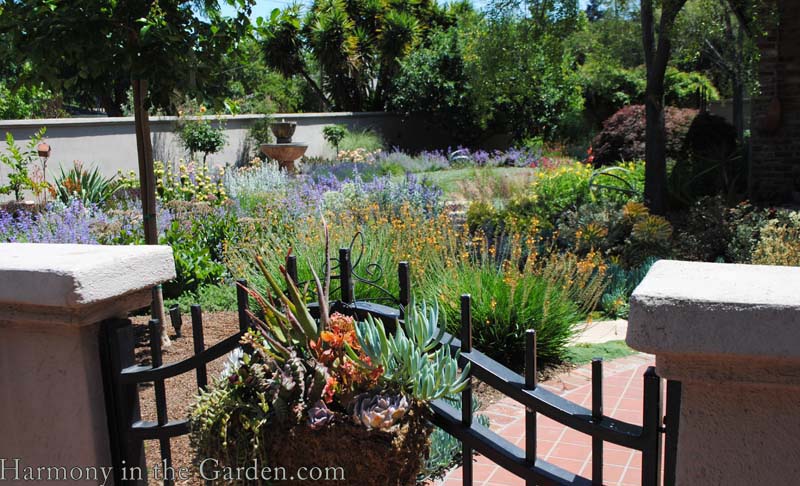 My client's home is located on a busy corner within a stone's throw of two nearby schools, giant picture windows throughout the house, and a low, 4-high wall surrounding most of the garden (a Lookiloo's fantasy)!
What this translated into was the homeowners being on constant display to traffic and pedestrians, alike.
The lack of privacy would tempt many to build a fortress-like wall to surround the garden.  But, staying true to their welcoming personalities, they decided to create a garden that others might equally enjoy.
After all, if they're going to peek over the wall they might as well have something nice to look at, right?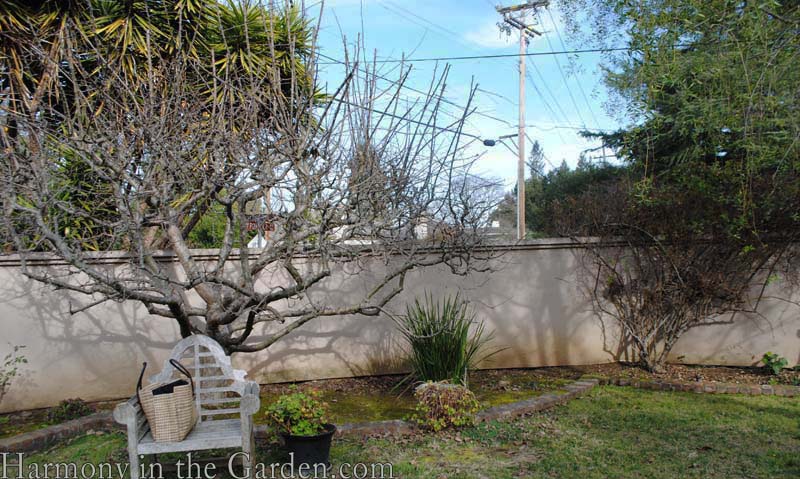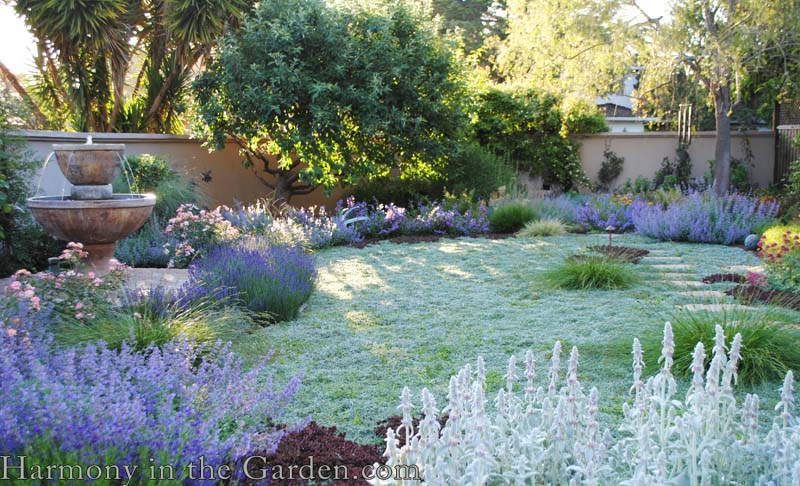 Tired of their threadbare, un-used, water-thirsty lawn, and random mishmash of plantings, they wished for a more responsible, fun, and 'livable' garden that not only used less water but incorporated plenty of native plants to encourage all types of wildlife to visit.
My first step was to rip out the lawn and reinterpret a newer, smaller version using dymondia.  I chose dymondia because it's extremely tough, drought-tolerant, evergreen, and can withstand a decent amount of foot traffic. Plus, it's just so darn pretty.
Their concern, however, was that using such an expansive amount of gray in the garden would have a blinding, bright, and parched effect.
This is a perfectly valid concern, and one that I've often heard  from other clients who have experienced unintended 'glare' in their own gardens as a result of an overuse of gray plants.
To help you avoid this common pitfall of using gray in the garden, here are a few tricks I've used to help tone down the brightness while still enjoying this fabulous foliage.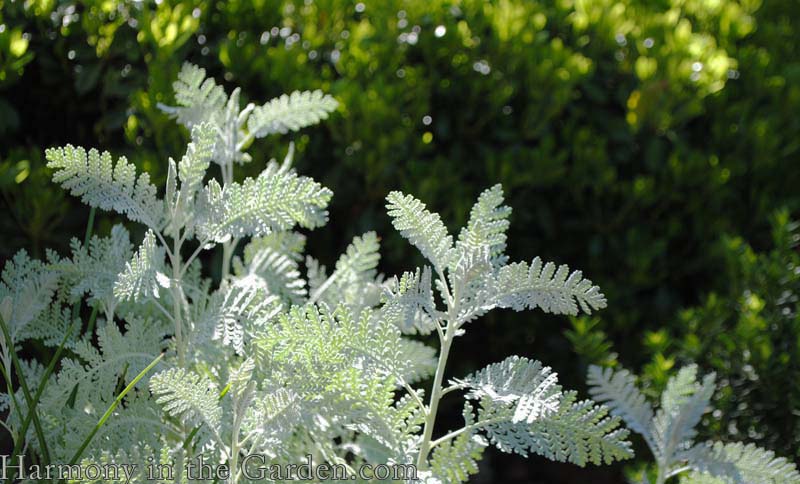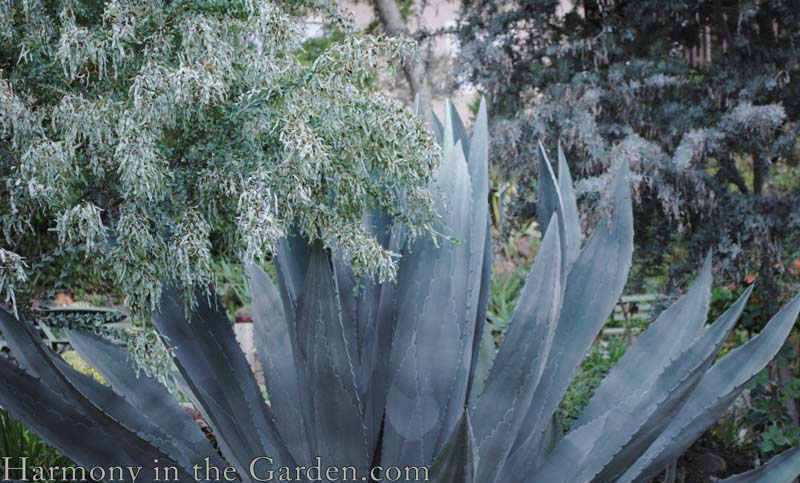 First, it's important to realize that there are different shades of gray ranging from light & bright, to mid-level gray, and all the way to dark, charcoal-like foliage.
And because of this range, not all grays are alike!
It's perfectly okay to use plenty of gray plants in the garden as long as you vary the shading.  No one really wants to look at one bright gray plant after another without a place for the eye to rest.  Just remember to use plenty of mid-level and dark gray plants sprinkled throughout.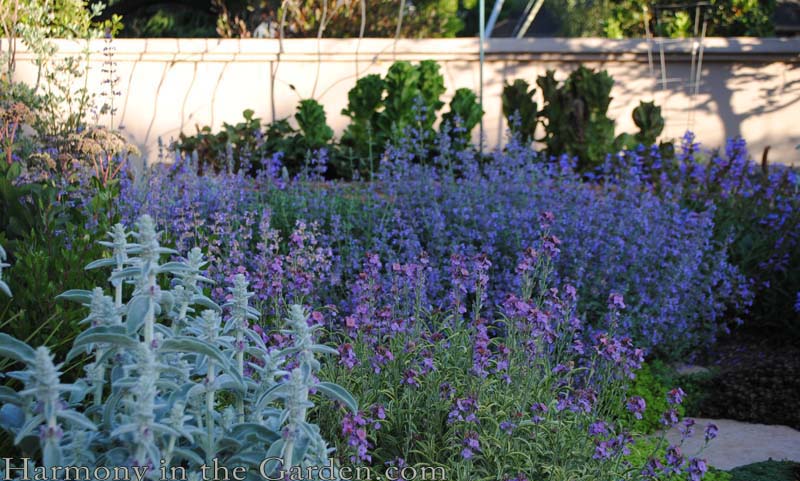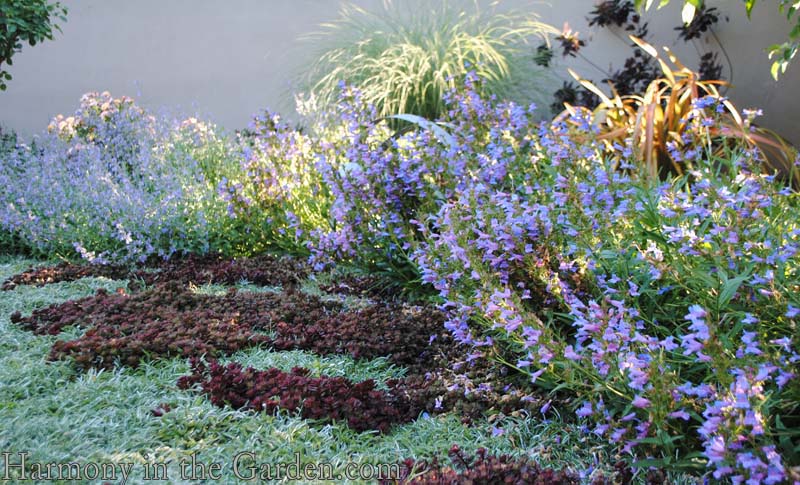 In order to prevent gray colors from creating a 'pass the sunglasses' effect in your garden it's important to include plenty of nearby plants that have deep, rich colors, such as burgundy, green and purple.
In this garden, we included the brilliant blue flowers of our native 'Blue Springs' penstemon, vibrant purple lavender, and the deep burgundy stonecrop sedum that creeps throughout the edges of the dymondia lawn.
The Lamb's Ear (in the above left photo) is used sparingly throughout the garden as it's a really bright shade of gray, bordering on white, and could easily cause the dymondia to appear brighter than it actually is.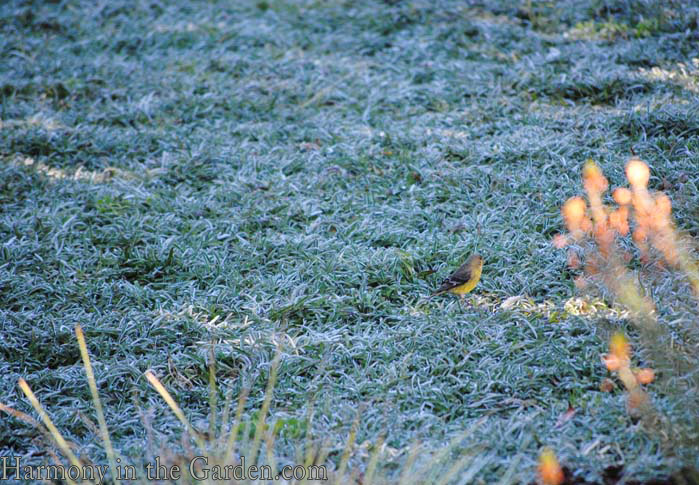 In fact, each dymondia leaf actually consists of two colors –  green on the bottom and silvery gray on top.
And once the dymondia begins to grow and fill out (forming a soft and inviting 3″ spongy mat), its slender leaves will begin gently twisting, revealing its different colors.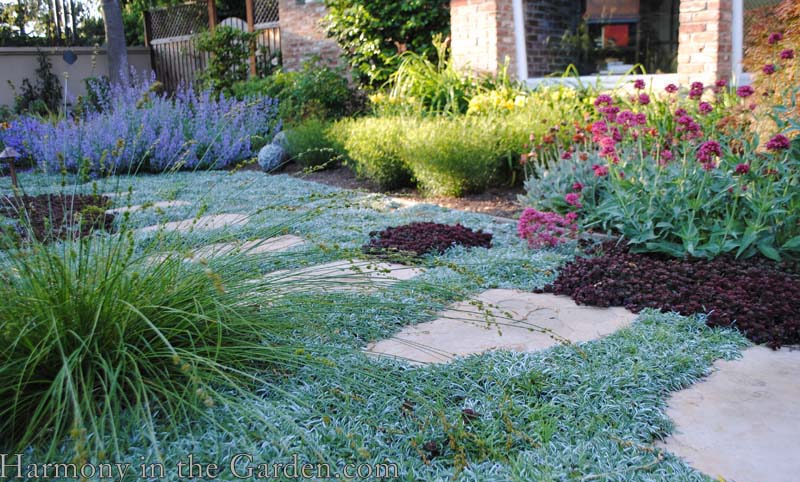 To further emphasize  the green in the bi-colored foliage, I made sure to include plenty of other surrounding plants with green colors.
For example, I've interspersed our native Carex divulsa (Berkeley sedge) and Calamagrostis foliosa (Feather Reed Grass) throughout the lawn, as well as lots of perennials with green foliage.
It's not just dymondia that has hefty amounts of green in its coloring – take a look at a lot of other gray plants and you'll notice green beneath the gray 'fuzz' (ie: many lavenders, senecios and hostas).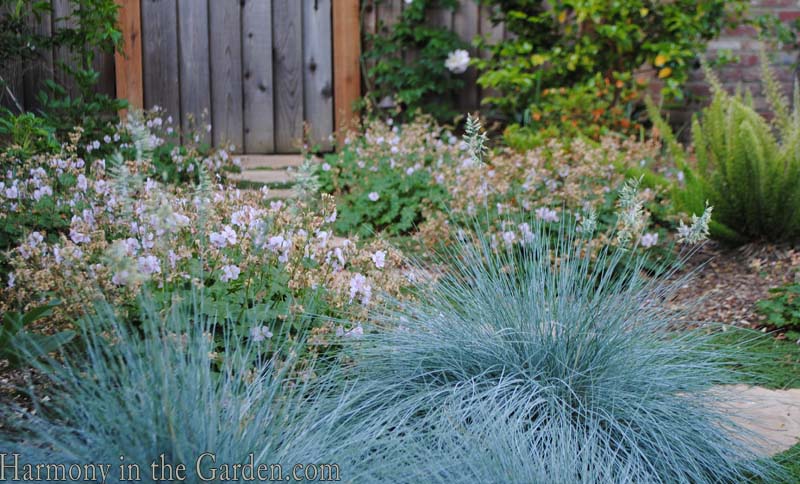 To emphasize the blue tones of the gray dymondia colors, I also included plenty of blue plants in the garden, as well.
For example, using 'Beyond Blue' fescue, various succulents, and lots of blue-flowered perennials.
My goal was to emphasize the tones and colors that I want while minimizing the tones that I don't want.
Can you imagine how bright the garden would be if I had used an overabundance of white flowers and foliage?  
Hardscaping (such as nearby flagstones, patios and sidewalks) plays an important role when placed near gray plants as it, too, can serve to either tone down the brightness or amp it up to blinding proportions.
For this garden, we chose flagstones with slightly creamy-pink tones to them.  Again, the reason was to de-emphasize the bright gray colors by introducing softer muted shades to tone things down.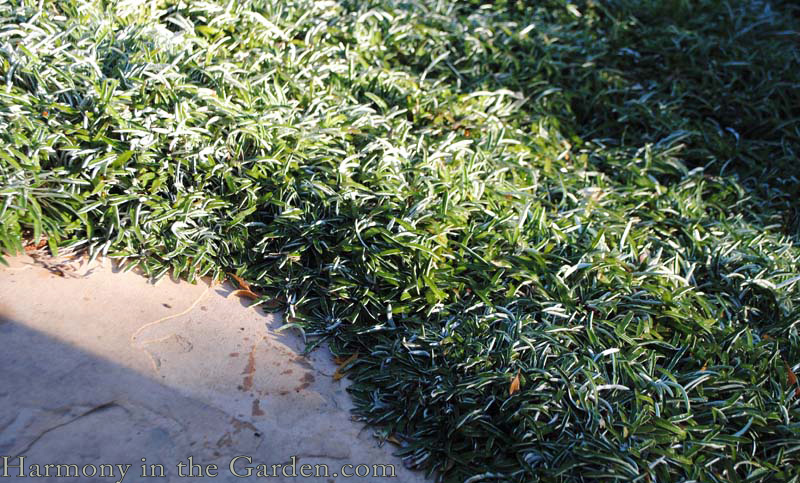 I've seen plenty of instances where a drift of bright gray plants, such as Lamb's Ear or artemesia, have been placed directly adjacent to a bright white cement walkway.
And 9 times out of 10 that's the area the homeowner is referring to when they say they don't like the color gray.
To eliminate this blinding effect, just remember to use hardscaping with softer tones and/or darker colors.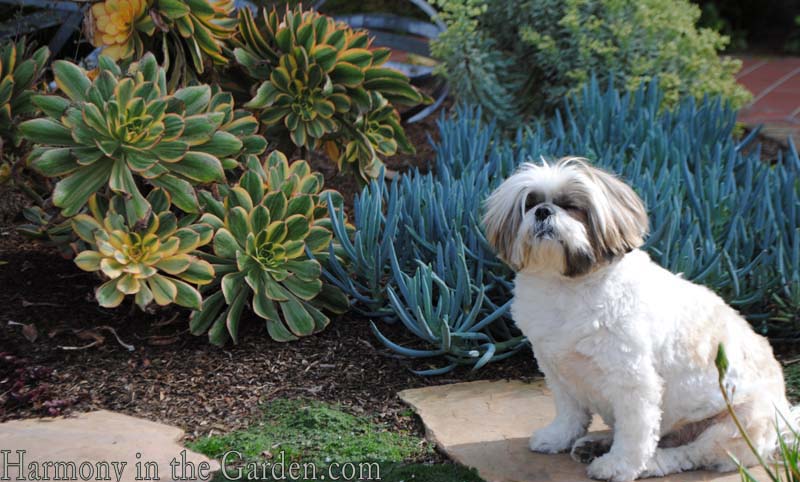 And even though bright white Max isn't doing much to help tone down the dymondia's gray, he's just so darn cute I can't resist including him in this post.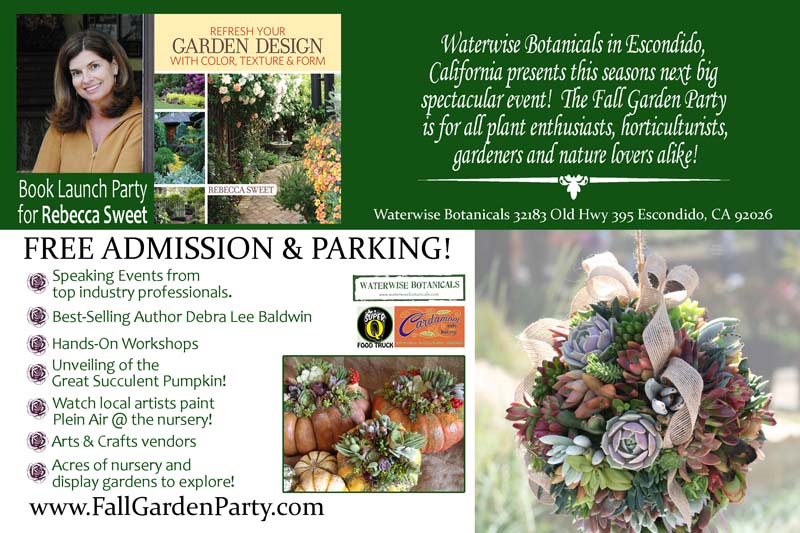 As a side note – for those of you who live in Southern California (or for those in need a fun vacation) you're all welcome at my first official Book Launch Party graciously held at Escondido's Waterwise Botanicals.
My latest book, Refresh Your Garden Design with Color, Texture & Form, is finally here, and I'll be signing books as well as talking about using gray (and other ways to breathe life into your garden) on October 26th.
I hope to see some of you there!