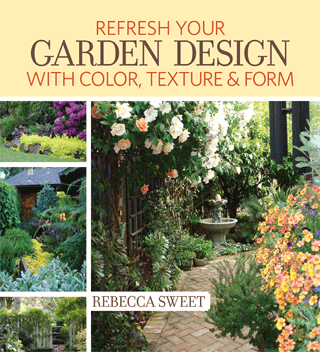 I'm over-the-moon with excitement to announce that my new book, Refresh Your Garden Design with Color, Texture and Form is officially finished and will be available in bookstores next month – Oct. 20th, to be exact!
After seeing a review copy for the first time last week, I can honestly say that I'm immensely proud of this book for many reasons.  Not only did Christy, the book designer, do an incredible job making it stunningly beautiful, and not only were my editors a dream to work with, but to hold something in my hands that is a culmination of my past fifteen years as a garden designer is exciting beyond belief.
After much discussion with my publishers about my book's title (which can sometimes be the hardest part when writing a book) I really like what we all came  up with as it  perfectly captures what the book is all about – refreshing your garden.
Roget's Thesaurus sums it up best with its own definition:  Refresh – make like new again, give new life, provide new vigor; to revive, restore and rejuvenate.
This book is written for gardeners of all skill levels with gardens of all sizes and styles.  At the heart of the book are basic design principles such as color, texture and form reinterpreted with a fresh perspective. The first chapter, however, is devoted to helping you look at your garden with fresh eyes so you can determine what is (and isn't) working.  Knowing where to begin is sometimes the hardest part when refreshing your garden, so in this chapter I've included very specific techniques to help you remove the 'familiarity blindness' that sets in when living with a garden for years at a time.  Included throughout are before and after examples to help you further understand how to implement each design concept in your own garden, no matter what zone you live in.   The chapters that follow delve deeper into color, texture, shape and form helping you to understand the importance of these basic concepts but, more importantly, how to take things up a notch by putting your own 'spin' on them.  I promise – there are no sleep-inducing design lessons here!
If you'd like to see a bit more, here's a book trailer showing you a few highlights- enjoy!