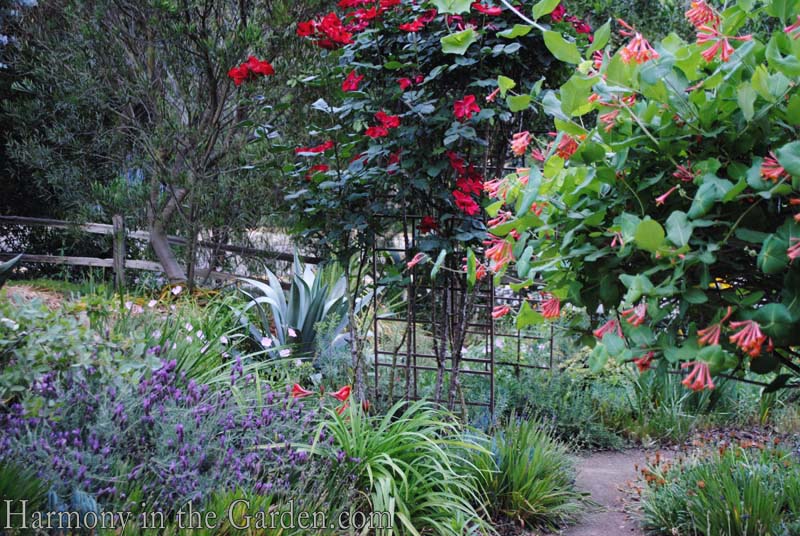 There's no doubt about it, Debra Lee Baldwin certainly knows her succulents.
But while visiting her Escondido, CA garden again a few months ago, I was struck by something else – the flowers!
Not succulent flowers, but perennials, annuals, and native flowers that are planted throughout the garden.
Sure, she's known as an expert and authoritative figure on everything succulent-related.
But does that mean her garden has to be 100% succulents?  No!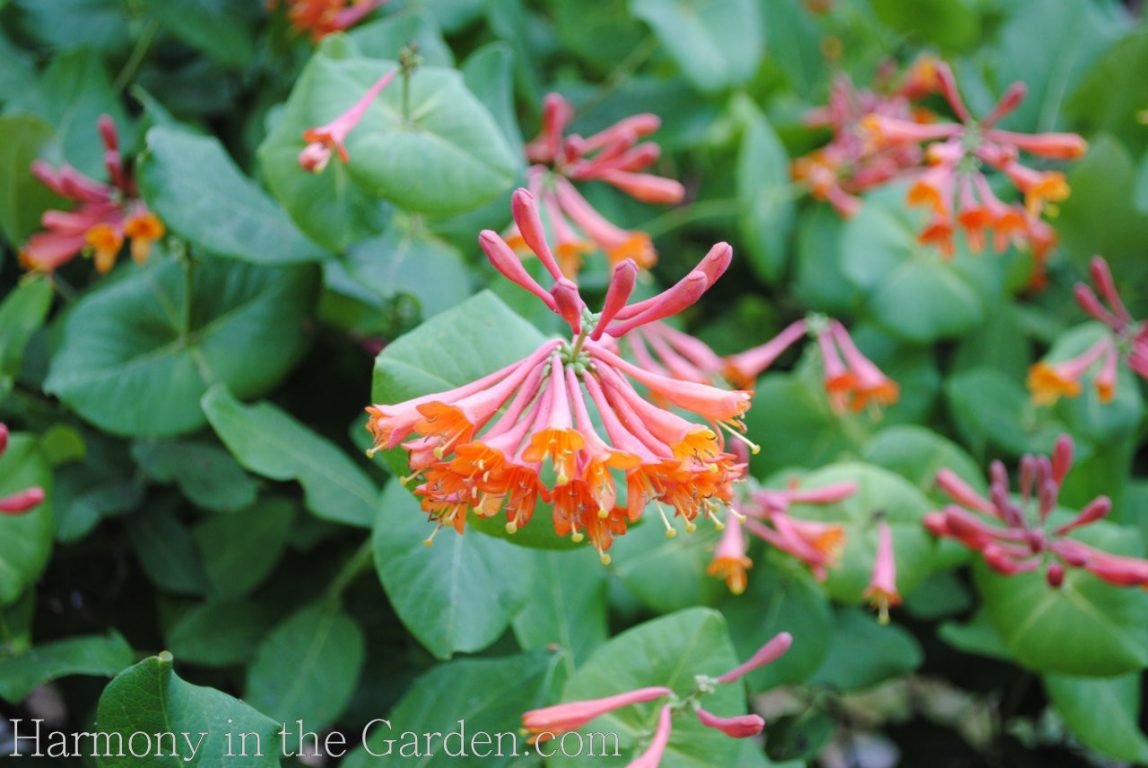 Debra takes a casual approach with her garden.  She pays careful attention to succulent and cactus placement, and then loosely fills in with flowers and grasses to soften any harsh lines.
The entire garden uses very little water, so the flowers that thrive must be able to do so with just a bit of occasional supplemental water.
This is definitely not a garden filled with plant collections, but rather it's a garden that quietly beckons you to explore the winding rustic pathways, overflowing with tempting textures, and colorful combinations.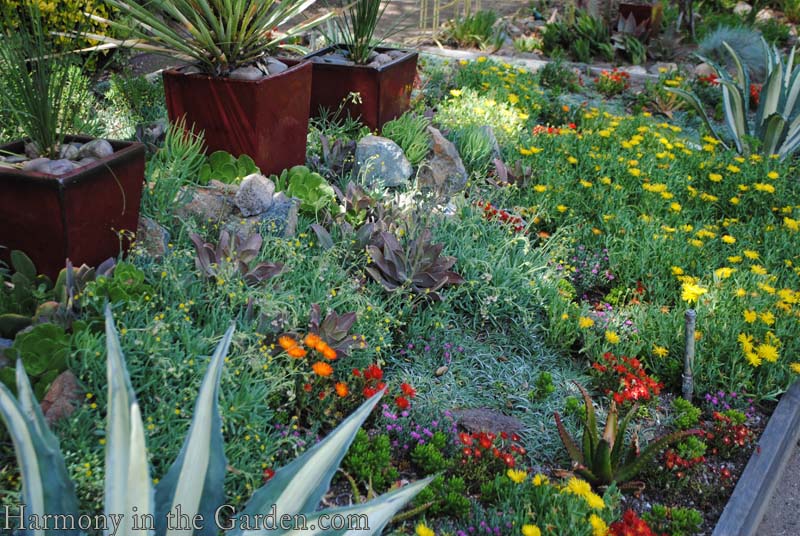 Over the past two years, Debra has been working on this part of her garden, appropriately named the 'Tapestry Garden'.
Having seen it years ago in its infancy, the technicolor patchwork of ice plant flowers ,combined with various shades of gray, gray ,and dusky plum caused me to literally gasp in delight.
I love the placement of the three containers in the center of the bed.
It's a fantastic idea to add much needed (and year-round) vertical height and interest.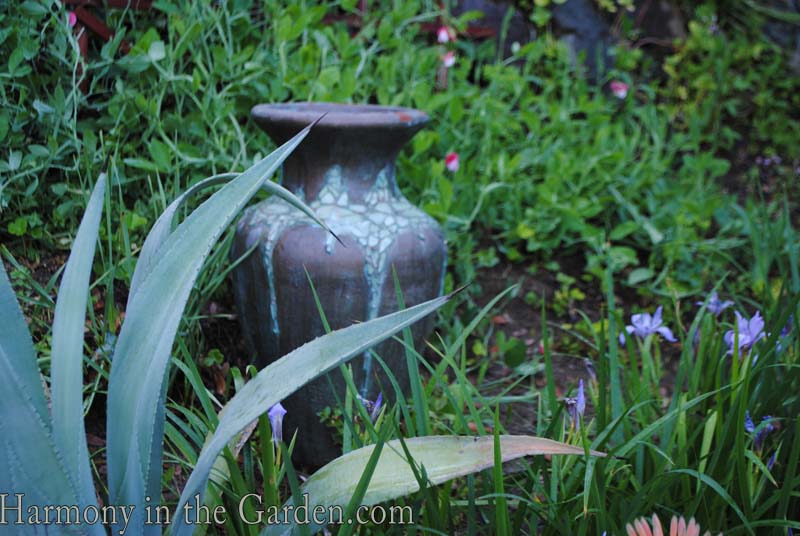 Don't you just love the way the blue color is repeated in the urn, the succulent and the iris? It's the very definition of a creative color echo.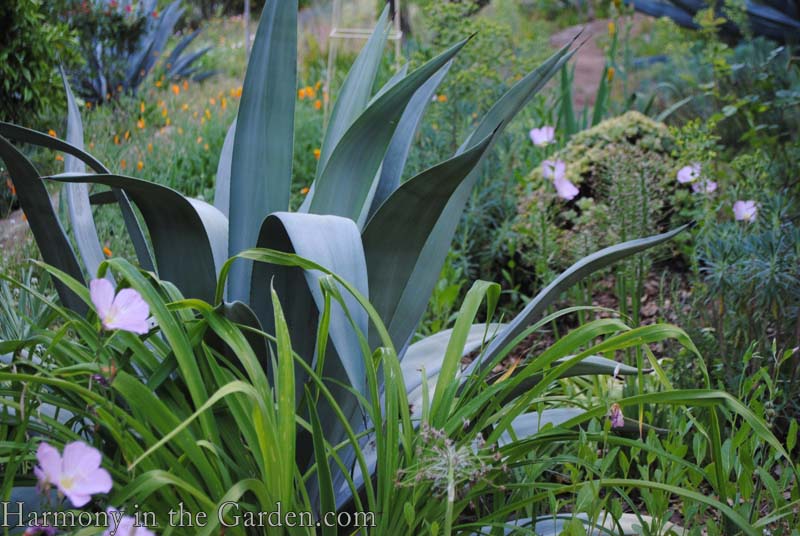 The highly structural (and pointy!) agaves seem to cry out for soft and billowy flowers – a perfect example of contrasting shapes.
Debra had one of the most beautiful Honeysuckles I've ever seen (I think she said it was a gift given to her many years ago).  She wasn't sure of the name, but I'm pretty sure it's a 'Major Wheeler' (aka: Coral Honeysuckle).
Anyone happen to know for sure?  All I know is the colors in my photographs don't do it justice.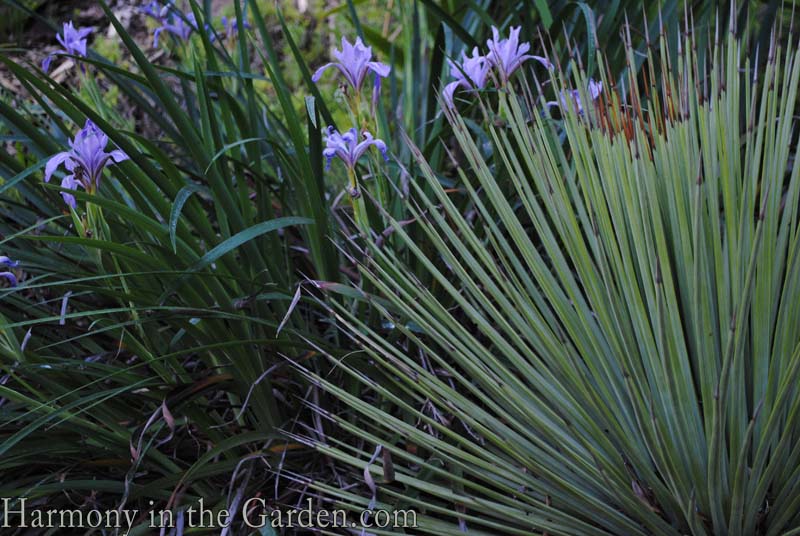 Another perfect example of contrast and repetition.
Contrast in the agave's rigid spikes with the iris's graceful foliage.
Repetition of the blue color from the iris flowers and the agave's foliage.
Quite the harmonious combination, don't you think?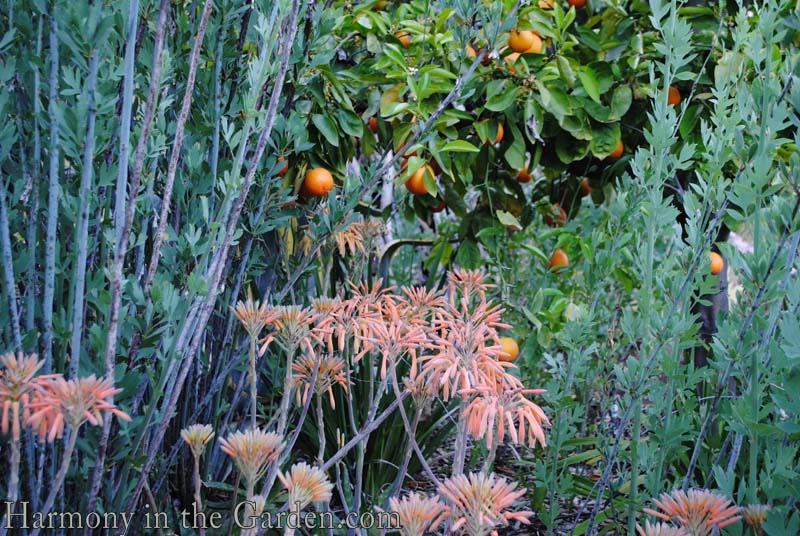 The towering flower stalks of the our native Matilija Poppy frames the soft salmon flowers of a succulent drift, and is backed by bright spots of color from the orange tree.
Heavenly.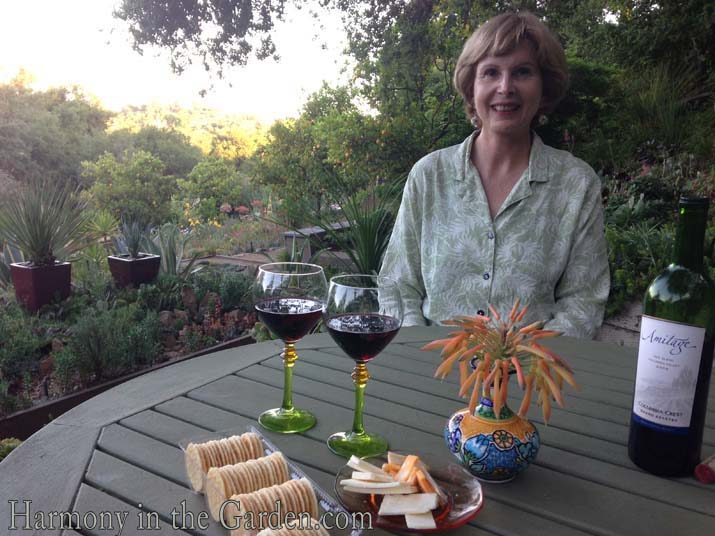 If you'd like to see more of Debra's garden, click here for a few of my favorite succulent containers that are liberally sprinkled throughout her garden.
And in case you haven't heard, Debra's third book, Succulents Simplified, has just hit the bookstores!
A perfect complement to her other two books, Succulent Container Gardens and Designing With Succulents.