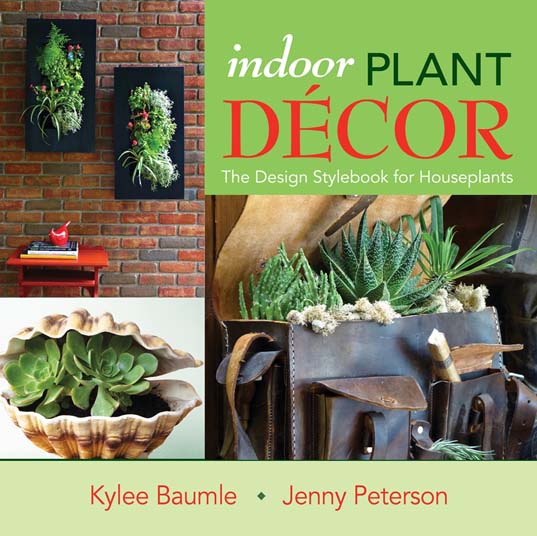 To celebrate the release of Kylee Baumle and Jenny Peterson's new book, Indoor Plant Decor, you're all invited to participate in their cyber book party (complete, of course, with loads of prizes!)
I'll be honest, when I was asked to review and join this event I was a little nervous as I'm one of those people who struggles to keep indoor plants alive.  There – I've said it.  Yes, I'm a landscape designer and yes, I love nothing more than working in my own beautiful garden, but when it comes to houseplants it's a whole different story.  I just sort of 'check out' and assume I'll most likely kill the poor plant after a few months.
But after thinking about it I realized I'm probably the ideal person who should read this book!  So, after reading the entire book cover to cover, I felt much better knowing that I'm not alone in my indoor plant abuse.  My plants will certainly thank them for their helpful advice in not only thinking outside the box when designing with indoor plants, but how to choose the right plant and take care of them.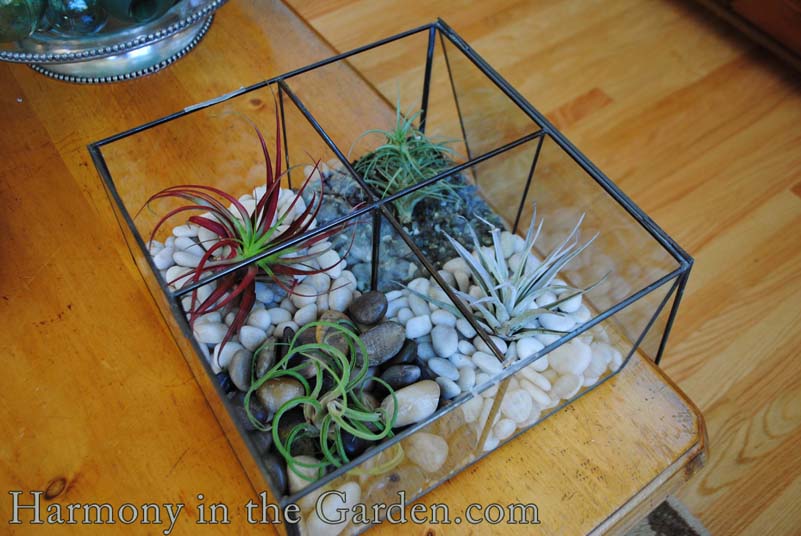 One of my favorite chapters is called 'Haberdashery' and deals with something that's rarely written about – helping men embrace their 'uniquely masculine space'.  Inspiring ideas are introduced for men out there who want something more than a fussy fern in a glazed ceramic pot.
The authors suggest including plants that are structural by nature therefore making a statement all on their own.  Also encouraged are materials that are hefty and bold, including wood, hypertufa or heavy glass.
This got me thinking about my own houseplants (the few that are surviving) and which ones my husband tends to gravitate towards.
One of his favorites is our terrarium filled with different pebbles and a mix of air plants (tillandsias – which, by the way, are some of my favorite houseplants of all, requiring nothing more than the occasional soaking and light feeding).
And after reading this chapter, this doesn't come as a surprise at all.  Structural plants?  Check!  Chunky stones?  Check!  Heavy glass?  Check!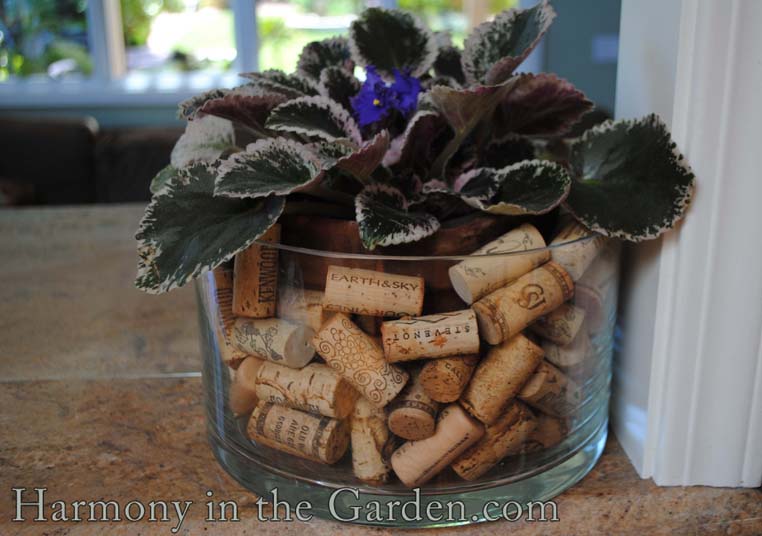 Another favorite of his is our 'pot within a bowl'.
He doesn't seem to care one way or the other about the unusual African violet with its splashy leaves, but instead loves the corks that we place in the outer container.
After finishing a bottle of wine, he gives careful thought as to whether the cork is 'container worthy' or not.

Which leads me to another aspect of this book – the clever projects listed throughout.
One, in particular, has clearly got my husband's name on it!  I almost hesitate to show him this as it'll surely bring more cork-related decisions his way.

Ready to join the Party?  Here's how to play:
There are 11 bloggers participating in this fabulous party, each offering a different prize.  Just leave a comment on each participating blog for a chance to win that specific prize.  The more blogs you visit, the more chances to win! Please note that because of shipping costs, giveaways are restricted to residents of the U.S.  The giveaway runs through Sunday May 12. The winner will be announced on Monday the 13th.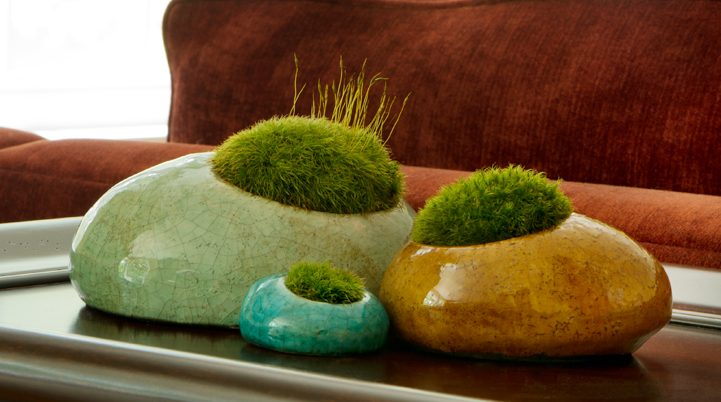 I'm giving away an adorable set of Moss Rocks.   Moss Rocks are living sculptures and zen moss gardens all rolled into one neat package. Enjoy the lush and soothing Dicranum mosses like never before in these beautiful pre-planted container.
This prize consists of one Cobble (medium) in Bark glaze and one Pebble (small) in toadstool glaze. Donated by Moss and Stone Gardens, a design firm in Raleigh, N.C., specializing in moss landscapes.

For more reviews and 10 more chances to win, please stop by the following blogs – and best of luck to everyone!!
******UPDATE:  We have a winner!  Congratulations Carol Yemola – you won the moss rocks!  Thanks for playing, everyone and I hope you all have a lovely day!******
Urban Gardens (Robin Horton) – http://www.urbangardensweb.com/2013/05/07/indoor-plant-decor-design-stylebook-for-houseplants-contest-to-win-woolly-pockets-planter/