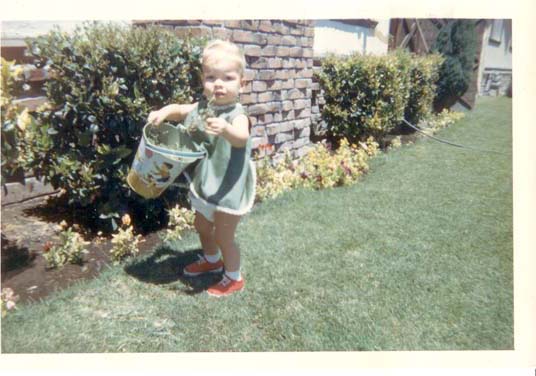 The other day my parents and I were reminiscing about the time I decapitated their very first little garden.  I was only two years old, and my dad was anxiously waiting for the day when the new seed mat (that he and my mother had carefully tended over several weeks) would transform into the lush and bountiful garden promised on the package.
Apparently it was nothing more than a rolled up strip of coir and soil with common flower seeds pressed within it. All one needed to do was unroll it, tack it down at the corners, water – and voila! – within a few weeks your new garden would spring to life!
But to my young parents, their first garden was going to be amazing (and easy – what could be better!!!
After coming home from work one day, I toddled over and proudly greeted him with a bucket filled with the snapped off flower heads from his prized garden.   With a two-year old's precision, my little hands ripped them cleanly from their base, leaving no attached stems that might at least be plopped in a vase for my poor dejected father to enjoy for awhile.  So there they lay in my bucket – like a bunch of colorful, but sad, decapitated heads.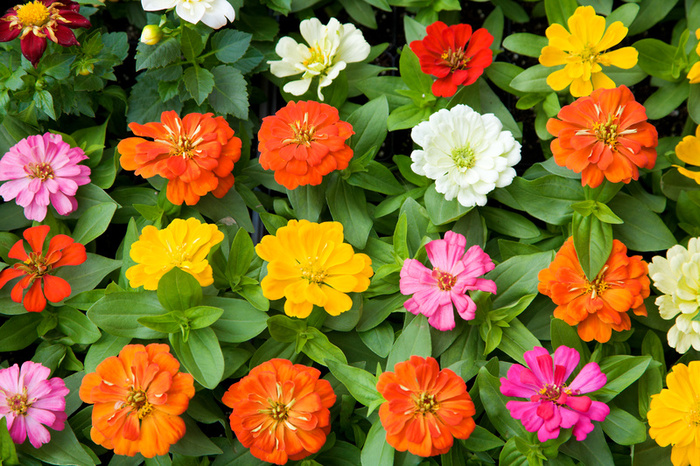 Even though I had heard this story many times before, what I hadn't heard was how he looks back now and laughs at the pitiful selection of flowers that were growing in this seed mat.
With a face not unlike someone who has accidentally swallowed a gulp of sour milk, he said "it didn't really matter – they were mostly just old zinnias anyway – they're just so rough and coarse, and way too colorful."
And that's what really got me thinking – because I happen to love zinnias.  To me, they represent the hours and hours I spent in our neighbor's garden trying to catch the little gold Skipper butterflies that feasted on them.  They represent one of the first flowers of my childhood, luring me down the garden path into the career I now adore.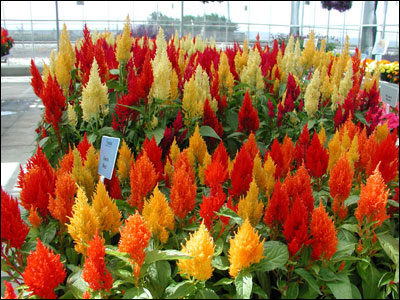 I began to wonder if the flowers each of us likes or dislikes are actually just symbols of distant memories, whether happy or unpleasant.
So I began to think about flowers that I personally don't like.  Like celiosas.  I hate them.  Not the cool, twisted cockscomb varieties, but the triangular, coarse flames of flowers.
But after spending a moment wondering why I dislike them so, it's because the only real memory I have of them was when my very best friend who lived across the street was moving away.  True, I was only 8 at the time, but the loss of this friend left a giant hole in my little heart.
In an effort to spruce up their very ordinary 1960's suburban front yard, her family had planted dozens of Celiosas, each one awkwardly placed about 2′ apart from one another.  All I can remember is that I couldn't stand to walk out front and look across the street at their foreign looking front garden with the 'For Sale' sign stuck in the corner, a cluster of Celiosas clustered around its base.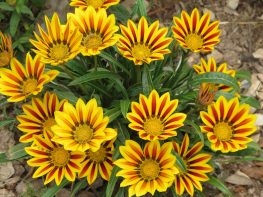 I don't really like gazanias either.  But that might have to do with the fact that when I was young, I proudly picked a bouquet for my mom as a surprise for her birthday.  Yet within the hour, I was the one surprised when all the pretty flowers betrayed me by shutting themselves up tight, never to open again.
The same with daylilies.  The bouquet of colorful yellow flowers I picked was nothing more than a disappointing bunch of shriveled up flowers the next day.  I quickly learned that the common names of plants tend to have a reason behind them.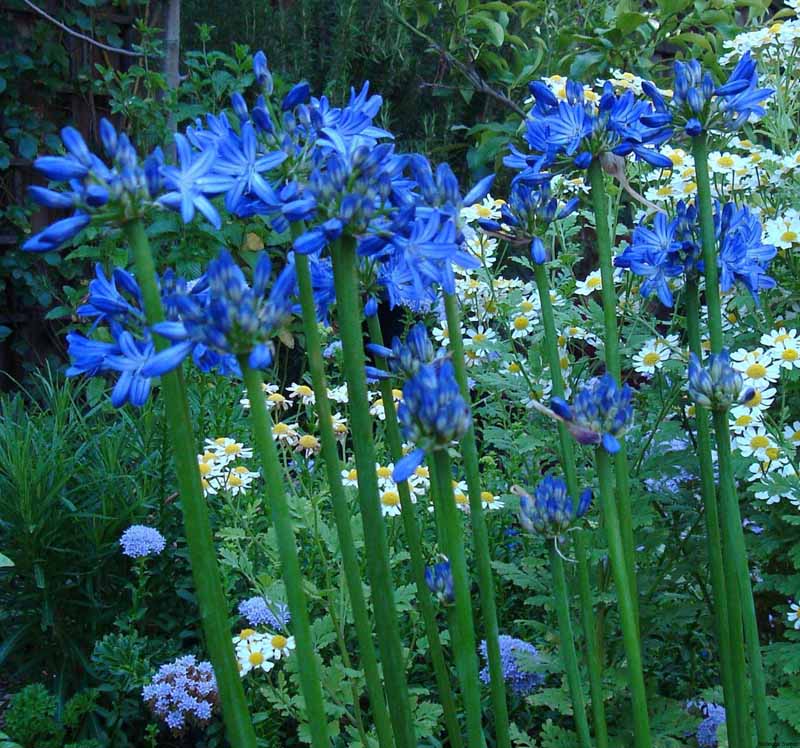 But agapanthus, on the other hand – now there's a flower that stands up in a vase for weeks at a time.
And even though most Californians tend to sneer at the common-as-dirt agapanthus, I have a soft spot for them because of the pride I felt at having finally mastered the fine art of surprising my mom with a bouquet that would last for days on end.
I could go on and on and on about my good or bad memories with plants – as most gardeners can.  But I'm thinking I might try an experiment this summer and plant a few of my Top 10 Least Favorites to see if I can learn to appreciate them for what they are, and not for what memories they represent.
Now that I'm finished with my therapy session, I'm curious – do any of you have flowers that you don't like that might be tied to disappointing memories?  Go ahead – get it off your chest.  It feels great!!