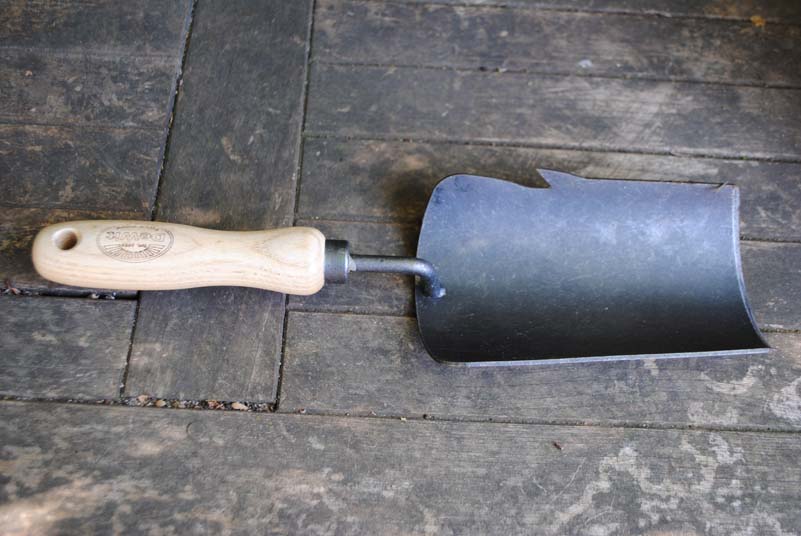 A few years ago my friend (and gardener extraordinaire) Shawna Coronado traveled to the Netherlands to spend a little time with the folks at the DeWit Tool company.  
Shawna had the once-in-a-lifetime experience of not only designing, but making the prototype of her ideal version of a potting soil scoop.  The scoop has since been such a success that now it's part of their regular tool line-up.
In fact, the DeWit company kindly sent me one to trial, and I must say I've really been enjoying using it while assembling some of my spring containers.
Here's why I'm a huge fan:

1.  Notched Edge
If you're like me, you've probably tried to rip open a bag of potting soil with your bare hands because you were too tired to trek all the way back to the garage to get your scissors or shears.
The problem with that method is I invariably end up mangling the bag and spilling soil everywhere.
Ripped bags no more!
The edge of this potting scoop is notched with a very sharp hook that easily punctures right into the impossibly impenetrable plastic bag with a very satisfying pop – and it's smooth sailing from there.  I love that little notch!

2.  The Over-Sized Scoop
I wish you could see how much soil this scoop holds!
 It's about double what any other trowel holds, which is perfect when you just want to hurry up and fill the container without having to pick up and dump the heavy bag.

3. Rounded Sides
The sides of this trowel are molded into a unique curved shape with perfect pot-hugging curves.
The shape makes it super easy to slide the trowel in and around the container, not disturbing delicate plants.
The rounded shape also means the soil doesn't easily fall out.  
Genius!

4.  Sharp Edge
The blunt end of the scoop has a very sharp edge making it ideal for slicing through old, compacted potting soil or a plant's roots.
If you're convinced you can't live without this tool, you can order one for yourself here!