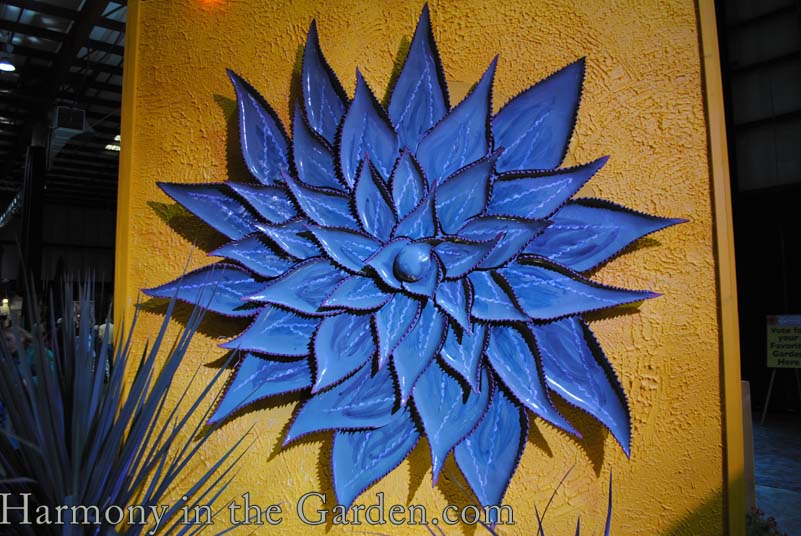 You can always tell when people are sick and tired of winter when flashy accessories start popping up throughout the garden!
This past week, while visiting Sunset Magazine's test gardens and those of the San Francisco Garden Show, I was struck by the amount of vibrant colors everywhere.
And also, interestingly enough, how the color didn't necessarily come from plants but from various hardscaping elements – walls, dividers, arbors, trellises, furniture or artwork.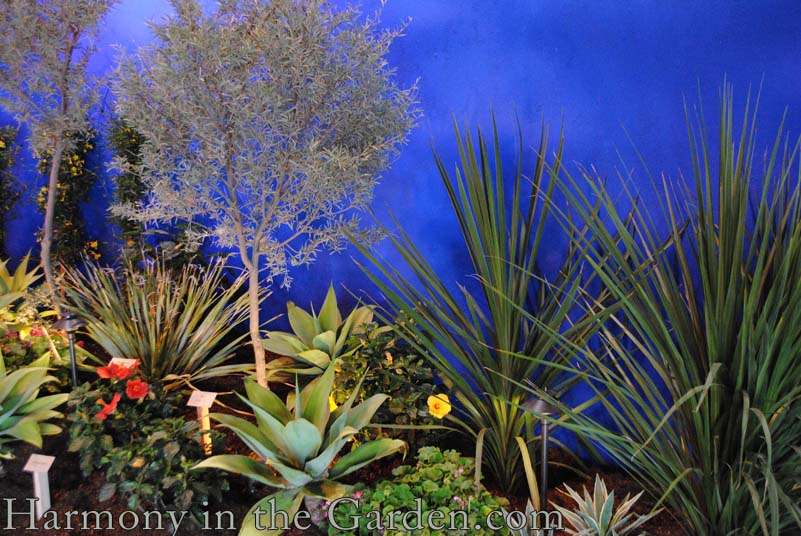 The 'Inside Out' garden, created by the students of Arizona State's School of Landscape Architecture was one of my favorites.
I love the vibrant ceramic flower (above, created by Jim Sudal) and the shadows it cast on the wall, helping to give it a three-dimensional effect.
In fact, along with color,  shadows also seemed to be a significant theme throughout the gardens.  Highly structural plants were strategically placed near colorful walls and lights to let their shadows add a subtle dimension to the garden.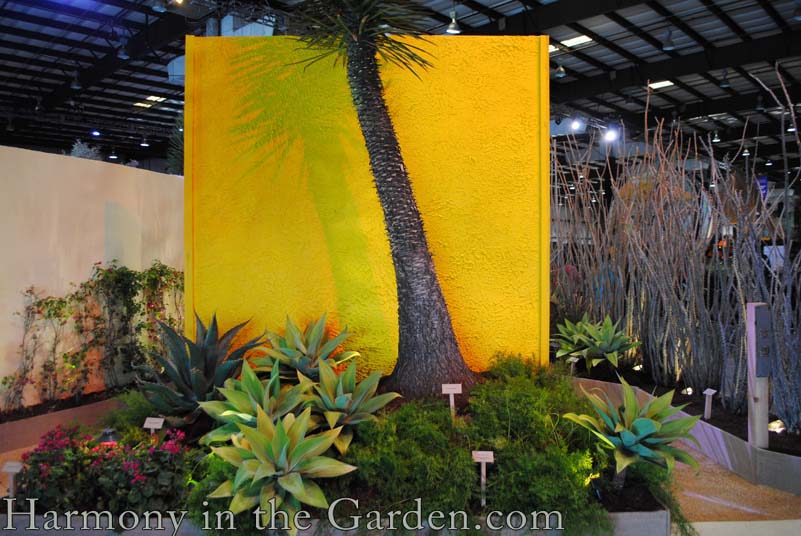 I can only imagine how breath-taking the palm tree's shadow would look in a natural garden setting, just as the sun begins to set (without the distracting show lighting).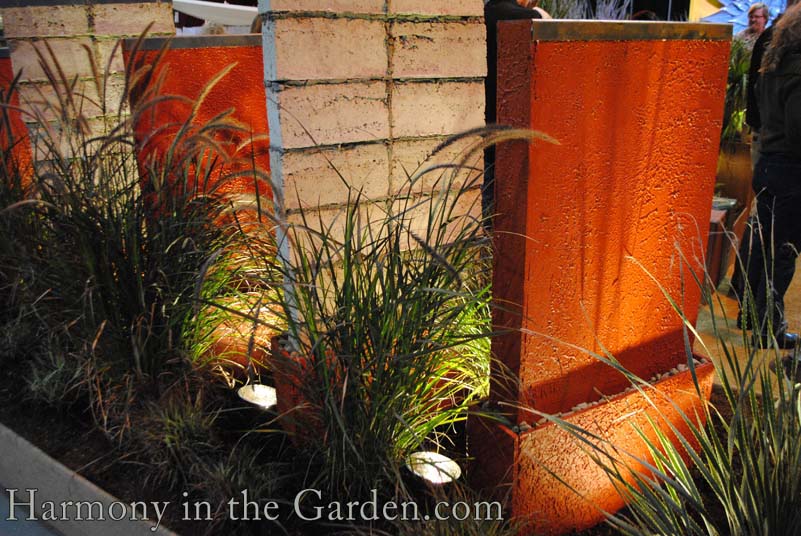 I love how the students created such colorful and textural interest in this particularly narrow space.
These dividers are actually made of Papercrete, a blend of concrete and re-pulped paper fiber that only weighs one third of a typical concrete wall. One student told me about an entire home he toured that was made of papercrete.  Very cool.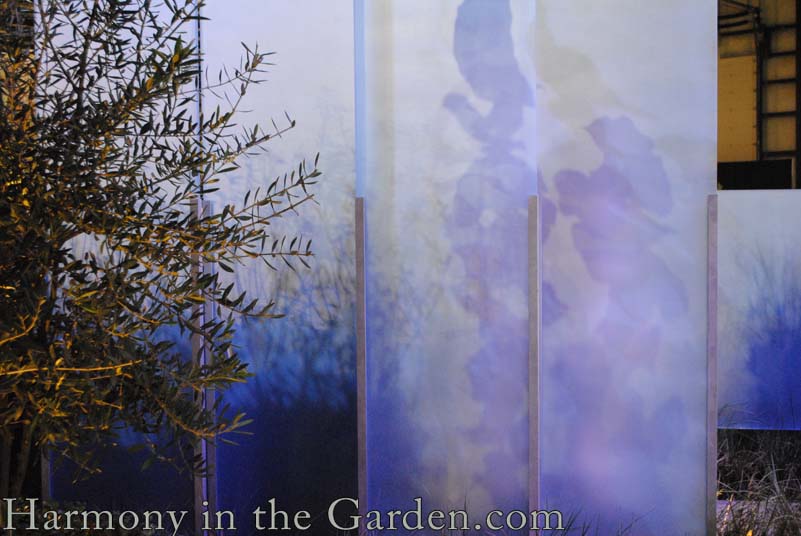 'Wonderland', created by Arterra Landscape Architects, had some of the most creative use of color and shadows I've seen.
These concrete walls help to provide a sense of movement from the shadows of passing people as well as the shapes and forms of the nearby plants.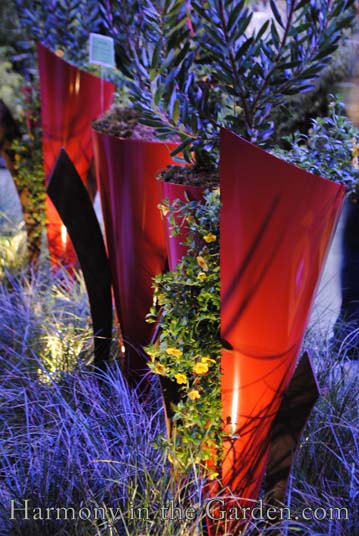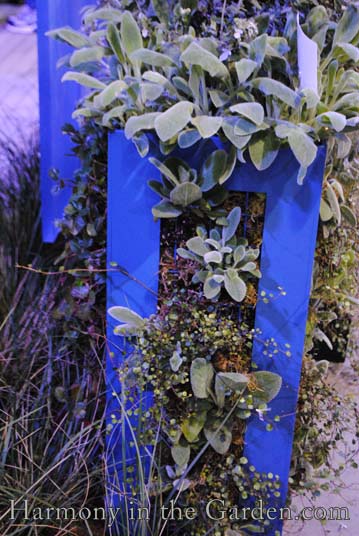 Aren't these custom-made red 'Furl' steel planters positively divine?
If you have an extra $2500 burning a hole in your pocket, Arterra's 'Furl' can be yours!  I love the opening down the side of the cone, allowing trailing plants to spill forth (there's 1-inch screen that holds the plants and soil in place).
And the blue planters are perfect for creating a living wall down one side, with a traditional planting space at the top.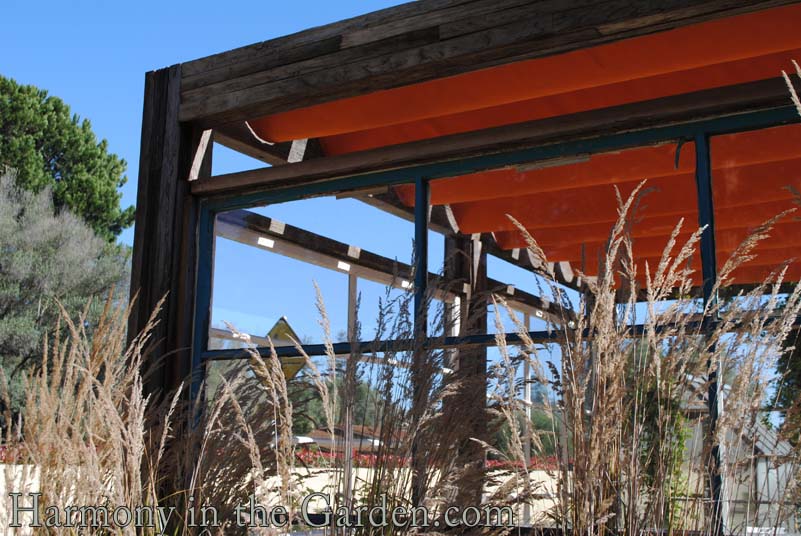 Okay, so now let's shift gears.
It's one thing to see these types of creations  in show gardens. and it's another to see them implemented in actual gardens.  Which is why my visit to Sunset Magazine's headquarters, in Menlo Park, was so inspiring.
Here are a few outstanding examples of how to implement color in your own garden.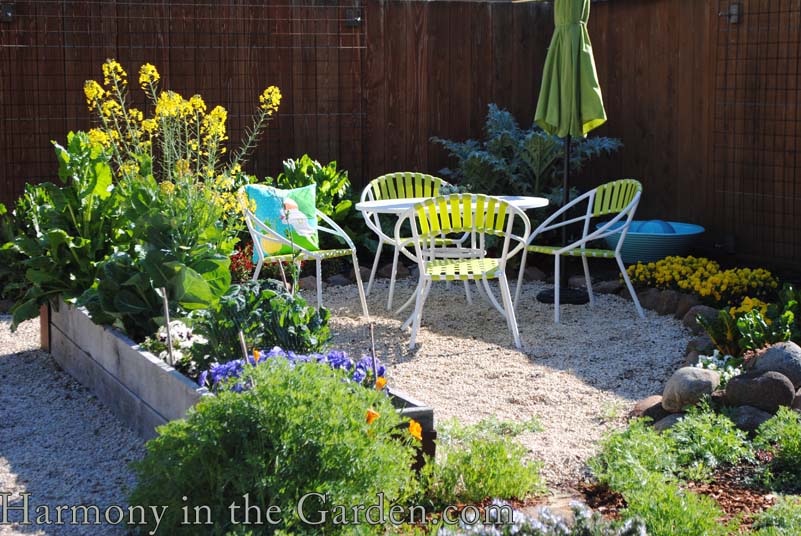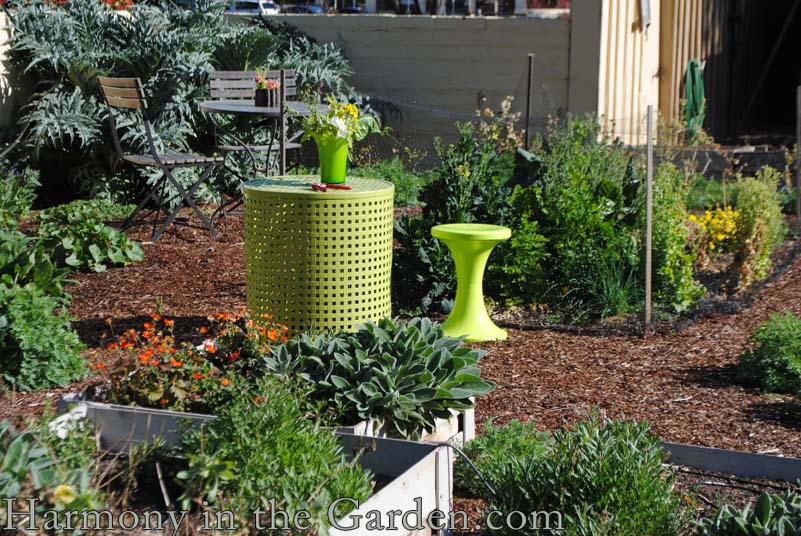 Lime green is one of my favorite colors in the garden as it always conjures up images of fresh new growth – the epitome of spring.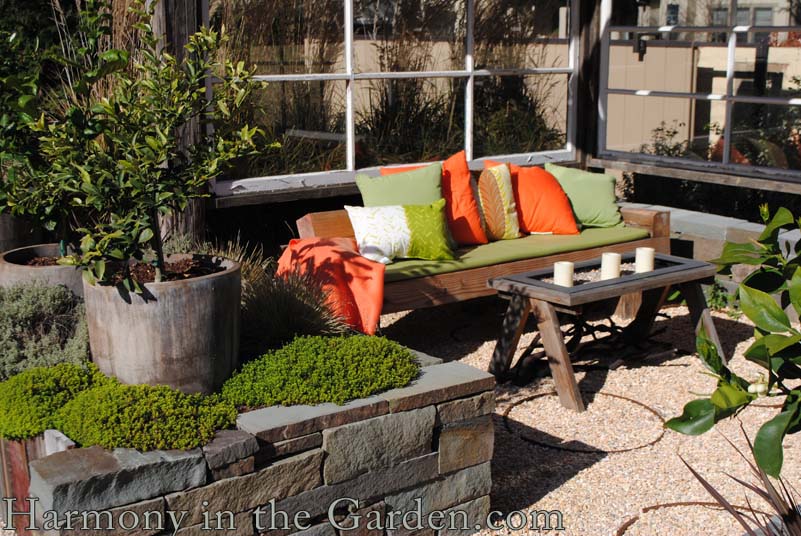 This is my favorite corner of the garden, designed by the talented father/daughter duo at McKenna Landscapes.
Cushions are such an easy way to add an inexpensive burst of color to your patio.
Can you see the rebar circles imbedded in the crushed gravel?  Such a simple, yet creative, way to add an unexpected element to a gravel patio or pathway.
And I love the containers set within the raised planter.  A great way to add a little extra vertical interest to a small space.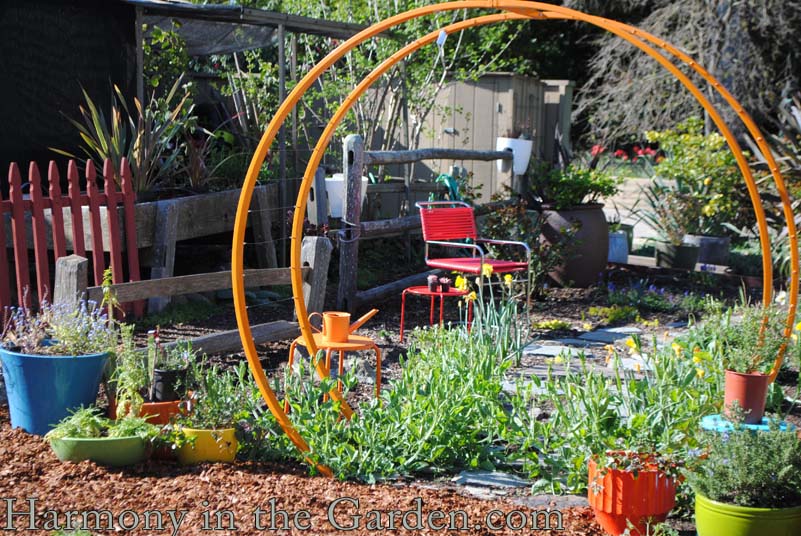 I SO want one of these circular arbors for my own garden.  I'd plant little cherry tomatoes on either side and train them to grow up and over so their little red fruits might gracefully dangle like flashy earrings – yum!
Created by TerraTrellis (a two-woman design team in Los Angeles) this powder-coated steel trellis comes in scads of delicious colors.  I'm always a fan of useful structures that make a statement even when completely bare as they add much needed winter interest to a sleeping garden.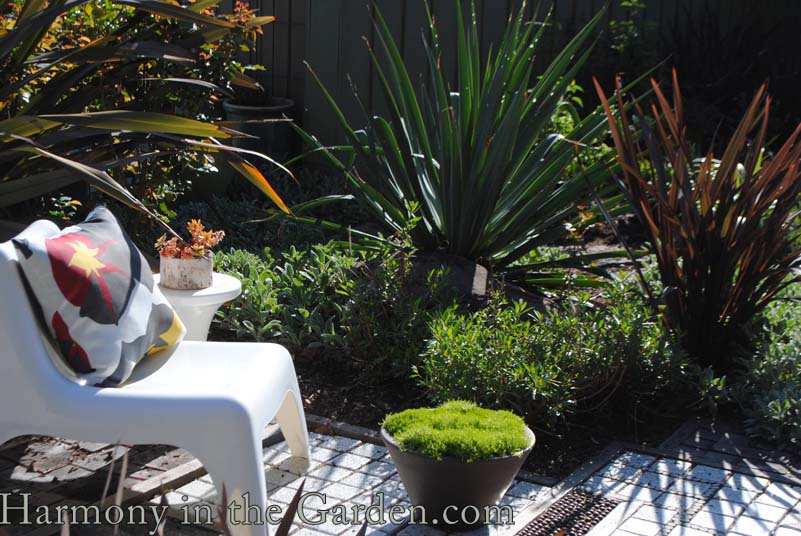 And if bright colors aren't quite your thing, maybe you'll appreciate the crisp white lines of this contemporary chair?  Combined with a colorful pillow, it adds a chic look to any patio setting.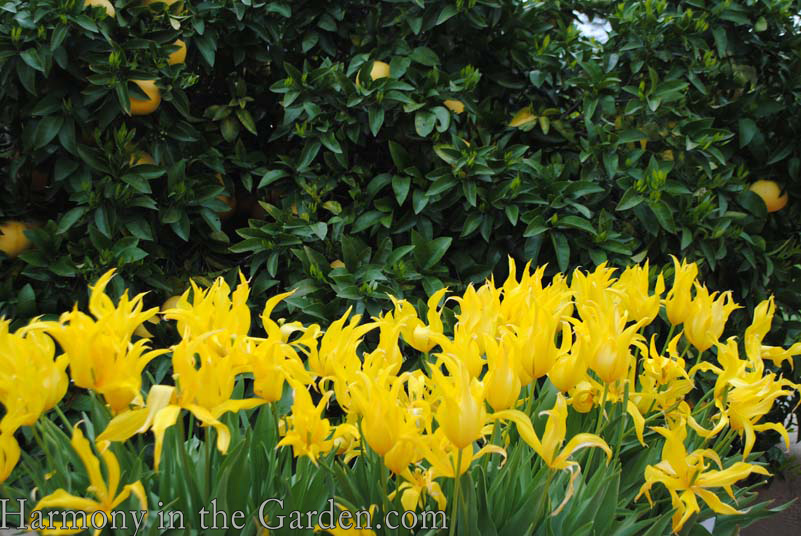 Okay, I  couldn't bring myself to write an entire post and not include a single plant – so here it is:
Sunset's fabulous combination of 'West Point' tulips that perfectly echo the yellow grapefruits behind them.
To me, this is the epitome of spring!