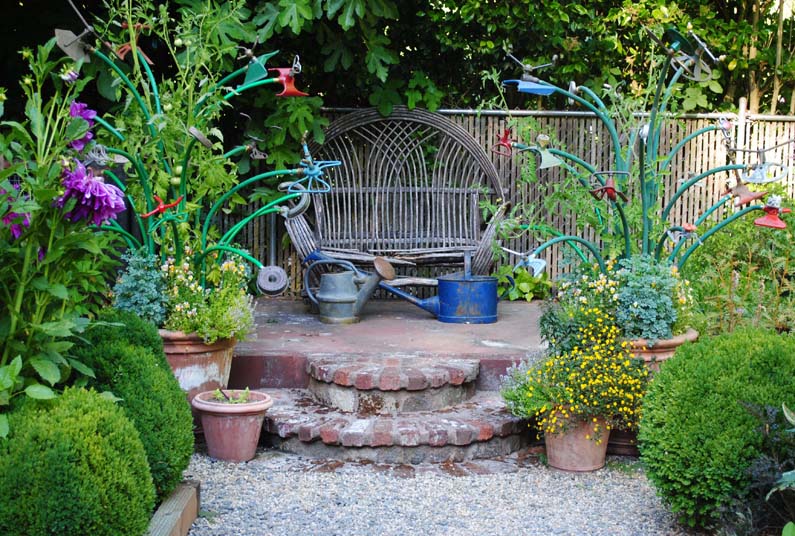 My garden-watering meltdown had been brewing for years. 
It came to a head this past summer when I had finally had enough of the hoses in my garden constantly kinking every time I moved a few feet.
My husband would try to help, buying me 'the best' the big box stores had to offer (promising me they wouldn't kink) yet they always did. 
While I generally have a pretty high tolerance level for irritating things, when I'm in the middle of watering my garden, the last thing I want to do is to constantly have to stop what I'm doing to walk back and straighten out a kinked hose.
One day last summer I had finally had enough. 
It was the final kink that broke the camel's back that caused me to stop what I was doing, go inside and do a little research to find the best hose money could buy. 
Everything seemed to point to Dramm's products, so I ordered THREE hoses to replace every hose in my garden. 
Ohmygosh.  After using them all summer, let me tell you that, hands down, these hoses are the best. 
They're super tough, come in fabulous colors besides the usual off-color green and are made out of something like kryptonite, so they rarely kink (and when they do, they effortlessly bounce right out of it without a scratch!)
This purchase led me to try their other products, and soon I was ordering watering nozzles and sprinklers galore for both my own garden and my parents' garden, as well.
When I was in Tucson for a Garden Writer's Association meeting,I finally met the folks at Dramm.  I tried to reign in my enthusiasm, feeling like a 'Dramm Groupie,' but I couldn't stop myself from gushing over their products.
So lucky for me (and now for you!) they're generously offering a giveaway here for two of my lucky readers!  
I was given one to try and after using it for the past few months I don't know how I gardened without it.  One thing I love most about this apron is that I no longer punch holes in my pant pockets with my pruners.  Normally, I jam my pruners or trowel in the back pocket of my pants while doing other garden chores.  This works just fine for a while, but ultimately results in a hole.  Now, I not only have a pocket for my pruners, but one for my cell phone, and a large zippered center pocket for anything I happen to harvest.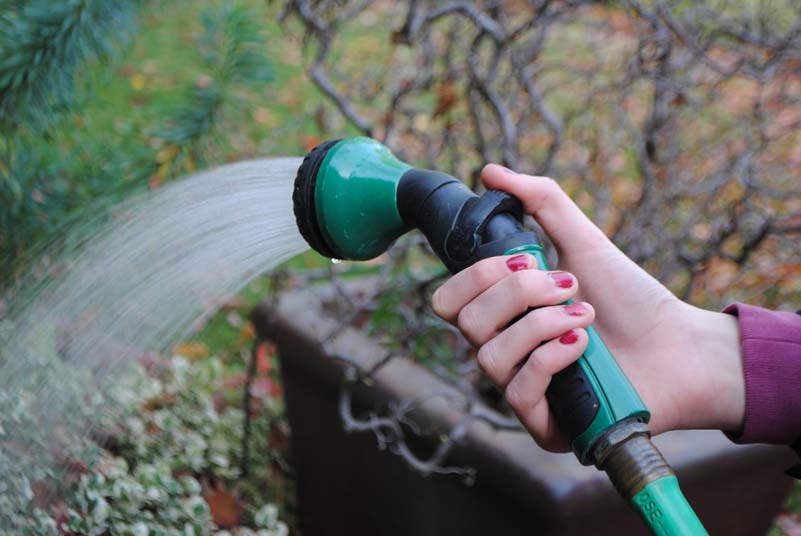 #2 – One Touch™ Shower & Stream nozzle
I can't rave enough about this water nozzle.  For one, I love the colors (this summer I bought the green, orange and purple to match my new hoses.)  For another, it's a dream to use while watering as the one-touch mechanism allows you to easily turn it on or off with your thumb, leaving your other hand totally free.  The nozzle head also rotates to give you either a gentle shower or a stream of water.  I have other watering nozzles that can produce dozens of types of water streams, but does anyone really need all of them?  Seriously.  Who's going to need a triangular shaped stream of water?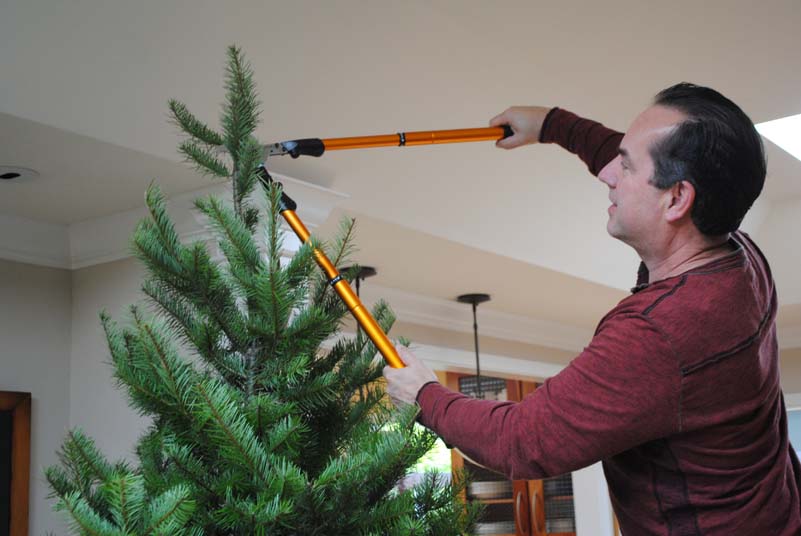 #3 –  ColorPoint Telescoping Lopper
We had a chance to use this telescoping lopper this weekend while reaching up high to trim our Christmas tree, and I can't wait to use this tool in my garden.  Since it's so lightweight,weighing just under 3 pounds, my arms won't get tired when using it to pruning taller plants and vines.  The handles have a super easy telescoping mechanism allowing it to extend from 24″ all the way to 31″ – perfect for those out-of-reach limbs.  Its chrome plated steel blades can also cut through the toughest 1 1/2″ branch with ease.  And, as with all of their products, these pruners come in a variety of colors to choose from – purple, blue, green, yellow, orange and red.
UPDATE:  CONTEST IS NOW CLOSED!!!

   
Congratulations Sheila Shultz and Sandy Luna– you're the lucky winners!  Please email me with your addresses and your garden tool of choice, and Dramm will send it to you!  Enjoy!
Here's how to enter the contest.  Just leave a comment and I'll pick a random winner by midnight, December 12th.  Easy right?  Oh, and please remember that I won't be able to respond to your comments as it'll mess up the random number generator (but that doesn't mean I don't enjoy reading what you all write, because I do!)
………………………………………………………………………………………………………………………………………………………
A few more details:  The winner will be randomly chosen by midnight December 12, 2012, and contacted within 24 hours. If the proposed winner forfeits or does not claim the prize by December 22nd, the prize will be re-awarded based on the sponsor's sole discretion. All prizes will be awarded. Please provide your name and email to enter this contest, so I can immediately contact you if you win. The winner agrees to allow his/her first name to be mentioned in conjunction with this giveaway.
The number of eligible entries will determine the odds of winning. This giveaway is limited to U.S. residents only, who are over the age of 18 years old. No purchase necessary to win. This sweepstakes is void where prohibited by law (not exactly sure where this might be, but I'd sure hate to live there).  By entering this giveaway, you are agreeing to these conditions.
Disclaimer: This is a sponsored post and yes, the apron and lopper were provided for me to review, but the hoses and nozzles were not. All expressed opinions, however, are absolutely and without a doubt, my own.  Trust me, I receive products to review all the time and very few actually inspire me enough to write about them!
Best of luck everyone!
Oh, and if you're interested in seeing more of that amazing sprinkler sculpture shown at the beginning of this post, click here.