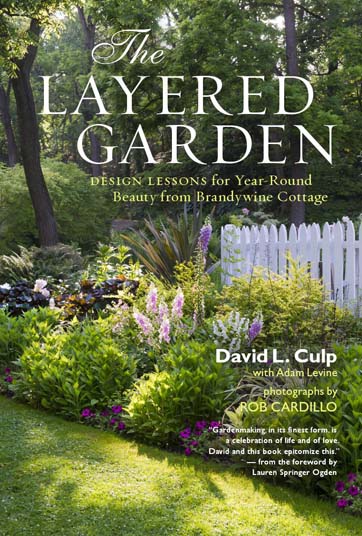 You know when you see a book and you just know it's gonna be good?  Well, that's how I felt about The Layered Garden, by David L. Culp, and photographed by the talented Rob Cardillo.  And I knew I held a gem in my hands when I read the glowing forward, written by Lauren Springer Ogden – one of my very favorite garden designers and co-author of Plant Driven Design.
I love the concept of creating a layered garden as its something I strive to create for all of my clients. Due to our mild California climate, it's relatively easy for us to have year-round beauty.  This book, however, is about creating year-round beauty in a climate about as far from California as you can get – in Zone 6 Pennsylvania – which makes it all that more intriguing to read.  If David can do it, anyone can!
Timberpress was generous enough to send me a copy of this book to review, as well as to participate in their massive book giveaway (details below).  But before you jump down to the entry form, here's a sneak peek into what you can expect from this book:
1.  A visually stunning book that combines design inspiration, horticultural knowledge (David is renown for his Snowdrop and Hellebore expertise, as well as plant researcher for Sunny Border Nurseries) and practical information.
2.  A peek into David's personal thoughts and experiences while creating Brandywine Garden.  A warm and, at times, humorous writer makes for very enjoyable reading.
3.  Photo upon photo not only whetting your appetite for spring's fully-stocked nursery shelves, but photos of his garden throughout each season of the year.  Personally, I'm such a visual person that a photo has the ability to speak a thousand words – and these do exactly that.  Looking at the same garden bed in winter, versus summer, spring or fall shows you what a master he truly is at layering throughout the year.
4.  Tips about coping with drought, deer, pests and maintenance.  Tips about creating border gardens, perennials, edibles, containers, hillsides, bulbs, you-name-it-and-it's-here!
So here's the deal – there's 2 ways to win!


1.Timberpress Fall Book Collection contest – deadline November 16th.
From now until November 16, 2012 just visit Timber Press and enter your email to win your very own collection of The Layered Garden, The Unexpected Houseplant, Keshiki Bonsai, Super-Charged,and The Roots of My Obsession as well as a tote bag and print from Brooke Weeber, the artist of the featured illustration above.
2.  Gossip in the Garden giveaway – deadline November 21st.
Just leave a comment here letting me know your favorite small, medium or tall plant you like to include in your garden's borders  and I'll pick a random winner by midnight, November 21st.
………………………………………………………………………………………………………………………
 UPDATE:  Congratulations Hope Rollins – you're the lucky winner!  Please email me with your address and Timberpress will send you a copy of The Layered Garden.  I hope you enjoy it as much as I have!
I want to thank everyone for your comments, too.  I'm not only flattered by so many kind words, but you've given me tons of new plant ideas to try in my garden beds next year!!
A few more details:  The winner will be randomly chosen by midnight November 21st, 2012, and contacted within 24 hours. If the proposed winner forfeits or does not claim the prize by December 10th, the prize will be re-awarded based on the sponsor's sole discretion. All prizes will be awarded. Please provide your name and email to enter this contest, so I can immediately contact you if you win. The winner agrees to allow his/her first name to be mentioned in conjunction with this giveaway.
The number of eligible entries will determine the odds of winning. This giveaway is limited to U.S. residents only, who are over the age of 18 years old. No purchase necessary to win. This sweepstakes is void where prohibited by law (not exactly sure where this might be, but I'd sure hate to live there).  By entering this giveaway, you are agreeing to these conditions.
Disclaimer: This is a sponsored post and yes, the book was provided for me to review. All expressed opinions, however, are absolutely and without a doubt, my own.  Trust me, I receive books to review all the time and very few actually inspire me enough to write about them
Best of luck, everyone!