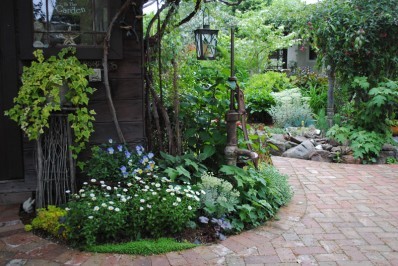 A few years ago my good friend, Patty Craft, invited me to attend Northern California's Heirloom Exposition.  It's a glorious event centered around the pure food movement, with gardeners of all walks of life enjoying the displays and the vast array of information (you can read about my visit here).
One thing has stuck with me over the years, though, which was a comment made by two fairly smug women.  Patty and I were handing out complementary copies of Horticulture Magazine to people and when these two ladies walked over to us, instead of taking a copy they sniffed "Oh, our gardens are strictly utilitarian.  We don't waste resources on something if it's isn't edible".  As they spun around and walked away I called after them "but there's information about growing edibles in here, too!" but it was too late – they were gone.
I was sort of dumbfounded and looked at Patty, who just shook her head and said she's encountered that before.  And since that moment I, too, have heard more and more people denounce ornamental gardening as wasteful and indulgent.  In a time when resources are scarce, I understand this attitude - to some degree.
But to so many gardeners, myself included, ornamental gardening isn't about creating a wasteful garden to one-up the Joneses, it's about creating a safe haven for oneself.  And not just a sanctuary, but sometimes one that heals, comforts, nurtures and protects when nothing else can.  This is the case with my own garden.… read more