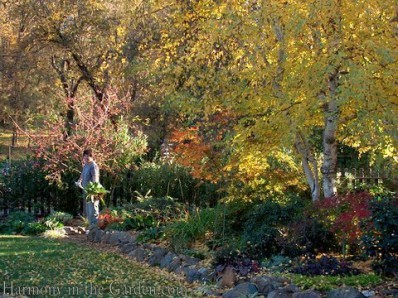 If you've read many of my past posts on this site or heard me give one of my presentations, you probably know that I think my mother is an amazing gardener.
I'm always telling her she's one of the best designers I've met (which she never really believes).
Even after I show her why a certain planting combination in her garden is pure genius, she still just shakes her head and says "hmm…..if you say so, dear."

My parents live in Meadow Vista, CA  (USDA zone 8a).   They regularly experience temps in the low teens (including a bit of snowfall each winter) followed by blistering hot temperatures in the summer.
On top of that, there's a giant volcano top lying just under the surface of their entire 1 1/2-acre garden, making digging holes an inconvenience most of us could never image.  Think tractors with strong engines just to plant a small tree.  Or, one broken shovel tip after another when hitting a surprise lava layer hiding just under the surface of perfectly amended soil.
You can't have a beautiful garden in this area without having extraordinary determination with no fear of hard labor and a strong back.  Luckily my mother has all of these.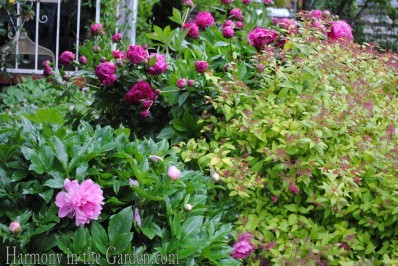 Over the years, I've used photos of her garden in both of my books, in many articles and here on my blog.  One of my friends, Pam Penick of Digging, recently sent me a note asking if I've ever written anything specifically about her garden as she'd like to see more of it.  And when I thought about it, I realized I never had!
So I thought I'd write about my mother's garden over the next year and how it looks through the different seasons – starting with the fall.
Last month I spent Thanksgiving with my parents and couldn't believe how good her garden looked despite having already gone through a few early frosts preceded by one of the worst droughts California has seen in decades.
As I walked around her garden, it dawned on me that while my mother is certainly talented with combining stunning flowers in her garden beds (as you can see in the above photos), she is equally skilled with her creative use of foliage.
In fact, I'm beginning to think foliage is her specialty and have decided to write about how she uses it in her garden to help extend year-round interest once those blooms have long faded away.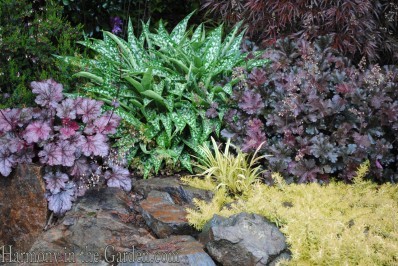 In my latest book, Refresh Your Garden Design, I write about the importance of using the various aspects of foliage to create interest in the garden that lasts well beyond spring and summer's show of flowers.  Now that I look at my mother's garden, it seems clear where I found my inspiration!
Here are some of the lessons I've taken away from my mother's fall garden:… read more