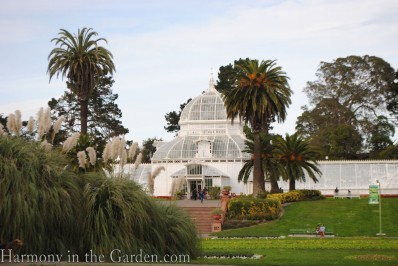 This past weekend my husband, Tom, and I spent an afternoon wandering through the San Francisco Conservatory of Flowers, enjoying the rare chance to sneak away and visit a different world for awhile.
I have a confession – while I've been there at least a half dozen times in my life and, yes, it's truly a jaw-dropping historic building (the oldest public glass & wood greenhouse in North America, built in 1877), I've never really been a huge fan of tropical and exotic plants.
But maybe it's the fact that my world has been turned upside down the past few months (thanks to my cancer diagnosis) or that I seem to spend the majority of my time feeling pretty crummy.  But whatever the reason, it's as if I've seen this place for the first time.  It was stunning, breathtaking and filled my soul to the brim.  Exactly what the both of us needed.
And, as luck would have it, a new special exhibit called Aquascapes had just opened a few days before which helped to further transport my mindset and imagination.   I'll first show you my favorites from the special exhibit, followed by a few particularly beautiful plants that are in their glory right now.… read more