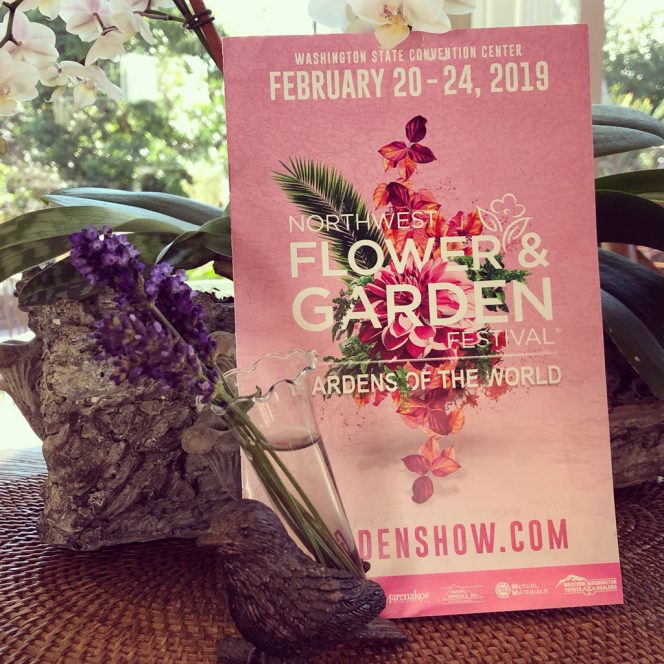 I want to share with you a few takeaways from the Northwest Flower & Garden Show, which I attended this past week and loved!!!
In between my presentations, including a riveting 'Container Wars' challenge (yes, that's me showing off my blue ribbon!!) I had plenty of time to wander through this year's display gardens, the theme being 'Gardens of the World'.
There were three display gardens that I felt were particularly inspiring, with several ideas that you might implement in your own garden.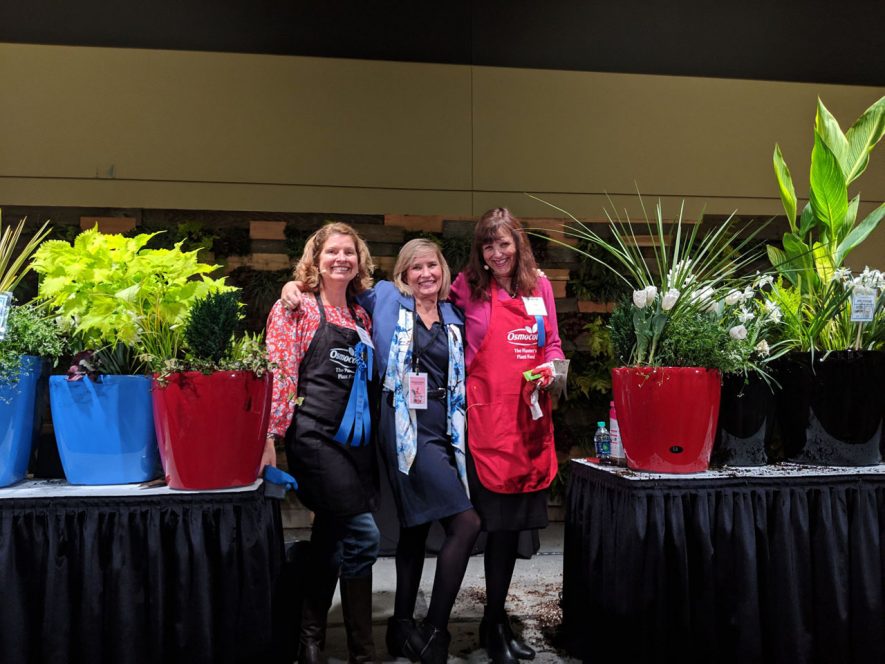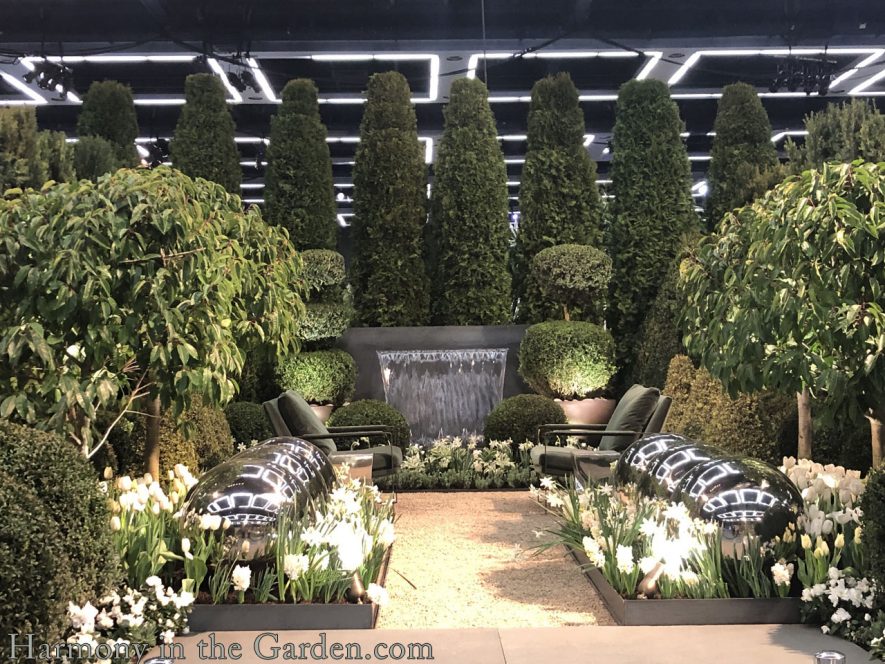 "NOTTING HILL MODERN ENGLISH GARDEN"
Designed by Folia Horticultural & Design, this is a garden that will transport you to a chic London neighborhood, allowing you to peek through the evergreen walls of yews to a most desirable entertainment area.
Typical with all garden shows, it's really easy to quickly overwhelm all of your senses with the onslaught of colors, sounds, scents, etc.
And because of this, I really appreciated the elegant simplicity of this garden's limited color palette.  The use of green, silver, and white result in a feeling of calm and peace (not easy to achieve in the middle of a bustling garden show!)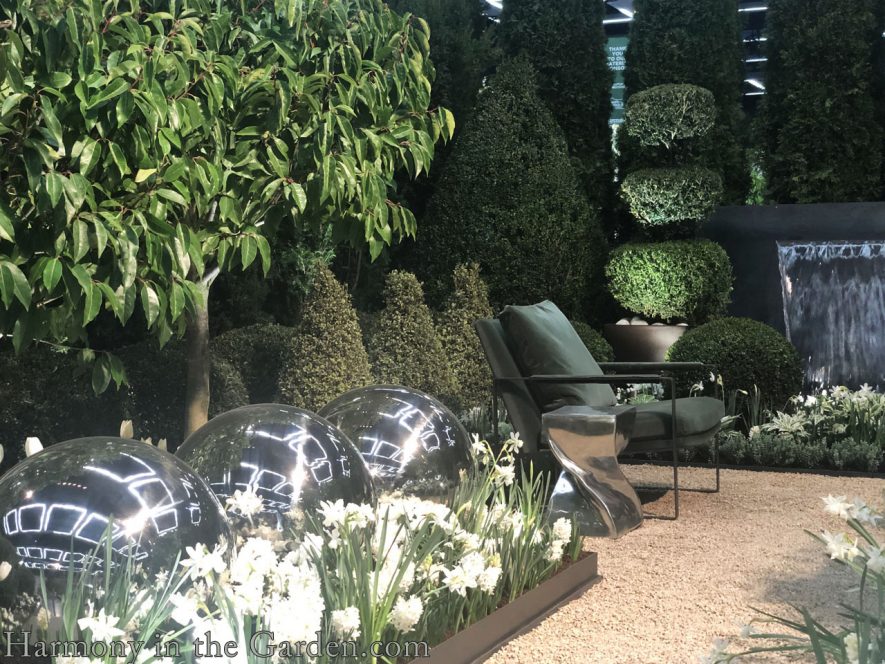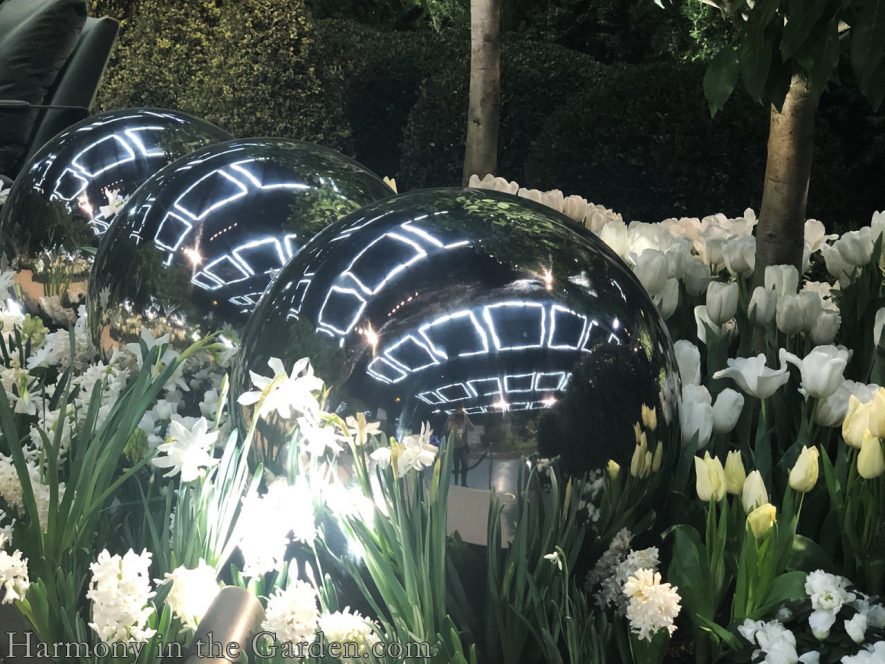 Reflection is a magical thing in the garden, isn't it?  I love those stainless steel orbs in the garden, as they so beautifully reflect the nearby flowers (unfortunately, the show lights, as well – haha.)
In your garden, you can achieve a similar effect through the use of strategically placed mirrors.  One of my favorite tricks is to discreetly hang a mirror on a fence or wall, surrounded by plants to soften its effect.
To detour just a bit – here are some examples from gardens that I've seen that have a similar effect.  The first was created by a wildly creative client of mine who found these antique doors, had the glass replaced with mirrors, and hung them in the very back of her garden.  Gorgeous, aren't they?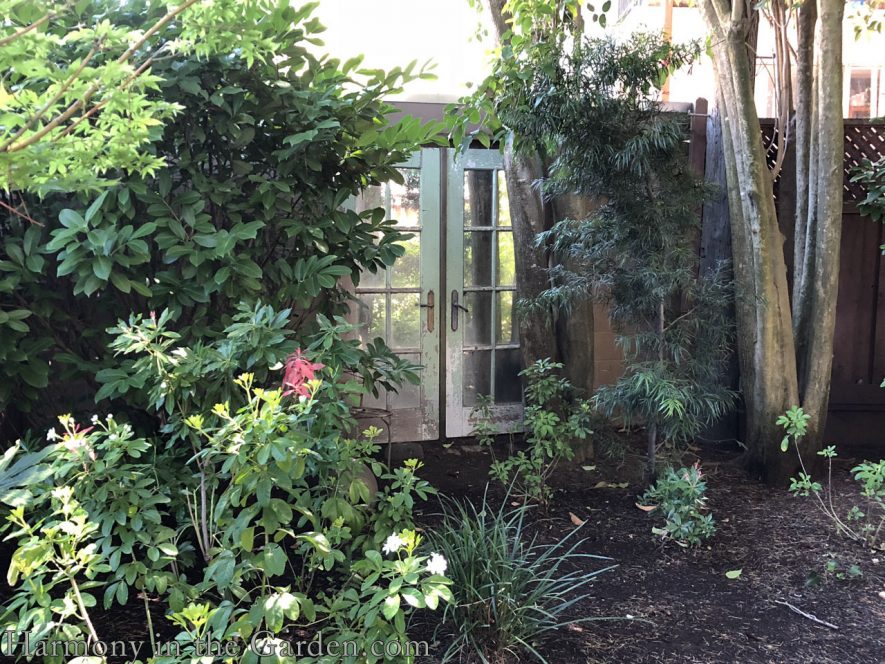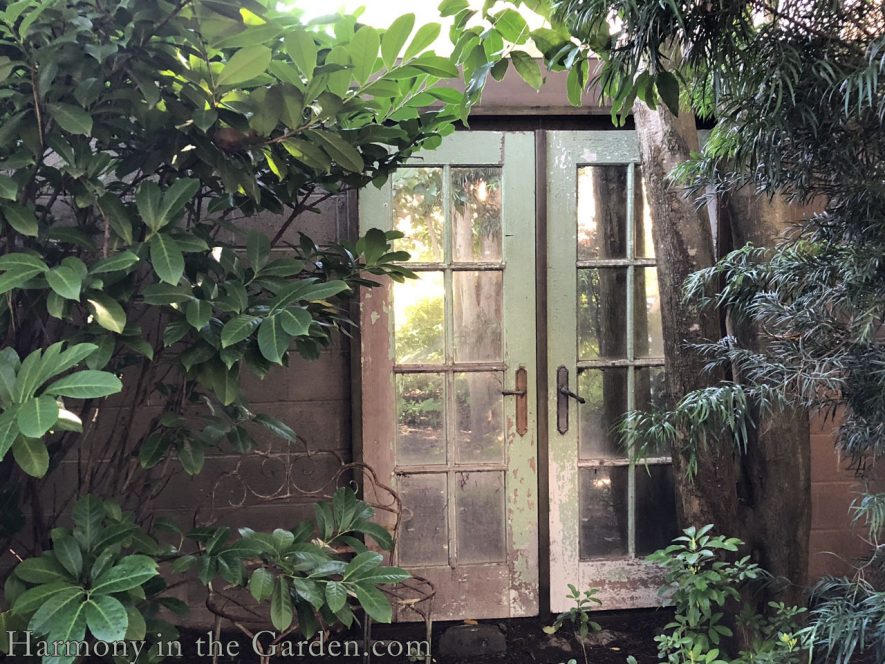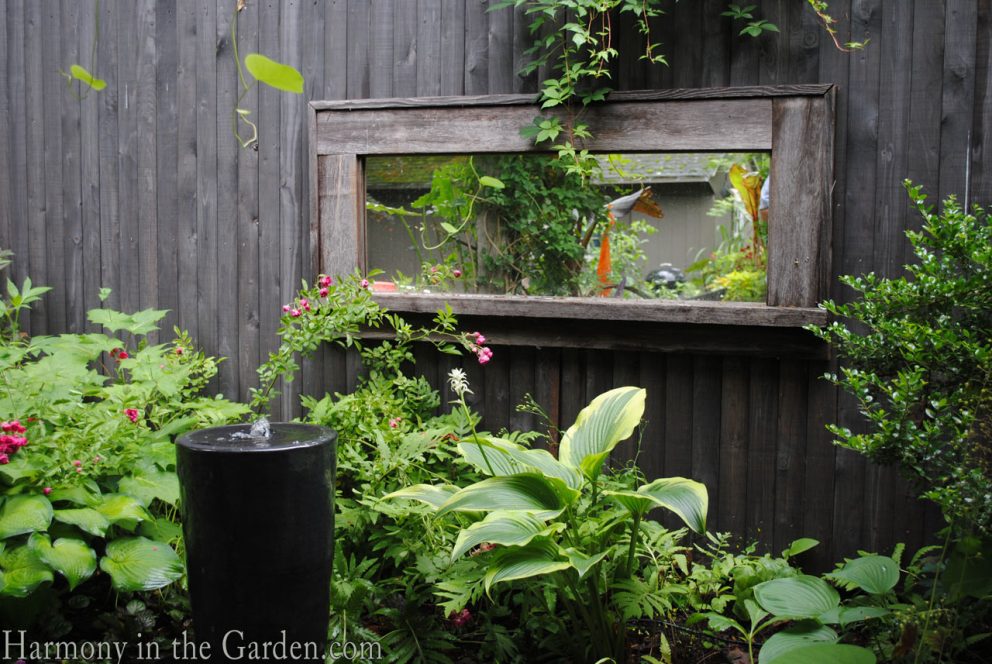 Here's an interesting effect where another antique mirror was found by my friend Michelle Gervais (you may know her name as she was an editor with Fine Gardening magazine.)
The mirror is hung lower down on the fence and reflects a small fountain that she and her husband created for their hummingbirds.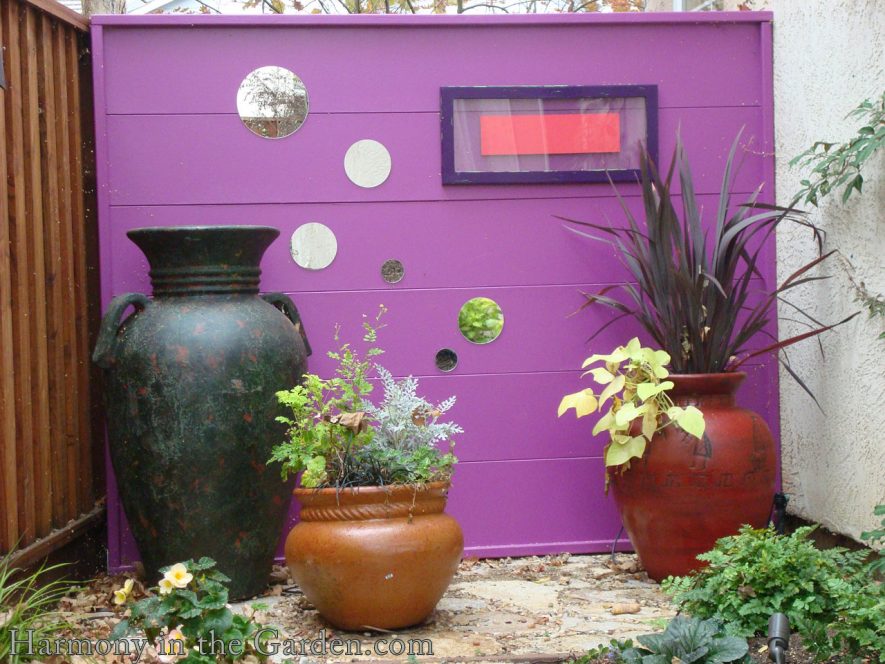 How's this for a pop of color?
This was the side-yard of my good friend, and designer, Susan Morrison.
According to Susan, everyone who saw the round mirrors would walk over and peep through, certain they were cut-outs offering a view to the front yard. In fact, they were inexpensive mirrors she found at Target!
Okay – let's get back to the Notting Hill garden, shall we?
Never in a million years would I think I'd be saying 'wow, I really like those white rocks,'  but I do! When I think of white rocks in the garden, I think of hours of back-breaking work hauling them away (maybe it's due to their prolific overuse in the 1970s here in California), but these rocks are stunning.
These are larger than the more common 1-inch size, and therefore make a statement in this garden, repeating the crisp white color echoes of the variegated foliage and white flowers.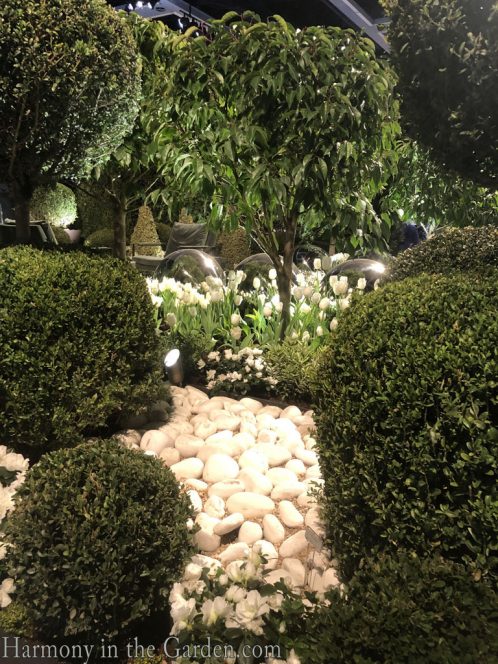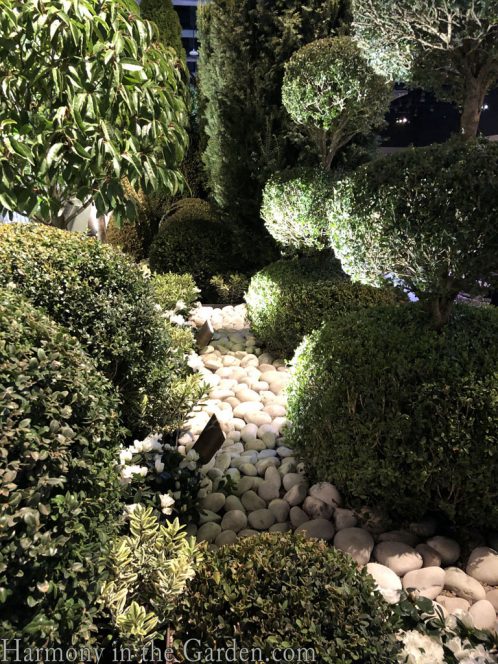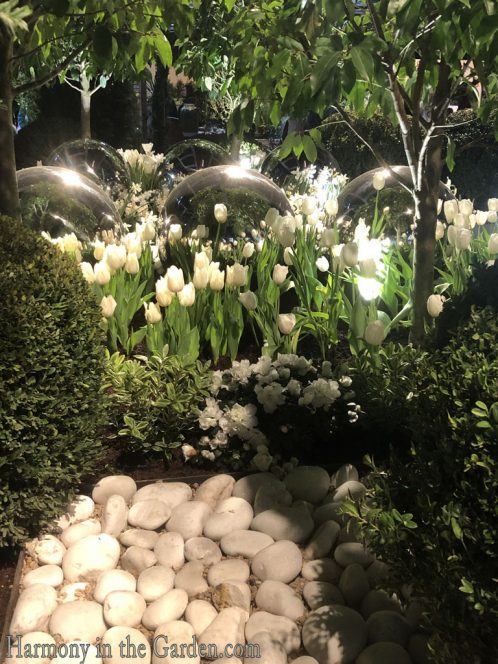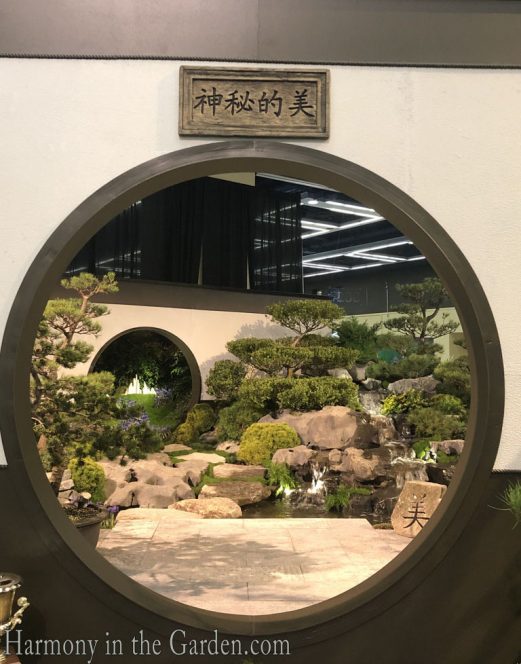 Created by Nature Perfect Landscape & Design, and described as a stylized Chinese garden, it's similar to the Notting Hill garden above in that it's also a green-and-serene garden partially surrounded by enclosed walls.
The walls and moon-gate create mystery and a feeling of peeking into someone's private, secret garden.
The stunning moon gate is by far one of the most exciting features of this garden.  The circular cutout inherently creates intrigue, directing the viewer's perspective which leads to the white Gonshi (scholar's stone) focal point.
People couldn't get enough of this moon gate, with crowds 4-5 people deep! What is it about a moon gate, anyway?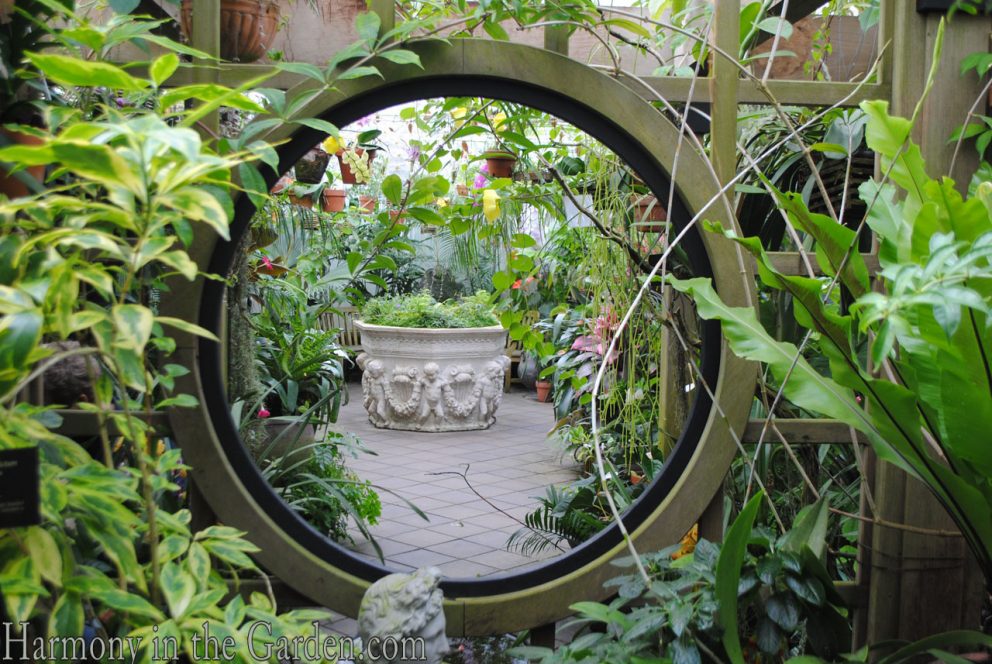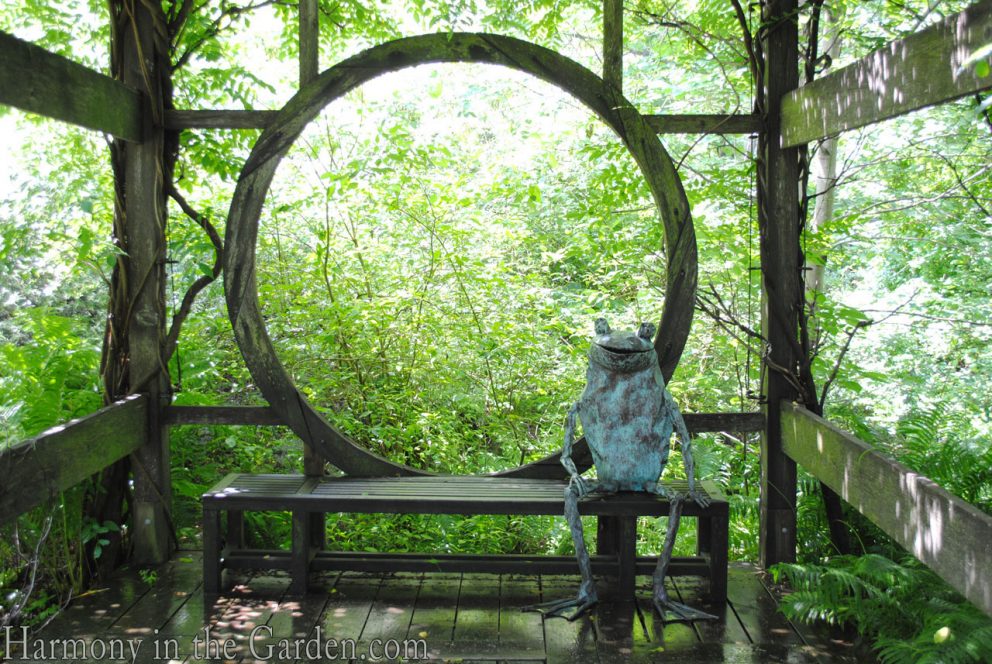 The colors in this garden are various shades of green, with the occasional bulb providing a pop of color.  Serene, yet definitely not tiresome, right?
But should the soft shades of green begin to lull you to sleep, just step around the corner, and you'll be shaken awake by this fantastically fearsome dragon made by Jeffro Uitto.  I love what's stated on his website: "On the Washington coast there's a place where nature's leftovers get a second chance at stardom."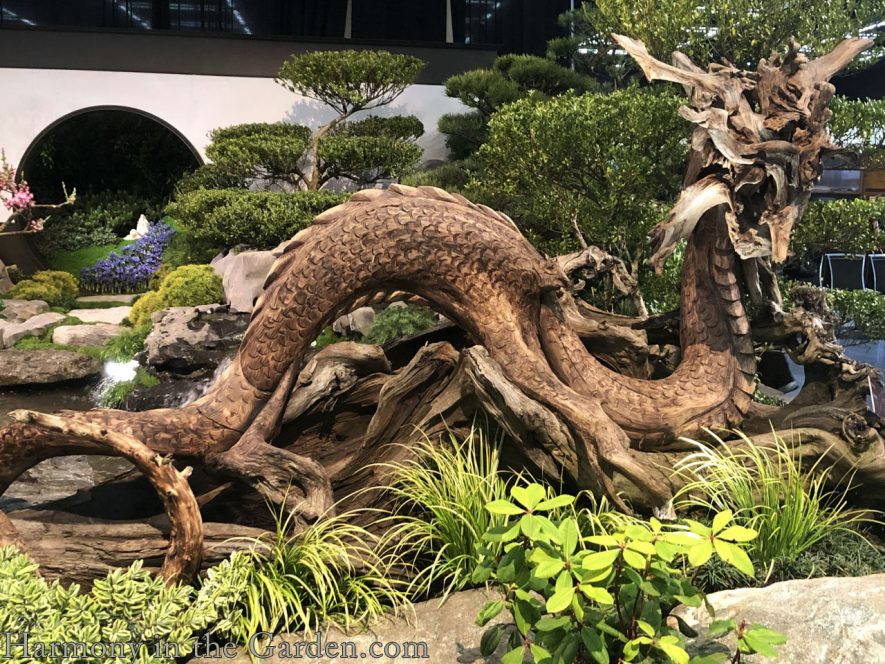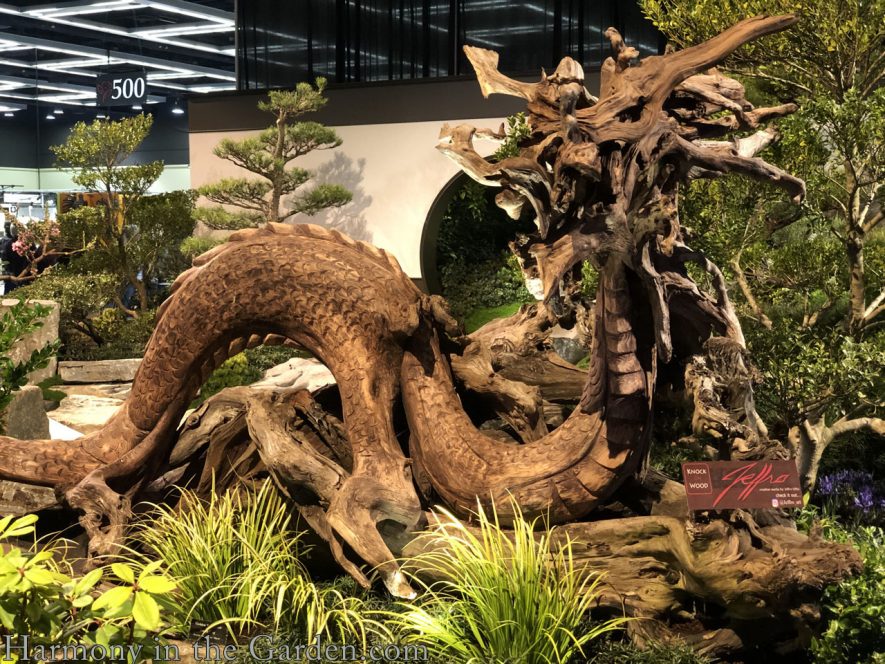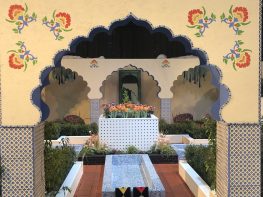 Designed by Iftikhar Ahmed  of Treeline Designz, this Persian 'paradise garden' is influenced by its royal namesake, embracing the fourfold garden concept with water at its center and dividing the quadrants.
Similar to the other gardens above, this also is enclosed by walls with intricate cut-outs and doorways from which to view and enter the space.
I appreciate its simplicity in terms of plantings, with the emphasis on the structure of the garden.  Color is clearly present, however, thanks to the tulips, stenciled designs, and stunning glass teardrops.
A simple takeaway from this garden would be that you can create a formal style garden on a much smaller scale.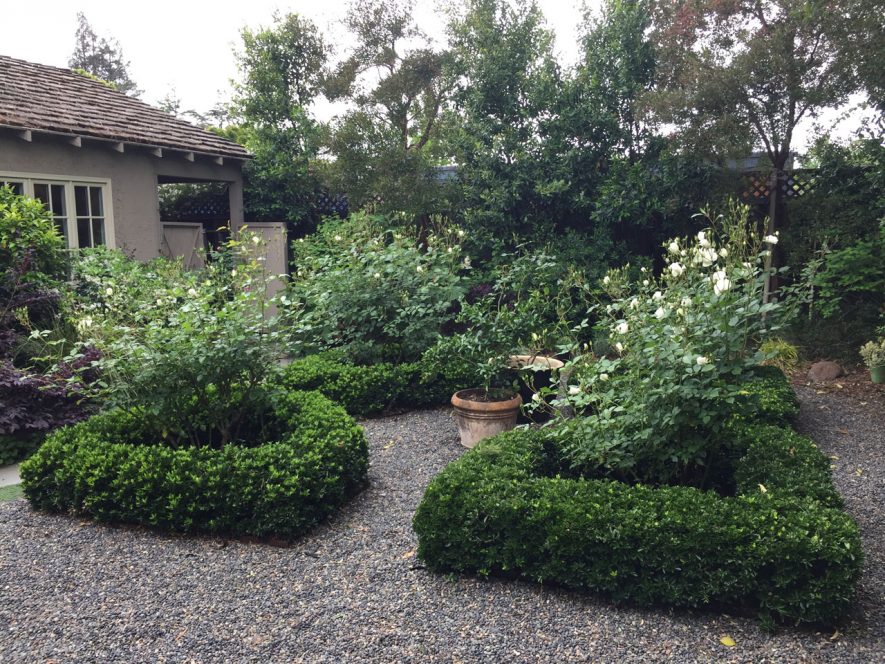 We created this garden, for example, using a simple parterre concept.
There are four symmetrical raised beds all placed on a bed of gravel with a fountain which will go in the center.
More about this garden (including before-and-after pics) can be seen here.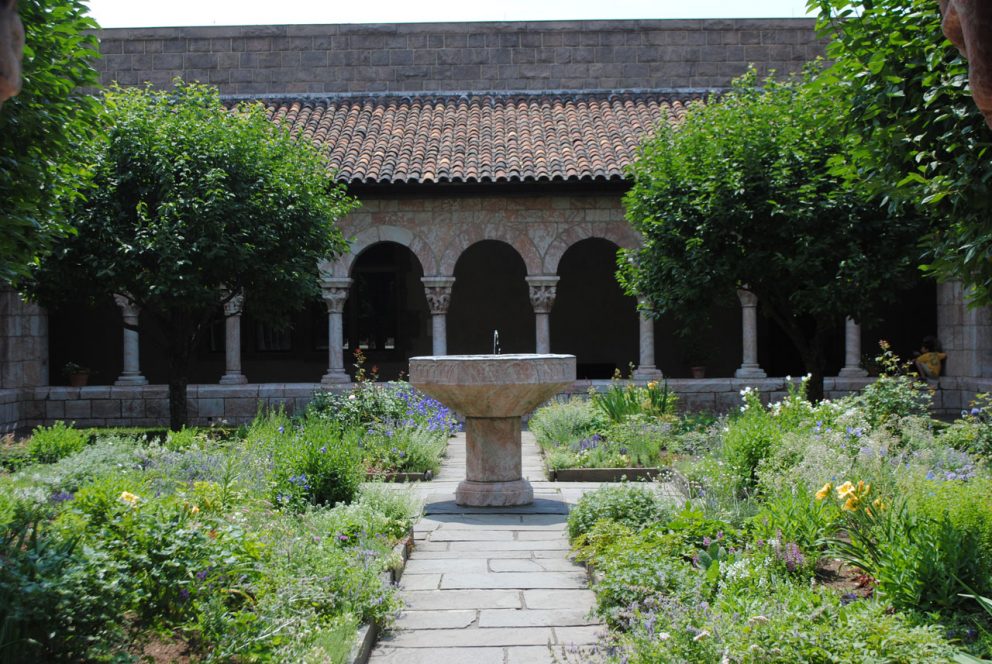 Or, as in the case of this courtyard garden at The Cloisters, formality has been created with four paths leading to a small, central fountain.
I hope a few of these gardens have given you a bit of inspiration!  Please stay tuned for my next post, where I'll share some of the fantastic small spaces that were tucked in here and there throughout the show.  Until then – hurry up, Spring!!!