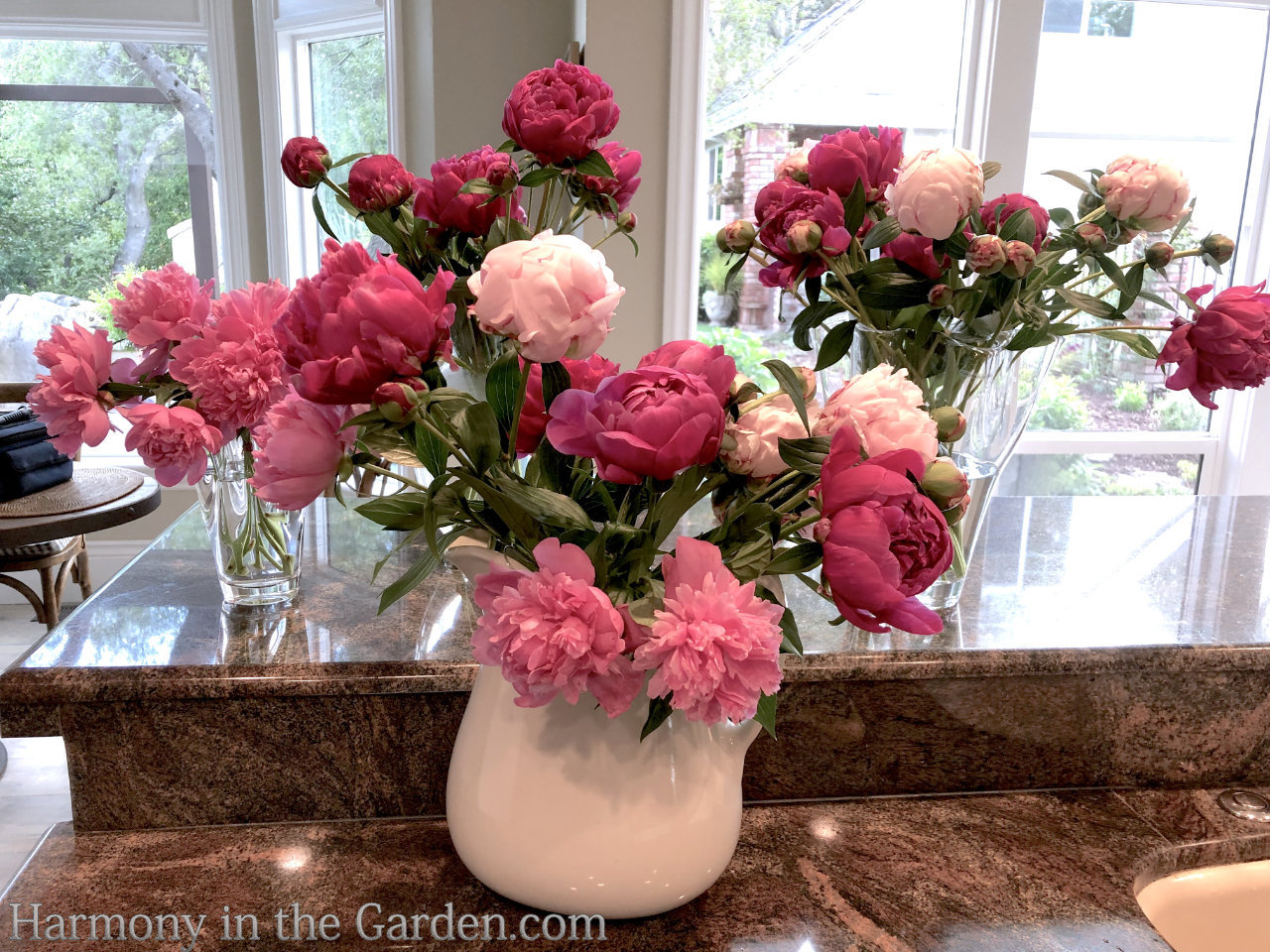 Today I'm sharing something I tried for the first time ever – how to refrigerate peony buds for months of blooms.  
The reason I thought of doing this in the first place is that my mother and I were SO busy with her moving, that I knew we couldn't fully enjoy them.
I've read about this technique before, as a way to 'hold them' for up to 8 weeks, but never actually tried it.
So, we picked loads of her peonies to take with us and experimented away.
I was thrilled with the results!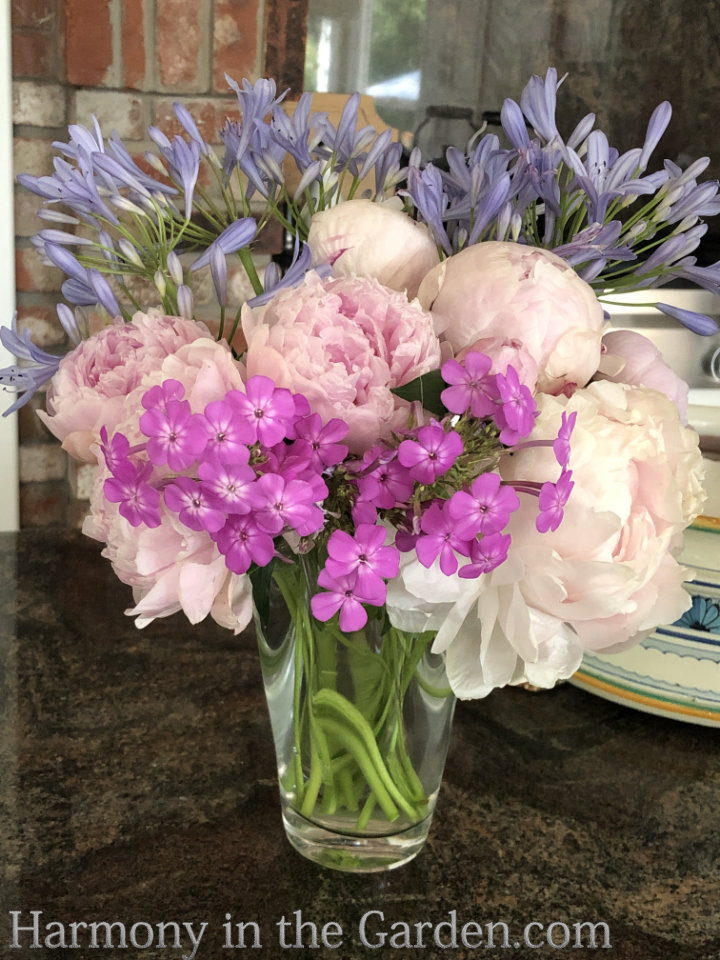 Here are some of the peonies (left) six weeks after refrigerating them in April.
In this bouquet, I intentionally mixed them with other summer-blooming flowers (agapanthus and phlox) to prove that they did, indeed, last until July!
Once the dust settled from the big move, it was so meaningful to have one last bouquet of my mother's favorite peonies.
So if you have peonies right now, I highly recommend trying this easy technique to enjoy them over the next few months.
As you'll see below, the process is quite simple.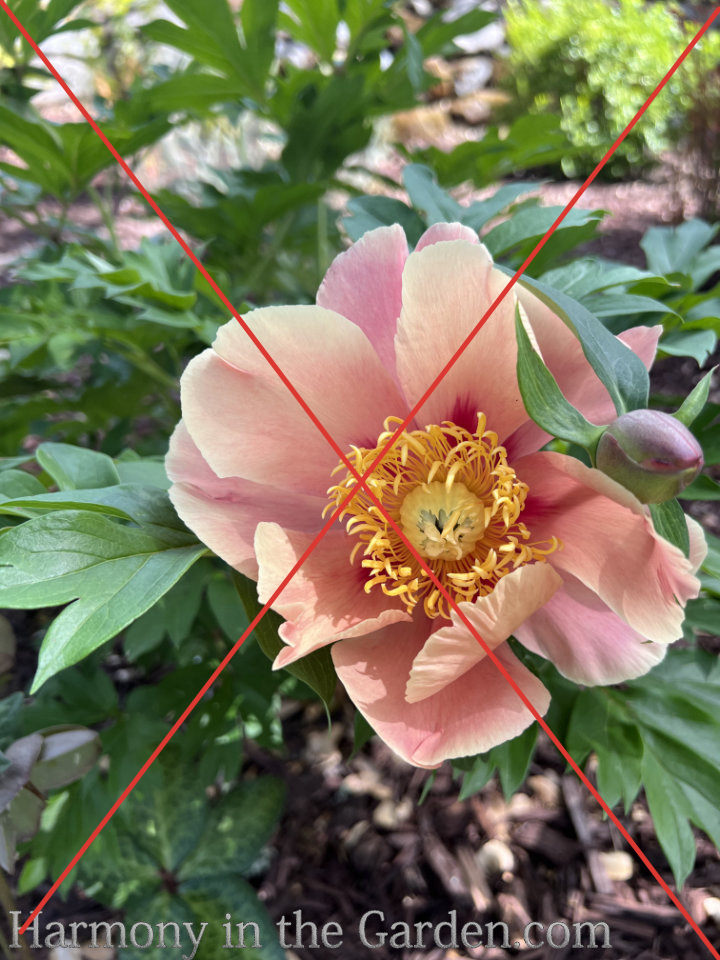 1)  First and foremost, it's all about timing and the stage in which you pick the peony buds.
You don't want to use fully open flowers (like the one, left) as they won't survive the weeks of chilling, having already spent their energy fully opening up.
You don't want to use tight buds, either (like the ones below) as they'll never open once refrigerated.  
Just like Goldilocks, you want to pick the opening buds when they're 'just right'.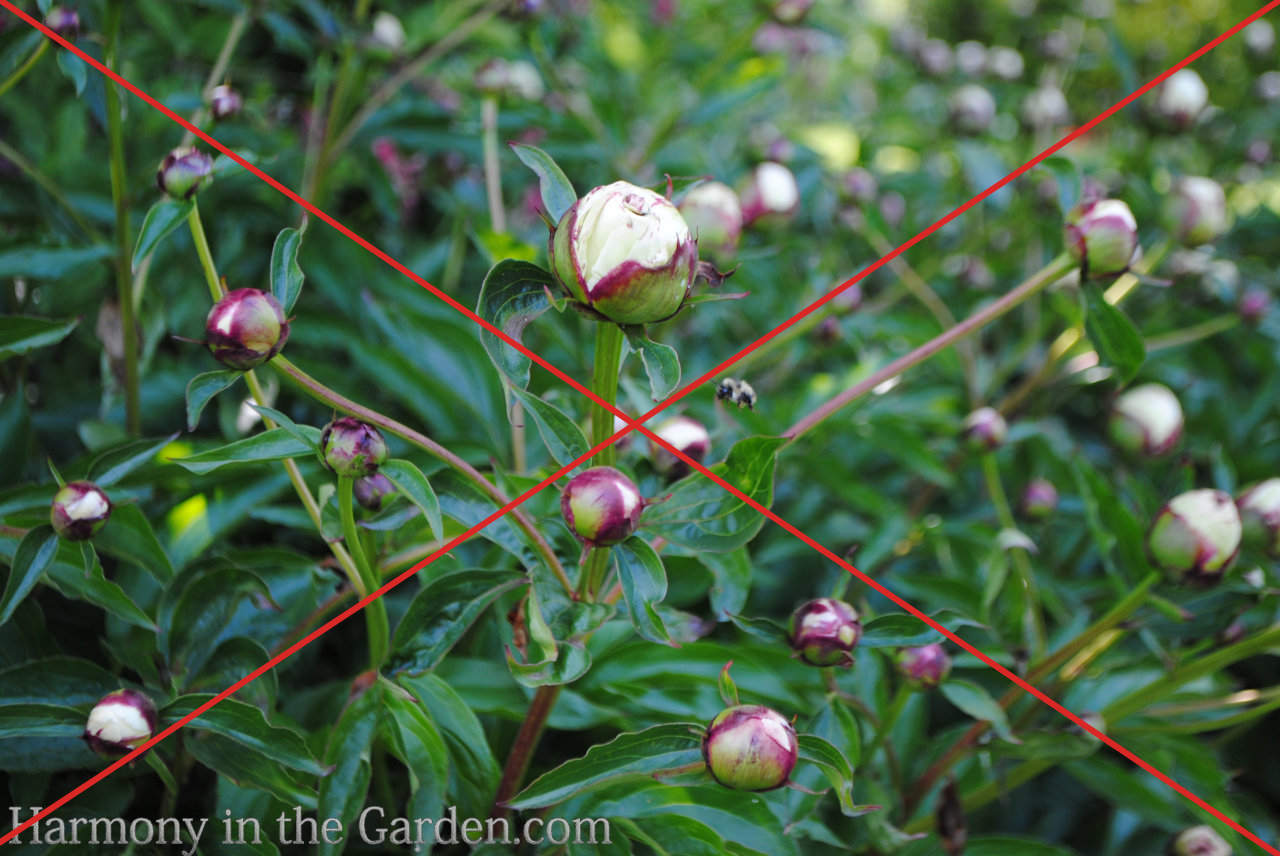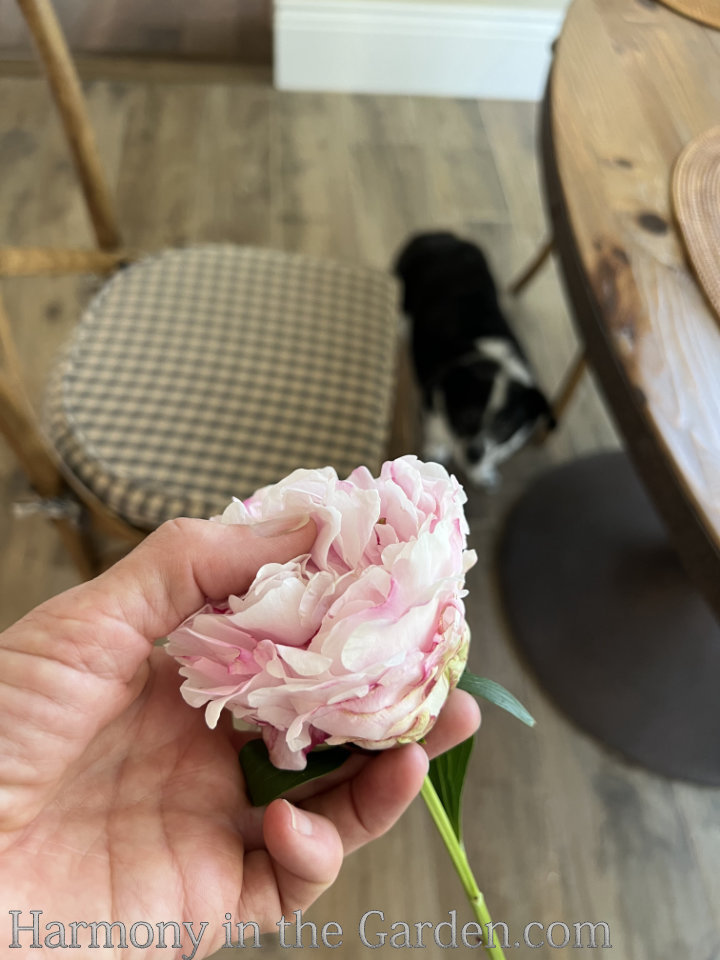 What's 'just right'?
I've heard some describe the ideal firmness of the bud to a marshmallow.
What I do is take the bud between two fingers and lightly press down with your thumb to see just how dense it feels (left.)
Here's the exception:  When refrigerating a double-flowered variety (like my 'Sarah Bernhardt' left), choose buds that are a little more open than single petal varieties.
Also, cut the stem as long as you can, as you'll need to trim them again when you remove them from the refrigerator.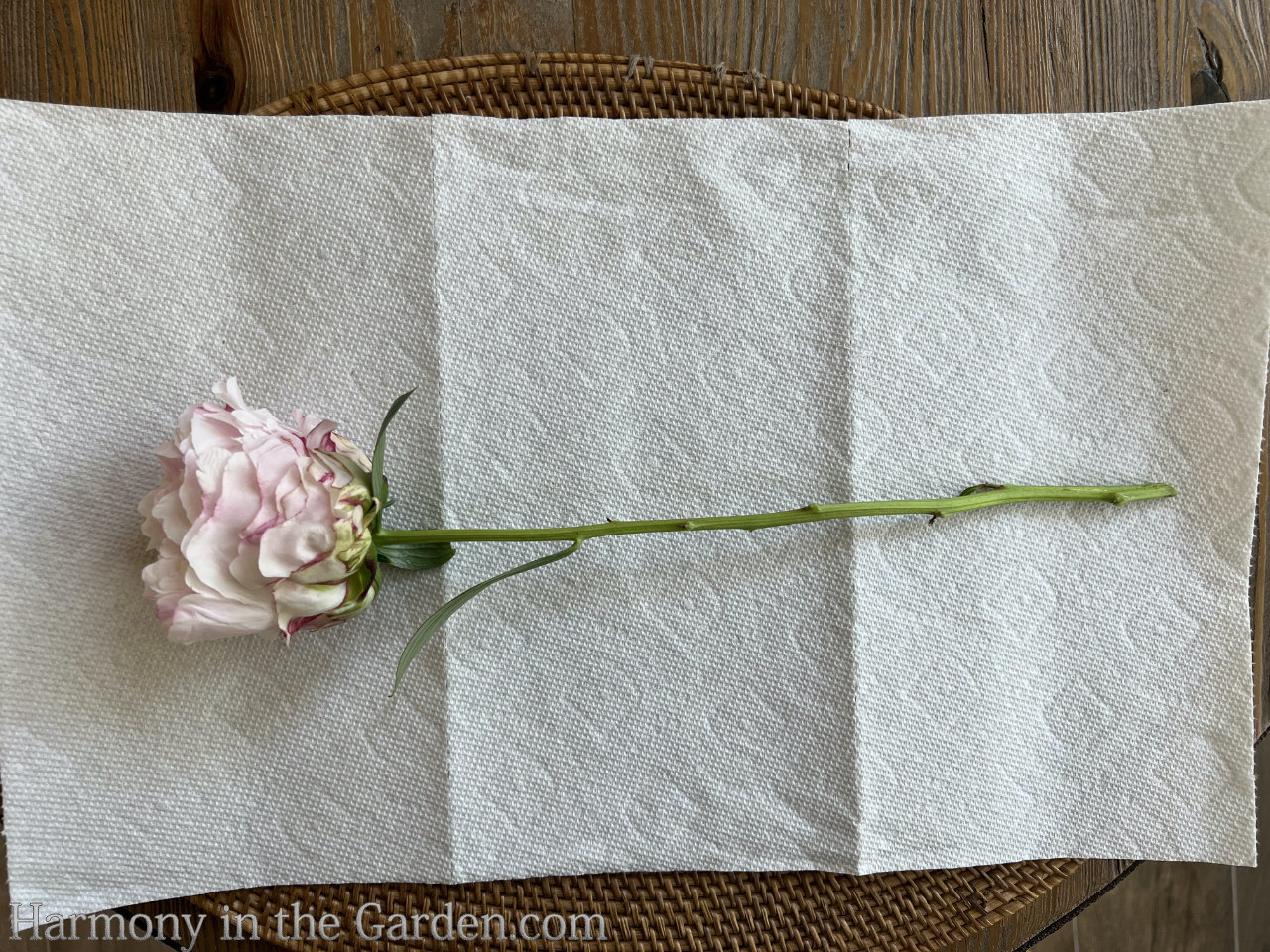 2)  Strip away the leaves and roll the flowers loosely in a layer of paper towels.
I'll leave one or two leaves at the top, but basically you don't want the foliage to rob the flower of its precious energy.
The paper towels should be dry to absorb any and all moisture.
Moisture is the ENEMY of this process, resulting in a most unfortunate surprise when you pull them out (ie: mushy, rotting flowers!)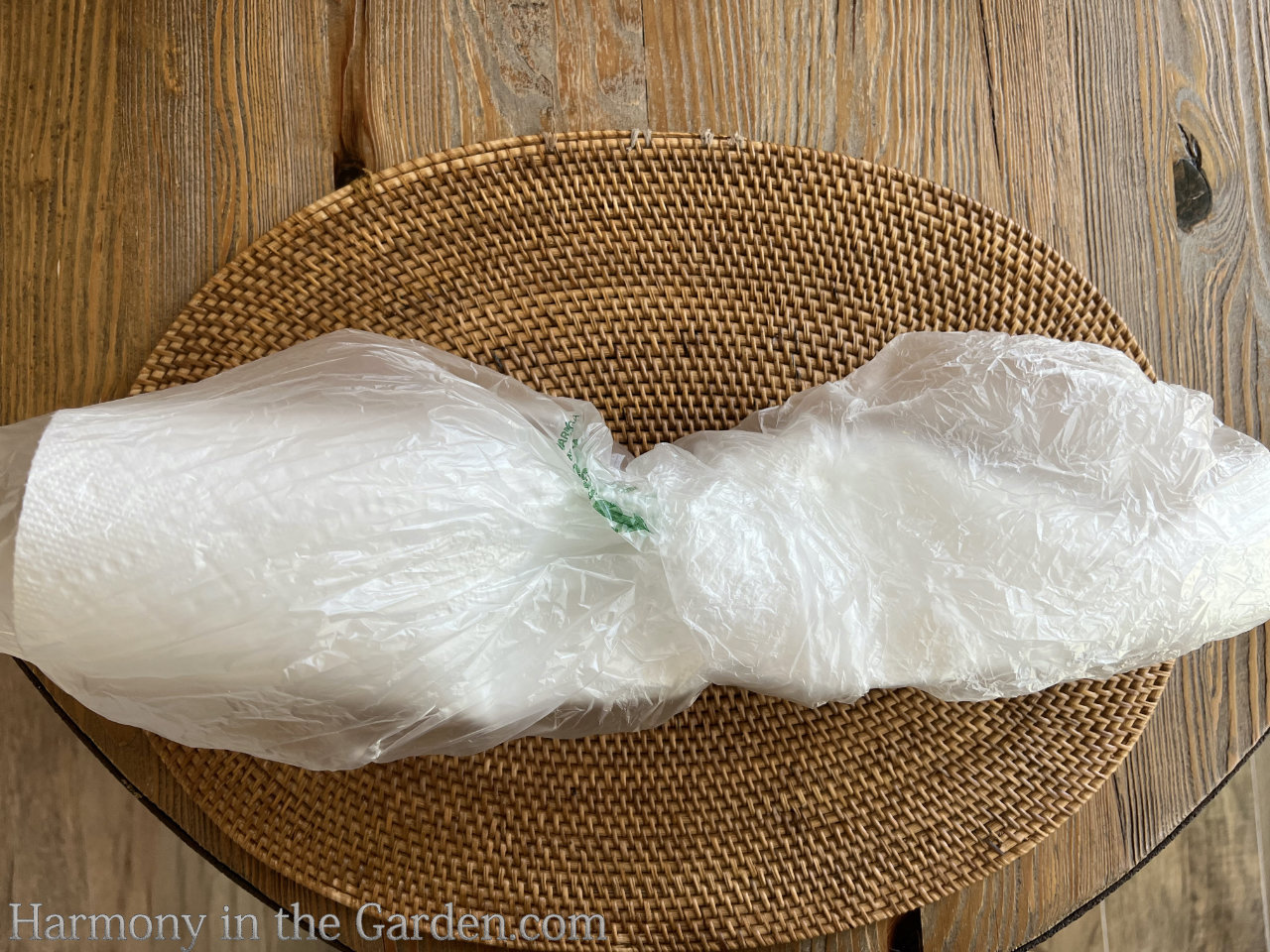 3)  Loosely cover the flower heads & stems with two plastic bags.
Gently tie both of the bags closed.  Again, the goal is to prevent moisture from getting inside and ruining the flowers.
I placed my flowers in my refrigerator's vegetable bin, and they were perfect when I pulled them out 6-weeks later.
When it's time to remove them, trim the stems at least 2-3 inches before placing in a vase.
Sit back, and enjoy!
For the best video that shows this process step-by-step (plus beautiful music, to boot!), click here.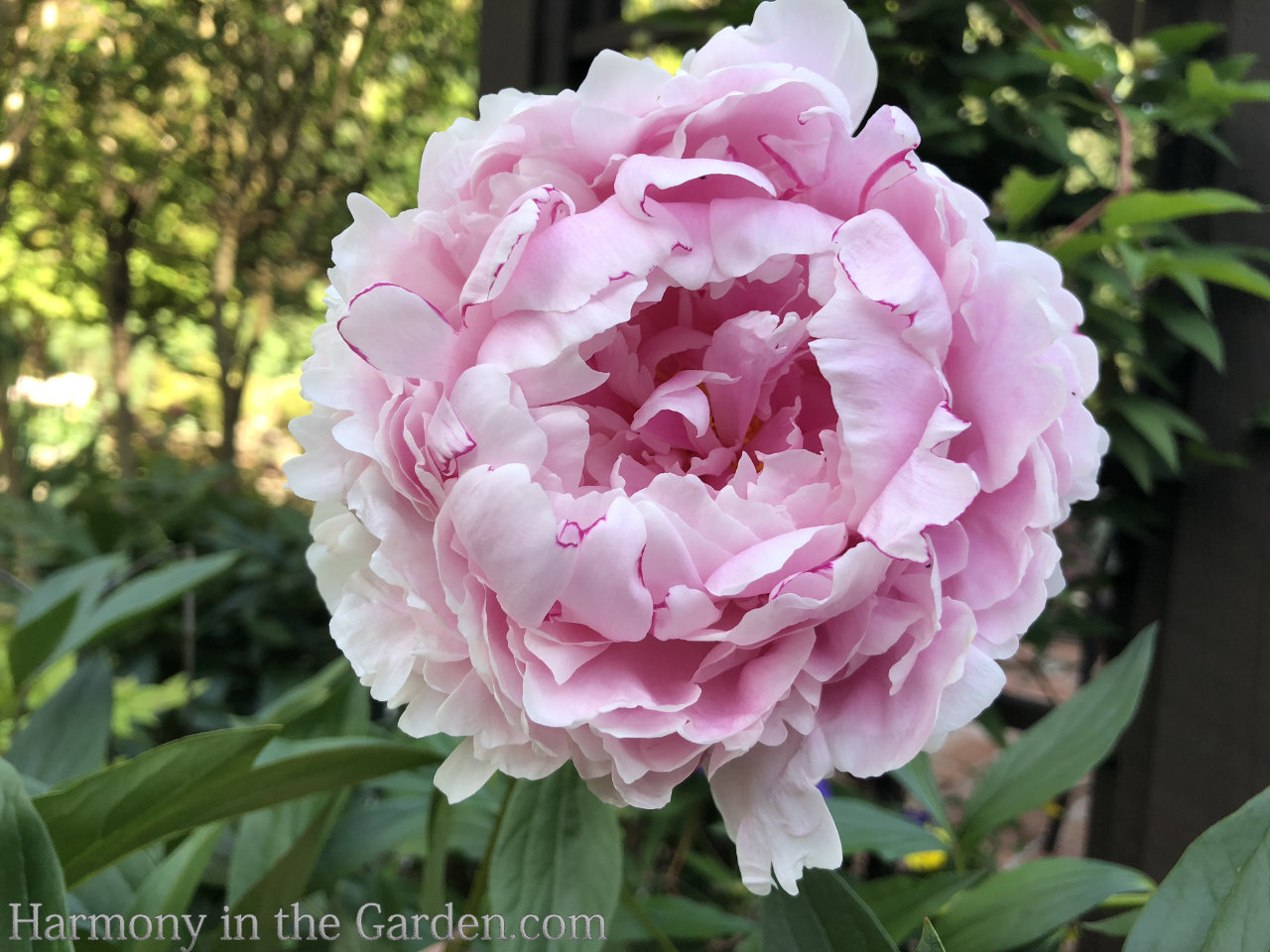 Next, I'd like to share some of my favorite varieties that thrive in my Zone-9 hot and dry garden.  
My peonies are on the same irrigation schedule as the rest of my garden, receiving water twice a week during the hotter months.
However, if it's going to be a week or more of triple-digits, I might give them an extra bit of water (but usually not, as I always seem to forget!)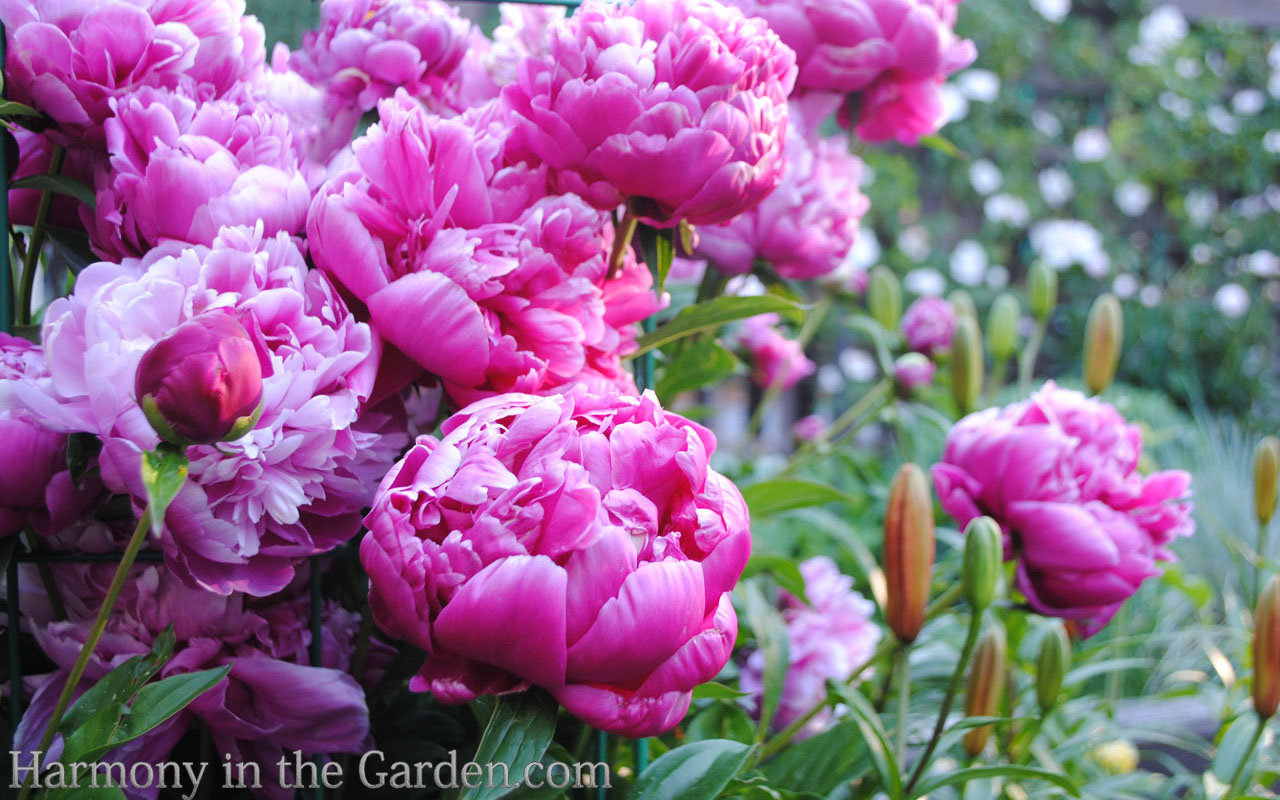 'Felix Crousse'
My all-time favorite peony is 'Felix Crousse', which was a division from my mother's garden. 
As you can see, it's a prolific bloomer with vibrant, dark magenta blooms.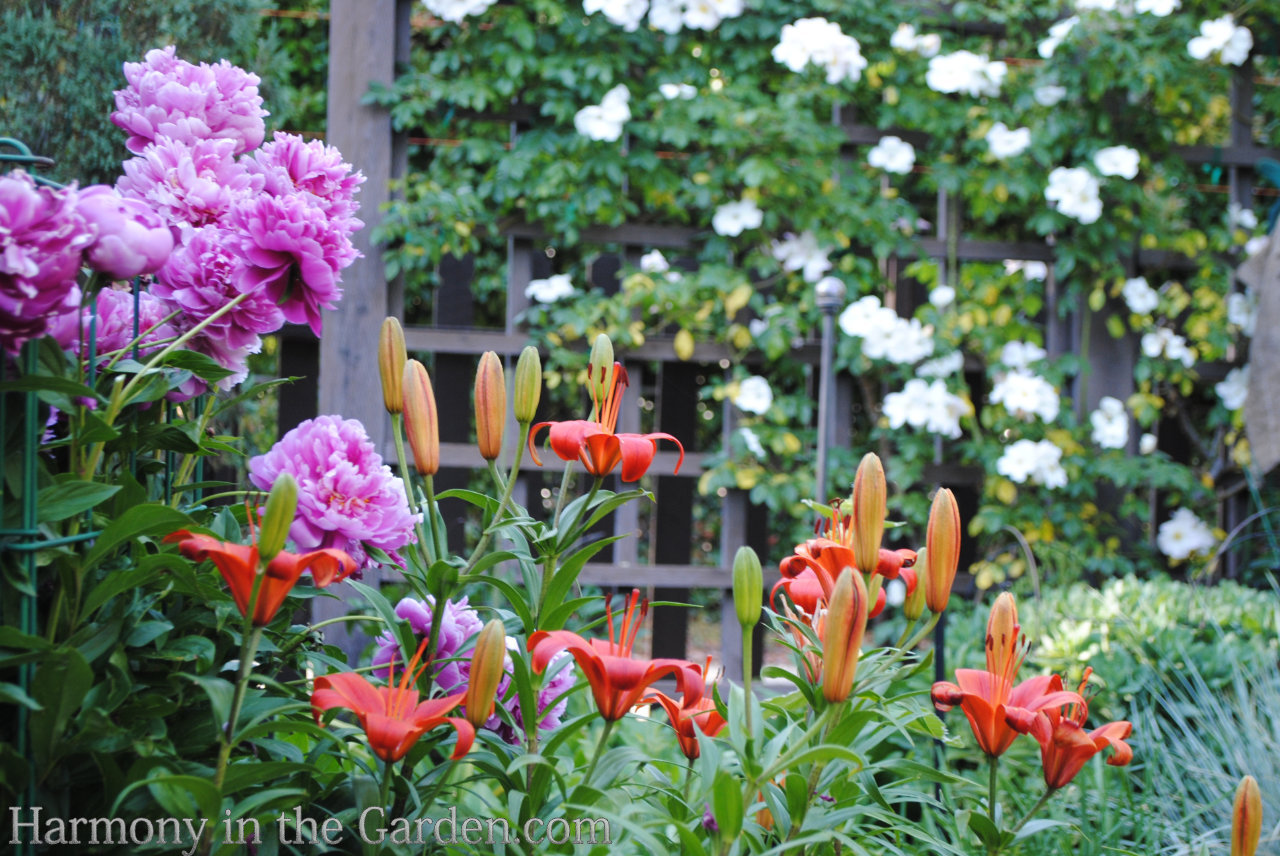 Several years ago, I posted this photo on Facebook (left) and polled people about whether they liked the pink/orange combination or not?
I received SO MANY comments that were split down the middle between the lovers and the haters. 
There's something about pink and orange that seems to send some people over the edge!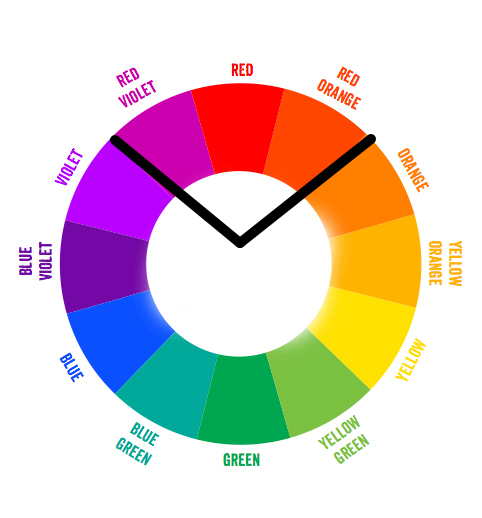 Personally, I love this color combo and don't think it clashes at all. 
If you look at the color wheel (left) you can see the purple/pink color is adjacent to the reddish-orange colors (aka: analogous.) 
Analogous colors typically include groups of three that are next to one another on the color wheel.  The result is a harmoniously pleasing combination. 
Even so, people still seem to have a strong reaction combining pink and orange!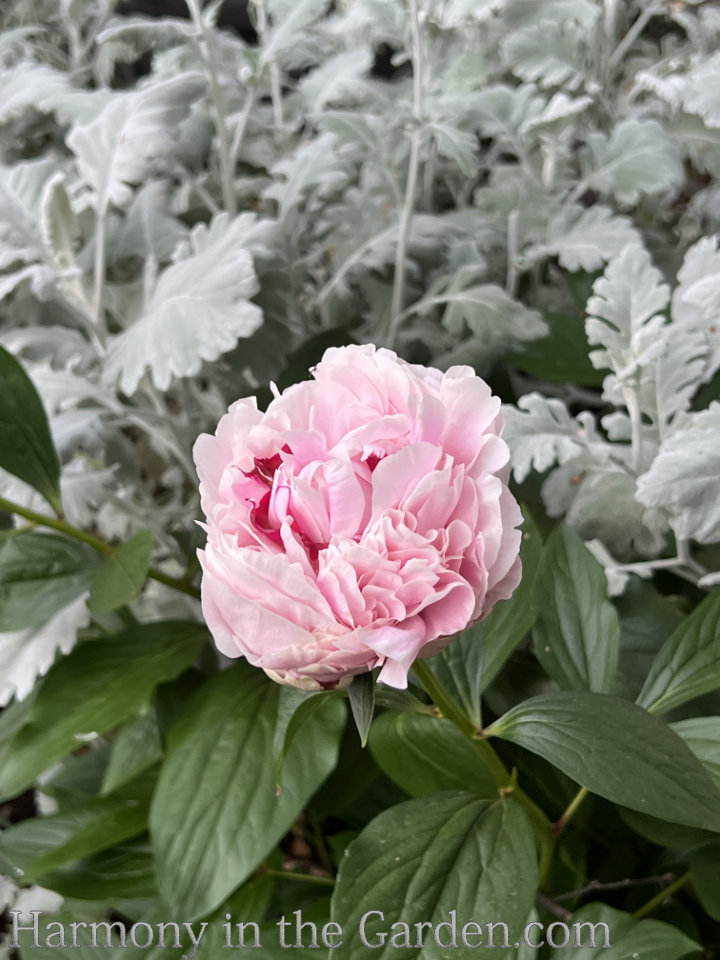 Peony 'Sarah Bernhardt'
My second favorite peony is 'Sarah Bernhardt.'
Quite honestly, she'd tie for 1st place except in my garden she's taken her sweet time to get established. 
Apparently this is common when dividing peonies (sometimes taking up to 5 years!) but since Felix didn't waste a moment giving me tons of blooms, he wins 1st place. 
The huge, full, double-form flowers are the softest pink imaginable and are the epitome of elegance.
In my garden, I particularly like surrounding the dark green leaves with the soft, velvety foliage of senecio 'Silver Gleam' (left.) 
But there's so many ways to echo or contrast 'Sarah Bernhardt's' soft colors.   Just take a look below…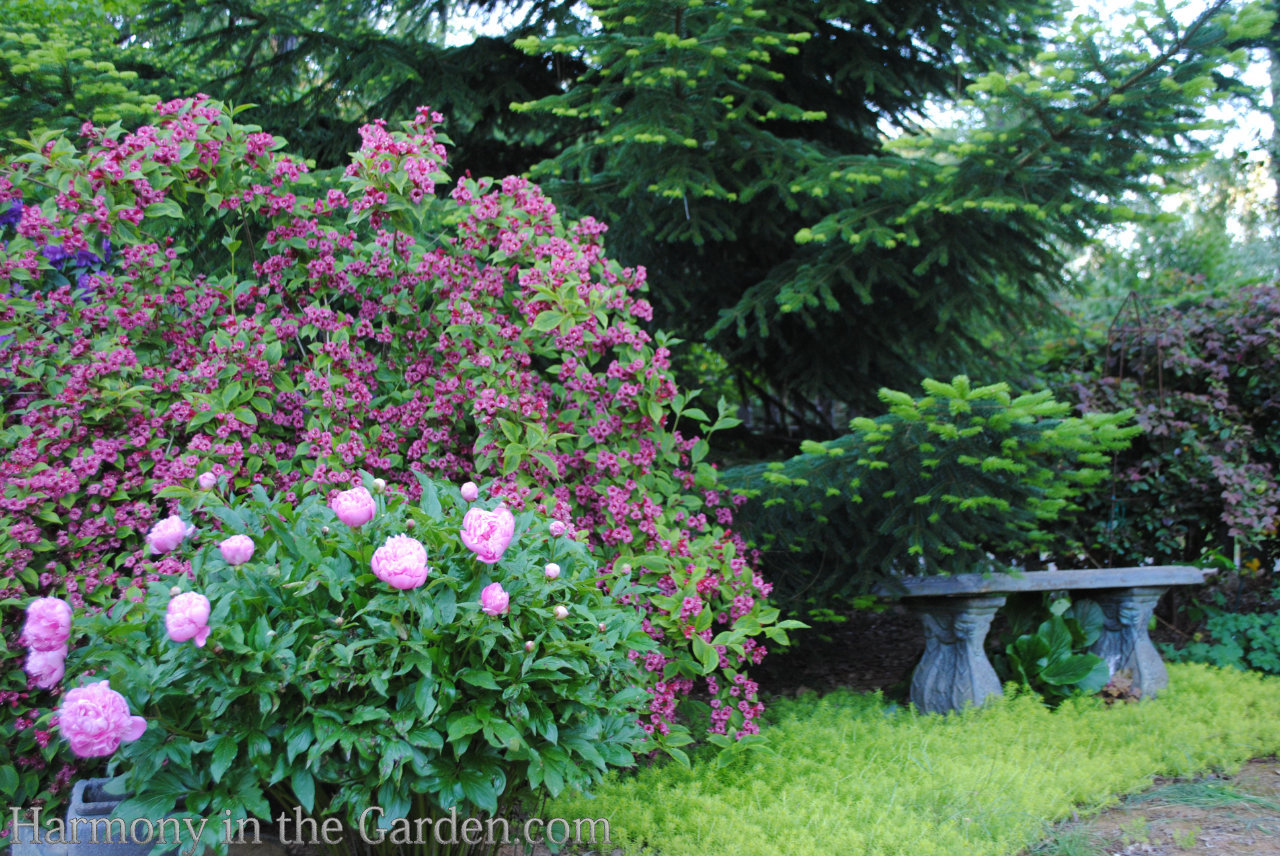 For example, in my mother's garden, she created a vibrant, contrasting pink color echo by placing a towering weigela 'French Lace' behind the peony (right.)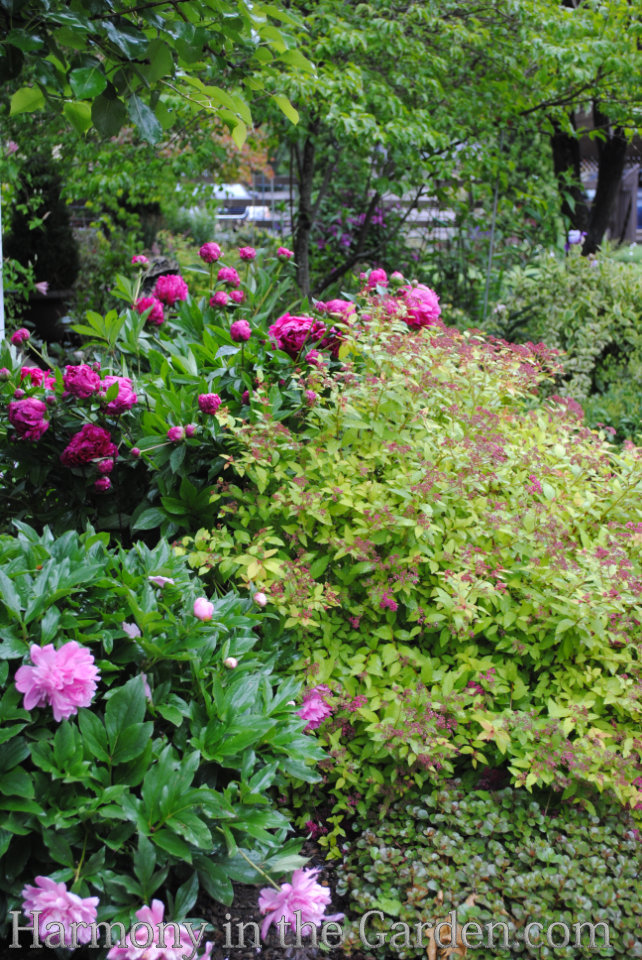 In the example (left) both 'Felix Crousse' and 'Sarah Bernhardt' are planted near the chartreuse foliage and bright pink flowers of a spirea 'Goldflame.'
The result is a long-lasting, eye-popping spring combination.
Below, on the other hand, is a much softer color echo when combined with the creamy white blooms of a climbing 'Sally Holmes' rose.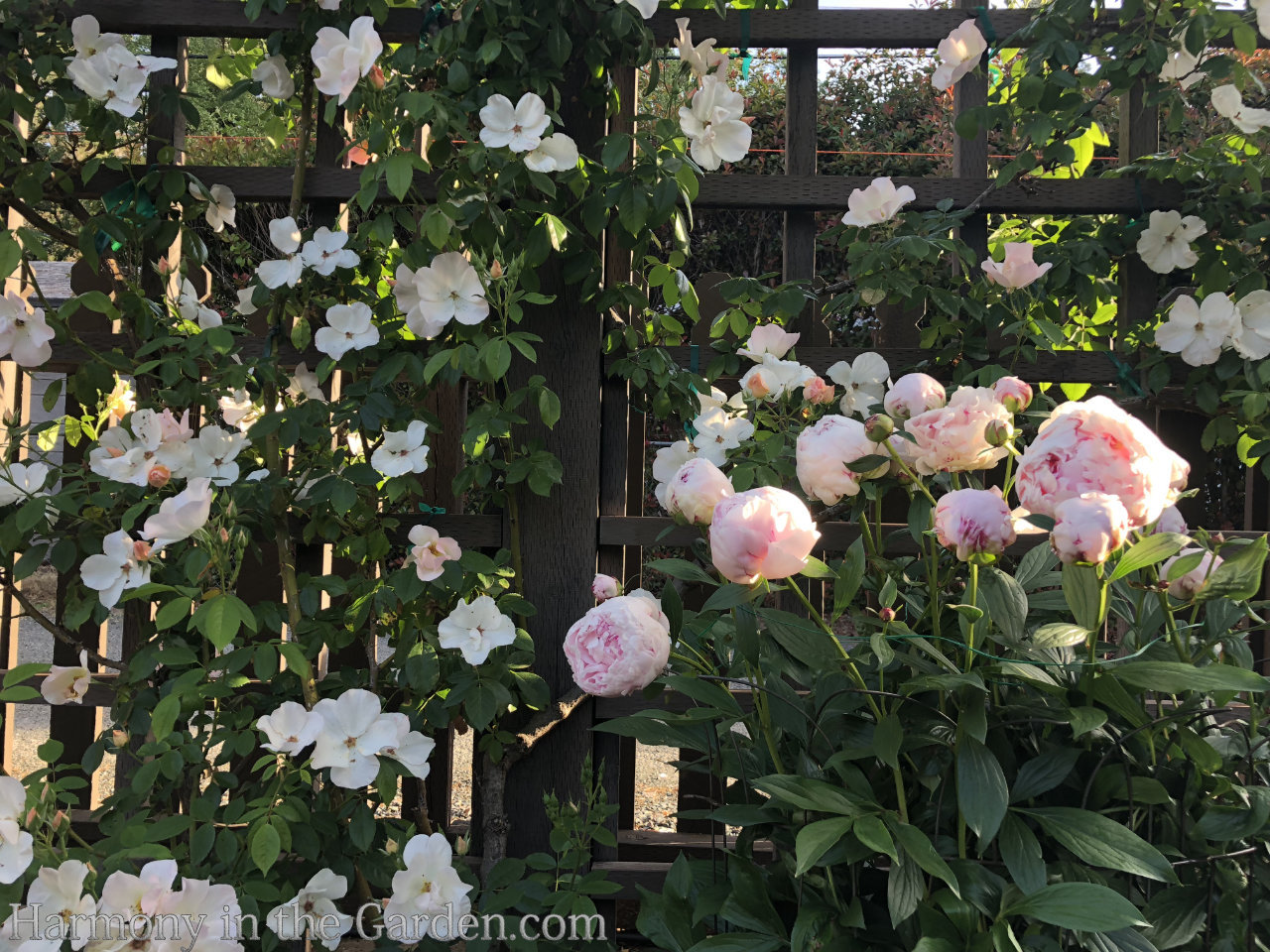 Itoh Peonies 'Creme a l'orange'
Over the past few years, I've fallen in love with Itoh peonies (named for the man who bred them,  Dr. Toichi Itoh.)
In a nutshell, Itoh peonies (also called intersectionals) share qualities of both the tree and herbaceous peony varieties.
They're vigorous growers with profuse and oversized flowers (sometimes blooming twice!) with lush, deeply-lobed foliage.  Their stems also seem more substantial than other peonies and haven't required any staking (a plus when it rains!)
'Crème a l'orange' (left) has thrived under the oak trees in my garden.
Its flower has the most exceptional colors, in shades of soft apricot and orange.  A heavy bloomer, the flowers last for three to four weeks, beginning  mid-April.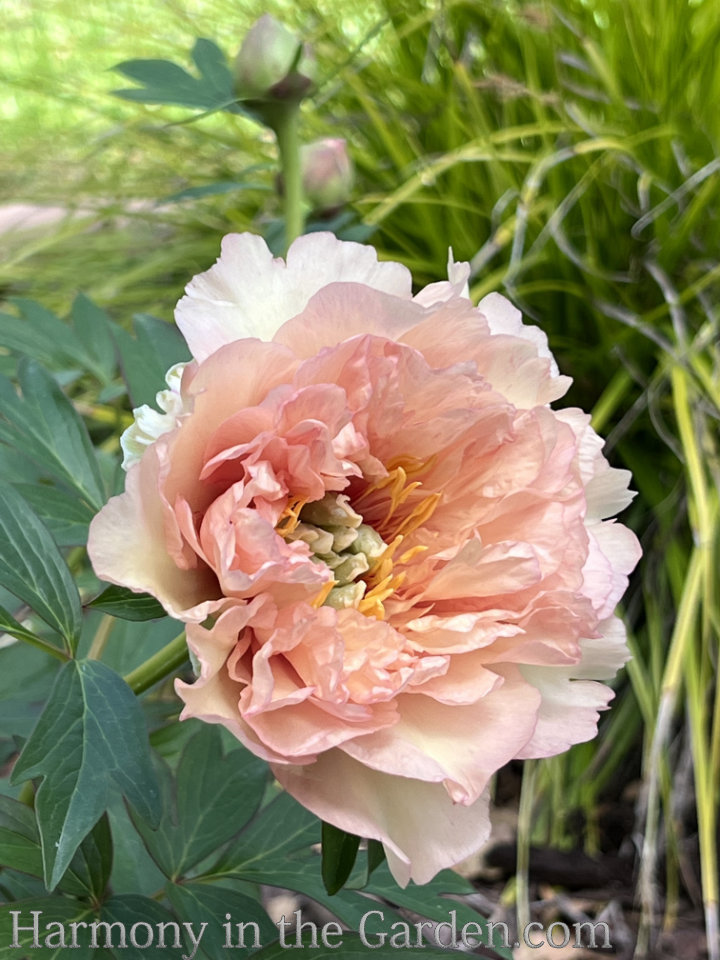 'Canary Brilliants' Itoh peony (left) is a newer one in my garden, with a very unusual flower. 
When it first opens, the double-form flower is in soft shades of peach and apricot – for about a week. 
But then (seemingly overnight) it turns into a buttery yellow color with no hints of peach at all. 
Take a look below at the same plant, one week apart – it looks like an entirely different flower, doesn't it?
I guess the word 'canary' should've tipped me off! 
I've planted 'Canary Brilliants' near a drift of carex 'Everillo' to echo its bright chartreuse colors.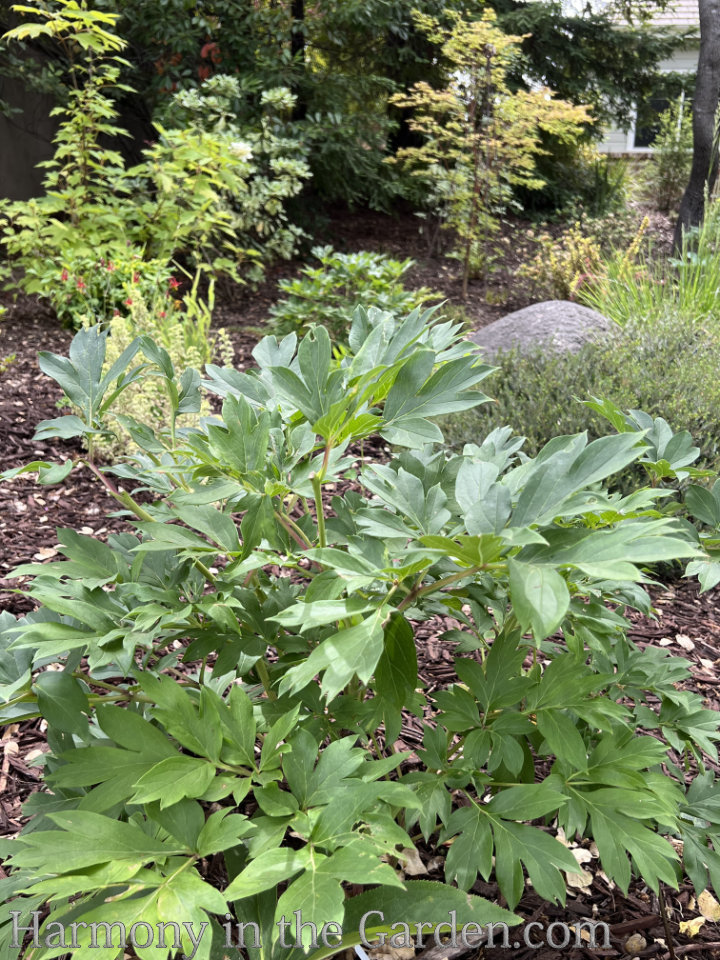 Even when the peony blooms are a thing of the past, I appreciate the oversized, dark green foliage that toughs it out during my hot summers. 
The plants rarely wilt in the heat and provide a lush atmosphere.
AND, did I mention they're deer-resistant, too?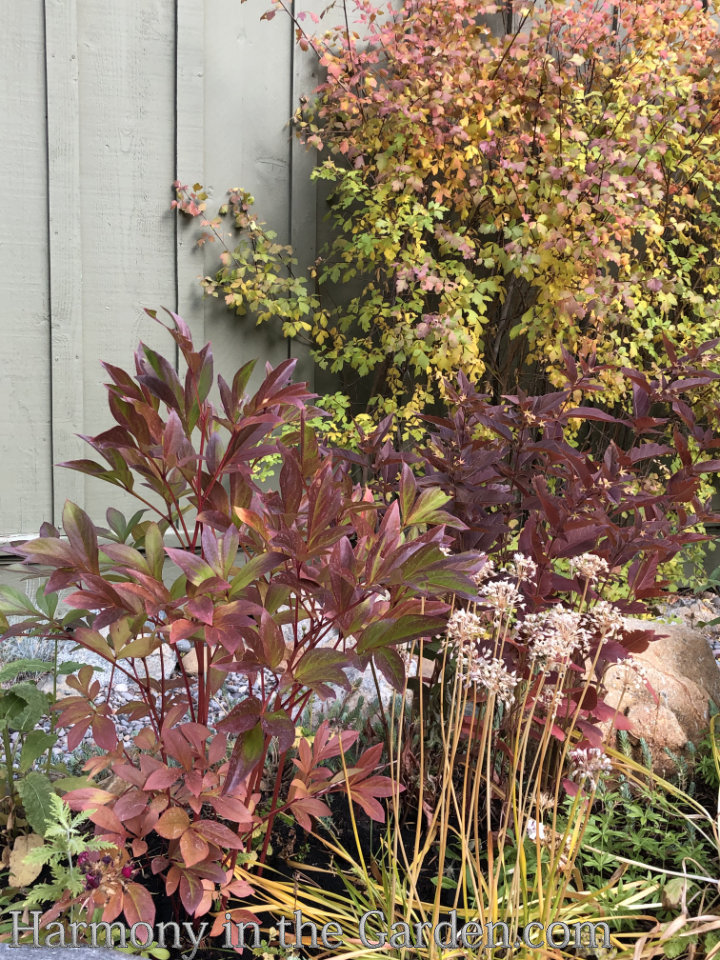 And once the cooler temps of fall finally arrive, many varieties reward you all over again with another burst of color.
For more information about peonies, click here for Margaret Roach's informative interview with peony expert, Jeff Jabco.
And if you love ball-shaped flowers as much as I do, click here to see more of my favorites.
Gorgeous blooms, reliable foliage, and fall color?  What's not to love about peonies! 
I realize I've only touched upon the vast topic of peonies, so please feel free to share with us your favorites, any tips, and if you feel like it – what's your opinion on the pink and orange color combo!?  (I promise, no judging!)