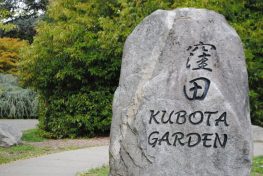 One of the many reasons why I love visiting public gardens is that each one tells a unique story:  why it was created, who was the driving force, the inspiration behind it, etc. Seattle's Kubota Garden is no exception.
Located in the middle of a quiet suburban neighborhood, it's somewhat of a surprise to find this secret gem nestled among its residential neighbors. Immediately I was intrigued.
In the garden is a memorial stone dedicated to the creator of this magnificent garden, with the following inscription:
'Fujitaro Kubota was born in 1879, in Kochi Prefecture on the island of Shikoku, Japan. He immigrated to America in 1907 and established his home. In 1927 he acquired this land in order to make a large garden. With his own hands he cleared the land, dug several ponds and cut the trees to build the garden. Mr. Kubota studied landscaping, suffered hard work, and put great effort into this project. The garden was finally completed in 1962 and in that year this memorial stone was erected. It was the eighty-third year of Fujitaro Kubota.'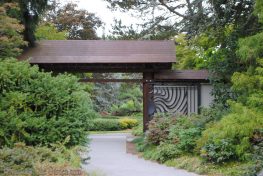 This garden is a masterpiece in the study of form and shape. In fact, I've never seen another garden that comes close.
Form is a concept that is often difficult for gardeners to master, compared to color and texture. Identifying the adjectives that describe a plant's form is easy enough, but knowing how to use form in the garden is an entirely different matter.
Lucky for us, this garden is filled with stunning examples that show the many different ways a plant's form can be used to achieve a wide variety of results.

1. Combine contrasting forms
This is a powerful example of creating visual interest using contrasting forms.  In this vignette, there are gentle mounding and weeping forms as well as energetic upright, fountain, and conical forms.  The repetition of conical and mounding forms are what helps prevent it from looking overly chaotic. The primary colors are green with just a hint of blue and burgundy.  But even with a limited color palette, the combination results in understated excitement.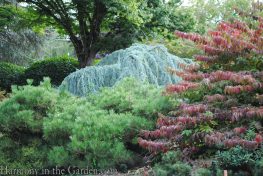 If more color is desired, as in this vignette, choose plants with unique forms as well as contrasting colors.
There's no mistaking each of the plant's unique characteristics in this photo:  blue weeping form, burgundy horizontal branches, and bristly, mounding evergreen.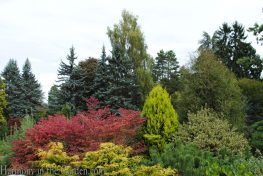 The different shades of green (dark, medium and chartreuse) along with burgundy and gold create a year-round tapestry of color.
Have you noticed the absence of flowers in these photos?  While there's no denying the importance and beauty of flowers in a garden, evergreens are what hold a garden together throughout the year.


2.  Form as a focal point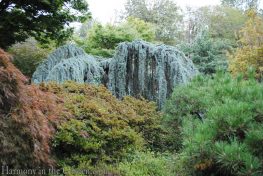 When you have a strong and unusual form, such as this blue weeping juniper, treat it as a focal point.
To keep its impact strong and at the center of your attention, surround it with low-growing plants. Too many of the same form planted next to one another will have the opposite effect.

3.  Form as a supporting cast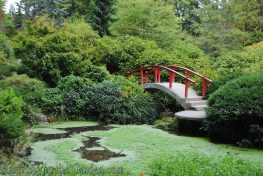 Contrary to using strong forms as a focal point, a grouping of gentle forms can be used to create a serene backdrop.
The mounding green shrubs in this photo are strategically placed to keep the attention on the vibrant red bridge.
Can you imagine this bridge surrounded by several strong shapes and colors all competing for the spotlight?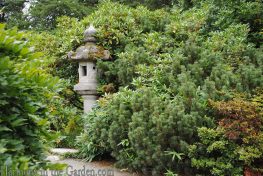 On a smaller scale are the gentle mounding forms of the evergreens that softly embrace the lantern focal point.
Their quiet presence lets the stone lantern shine in this grouping.

4.  Having fun with form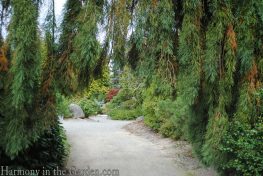 Memorable gardens contain memorable moments, sometimes as a result of a playful sense of humor.
An example of this is the curtain of weeping evergreen branches that have been cleverly trained to grow over the walkway.
This curtain lets each visitor make a grand entrance to the garden.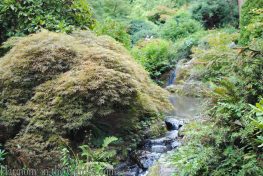 I love the creative placement of the Japanese maple's cascading form right next to the cascading stream that flows around it.

5.  Flowers and Form
And of course, don't forget the impact that flowers can have when combined with the unique forms of surrounding evergreens. Especially when the flowers have equally strong shapes, like this spidery pink cleome and conical oakleaf hydrangea.
While the flowers add excitement to a grouping like this, it's the strong forms of the surrounding evergreens that will carry this garden through the winter.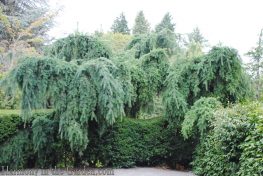 To see just how stunning winter gardens can be, here are two more examples that beautifully illustrate the importance of seasonal planting:  Northern California's Filoli Garden and Seattle's Washington Park Arboretum.
How do you use form and shape in your garden?  Any favorite combinations you'd recommend?