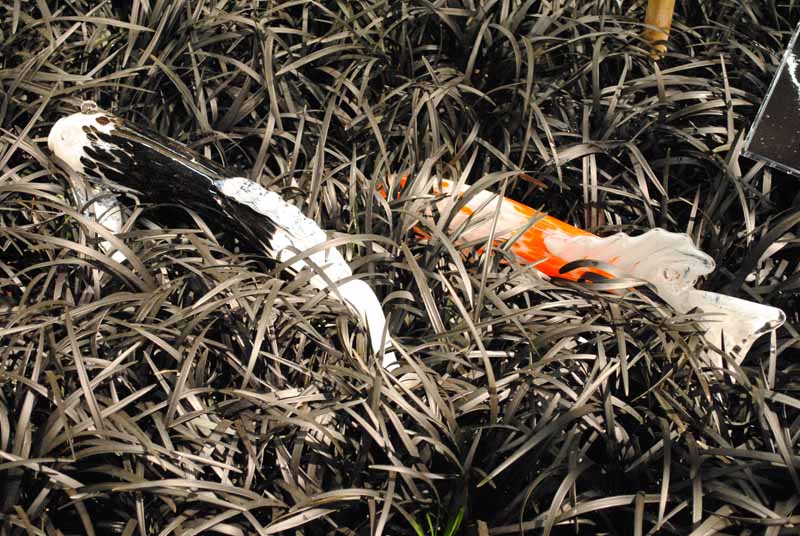 One of my all-time favorite colors to use in the garden is black.  While it can be tricky to find plants that have true black foliage (most are closer to maroon or deep purple), here are some of my favorites that come pretty close.
And just in time for Halloween, too!

1.  Black Mondo Grass (ophiopogon planiscapus 'Nigrescens')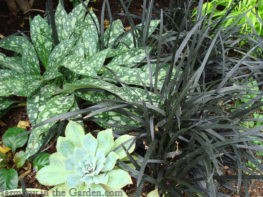 As the above photo shows, the inky foliage of Black Mondo grass is stunning (especially when glass koi are swimming through, as seen at the Northwest Flower and Garden Show a few yeas ago.)
If you can find it, the 'Blackbeard' variety, however, that has even wider, strappier foliage in deeper shades of coal than the straight Ophiopogon planiscapus 'Nigrescens' variety.
In my own garden, I like to plant it near plants with blue tones in them for a striking yet subtle color combination.

2.  Aeonium 'Zwartkop'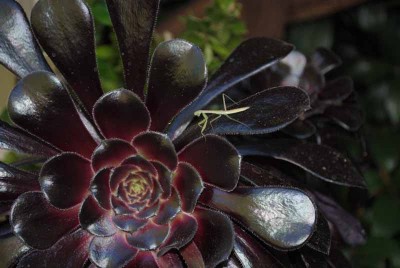 I'm a HUGE fan of all aeoniums, but it's the glossy, deep, dark maroon shades of  'Zwartkop' that always make my heart beat just a little bit faster.
And it's the perfect color to highlight a little praying mantis, too.
If you have aeoniums, and need to take cuttings, here's a simple method I wrote about which is functional and fantastic!

3.  Sambucus nigra 'Black Lace'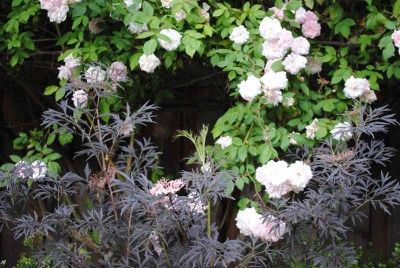 The delicate pink flowers of my 'Cecil Brunner' rose contrasts so nicely against the jet black foliage of the nearby 'Black Lace' sambucus.
This variety of elderberry holds its color throughout the summer, peaking in mid-summer with its 4-foot long. gently arching branches of lacy foliage.

4.  Phormium 'Black Adder'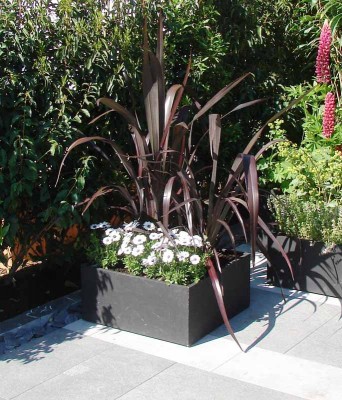 Sure there's several varieties of dark phormiums out there, but 'Black Adder' is one that I've found holds its color throughout the year. And I appreciate it's more manageable size, growing to about 3'x3′.
This is the variety that I always try and plant in my client gardens, whether in a container or in the ground. And yes, they'll do quite well in a container, provided they have plenty of space for their roots to grow.
And did you know phormiums flower?  They do!   Take a look…

5.  Persicaria

microcephala

'Red Dragon'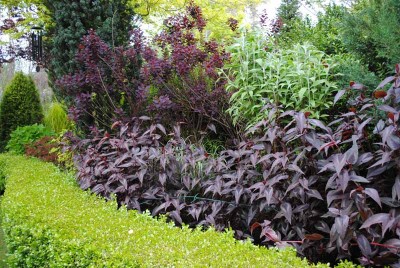 While more of a deep maroon than true black, the 'Red Dragon' persicaria offers several seasons of interest.
The moment its lance-shaped leaves emerge in early spring the excitement starts.  A crescendo is reached in mid-summer when the towering 6′ plant is covered with airy, white blooms that last for months.
In late fall, I cut it to the ground and watch as new growth quickly forms a dark, tidy mound that holds its shape and color through the winter until the warmth of spring arrives and the show starts all over again!

6. Euphorbia 'Blackbird'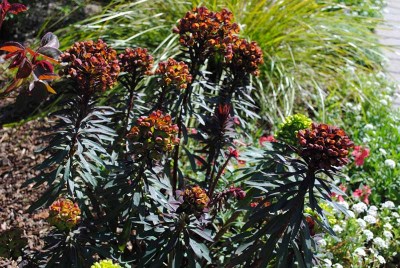 Euphorbias are another favorite of mine with 'Blackbird' stealing the show with its black foliage/deep maroon flower combination.
They're so easy to care for, too – just cut them back in the fall  once their shoots start to look scraggly and new shoots will emerge almost immediately.
Their only caveat is that they despise having wet feet, so make sure they have excellent drainage.
Click here to see why I'm such a fan of euphorbias, in all their amazing colors, sizes and shapes.

7.  Echeveria 'Black Knight'

The echeveria family of succulents come in so many sizes and colors, it can be hard to choose.  When it comes to dark colored varieties, though, 'Black Knight' is the one that I've found holds its color throughout the year.
I've had this one growing in a pot for several years, in partial shade and it never loses its chalky black color.  And when it blooms – holy cow!  Bright red flowers on tall stalks – a hummingbird's delight.

8.  Eupatorium rugosum 'Chocolate'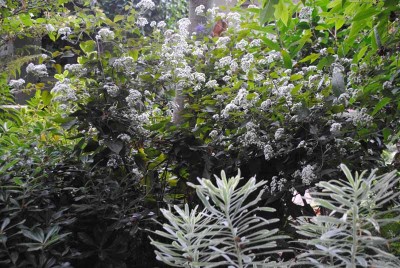 Commonly called Snakeroot (perfect for Halloween, don't you think?) the dark maroon/almost black foliage of 'Chocolate' eupatorium is one of my favorites for a semi-shady bed.
Towering to 5-feet and covered with airy white puffs of flowers in the summer, this plant gives your garden bed a powerful punch.

9.  Ceanothus 'Tuxedo'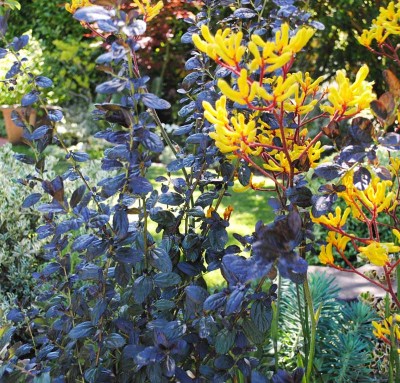 Ceanothus are a natural in California gardens, but the unusual black foliage of 'Tuxedo' never fails to grab people's attention.
This variety has a delicate and airy habit, growing to about 6-feet in full sun.  Paired with a yellow 'Harmony' anigozanthos and you have the perfect combination for Halloween!

10.  Dyckia 'Cherry Cola'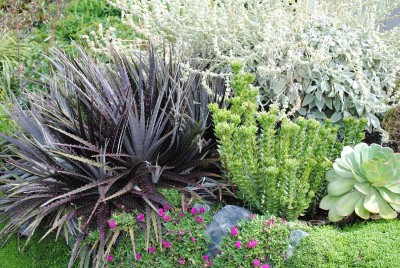 And last, but not least, is one of my favorite dark bromeliad varieties – dyckia 'Cherry Cola'.  I'll warn you, though, it has angry leaves that are deceptively lined with little knives on either side, so be careful how and where you plant it!  I took this photo at Annie's Annuals and fell in love with it.
For a great article  on how to effectively use black foliage in the garden, check out this enlightening post written by Genevieve Schmidt at North Coast Gardening!