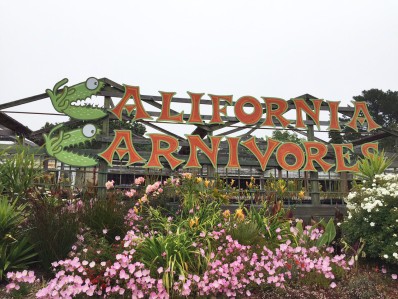 While visiting Sonoma earlier this summer, I told my husband that I just had to see a nursery located in Sebastapol, just a few miles away.
He groaned, assuming that once again he'd be stuck wandering alone through the aisles of yet another nursery while I quickly disappeared, only to return an hour later with a cart full of plants.
He'd be wrong.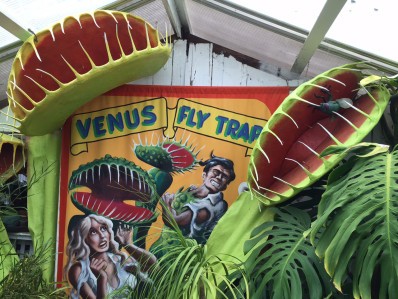 When we pulled into California Carnivores I could see his face light up.
No overstuffed, flowery containers greeting us at the front, no fountains or garden art, and not a 'tomatoes for sale' sign to be found.
Instead, there was this.
Finally, a nursery that captured his attention!
I have to admit that even though I pretended I was taking him here for his enjoyment, I was secretly intrigued.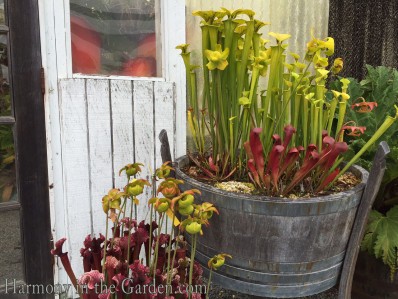 For some reason, with all I've been through this past year, I've found myself more and more interested in plants and places that mentally take me to another world.
Maybe it's a form of escape, maybe it's because I crave something wild and exotic, or maybe it's because now that I'm feeling better I want to explore everything.
Either way, I was transported the moment I walked in! 

There's one fun fact, after another here.  For example, did you know that there are EIGHT species of pitcher plants (sarracenia sp.), all of which are native to the U.S.?
These are the stunning yet highly functional flowers of the pitcher plant. The flowers are designed such that bees must enter by walking over the female stigmas to reach the pollen. Once covered with fresh pollen, they exit out the other way (helping them to avoid the stigmas and reducing the chance of self-pollination).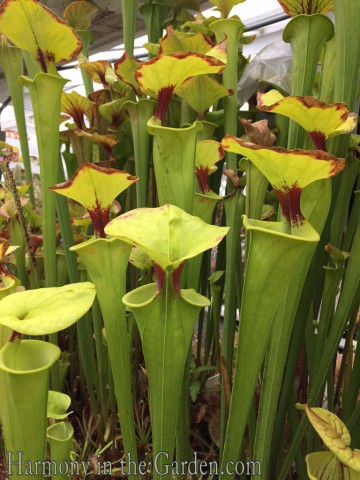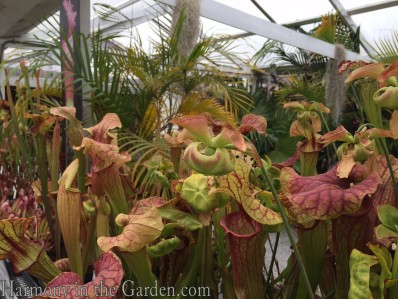 These are our native Hooded Pitcher Plants (versus the tropical pitcher plants Nepenthes that I wrote about here during a visit to the SF Botanical Garden)
Ahhhh…good 'ol Venus Fly Traps.
Did you know that these native plants are only found growing within a 100-mile radius, in a small section of  North and South Carolina?
When I was young, I used to love catching houseflies and dropping them into their gaping jaws  (you never knew I was so mean, did you?)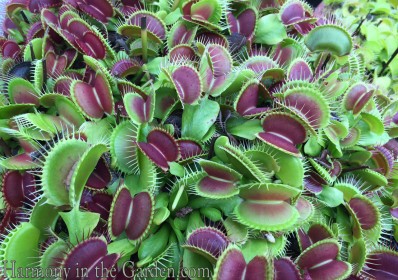 Growing up, I  would keep them in a terrarium, but would sadly watch as they inevitably began to turn black and die a slow death.
Thanks to the internet, I now know this the dreaded Black Spot Fungus which occurs as a result of overly damp and humid environments.
I didn't know that Venus Fly Traps grew just fine in our regular, cool homes not requiring the makeshift terrarium I had used.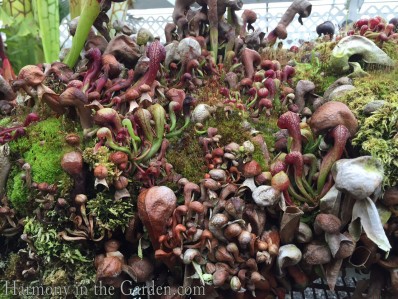 Cobra plants (darlingtonia californica) can be found growing in my neck of the woods, just south of Mt. Shasta.
Native to California and Oregon, there's even a variety that withstands the harshly cold temperatures of the Sierra Nevadas!
The poor insect is lured in by a 'tongue' that protrudes from the giant hood.
Once inside, the victim stumbles downwards towards its death, as drowning water is excreted.   Click here if you've got a sadistic side and would like to try your hand at growing these killers.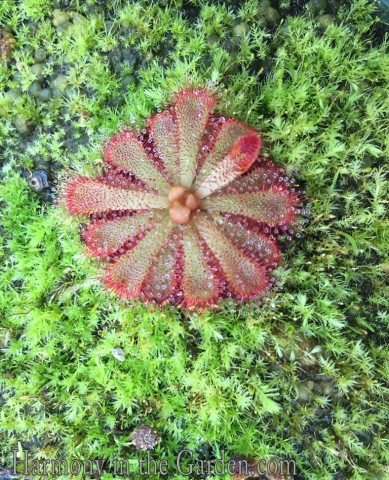 Sundews (drosera) are some of the most diverse genus of carnivorous plants, with over 200 species on almost all continents.
The colorful rosette almost looks like an innocent, beautiful flower, doesn't it?  It's hard to believe it's deadly eating machine.
Curious insects instantly become trapped by the sticky, glue-like 'dew' dotting the outline of each petal.
In response to an insect trying to free itself, the tiny tentacles are triggered to move, further trapping the poor bug and preventing its escape.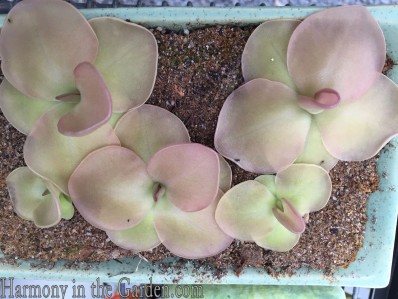 Here's the beautiful Butterwort (pinguicula), which means 'little greasy one' in Latin.  Sorta gross sounding already, isn't it?
It's another innocent looking killer with delicate looking leaves that catch small insects with tiny filaments and sticky 'glue'.
An interesting fact – butterwort leaves contain an anti-bacterial agent that helps prevent bacteria from forming on the undigested insect parts stuck on its leaves (yuck, I know).  However, once this fact was discovered, cattle owners would use the butterwort leaves as ointment for cattle suffering from infected sores.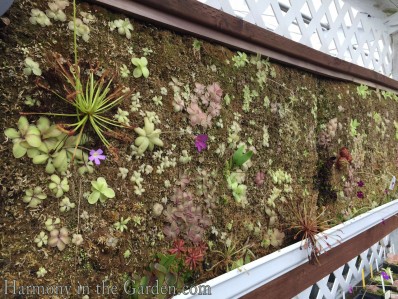 This living wall is in its beginning stages, utilizing lots of different carnivorous plants.
I can't wait to come back in a year or so to see how it's transformed!
In the meantime, here are a few close-ups of the sundews, butterworts and pitcher plants that are happily growing on this deadly living art..

Peeking around the corner in the far corners of the greenhouse, I found dozens of kiddie wading pools filled with baby insect killers.
These pools are the perfect growing containers for creating a boggy environment.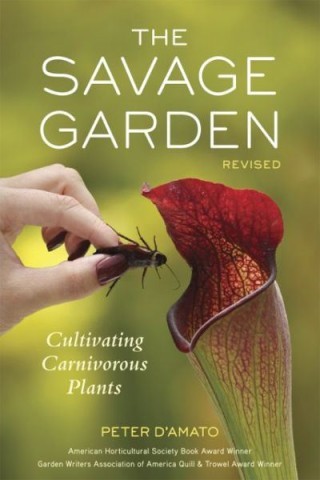 If you're as intrigued by carnivorous plants as I now am, you'll want to read  The Savage Garden, by Peter D'amato (who also happens to own California Carnivores).
A year ago I was sent a copy of his book to review, and after visiting this eclectic and passionate nursery, I couldn't wait to get home and read it.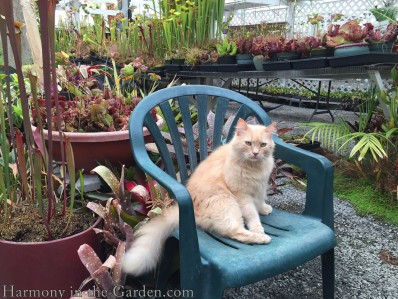 In a nutshell, the book is fantastic.  No wonder many call it the bible of carnivorous plants, winning both the American Horticultural Society and Garden Writers Association awards.