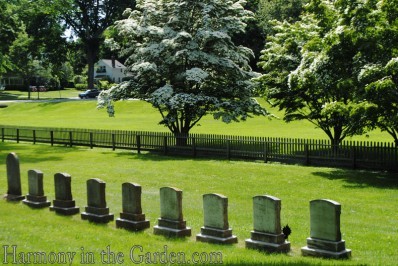 While visiting New York this summer, I spent a glorious weekend touring the Hamptons.  Oh my.  I've never quite seen anything like it- the estates, the gardens, one charming town after another, the pristine beaches.  It surpassed everything I thought it might be – pure heaven on so many levels.
One day, while touring the historic Home Sweet Home (you can read about it here) I noticed the most picturesque looking, ancient looking graveyard just down the street.  And since Halloween is just a few days away, what better time than now to share this with you?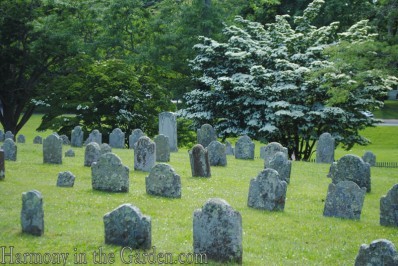 If you've followed my blog for awhile, you know that I've occasionally posted about walking through beautiful, neglected graveyards for signs of past gardens.
One of my favorites is the graveyard in Virginia City, NV (click here to read).
But this particular one, called South End Cemetery, puts the 'old' in old graveyards.  As you drive into town, you can't help but just about run right into it.  The graveyard parallels historic homes, massive flowering dogwood trees, and the greenest lawn I've ever seen.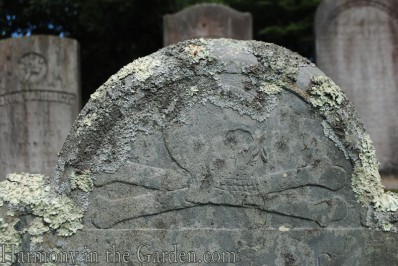 I'll warn you – these images aren't of the smiling cherubs you see on gravestones from the 1800s.  Nope.
These are from the Puritans who were known for their strict, orthodox puritanism religion.
A serious group of folks who had a pretty grim religious outlook as they were never entirely sure whether they were going to heaven or hell.  Which is reflected directly in their gravestones carved with somber, grim, almost menacing skulls.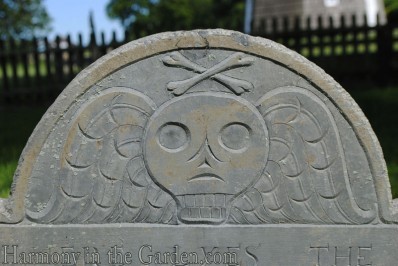 It wasn't until much later in the 1700s when their religion shifted from fear-based to resurrection-based that the skulls filled out a bit into cherubs that would have just a hint of a smile.
But that's not these.  Nope.
These are the early, scary faces of death.
Some have wings, like this one, that offer at least a small hint of resurrection to the heavens.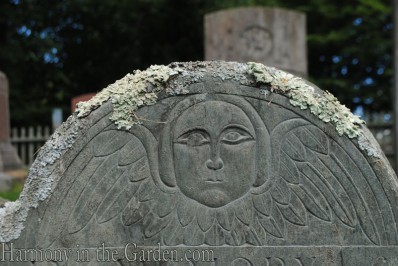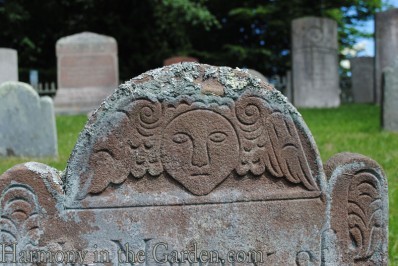 These two have hair, one in a Puritan hairstyle and the other with curls (often called 'Medusa' style).  They're not actually curls, but a stylistic change in art where the feathers begin to curl to and end up resembling hair.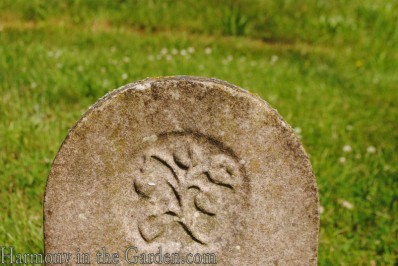 Graves with a simple broken bud represent an untimely death, usually associated with young children.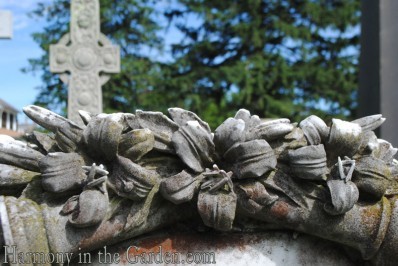 Lillies on a grave are a symbol of purity, chastity and are often used to mark the grave of young martyrs who died preserving their virginity and purity.
If you're wondering how on earth I know all of these facts, (and if you're as morbid as I am) take a look at The Plymouth Colony Archive Project.
I'm not sure what this is – some sort of offering left on the grave.
My daughter screamed at me when I almost bent down to pick it up for a closer look, for fear I'd leave there possessed.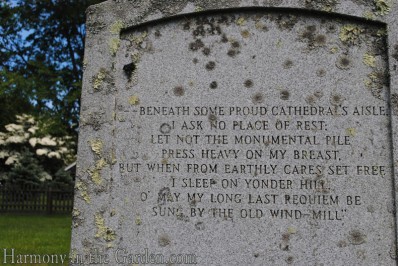 I'll  leave you now with this simply carved, yet poignant headstone.
Happy Halloween, everyone!