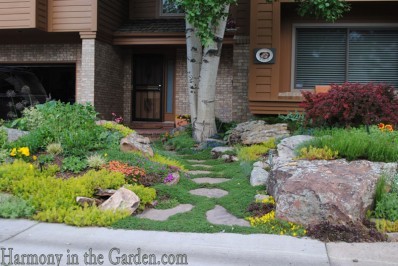 Don't you love the feeling you get when pulling up to someone's home for the very first time, and the moment you see their garden you just know you're in for a treat?
That's how I felt when my taxi slowly crept along the street, looking for the address of Sheila Schultz.
This past May, I spent a week in Denver filming an instructional video for Craftsy (click here if you'd like to watch it!) and was lucky enough to spend a few days with Sheila.
If her name sounds familiar it's because she and her daughter, Laurel, have been featured a TON on Fine Gardening.
After coming out of a particularly harsh winter filled with late, un-relenting storms complete with hail the size of dimes I had no idea Sheila's garden would look as stunning as it did.  I expected it to look like most of our gardens would after a tough winter – threadbare, beaten up and in need of some TLC.
Not Sheila's.  Her front garden looked as if it hadn't experienced a single snowflake.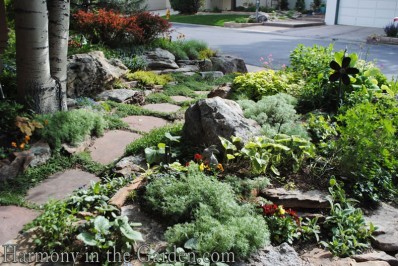 There's a natural, rugged beauty to Sheila's rock garden, which wasn't always the case.
A few years ago, with the help of her good friend, Lynne, they transformed her very ordinary front lawn/foundation shrub yard into a garden teeming with flowers, succulents, wildlife, berms, pathways, boulders and artwork.
As you can see, this is not a large garden, but despite the small dimensions it seems so much bigger in large part due to the cohesive elements tying it together.
Elements such as the stone used throughout, a cool color palette consisting primarily of blues and greens (with the occasional pop of color to wake things up a bit) and the low-growing dimensions of the ground hugging plants.
One of my favorite things about a small garden is an opportunity to showcase small and delicate plants which might otherwise go unnoticed in larger landscapes.  Sheila's garden is no exception, with one eye-catching vignette after another.
I particularly like the stunning, yet subtle, color echoes created using the colors in the stones and the nearby foliage of plants such as the Artemesia 'Silver Brocade', Japanese Painted Fern, Barberry and various succulents.
Also take note of how Sheila plays with texture.  She uses the bold textures and forms of the stones to contrast against the fine and ferny foliage of the wiry Artemesia 'Canescens', the chartreuse bristles of the Sedum 'Angelina', or the many Heucheras which have reseeded themselves in the tiniest of crevices (which, by the way, has never happened in MY garden!)
Sheila and I could not remember the name of this plant with the textural and tightly closed flower buds to save our lives – anyone know?
We'd both be thrilled if you could ID it for us! 

And, of course, she hasn't forgotten the beauty of flowers adding bright and cheery spots of color to her garden, such as the native Pasque flower (along with its lovely, textural seed head), variegated Iris and Alliums adding a little height to her otherwise low and mounding garden.
Or,  the ground-hugging beauties such as Nepeta 'Little Trudy', Snow-In-Summer and Sedum 'Fire Spinner' which help soften the edges of the boulders helping them to seamlessly blend in with the garden.
Ahhh….another example of how color, texture, and form in the garden makes for a most memorable experience!