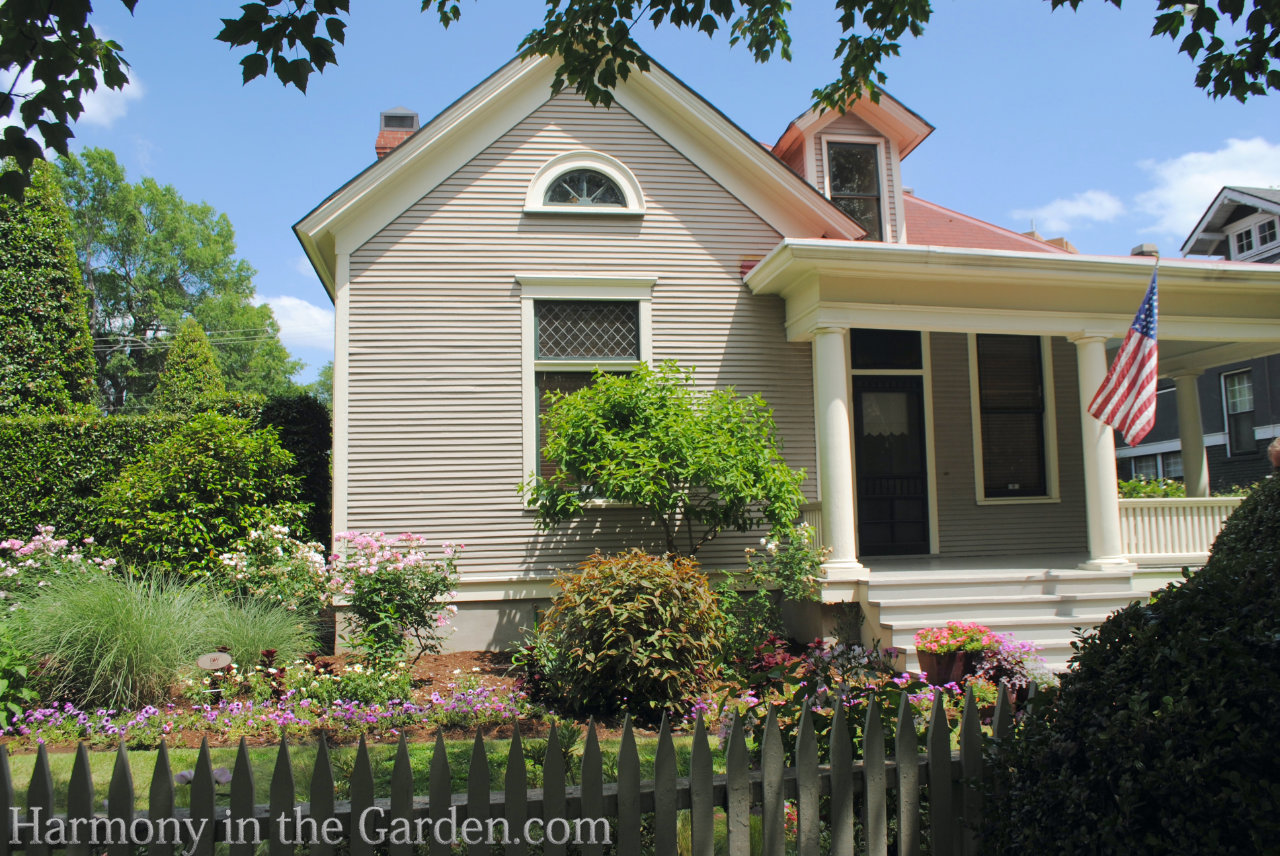 P. Allen Smith's 'Downtown Garden' was the first stop on a 3-day Garden-to-Blog event I participated in a few years ago.
Unlike his jaw-dropping country estate just a few miles away (click here if you missed my post) this is the garden where his long running television show, P. Allen Smith's Garden Home, was originally filmed.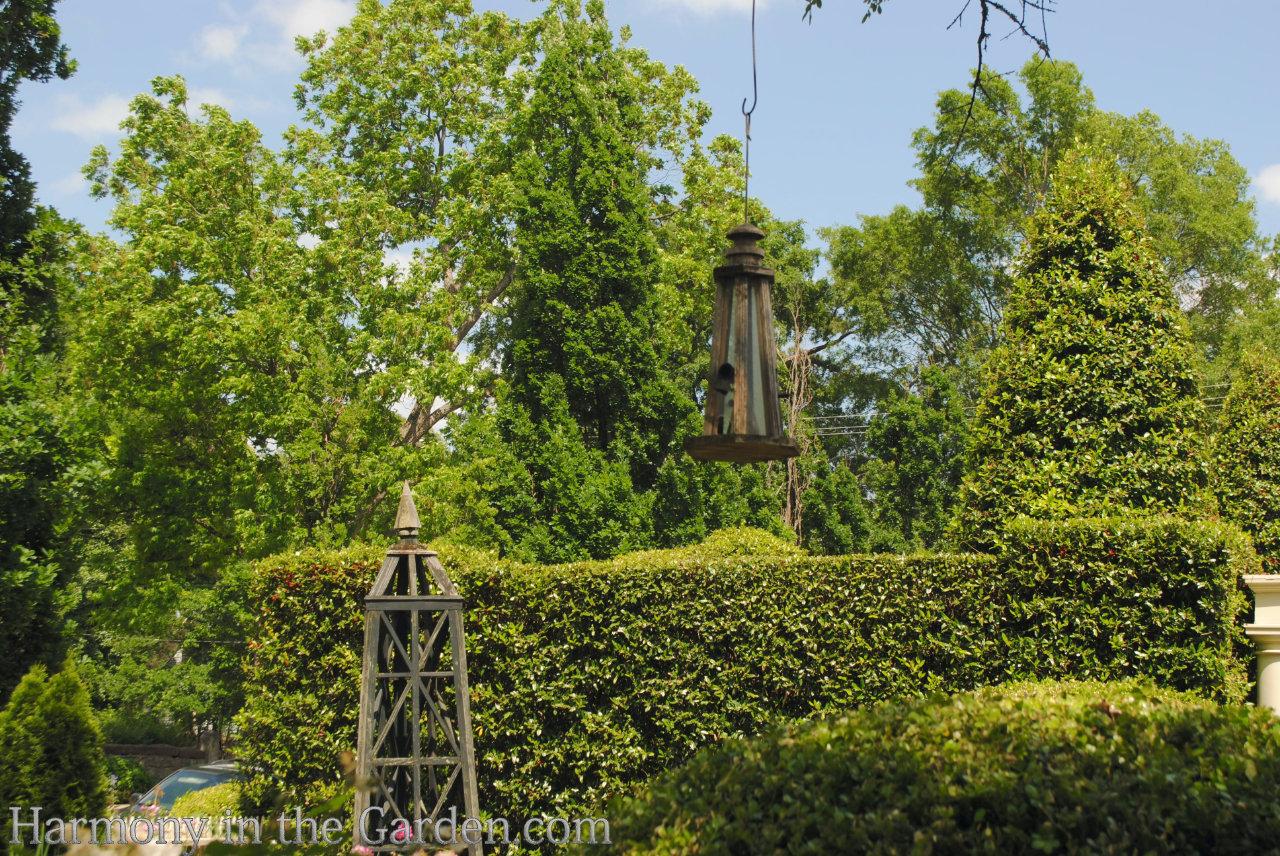 Located on a small city lot in the historic district of downtown Little Rock, Arkansas, this charming 1904 Colonial Revival-style home was featured in his first book, Garden Home.
With neighboring homes close by on all sides, the garden feels surprisingly private, thanks to the garden rooms he's created throughout.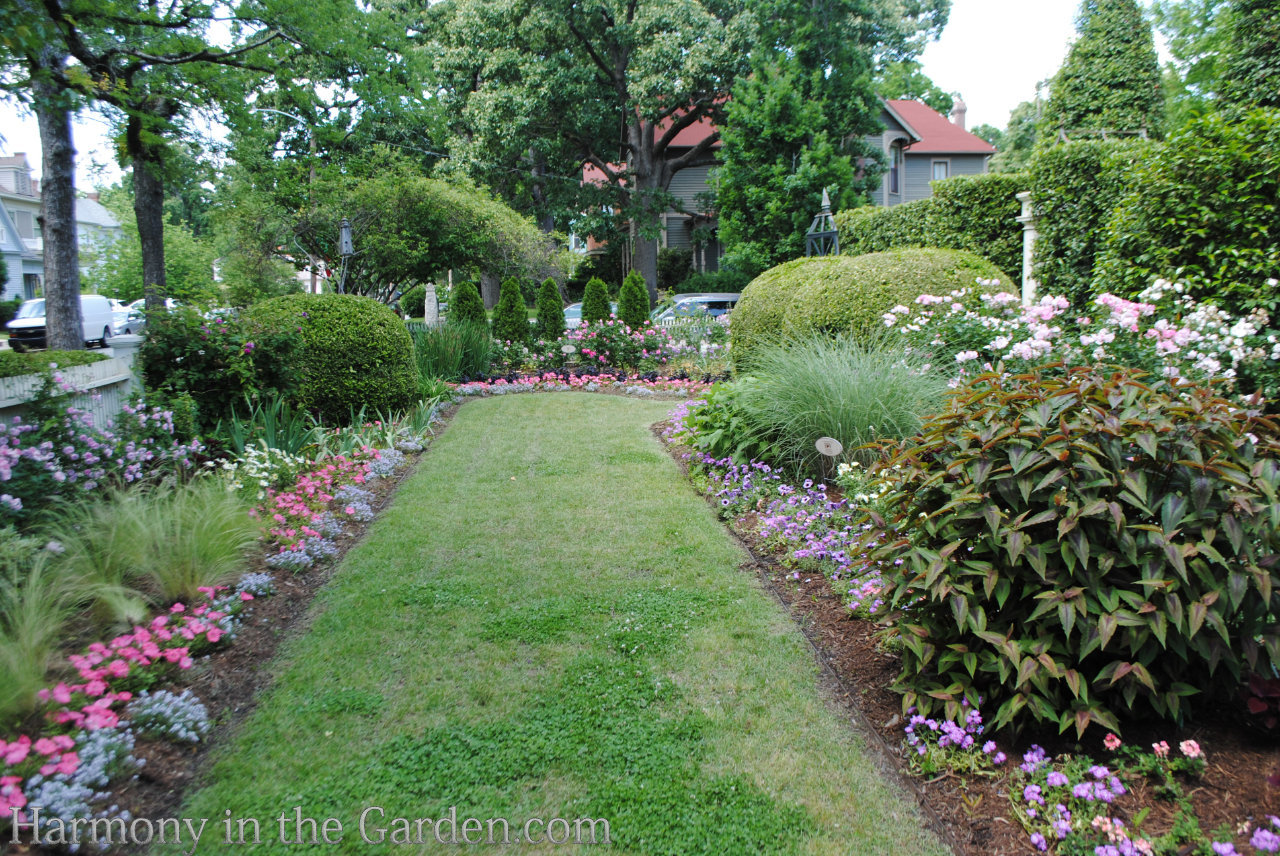 The home is surrounded by three narrow spaces, all which lead to the back of the garden.  Within these three spaces, there are nine separate garden rooms.
In front of his home is the herbicide-free lawn filled with clover.  It's intentional.
P. Allen Smith believes the American lawn should be filled with plants other than just lawn – clover being a favorite of his.
Hooray for reinventing what a 'perfect' lawn should look like!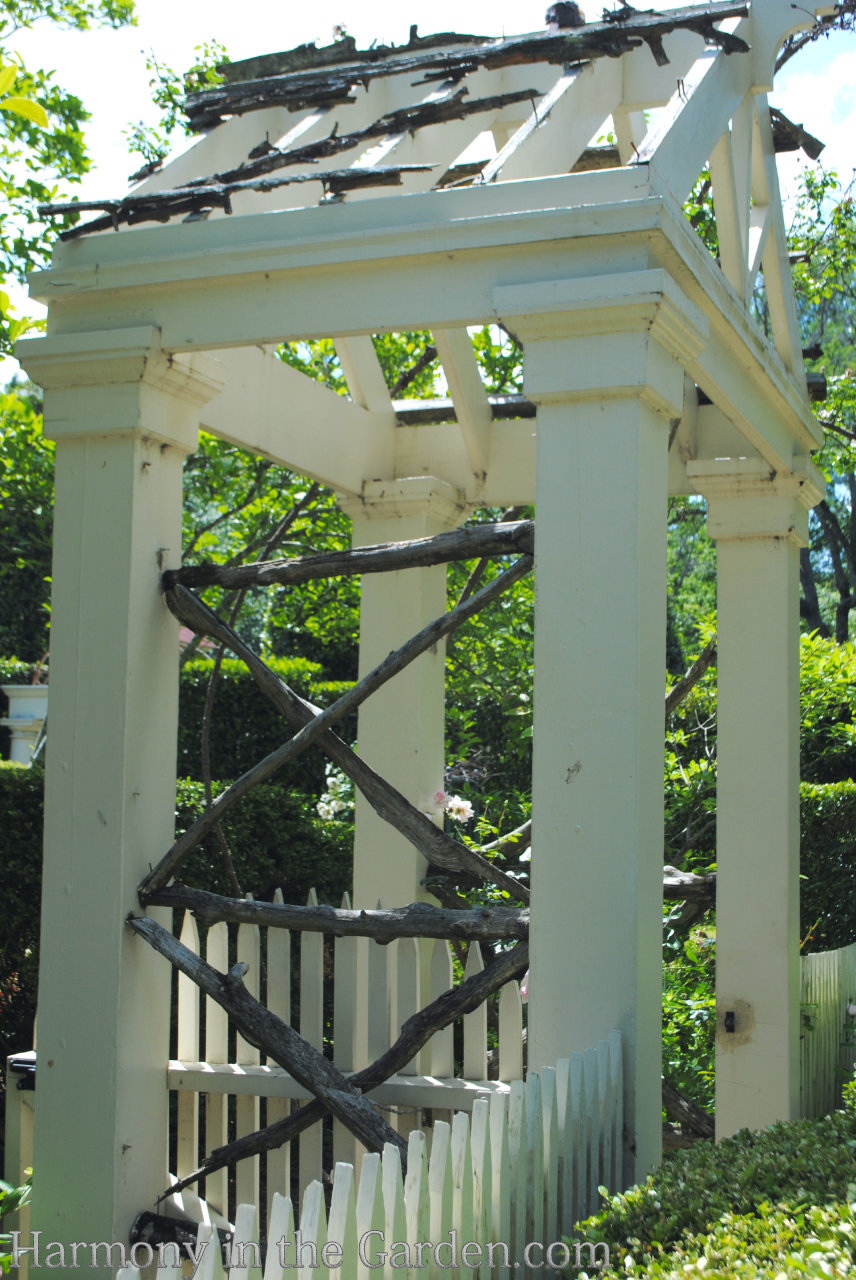 On a different side of the house is this arbor that leads out to the sidewalk.
I love how he's woven rustic twigs along the sides and top of the otherwise formal arbor.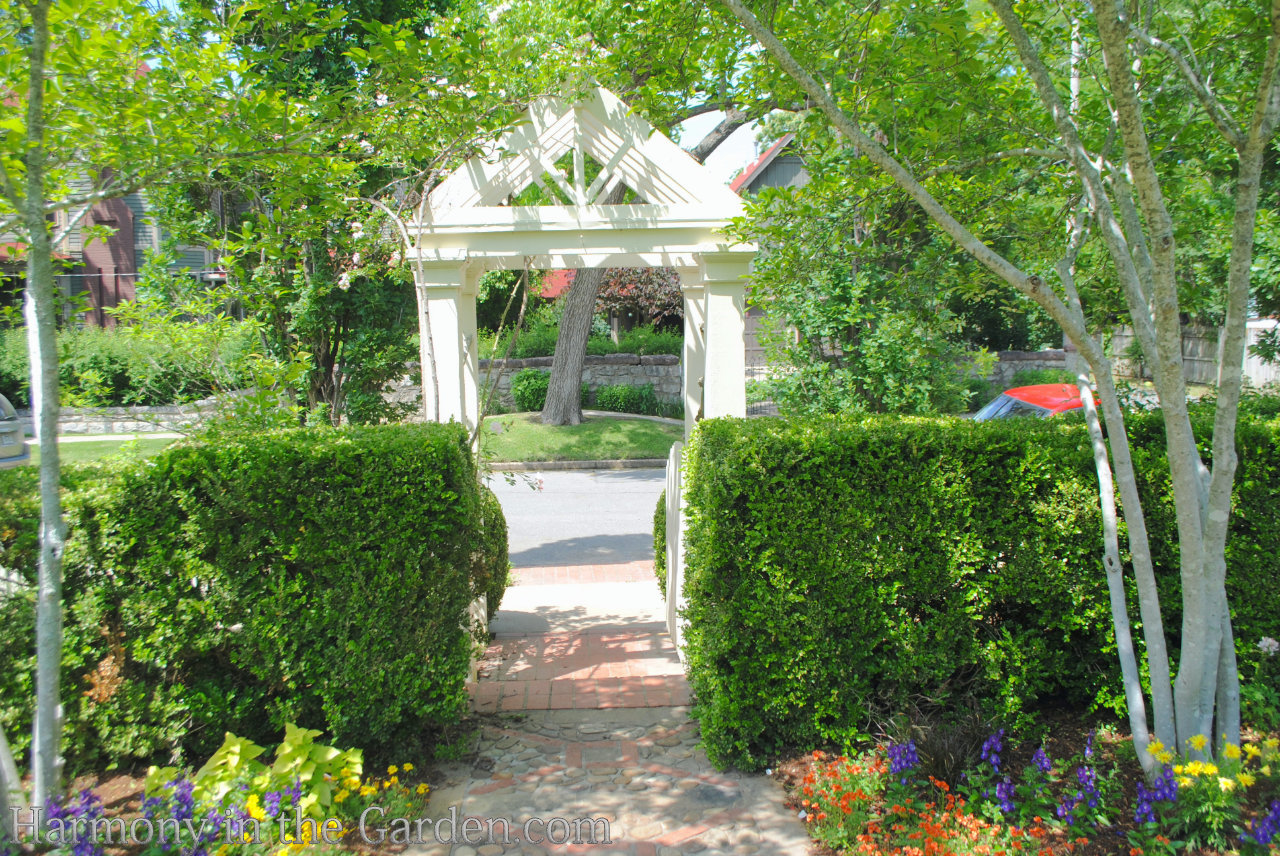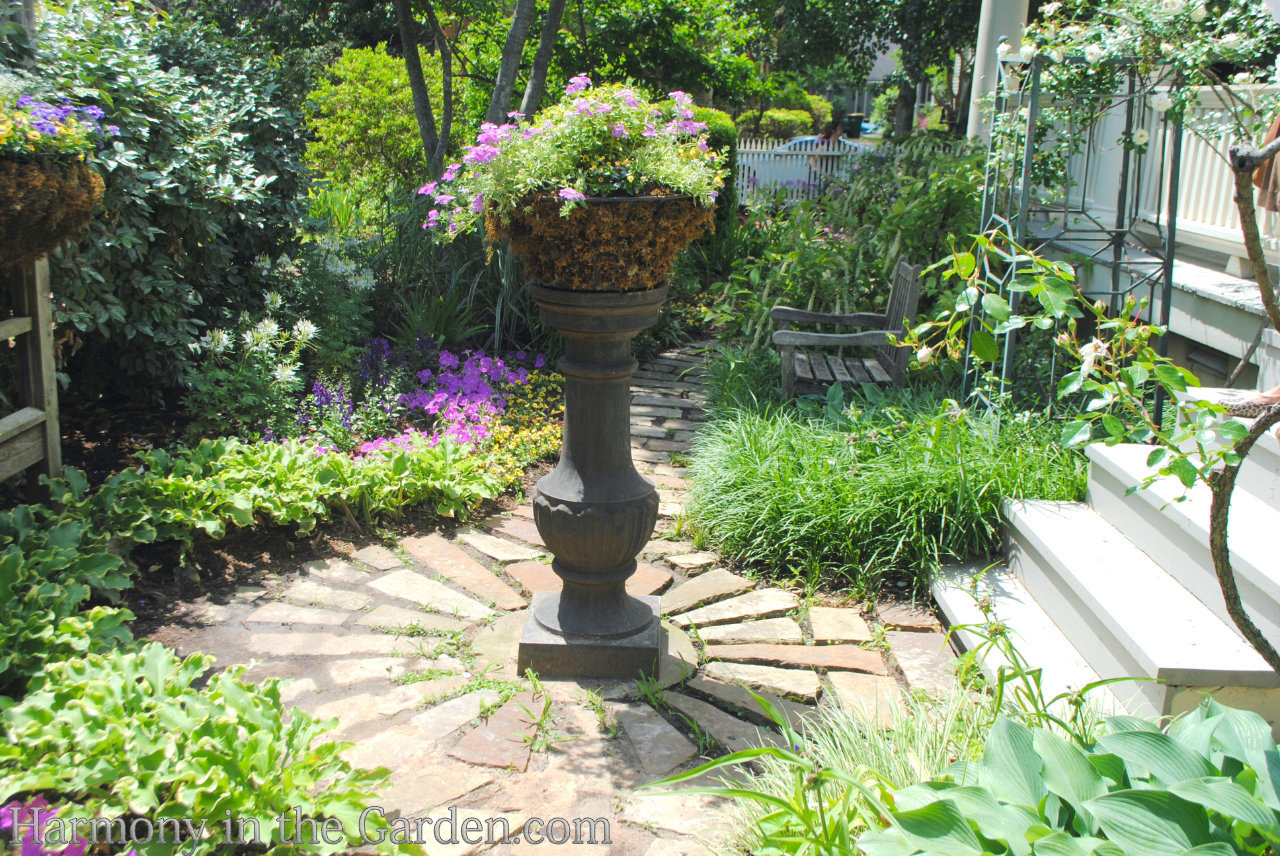 On the other side of the home is a narrow pathway with an urn placed in the center of a cobblestone sunburst.
Again, this pesticide and herbicide-free garden has a few weeds.  And bugs.  
One of the things I appreciate about his garden is that it's not manicured to the point of unrealistic proportions.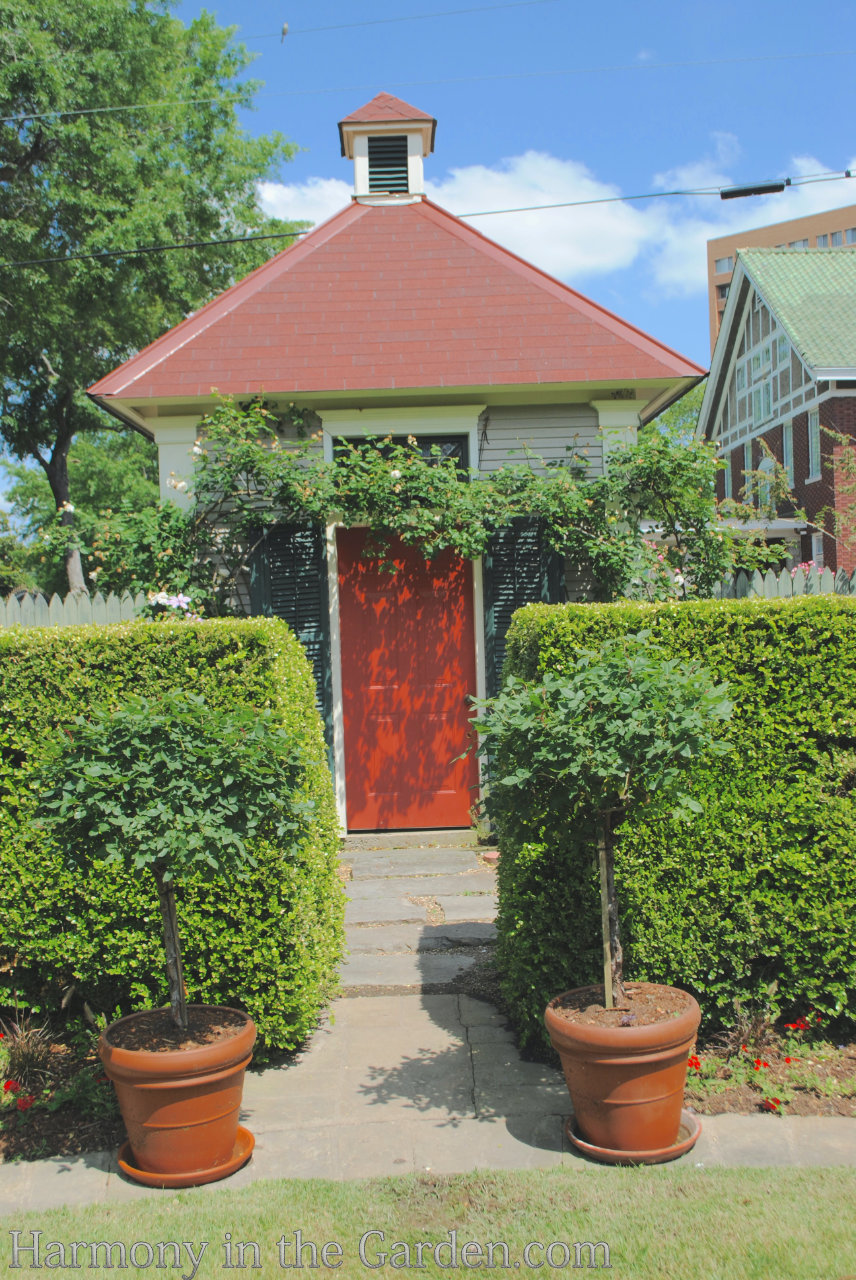 At the rear of the garden is this darling kitchen garden, with newly planted vegetable beds.
Throughout the garden is a mix of formality and informality.
As you'll see, a casual and informal area (such as this kitchen garden) contains symmetrically placed topiaries, or tightly clipped boxwood. 
It's this combination of 'moods' (formal and informal) that helps prevent a garden from appearing too predictable.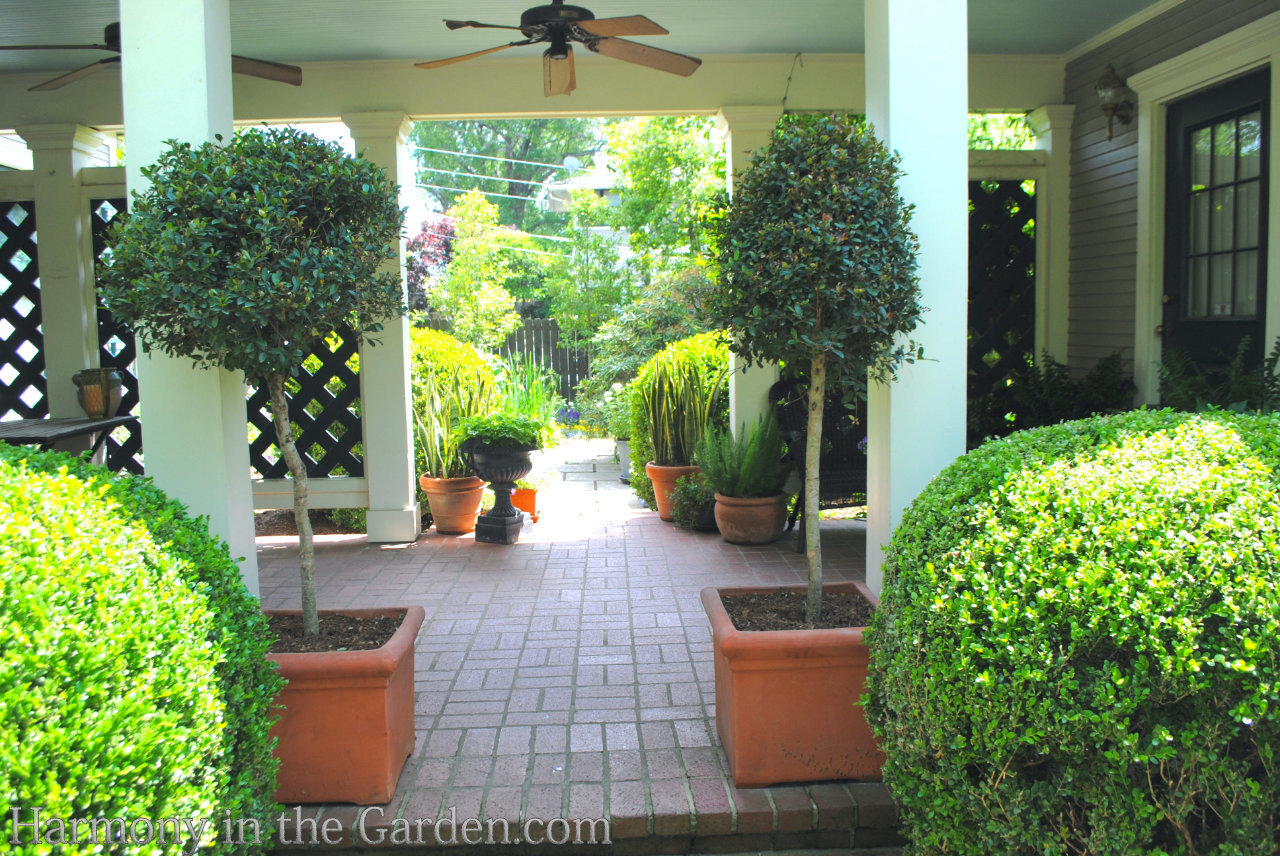 Leading through the back patio is another formal area, with topiary containers symmetrically placed at each side of the porch's entrance.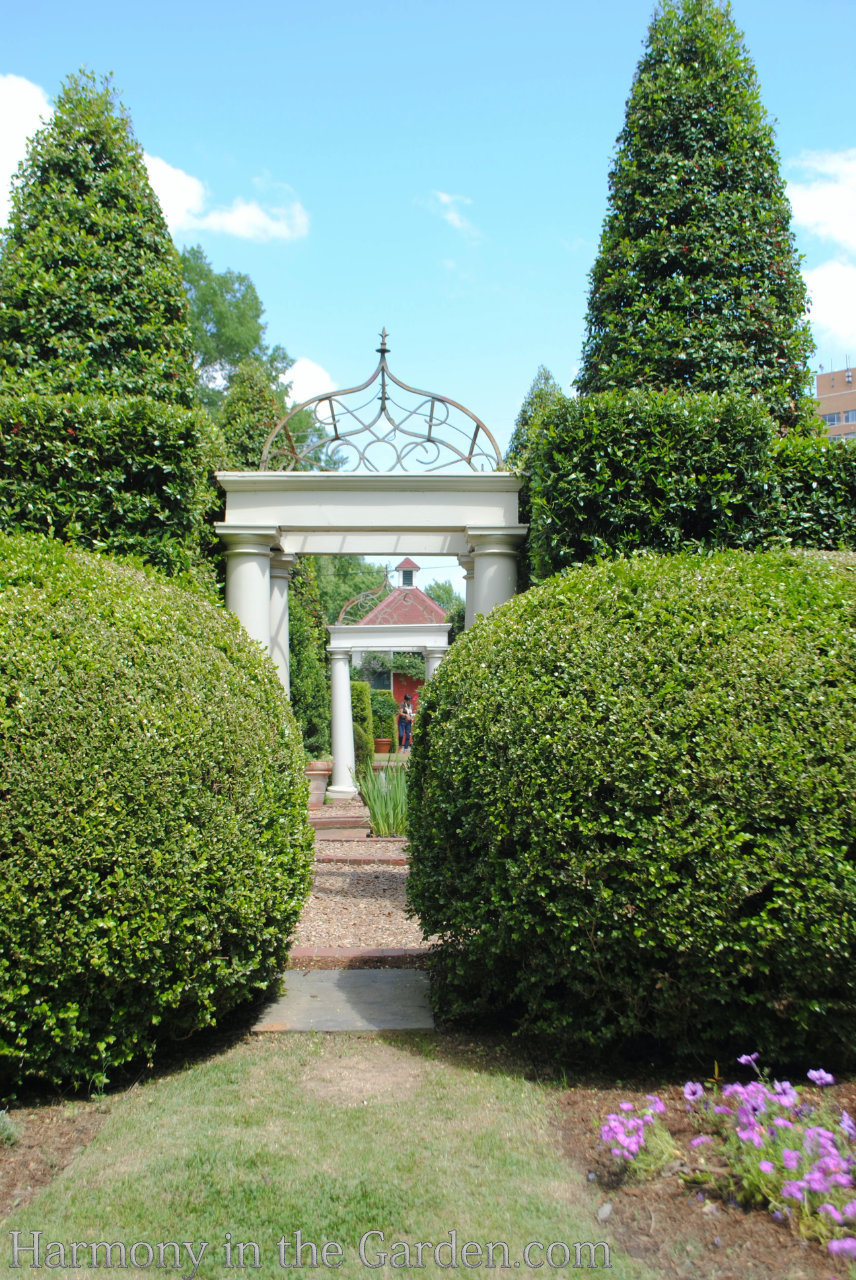 In this garden, it seems every time you walk through a formal area like this one, you land in an area filled with artistic, casual touches.
I had to laugh as he calls these giant clipped boxwood balls 'Fat Man's Squeeze', named after an area called Rock City that he used to hike as a kid.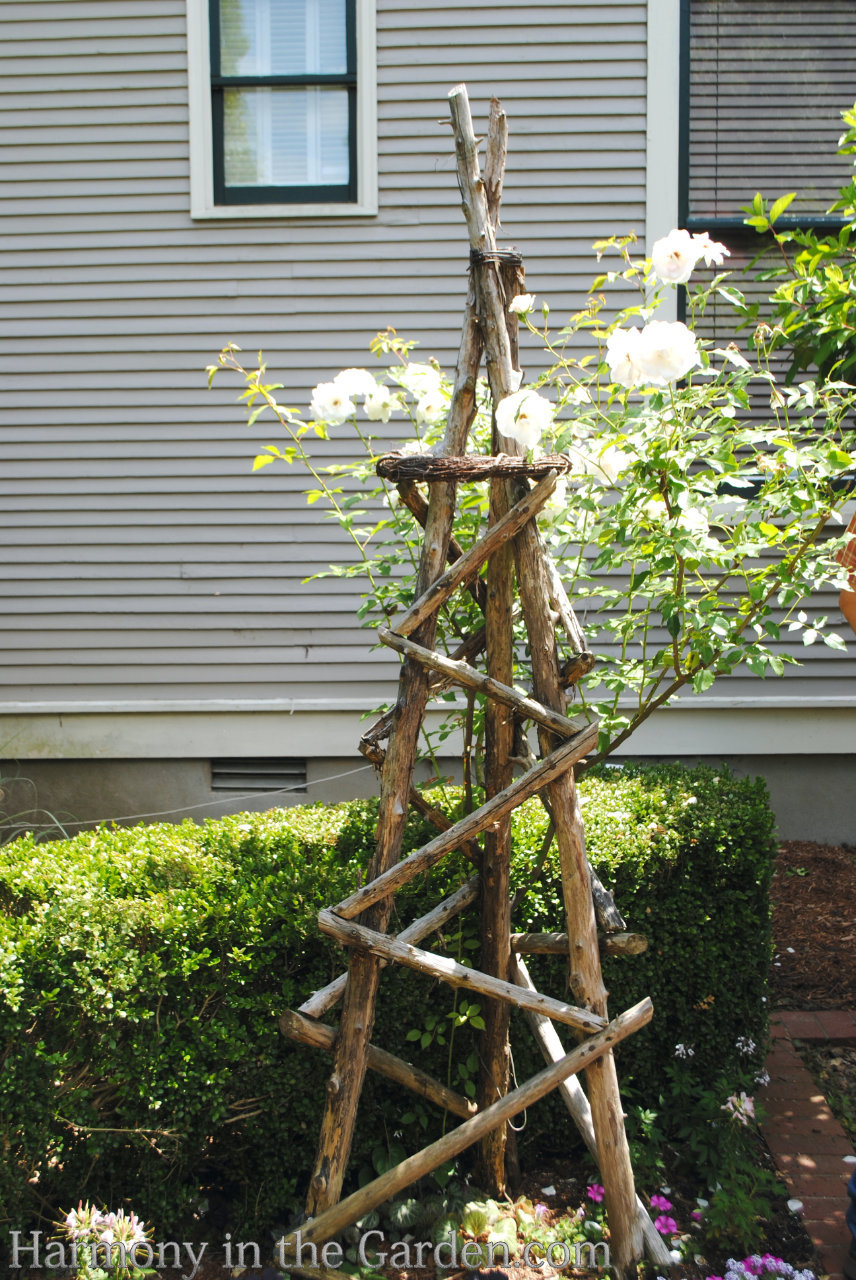 Once you turn sideways and shimmy through the boxwood balls, you find yourself in the fountain garden, filled with whimsical touches.
This informal tuteur is made of recycled branches, and supports an elegant 'Iceberg' rose.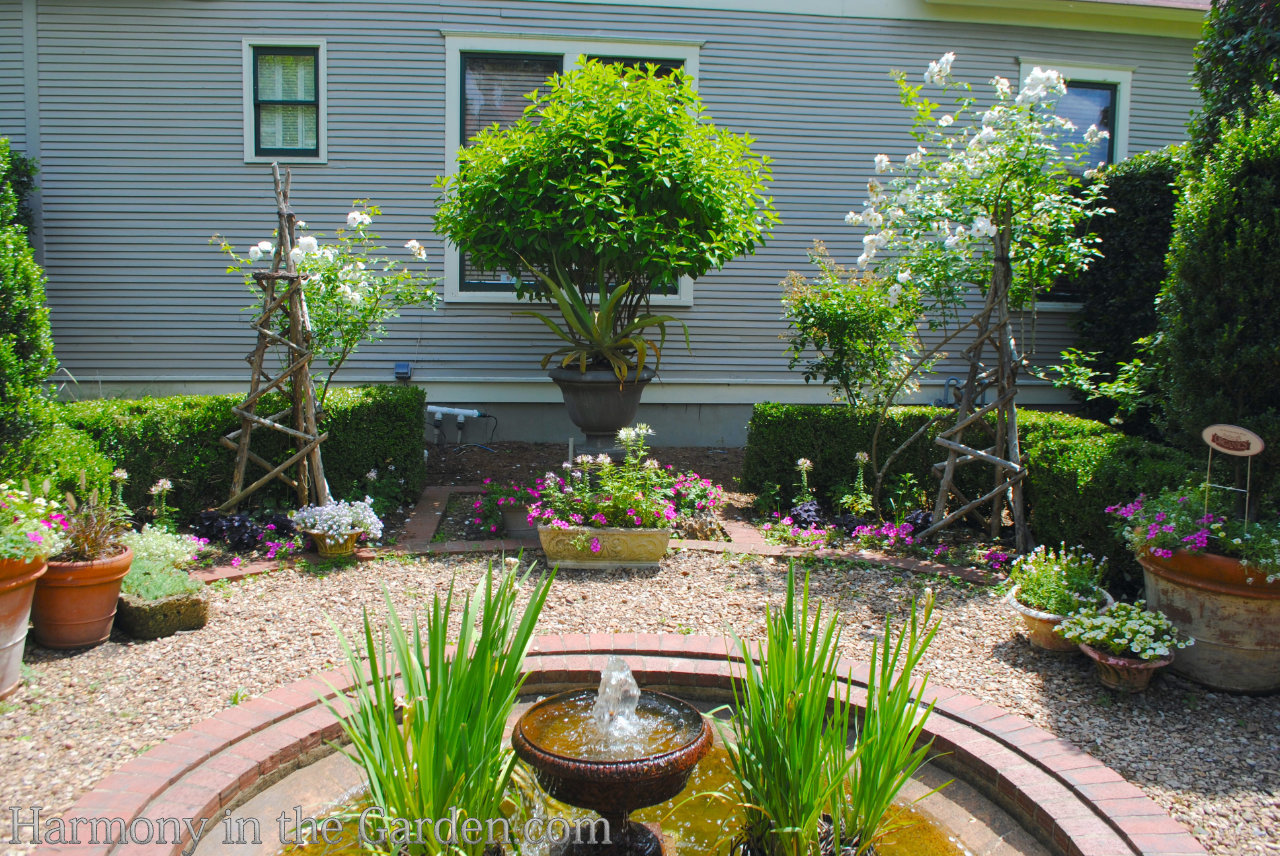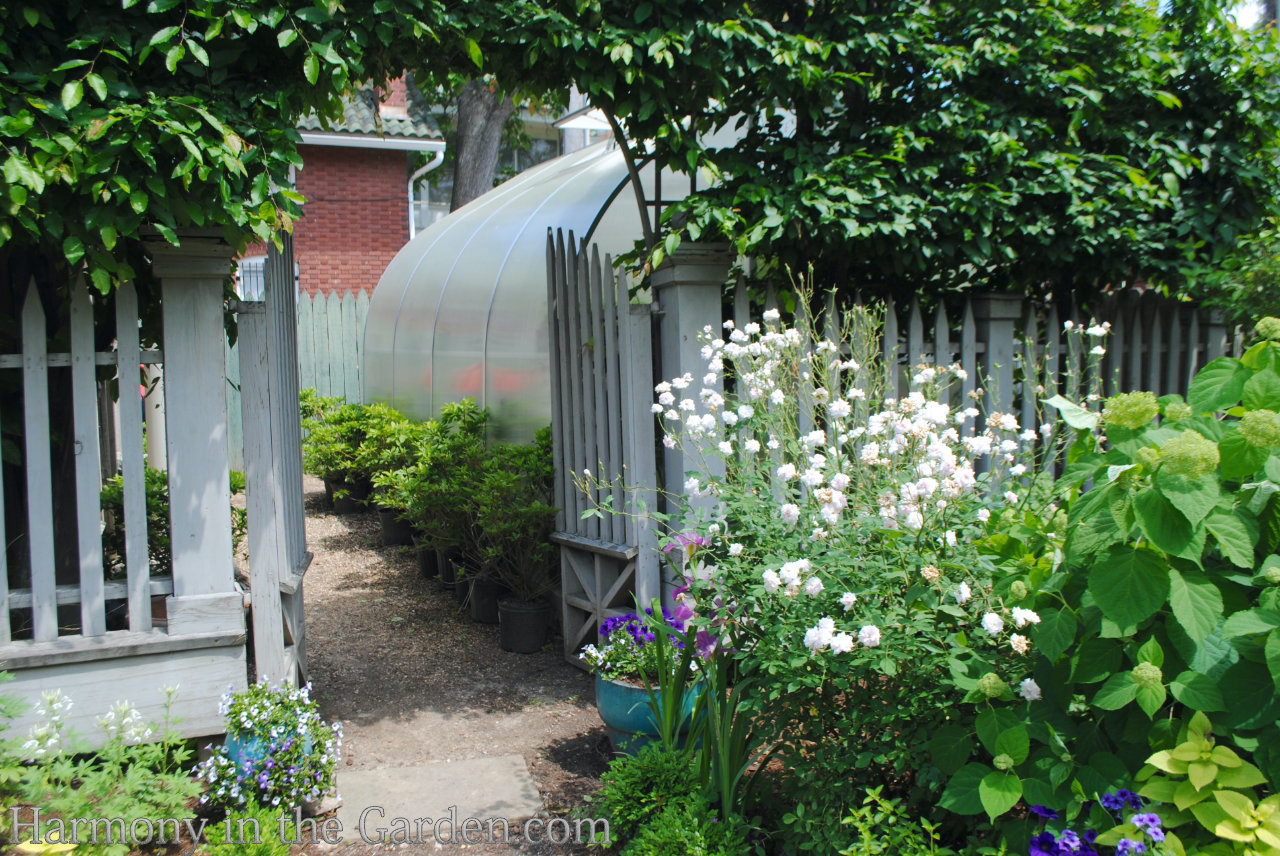 At the rear of the garden is an archway leading to his hoop house and potting shed – the workhorses of the garden.
The good thing about a garden being filled with lots of chattering people is that it's easy to sneak away and explore, undetected.
Which is exactly what I did – wouldn't you?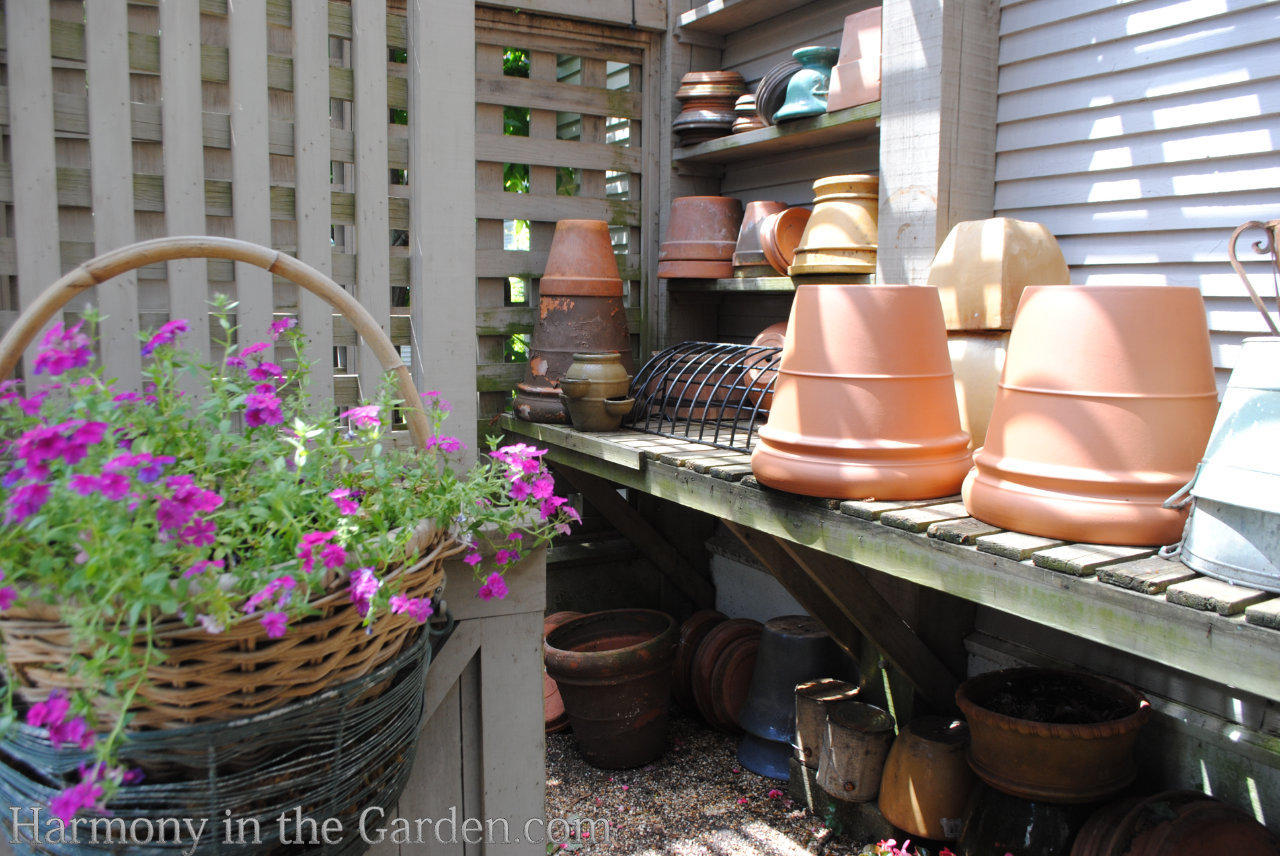 I know, I know – I'm so nosy, but I had to poke my head into the greenhouse to see what I could see!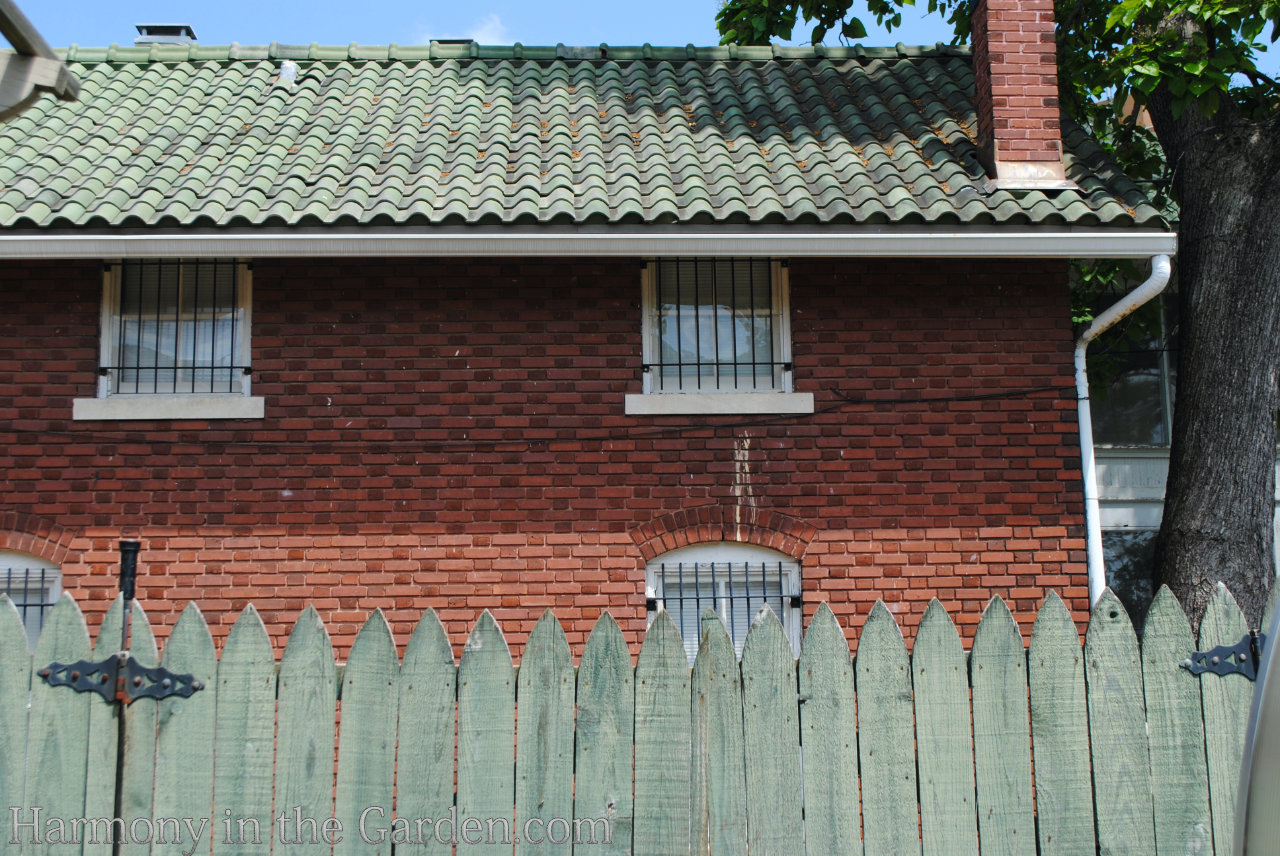 I love the color of this fence, out of sight of everyone else, behind the hoop house.
You can see how the colors of his neighbor's roof have been incorporated into the color of his fence.
If you can't block a view at least take advantage of it and use it to your benefit, right?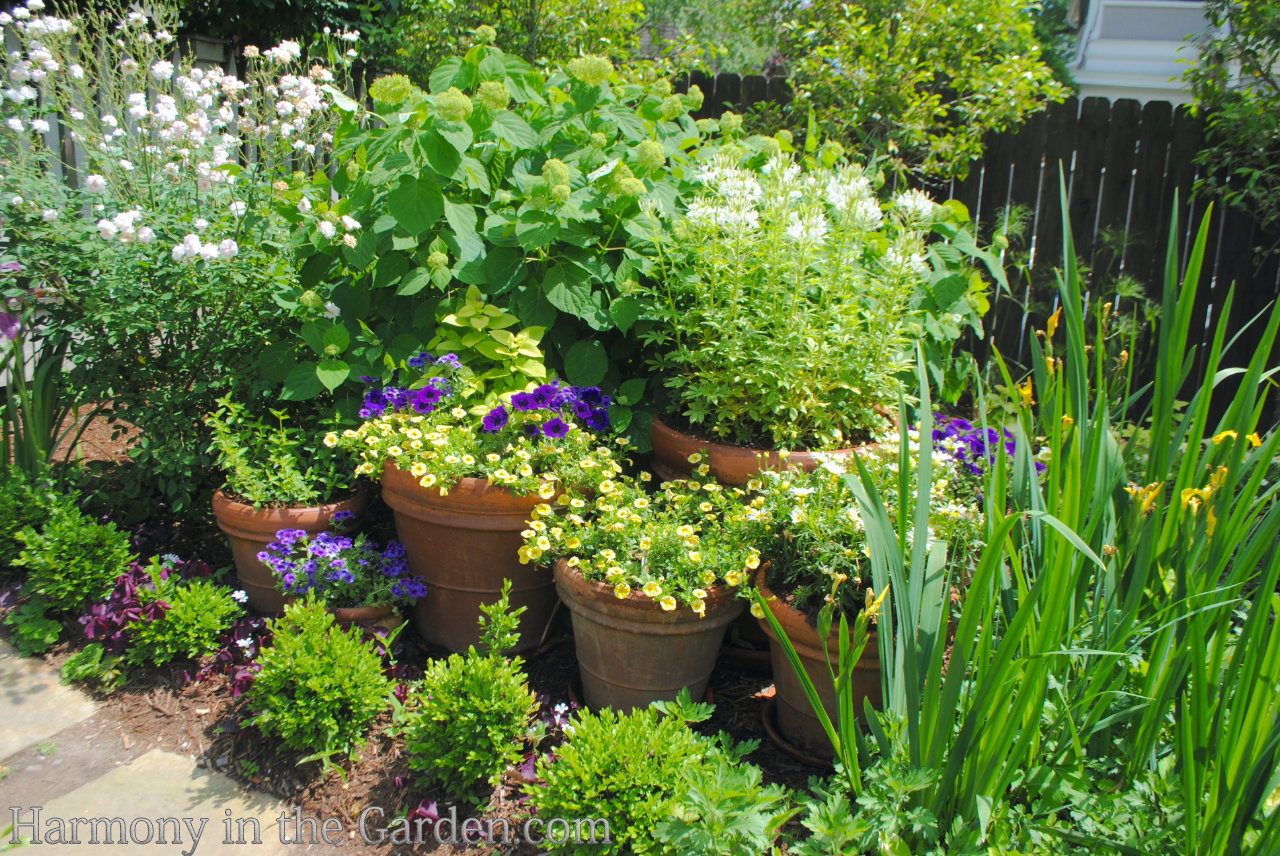 When designing in tight spaces, one of my favorite tricks is to place containers within the bed, adding much needed height and interest.
Which is exactly what he's done here (left) and below.
I particularly like how he's grouped similar containers together helping to create a harmonious, unified effect.
Click here to read more about designing with containers.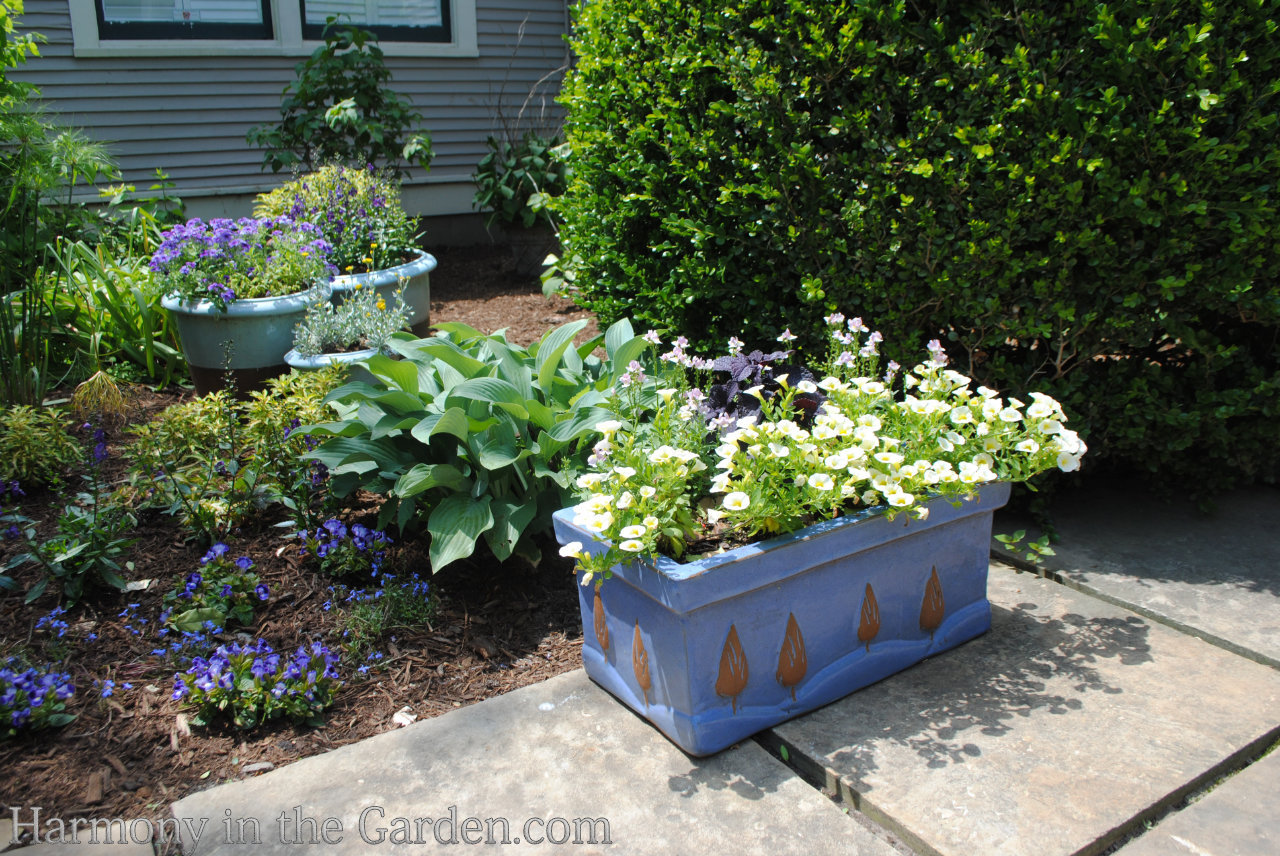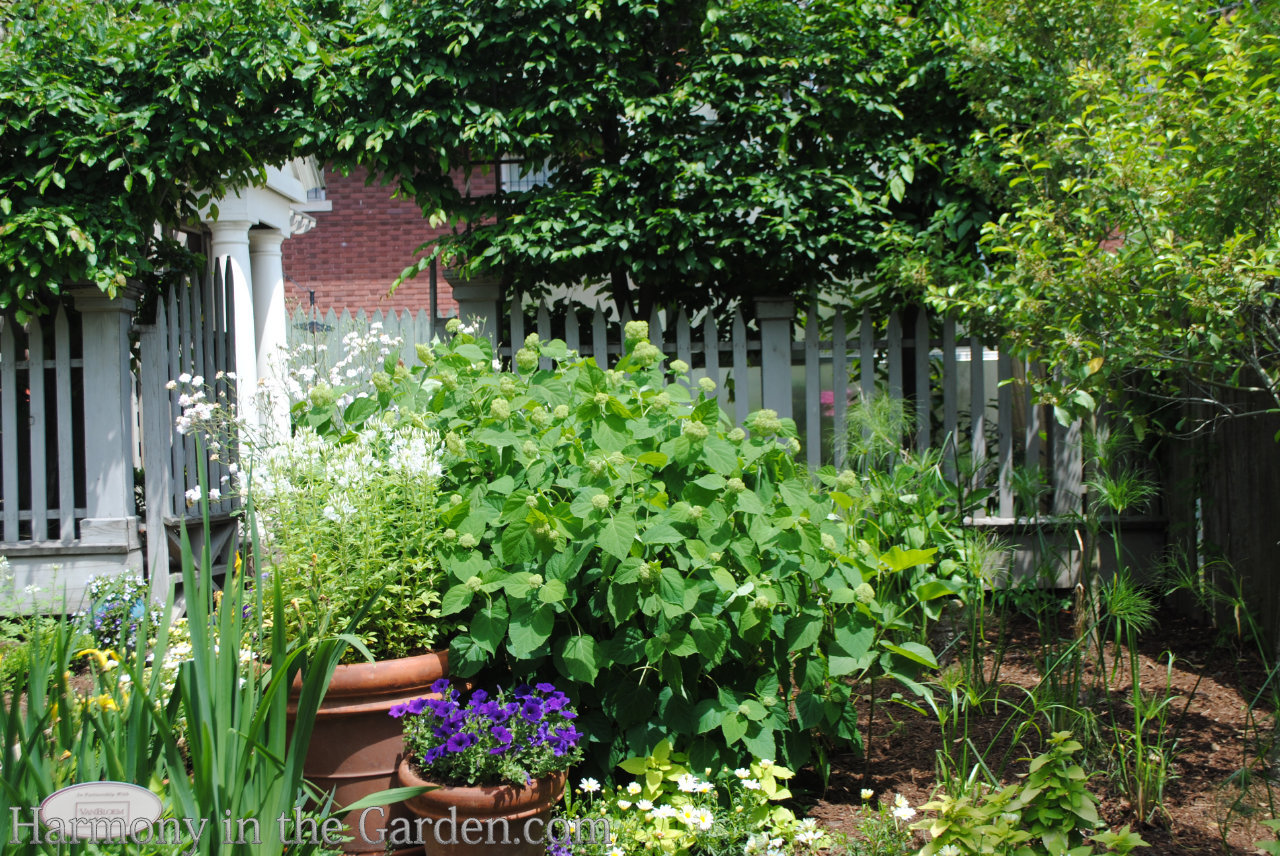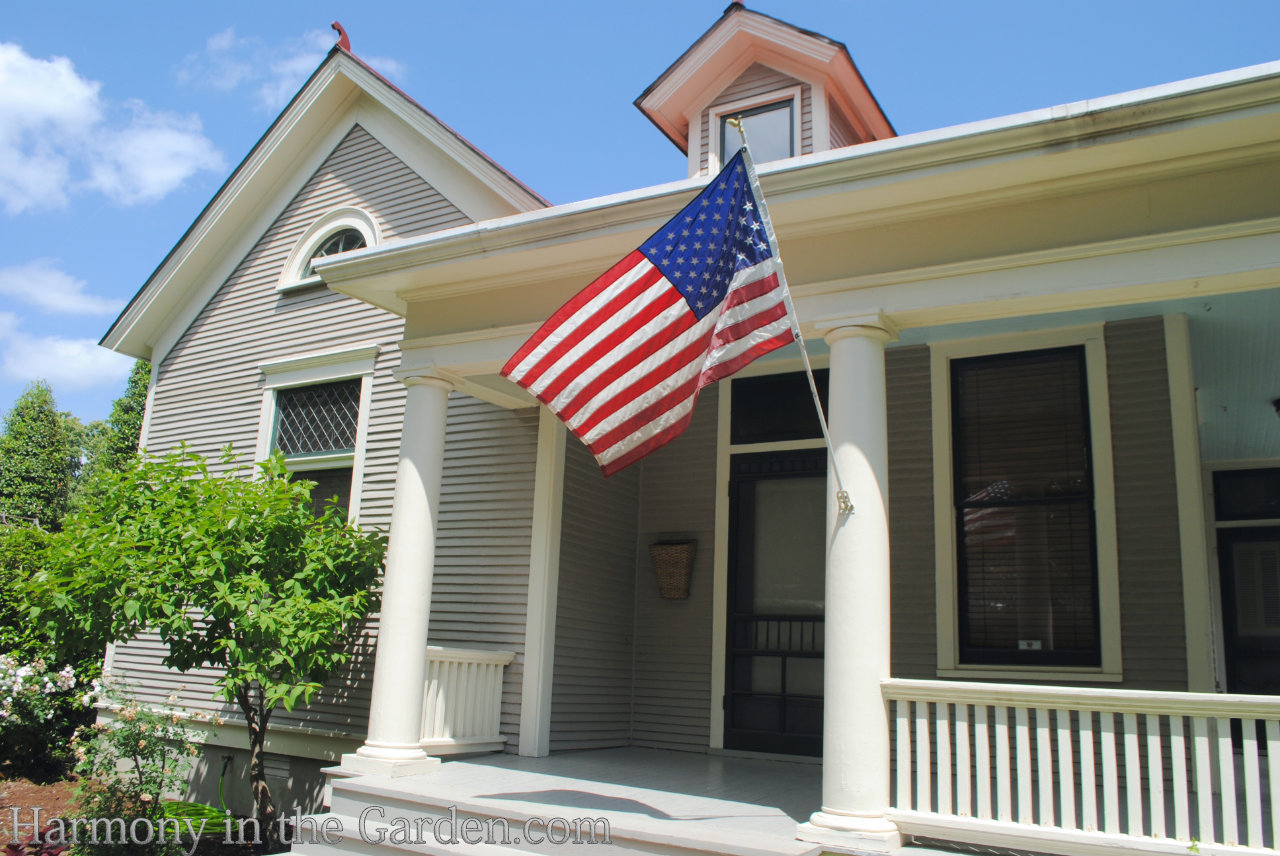 I hope you've enjoyed this tour of the Downtown Garden!
And don't forget to take a peek here, to see his magnificent 600-acre Moss Mountain!