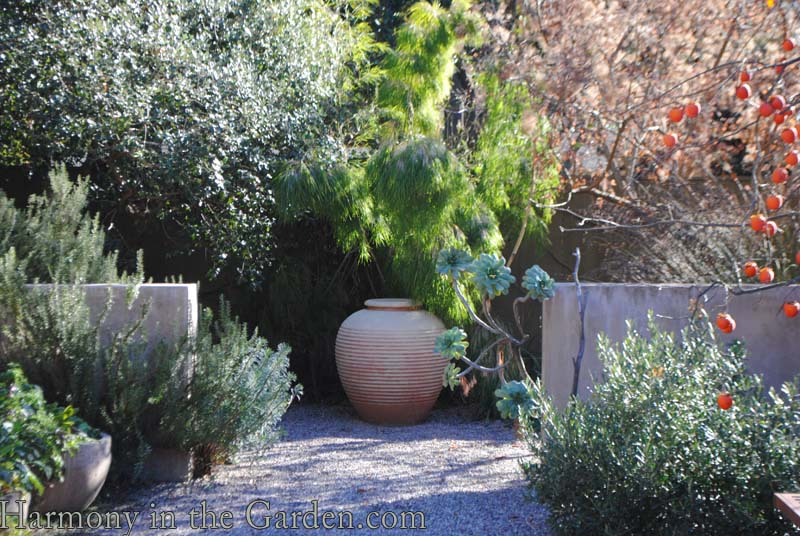 Welcome to Andrea Testa-Vought's garden, a textural paradise designed by the amazing Bernard Trainor.
As you'll see, this garden is truly a feast for the eyes.  But more importantly, it's also a lesson in the subtle but powerful effects texture can have in the garden.
I first visited this garden in December, on what was one of the coldest days of the year.  After experiencing a week of unrelenting, below-freezing temperatures, I thought Andrea's garden might look a little worse for wear.  But as you can see from this photo, that wasn't the case at all.
While I appreciate the brilliant orange globes of the persimmons, I couldn't help but fixate on the textural power of this view.  The tawny puffs of smoke clinging to the cotinus tree, the crunchy sound of the gravel underfoot, the rosemary's fine and fragrant needles – and most of all –  the pot.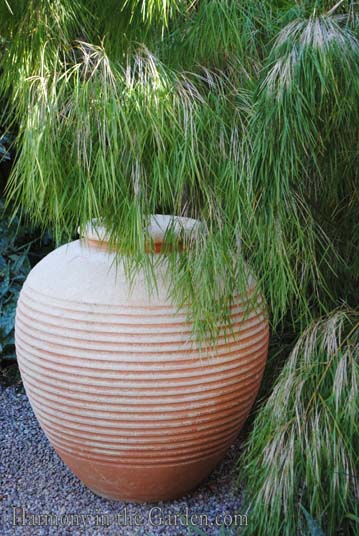 I love the textural impact made by the subtle combination of this perfectly placed container, the Mexican weeping bamboo (otatea aztecorum) and the nubbly, crunchy gravel. Simple but powerful.
Below is a different view taken in the early days of March, only this time the pot is snuggled next to the oversized, felty foliage of a towering Velvet Groundsel (roldana petasites) with its massive clusters of star-like yellow flowers.  This is a plant that has moved to the top of my 'must-find-now' list!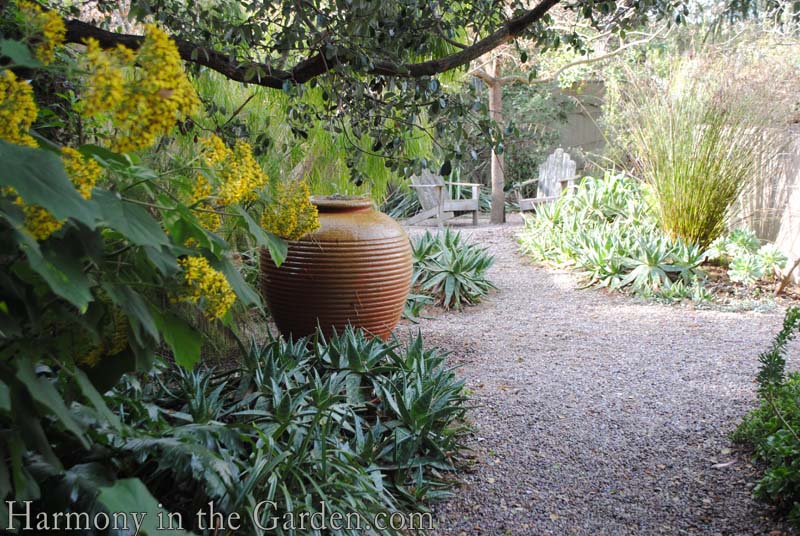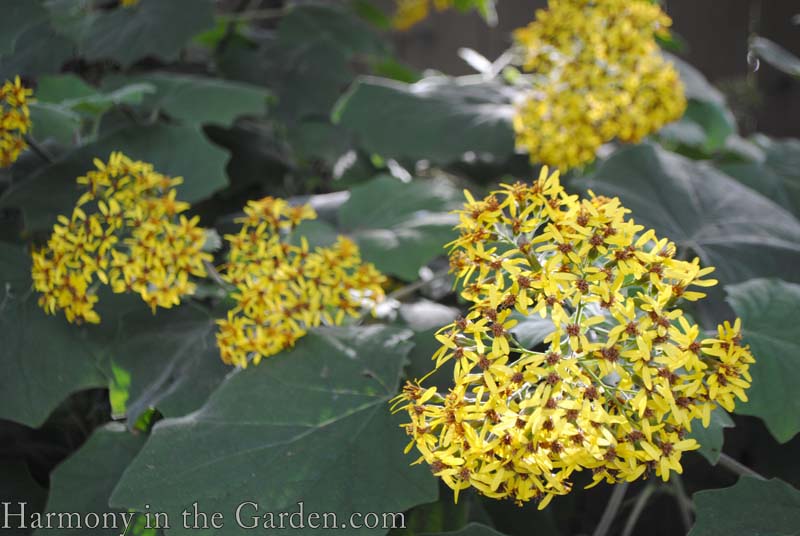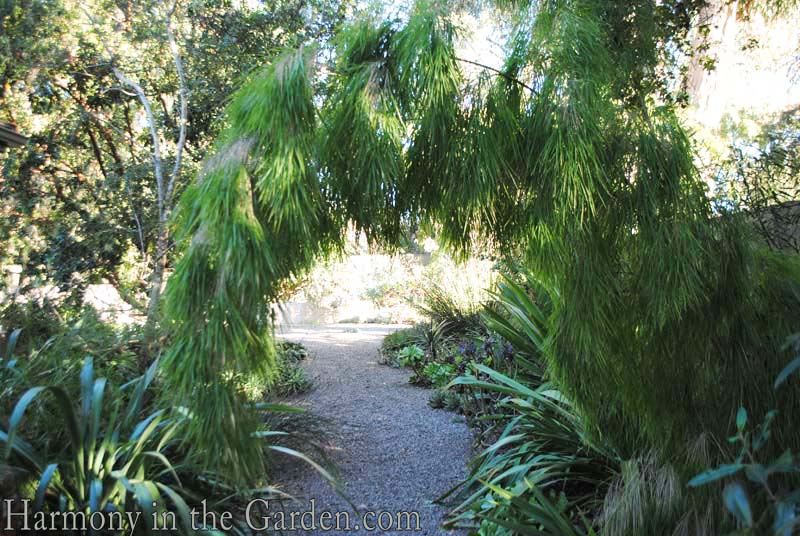 Continuing through the garden you'll pass through a seductive Mexican weeping bamboo tunnel that's just begging you to fondle its wispy foliage.
Temperatures in the twenties didn't seem to phase this delicate looking bamboo one bit, thanks to the protection offered by the larger trees overhead…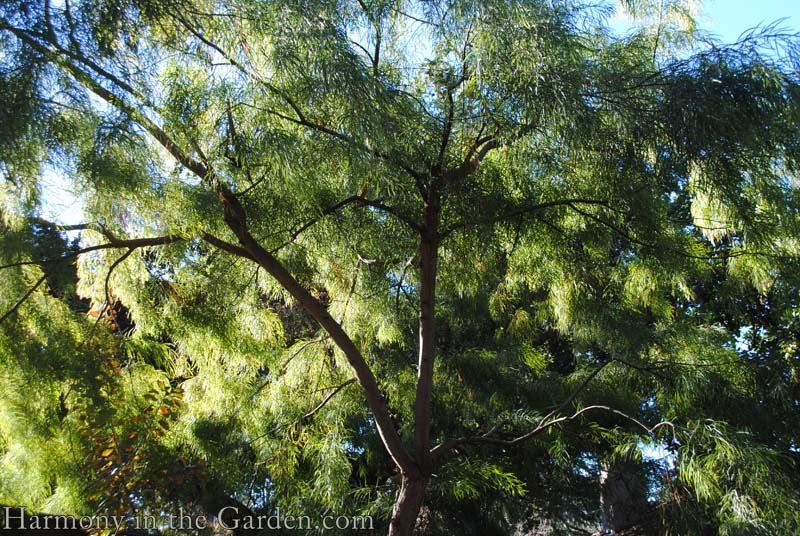 …like this towering Weeping Acacia (a. cognata) with foliage as wispy and delicate as the nearby weeping bamboo.
Normally I'm not a fan of acacia trees with their shallow roots and the seemingly endless mess of flowers and seed-pods, but this one stole my heart. I love the way it dances with the gentlest of breezes, its pendulous branches softly swaying, heavy with soft yellow puffball-flowers.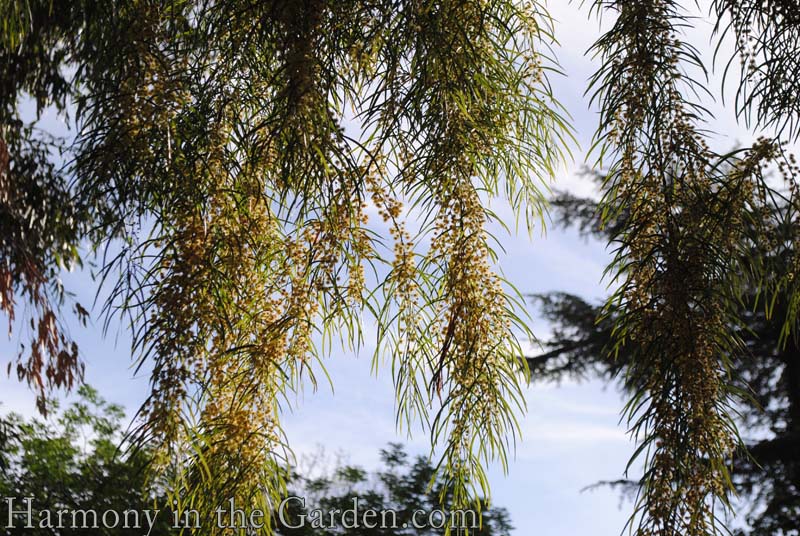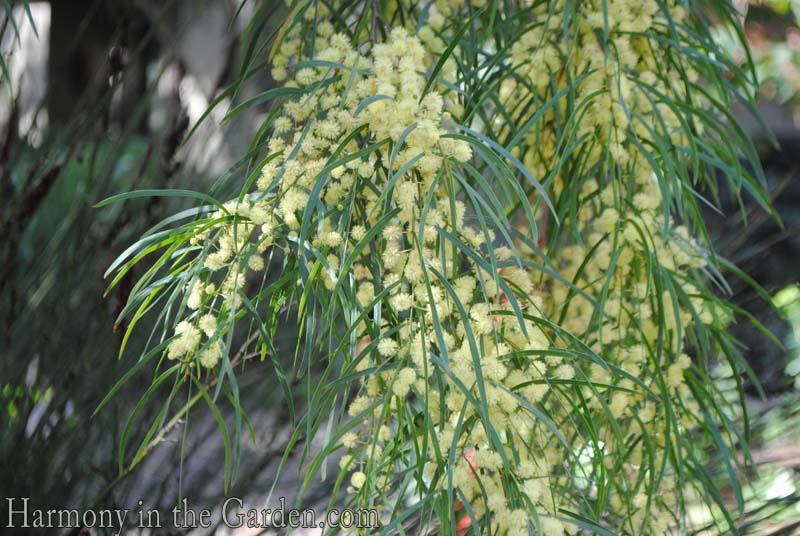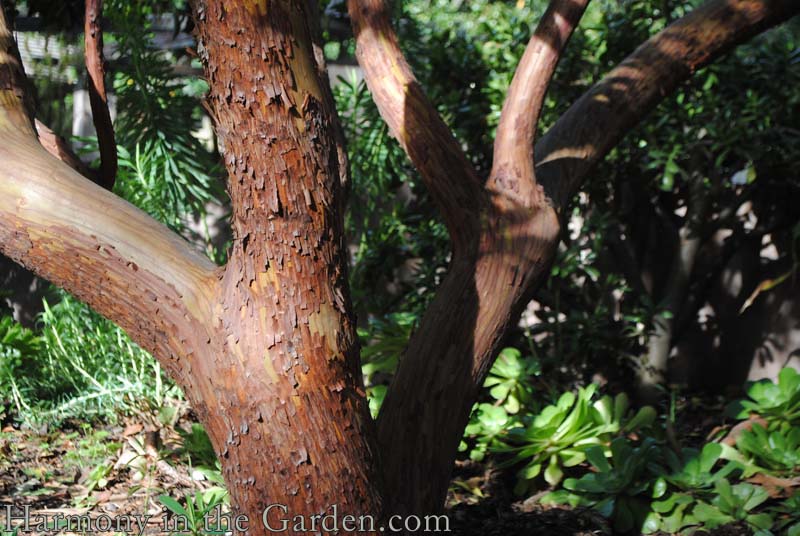 The shaggy, peeling bark of the Strawberry tree (arbutus 'Marina') is equally as impressive as its dangling clusters of pearl-like flowers.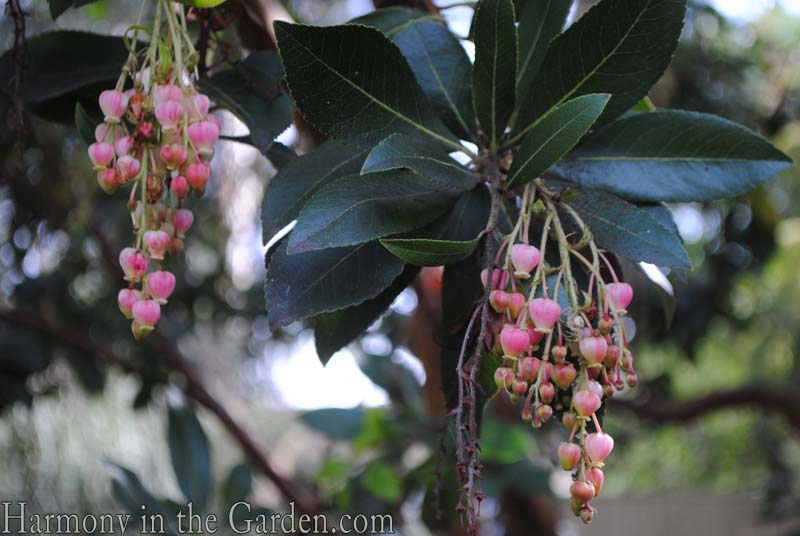 Even the newly emerging figs add a textural component to her garden, with lime green balls topping each bumpy, nubby branch.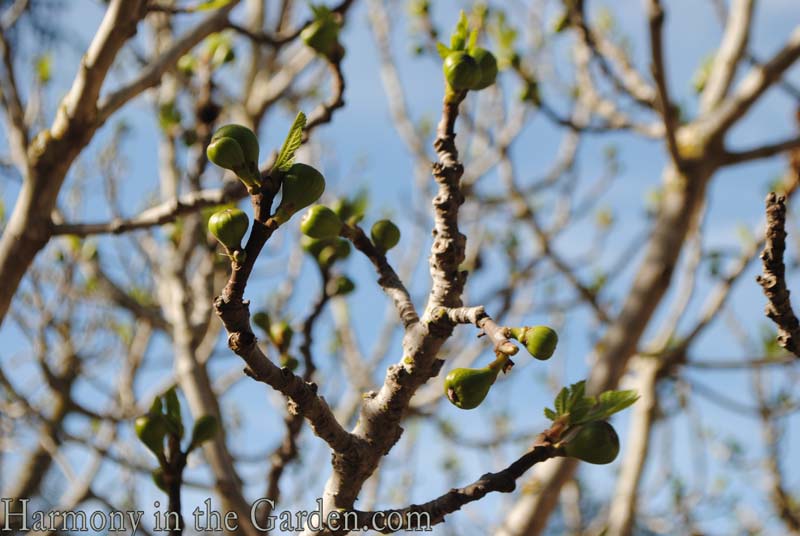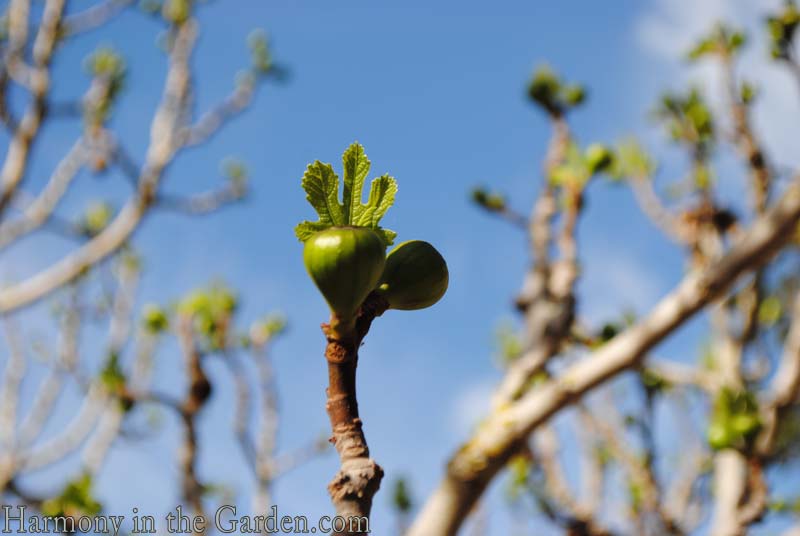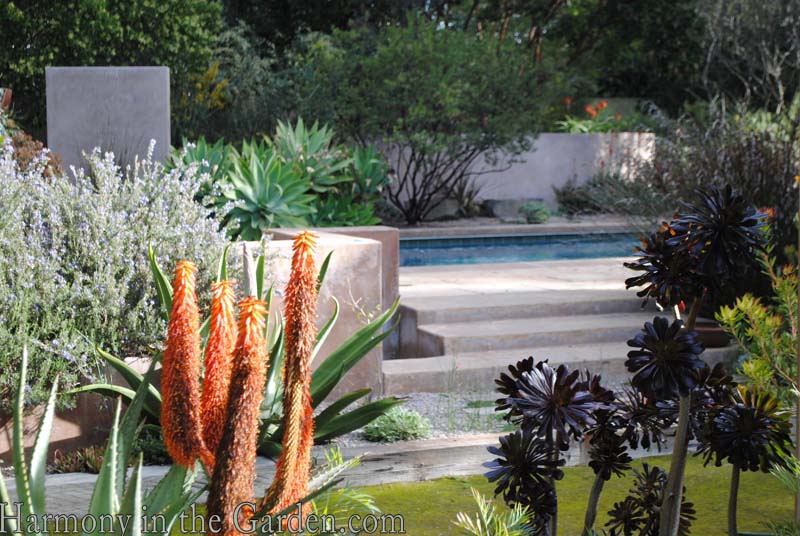 A refreshing swimming pool replaces what would otherwise be an ordinary lawn and is surrounded by a mix of drought-tolerant California natives, Mediterranean plants, grasses and succulents.
There's nothing quite like succulents to provide as much texture and form as you could possibly want in a garden.
One of my favorites is the blooming aloe marlothii, with its candles of orange shooting skyward.  Just look at the texture provided by both the foliage and flowers.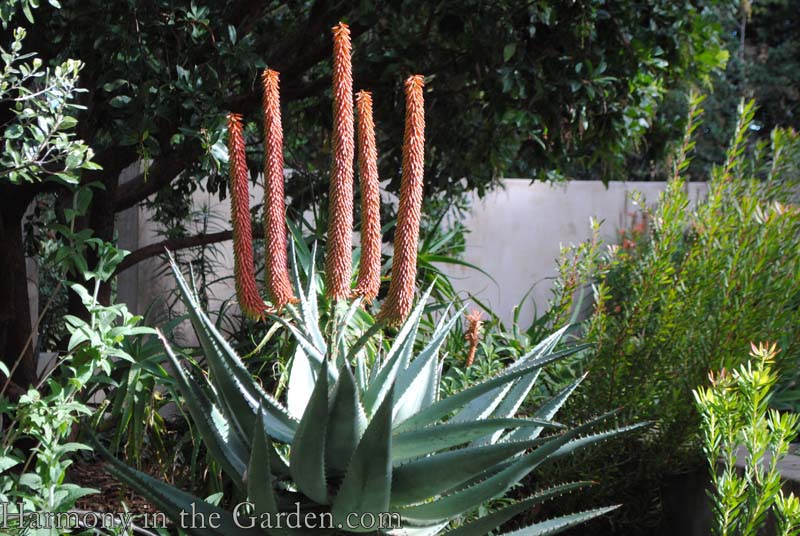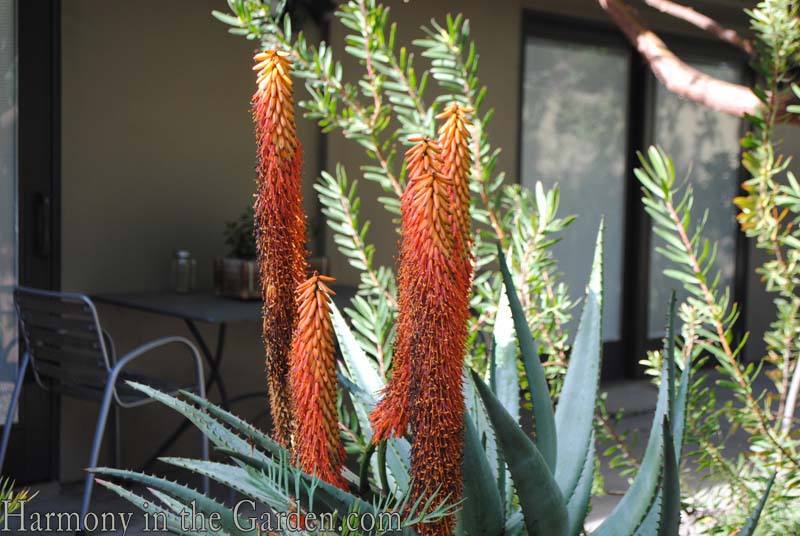 More texture provided by the dried seed heads of the Cape Rush (chondropetalum tectorum).  When I visited the garden back in December, the seed heads looked just as stunning as they do in March, proving the long-lasting effects texture can have in the garden.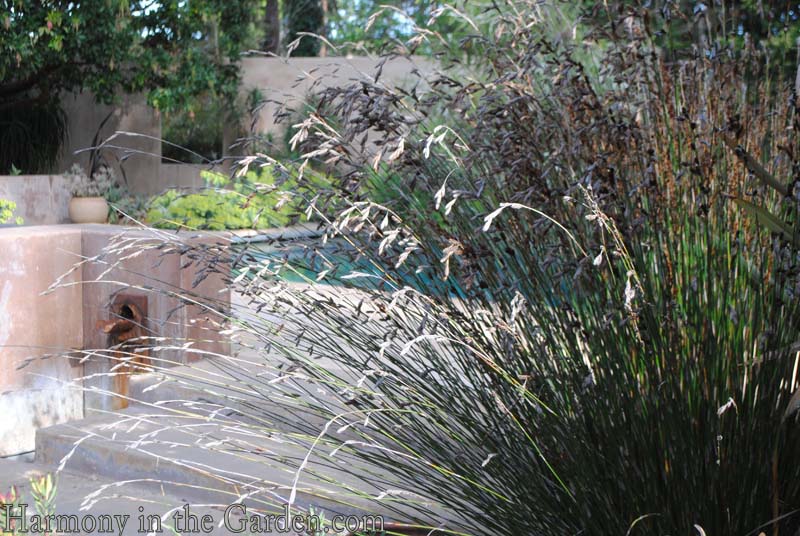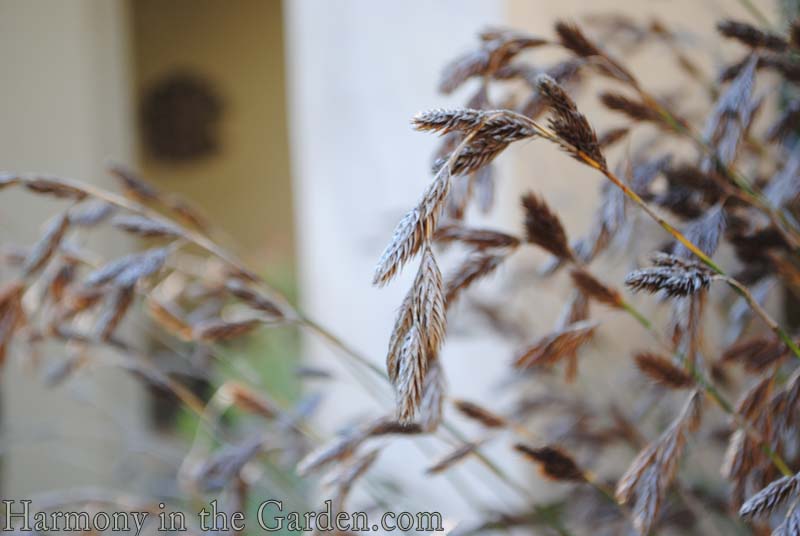 One of the most textural leaves of all comes from the Knifeleaf Acacia (a. cultriformis).  Growing to a mid-sized 15'x15′ this is more of a shrub than a tree, and is a guaranteed conversation piece in the garden.  The brush-like flowers of the towering Grevillea 'Red Hook' combined with its spiky looking foliage are a dynamic duo.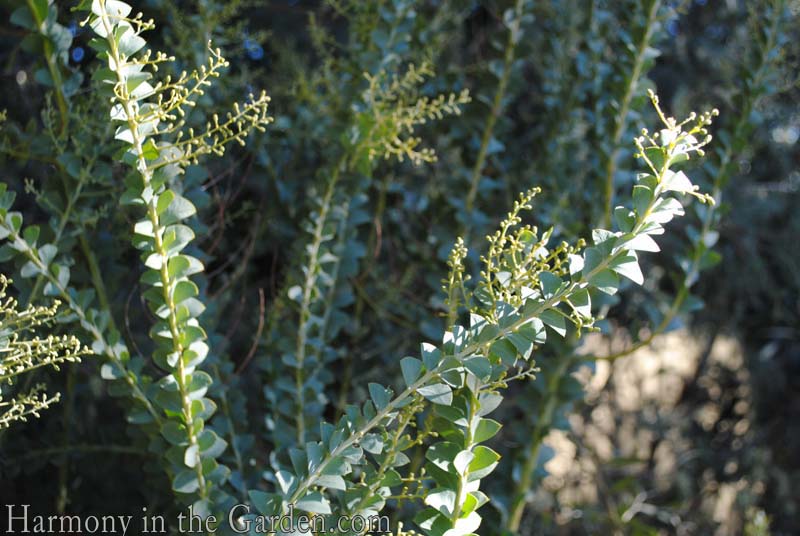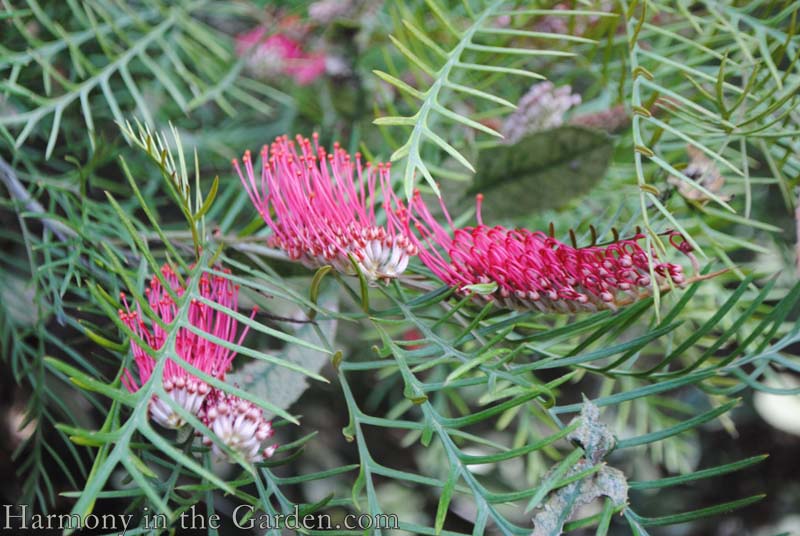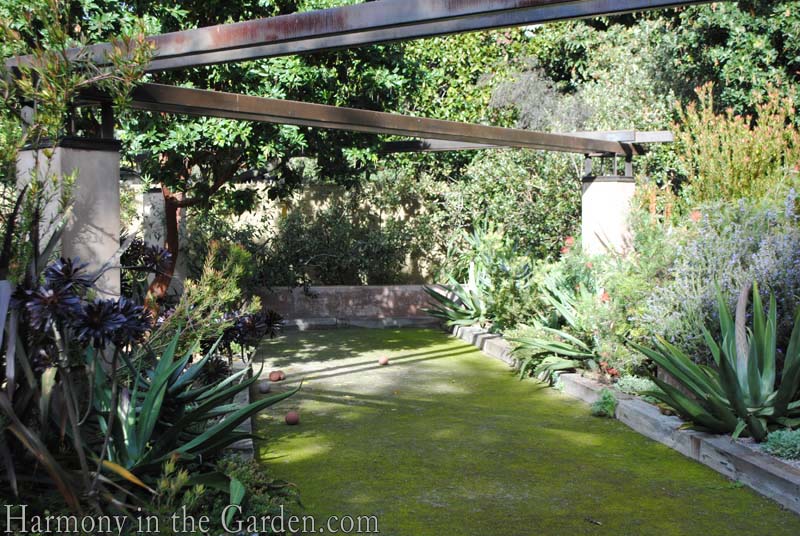 Towards the other end of her garden is this lovely bocce ball court, long cherished by her children and now by the young neighborhood kids who like to visit.
The open zig-zag pattern of the steel beams not only declares this a separate room in the garden, but keeps the space light and airy feeling.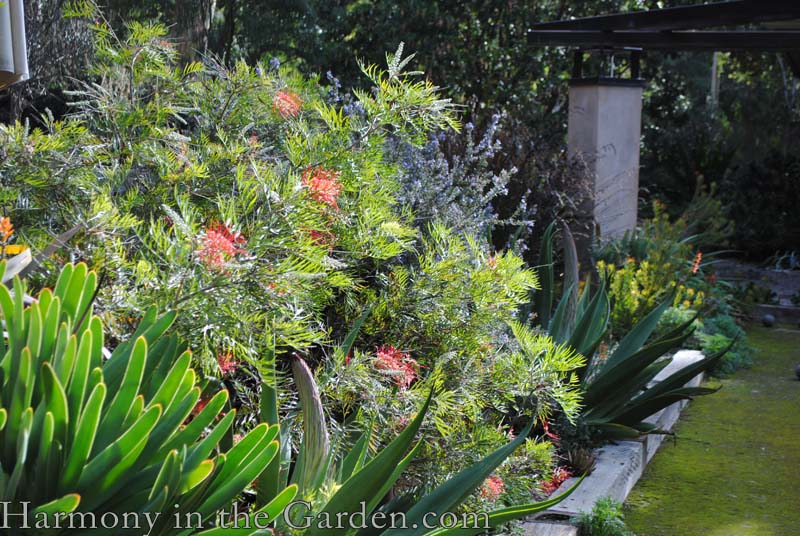 Bordering both sides of the bocce court are generous beds filled with more textural delights.  All sturdy enough to withstand a poorly aimed bocce ball.
Look closely and you'll see the banana-shaped blooms of the Octopus Agave (agave vilmoriana) just beginning to make their appearance.  Firm and tightly packed yet feathery at the tip, they'll soon be the stars of this garden.  Even though they signal the plant's ultimate demise, they certainly know how to end this show with a bang!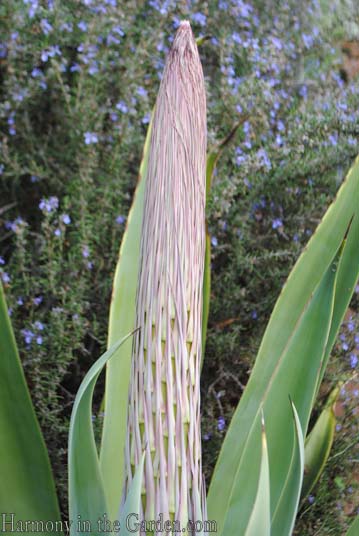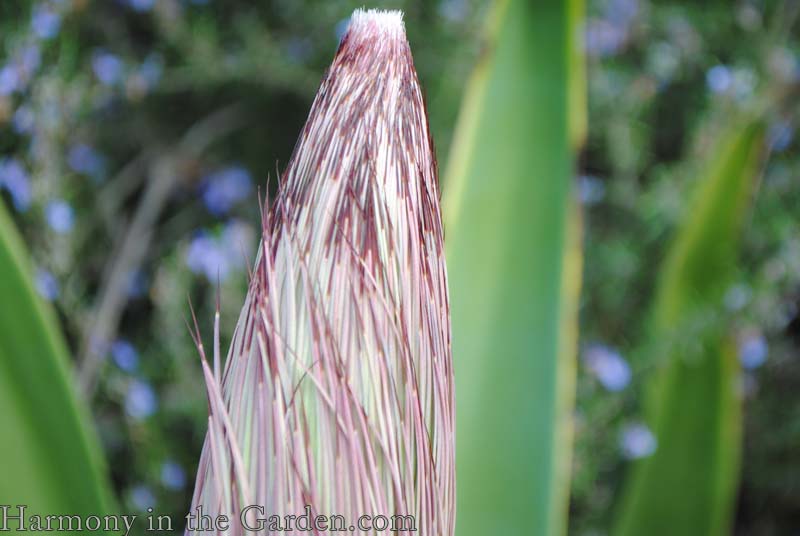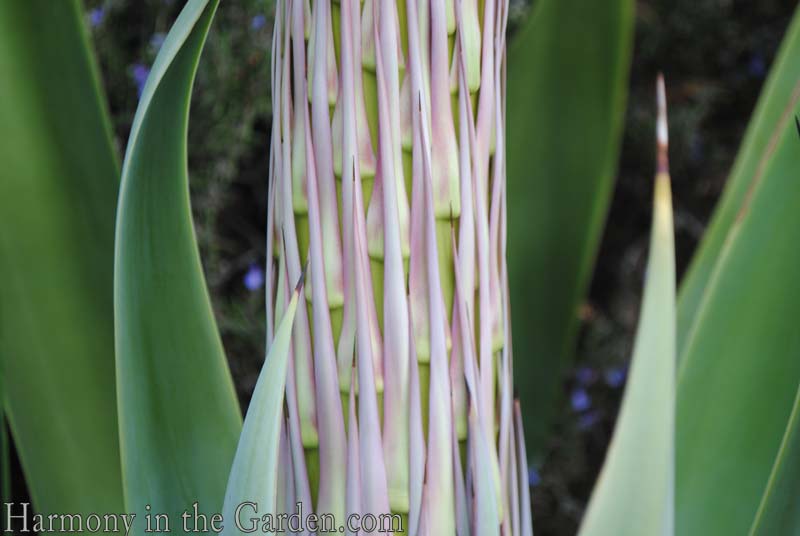 Other sources of texture in the garden come from the frothy, acid-yellow blooms of the Gopher Spurge (euphorbia rigid), the rusty tones of the jade's spent flowers, the sunburned octopus-like aloe cameronii and the bursting firework display of the aloe and dasylirion.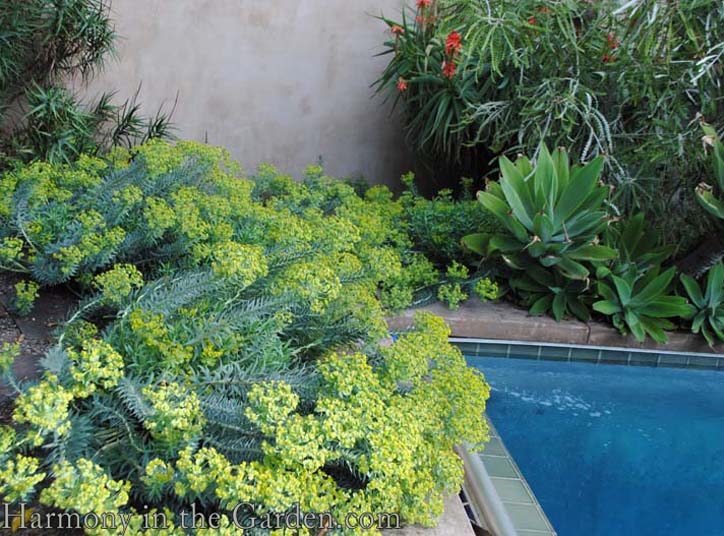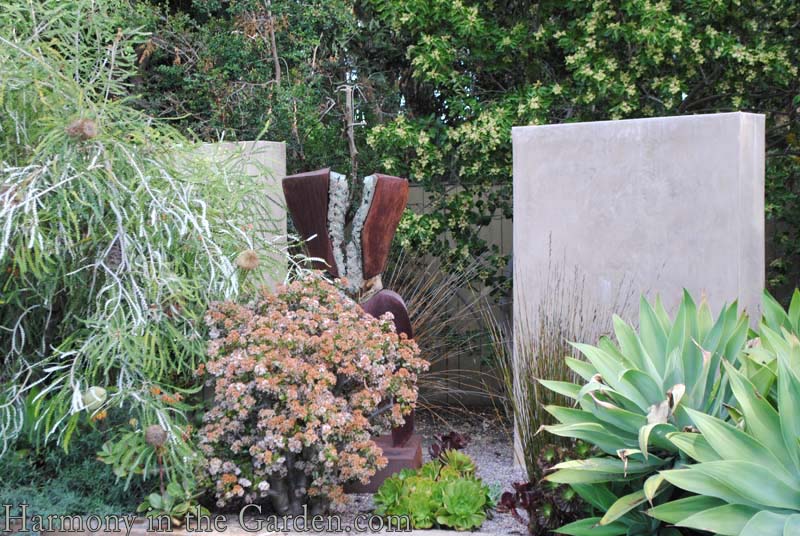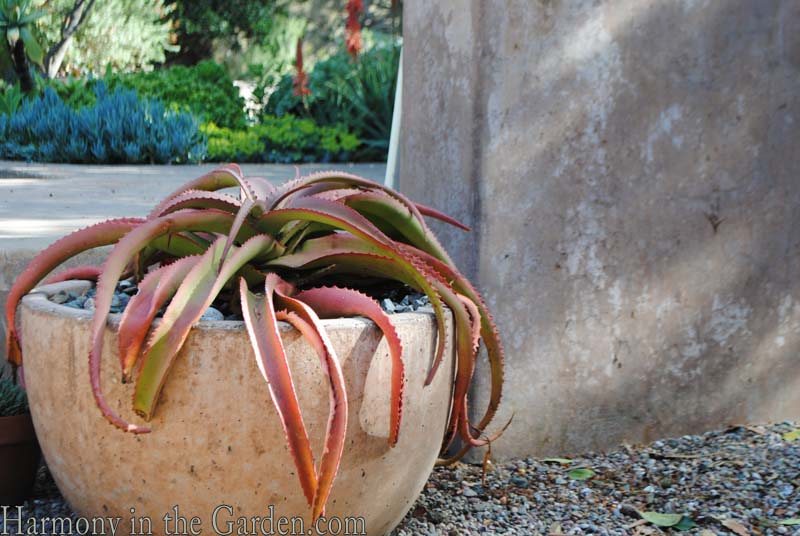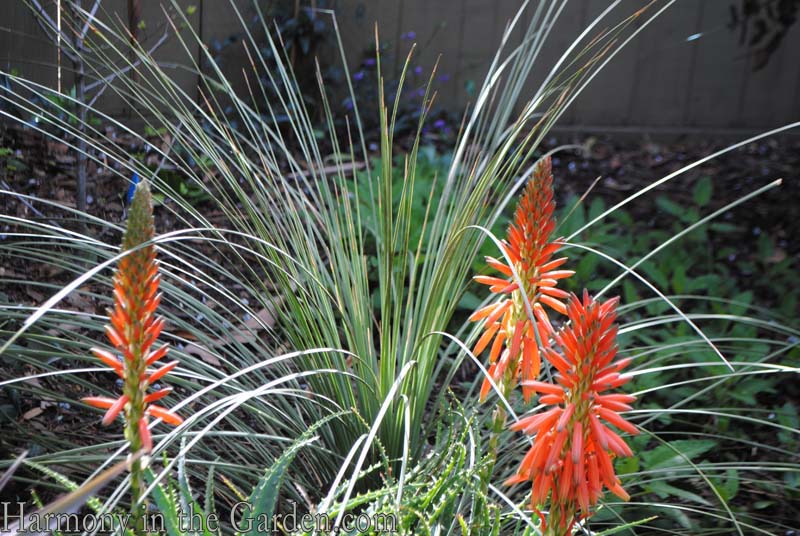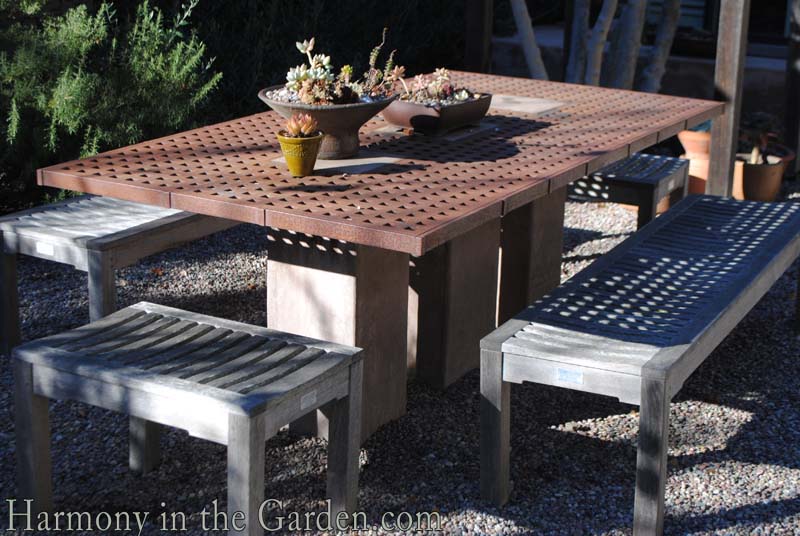 Even her courtyard table is a lesson in texture with its smooth steel top, its sleek cement base, its warm wooden benches and crunchy gravel underfoot.
If you'd like to read a personal account of this garden, here's an article in Pacific Horticulture written by Andrea herself.
I hope you've enjoyed this virtual garden tour.  And even though most of these plants want a warm climate I hope it has inspired you to seek out other, less common sources of texture that would work in your own garden.  
In fact, I'd love to what your favorite textural treasures are – please share with us!

…………………………………………………………………………………………………………………………………………………………………………………
Oh, and as a side note I wanted to remind everyone that next week is the San Francisco Flower & Garden Show and with brand new owners and a brand new format, it should prove to be better than ever!

I'll be giving a presentation on Savvy Side Yard Solutions on opening day (Wed. 3/19 at 2:45) where I'll closely examine 5 successful side yards and what makes each one of them so inspiring.  (hint:  if you'd like to see more of Andrea's garden, I'll even be including a few from her skinny side yard).
What makes this year better than ever?  Well, besides the fact that for the first time ever they're opening up the pre-show party to the public (a fantastic way to get a sneak peak of the gardens without all the crowds!!), they're also offering several in-depth workshops from top experts like Saxon Holt, Dave Perry and Nan Sterman.  Hope to see some of you there!