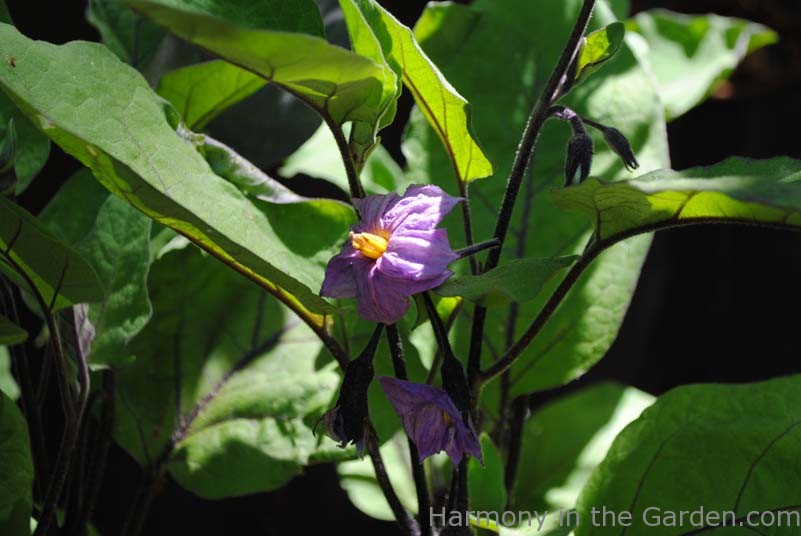 I've been traveling a lot this summer and am so glad to finally be home!  But after nearly five weeks away you can imagine the state of my garden.
Fortunately (for my garden, not for me!), my husband was home for most of the time so he was able to keep it watered and somewhat under control – but you know how it is.  While most everything survived, there is an overwhelming amount of staking, pruning and dead-heading to be done.
One of the things I was really excited about was to see the progress of the Japanese eggplants that I planted for the first time this year.  I've never been a huge fan of the taste of eggplant, but I absolutely adore the plant itself.  What's not to love about the adorable purple flower or the big, leathery leaves punctuated with deep plum colored veins and stems?  Even though this is a vegetable, it's beautiful enough to be at home in any ornamental garden bed.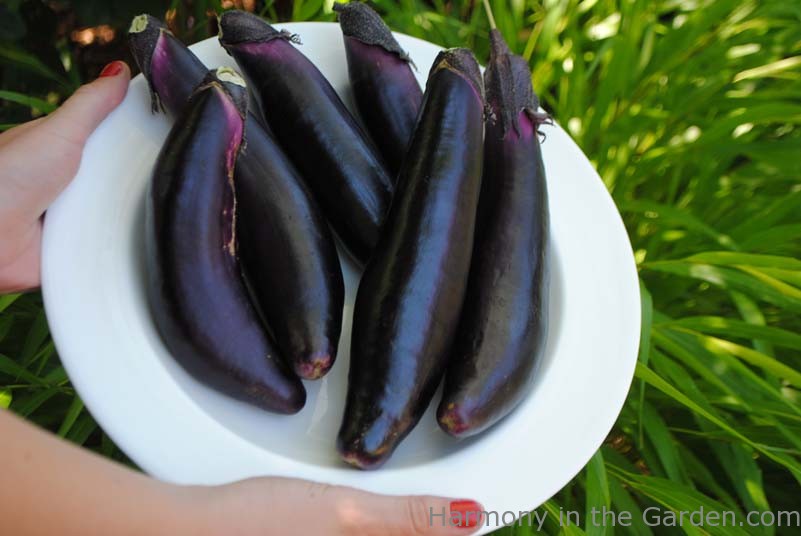 I planted the Japanese variety hoping the small, slender shapes of the eggplants wouldn't be quite as intimidating to my family (and to me) as the regular, giant variety.
Just look at my bounty!  The perfect amount for a super easy recipe I've been wanting to try.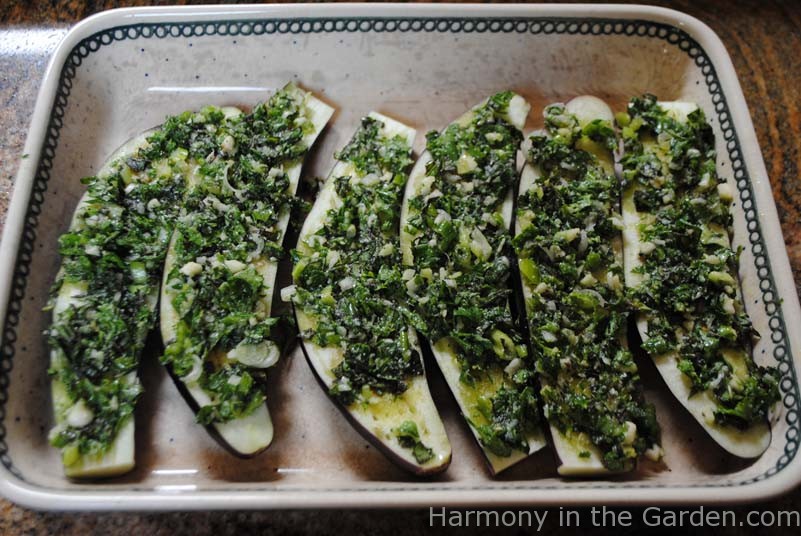 This is a perfect summer recipe, as it includes lots of herbs – most of which were growing in my garden just waiting to be harvested.
Was it a success?  Absolutely!  I'm happy to say that my family ate every last eggplant and are anxiously awaiting a new crop to appear.
I'm curious – what are your favorite ways to eat them?
Baked Japanese Eggplant with Herbs
3 eggplants, halved lengthwise
2 green onions, chopped
2 large garlic cloves, minced
2 tbs. freshly chopped basil
1/2 tsp. freshly chopped thyme
1/3 c. olive oil
2 tbs. parmesan cheese
1/4 tsp. ground pepper
1.  Preheat oven to 350 degrees.  After pricking the flesh to allow the herbs to penetrate, place the eggplant halves in a medium roasting pan.
2.  Combine all the ingredients in a bowl and mix until blended well.
3.  Spread the paste evenly on the eggplants
4.  Bake for 40 minutes or until the they're tender and the tops are lightly browned.
To eat, just scoop the velvety mixture from the skin and enjoy!