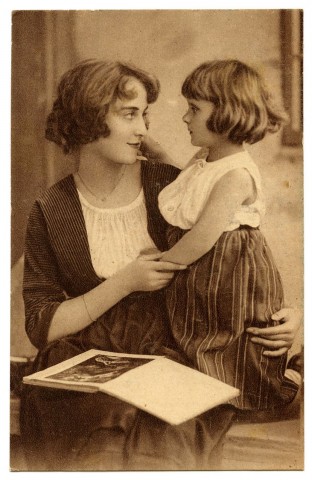 With Mother's Day fast approaching, I've been giving a lot of thought about what to give my own mother.  My mom is an incredible gardener but can be pretty picky, so finding the perfect gift is always a bit challenging. Which means I'm always on the look out for something a little out of the ordinary.
While I'm not going to say what I plan to give her (she does occasionally read my blog, after all) there are a few things I've found over the past few months that I bet the Mama in your life might appreciate.

Maybe your Mother deserves a little pampering?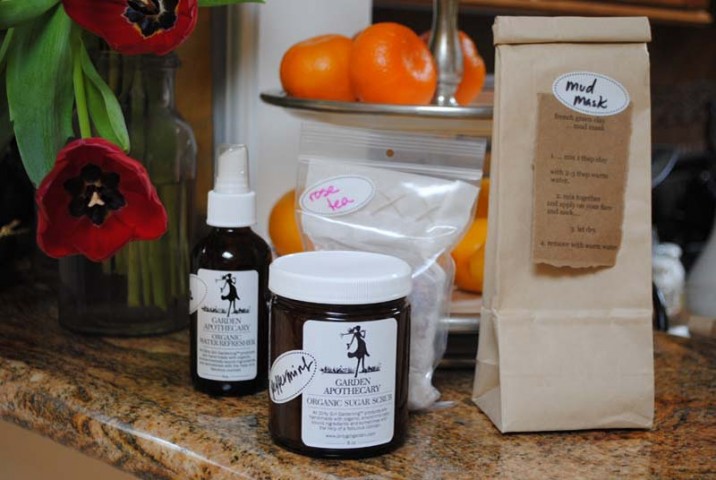 A few weeks ago I was thrilled to try a few products by Dirty Girl Gardening (who also happens to be a super cool girl located right here in Northern California's Half Moon Bay.)  Her products are all made by hand, are organic, and are as locally sourced as possible.
My favorites so far are the Rose Spray (perfect for spritzing on after a long day installing a client's garden) and the Peppermint Sugar Scrub.  In fact, I've been fighting a cold and every time I use the peppermint it smells so delicious it instantly makes me feel so much better!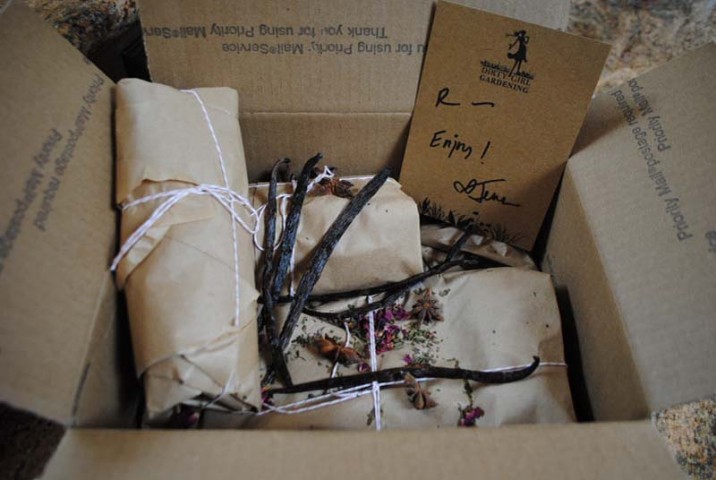 An unexpected delight is the way she packages her products – just look!  Neatly wrapped in butcher paper and tied with string, once you open the box you know you're in for a treat.  And it doesn't stop there.  Sprinkled throughout are vanilla beans, star of anise and rose petals.
I swear I heard Julie Andrews singing:
Raindrops on roses and whiskers on kittens- Bright copper kettles and warm woolen mittens-Brown paper packages tied up with strings-These are a few of my favorite things!
And best of all, Dirty Girl's running a special through May 13th, and everything in her online store is 25% off if you use the code: lovemama25.

Is your Mother green at heart?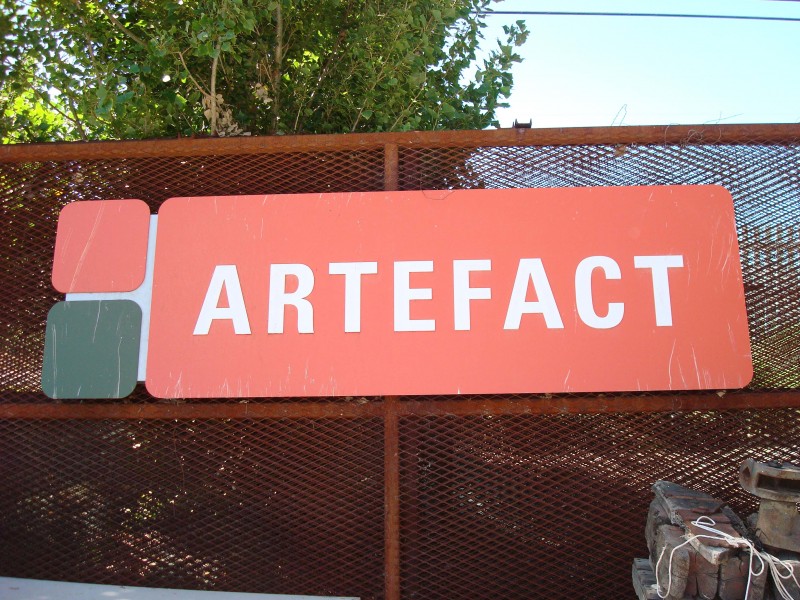 One of my favorite shops in Sonoma is Dave Allen's Artefact Design & Salvage (read a post I wrote a few years ago here).
The ever-rotating products he has for sale are carefully chosen for their unique, one of a kind quality – stuff you won't find anywhere else.  But I'm particularly fond of his simple, recycled bags.
While shopping in the store he'll happily give one to you, but due to popular demand from folks wanting to use them for all their gifts, he now offers them for sale (super cheap, I might add).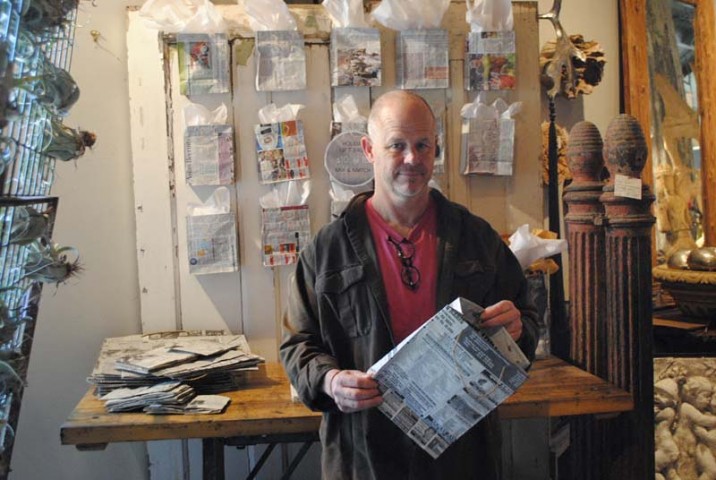 In a nutshell, here's the story:  frustrated by the waste associated with packaging materials used in his shipping crates, Dave started a program working with a village in Bali to turn old newspapers from nearby hotels into 100% recycled (and adorable) shopping bags.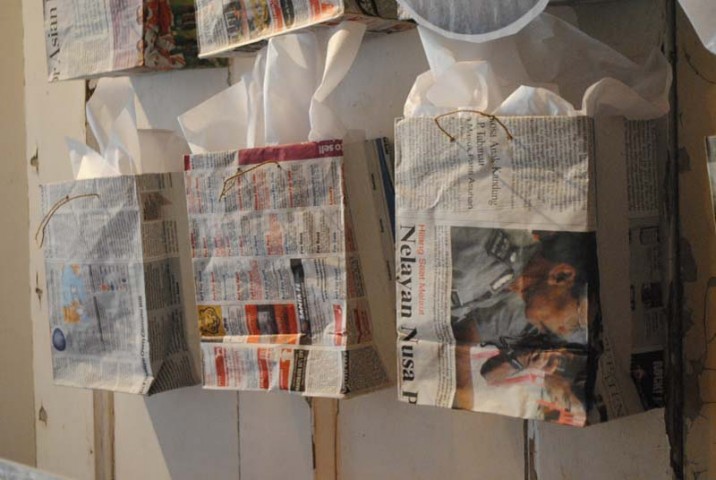 This project has made a huge difference in the lives of these disadvantaged men and women, using only newspapers, banana stalk twine and recycled cardboard. Once finished, the bags are then used as the packing material once his crates are ready to be shipped home.  Brilliant!  To see first-hand how these bags are made, check out this video. 

Maybe a hand-picked bouquet is enough to make your Mama's heart swell?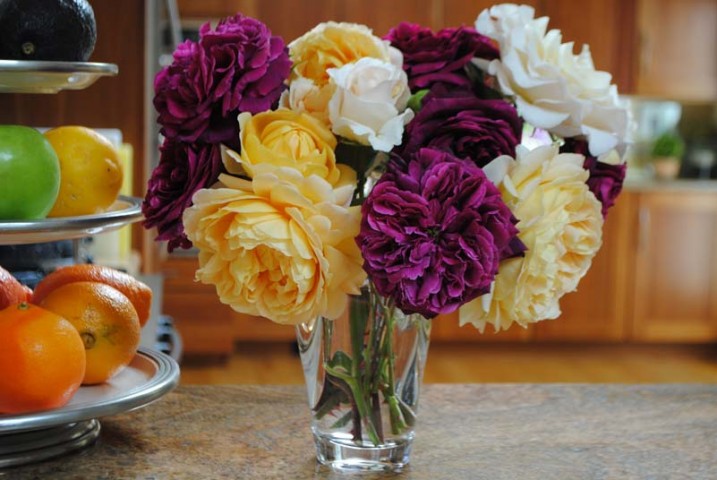 I always tell my family that my favorite gift is a hand-picked bouquet from my garden (having to first reassure them that I won't get mad if they pick my favorite flowers.)
I don't plant roses that only bloom once, preferring instead of plant those that produce so many flowers throughout the year that a generous bouquet won't leave a hole in my garden (click here for some of my favorites.)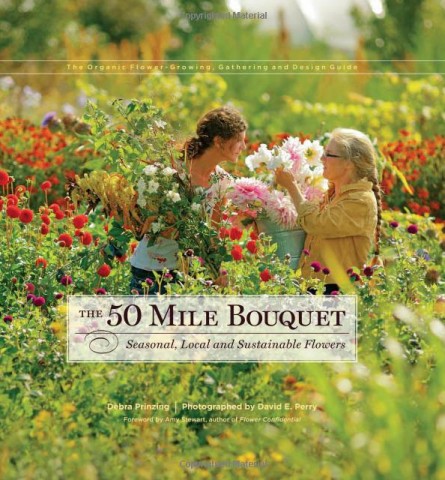 And when giving your mother your hand-picked bouquet, why not include the fabulous new book The 50-Mile Bouquet, by Debra Prinzing and David Perry?  This gem is not only filled with beautiful photos, but is packed with eye-opening information about where our purchased flowers come from, and the environmental impact they have on our world.  For a detailed and thoughtful review of the book, check out Susan Morrison's latest post here.

And for all the mothers and mothering types out there – Happy Mother's Day!   The world is a better place because of you and we love you from the bottom of our hearts!!    XOXO