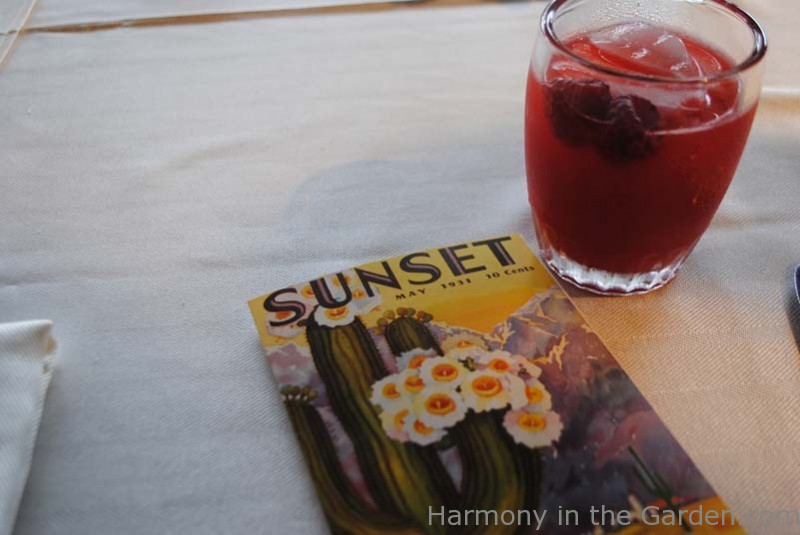 Last week I was invited to have breakfast at Sunset magazine's headquarters, along with a few of my favorite fellow gardeners.  The event was to welcome the new Sunset Edible Garden Cookbook, which will be released next week, as well as to tour the grounds and the test garden.
While of course I was thrilled to be included, I'll admit I was a bit hesitant about the breakfast.  Why?  Because breakfast has always been sort of a letdown for me.  I hate eggs.  There – I've said it.  I love chickens, I love cooking, and I even love to cook with eggs.  But I just hate the taste of eggs.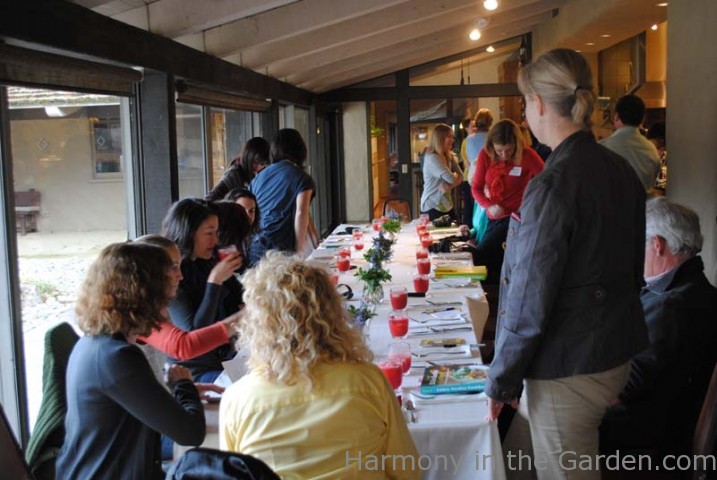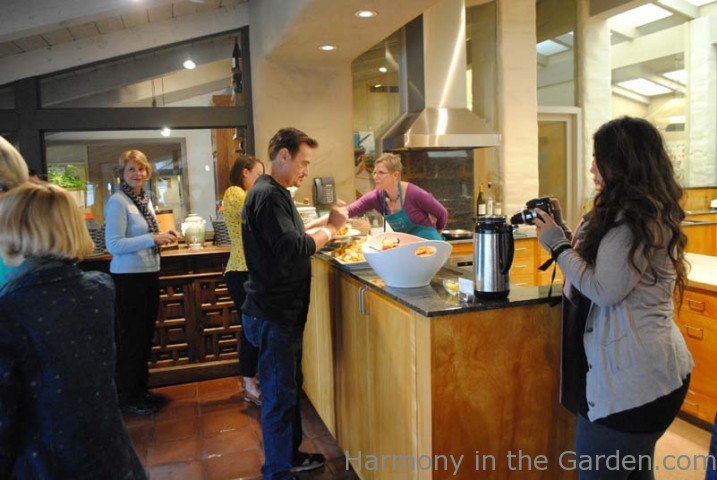 Whenever I end up going out for breakfast, it's either pancakes (not a huge fan), oatmeal (meh!) or something like that.  I always end up sitting there, looking at all of the beautiful omelettes and egg dishes at the table, wishing I could savor the taste, and feeling slightly disappointed.        So, when the most beautiful frittata I've ever seen was served, my heart sank.  BUT – I'm here to tell you that I ate every last bite of this delicious breakfast.  This is the
first

time in my life that I've eaten something made with eggs and wanted more!!

Everything served was made from fruits and vegetables that were in season – the berry 'aqua fresca', swiss chard and sausage frittata, golden-olive oil roasted potatoes, strawberry marmalade salad  and even the zucchini chocolate rum cake.  All to-die-for delicious.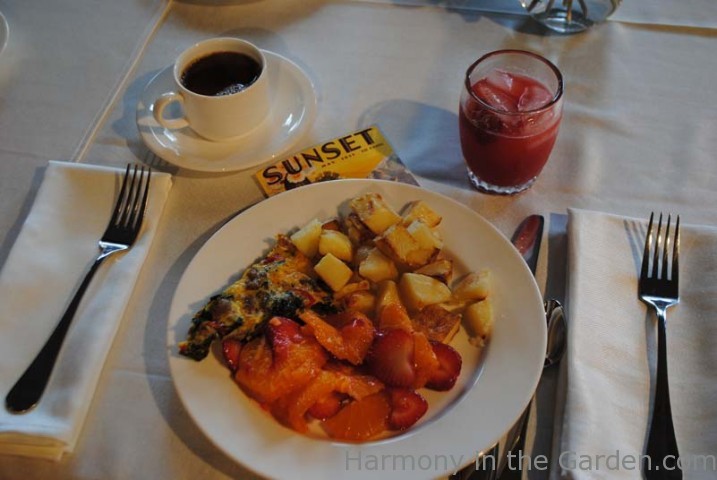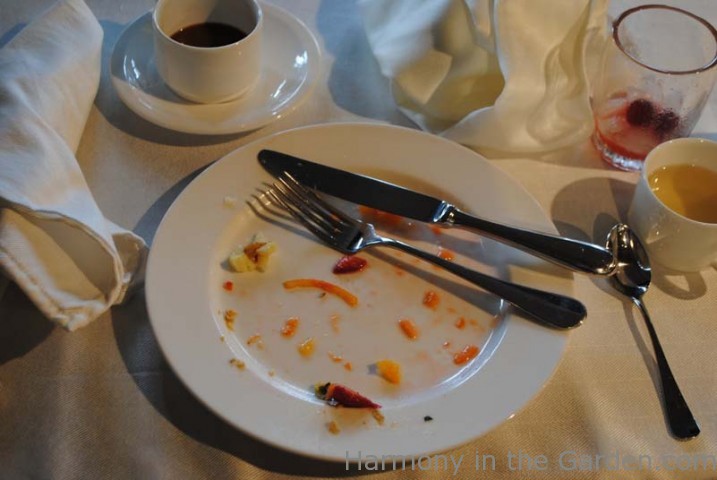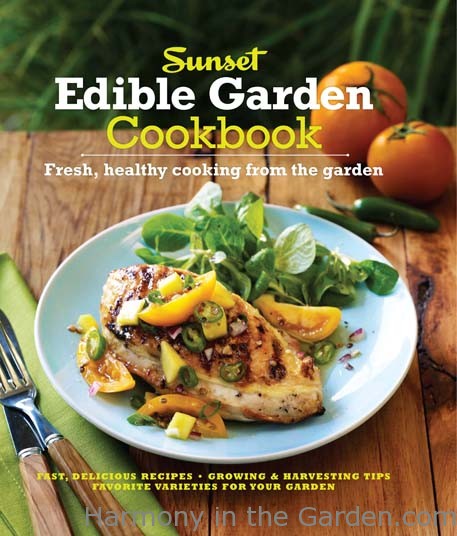 When I returned home, I sat down to take a look at this cookbook, specifically to read how that frittata was made.   Holy cow, no wonder the breakfast was amazing – this cookbook is amazing!
It's written in a style and format that I really haven't seen before, and combines both gardening and cooking.  Margo True, Sunset's food editor, says it best: "We've organized this cookbook around the crops themselves, starting with vegetables, pausing for herbs, and finishing with fruits.  For every vegetable or fruit, we list basic ways to cook it – steam, roast, sauté, and so on.  With these techniques as your guide, you can season the food any way you like and create your own recipes.  Or, you can choose from the full-blown recipes that follow…"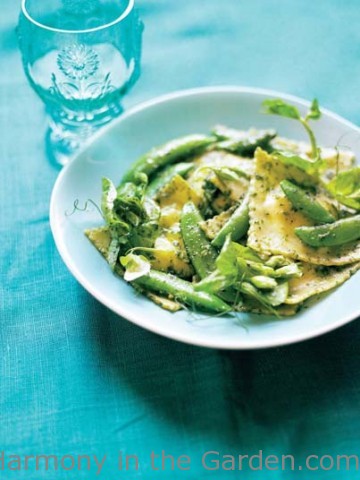 Here's how it works: choose a specific vegetable or fruit (beans, for example) and that item's main page of each is broken down into the following categories:  Why Grow Them, Extra Rewards (my favorite section – filled with tips and tricks you probably haven't thought of before!), When to Harvest, How to Keep, Some Of Our Favorite Varieties and Basic Ways to Cook.  This page is then followed by over a dozen recipes, accompanied by stunning photographs.
It couldn't be simpler and it couldn't be more fun to read!  This is a beautiful, easy to read yet comprehensive cookbook designed to teach gardeners how and what to plant, as well as what to do with your abundant harvest.
I'm thrilled to include this in my cookbook collection and thrilled that I have an extra copy to offer to one of you!  Just leave a comment about something cooking related (easy, right?) and I'll pick a random winner by midnight, April 6th.
Best of luck everyone!  Oh, and please remember that I won't be able to respond to your comments (it'll mess up the random generator selection) but I love reading what you all write!!  🙂
……………………………………………………………………………………………………………..
UPDATE:  Congratulations Stacy with CreativeMuse – you're the lucky winner!  Please email me with your address and Sunset will send the book to you!  I hope you love it as much as I do!
A few more details:  The winner will be randomly chosen by midnight April 6th, 2012, and contacted within 24 hours. If the proposed winner forfeits or does not claim the prize by March 12th, the prize will be re-awarded based on the sponsor's sole discretion. All prizes will be awarded. Please provide your name and email to enter this contest, so I can immediately contact you if you win. The winner agrees to allow his/her first name to be mentioned in conjunction with this giveaway.
The number of eligible entries will determine the odds of winning. This giveaway is limited to U.S. residents only, who are over the age of 18 years old. No purchase necessary to win. This sweepstakes is void where prohibited by law (not exactly sure where this might be, but I'd sure hate to live there).  By entering this giveaway, you are agreeing to these conditions.
Disclaimer: This is a sponsored post and yes, the product was provided for me to review. All expressed opinions, however, are absolutely and without a doubt, my own.  Trust me, I receive books to review all the time and very few actually inspire me enough to write about them!