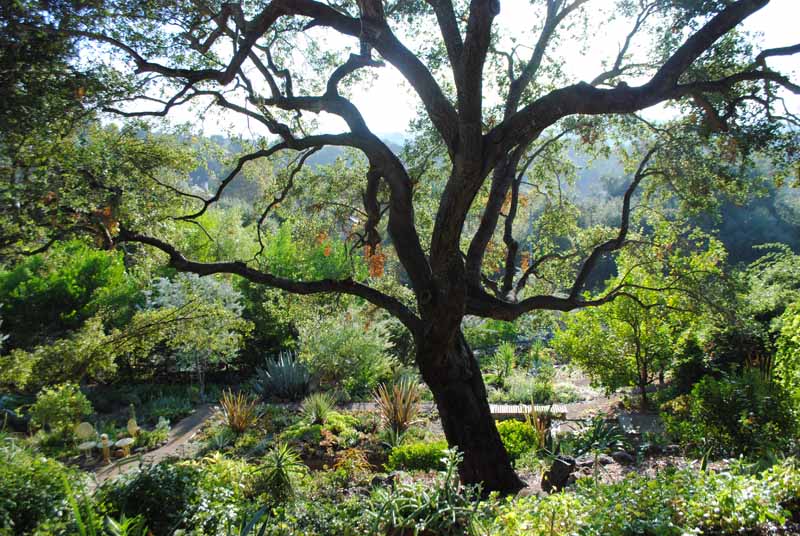 A few weeks ago I was a lucky, lucky girl and was given a tour of Debra Lee Baldwin's garden.
And what a garden it was!
Debra is known by many as the 'Succulent Queen', thanks to her wildly successful books, Succulent Container Gardens and Designing with Succulents.
So, while I assumed her garden would be fabulous, I wasn't prepared for just how fabulous it was!

Nestled in a Southern California canyon, Debra's garden is clearly her playground.  Woven throughout are cactus, succulents, and native plants combined with whimsical statues, pots, and artwork from her son's childhood.
This is not a typical showcase garden, but rather a peek into Debra's private world.
Simple pathways meander through different areas of the garden; some leading up the hill, some down towards the tomatoes, all designed to encourage leisurely strolling.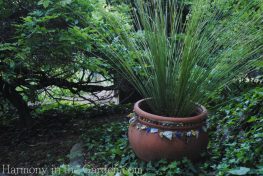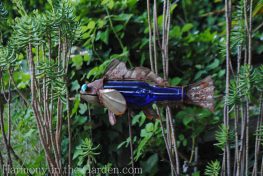 But it was her containers, though, that stopped me in my tracks.
Some were created in a deceptively simple manner, with one or two plants per pot, yet each was stunning.
As I've learned from reading her books, the reason these simple creations work so well is because much thought was given to pairing the containers with each plant.  It's clear she practices what she preaches!
These containers are perfect examples of what she teaches:  repetition of color, form, shape, and texture are crucial for creating artistic combinations.



And of course, the toppings that finish off her creations are tended to with just as much detail.  Examples of toppings I saw were decorative gravel, shells, and glass – all in complementary colors, sizes, and shapes.  Wouldn't it be so much fun potting up a succulent container at Debra's work station?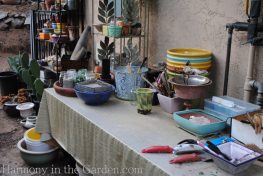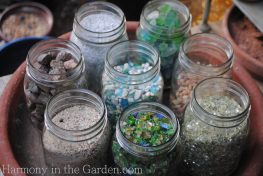 And then there's the tiny containers that perfectly mimic their surrounding hillsides.  It's like a complete 'nature-scape' you can hold in your hand!

I entered a whole new level of container-heaven when I discovered her succulent bowls, overflowing with dazzling combinations.

Greeting visitors was this container sitting next to Debra's front door.  I could've spent hours looking at all the details!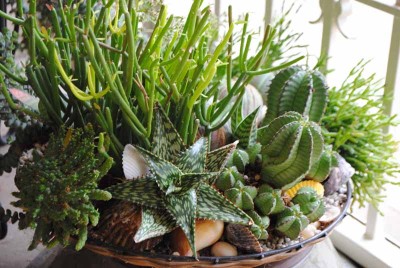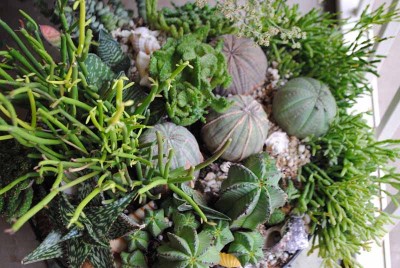 And flanking the other side of the door was this succulent-seascape.  The mailman must LOVE delivering her mail!
I couldn't stop 'oohing' and 'aahing' over the following two containers as I loved their autumnal colors which reminded me of my birch trees back home that were about to change colors.
Debra shared a few photography tricks as she helped position them with a cloth as the background, to better capture and reflect the light.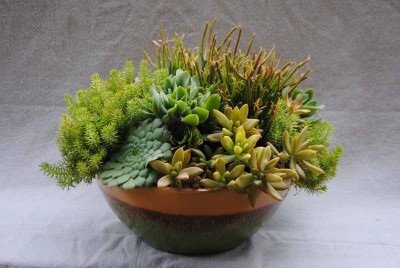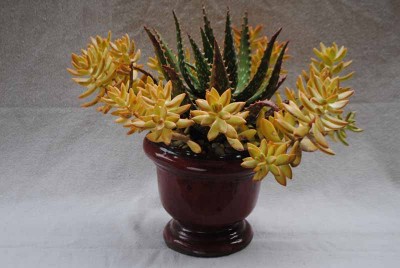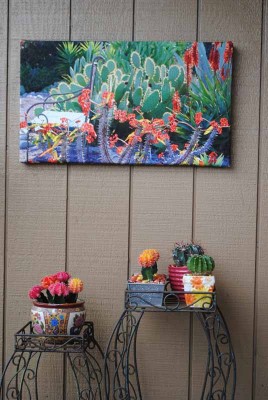 And finally, at the end of a very long and narrow balcony, is this dynamic pairing of both painted and living art.
Amazing, isn't she?
If you like to see more of her garden, in particular how she masterfully mixes succulents with flowers, click here.