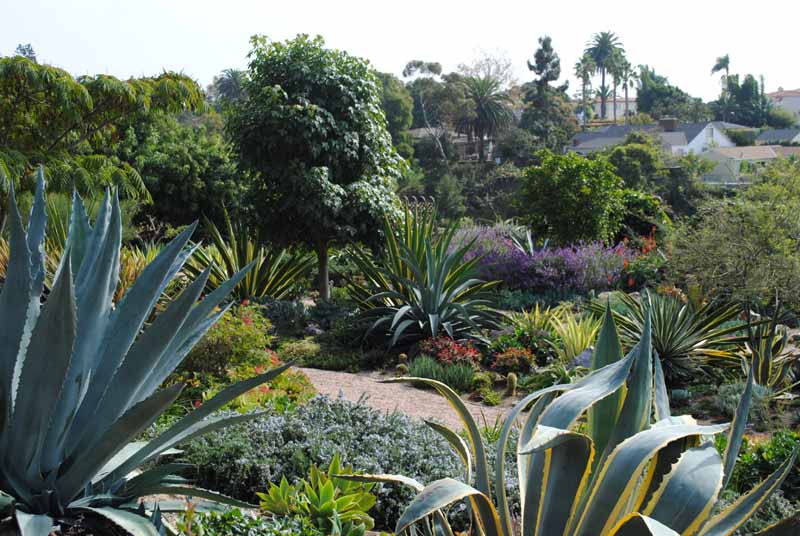 I don't think I've ever been as rude to another designer as I was when I saw this garden.
A few weeks ago I visited my good friend Debra Lee Baldwin who graciously introduced me to a wonderful landscape designer, Frank Mitzel of Aesthetic Design.
Frank kindly took us to see a garden that he and fellow designer and contractor Randy Laurie created in the Mission Hills district.
After meeting Frank in front of the house and exchanging a little small talk, he led us around the side of the house.
It was at this point that all manners left me.
I ditched all of them, running into the garden with my trusty camera to try and capture the magic that was unfolding before me.  The clouds had miraculously softened the harsh sun, the colors were at their peak, and I couldn't help myself.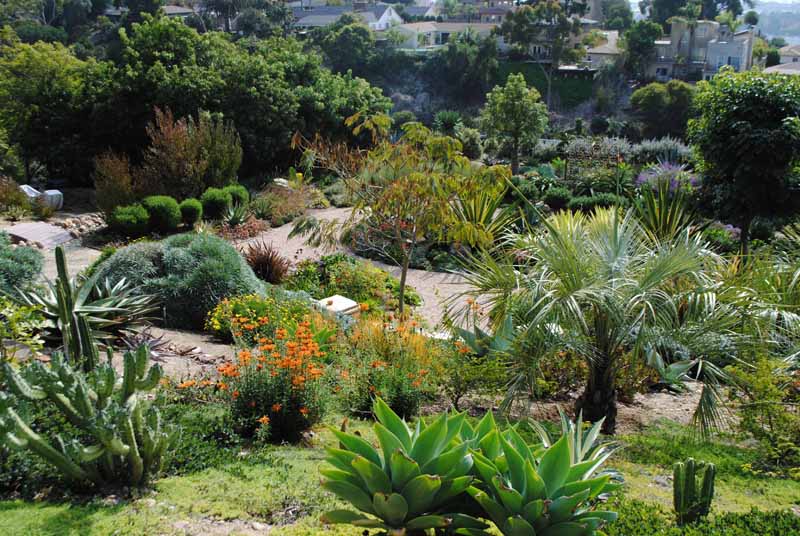 Before me was one of the most beautiful low-water, low-maintenance gardens I think I've ever seen.
Surrounded by very steep slopes were three distinct garden beds filled with succulents, agaves and California natives.  Here's a birds-eye view of the garden giving you an idea of just how steep these slopes were.
And to hold the soil in place, the slopes are planted with various tough and drought tolerant agaves, bansias, and echium as well as California natives such as wild lilac and lemonade berry.
This garden is not only visually stunning, but is created with the environment in mind.  For example, there's a weather station in the garden that collects climate data to control a sophisticated irrigation system, which has reduced water consumption by more than a third.
When asked what inspired this garden's design, this is what Frank said:
"While traveling with the owners in Italy, it was obvious that our temperate climate could vary vastly, where palm trees could be growing right next to cacti.  The homeowners wisely recognized this fact & fully appreciated that we are fortunate to grow such a wide variety of plants in our same San Diego climate.  We can pretty much get away with a "anything grows & anything goes attitude" without compromising the integrity of all the necessary basic design principles of balance, symmetry, repetition, unity- all to achieve the ultimate goal of harmony in the garden landscape."
I love it – 'anything grows and anything goes!'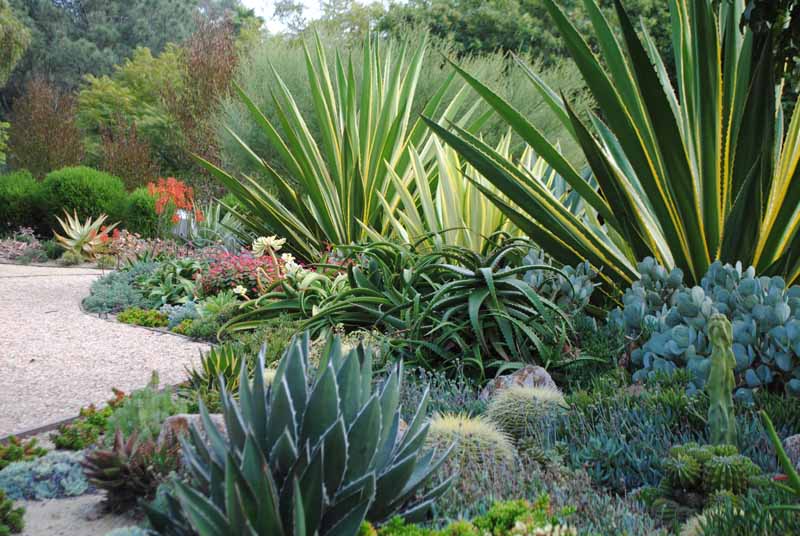 The scale of the garden lends itself to long flowing curves to help define the oversized amoeba-shaped planting beds.
And surrounding these beds are lovely, crunchy decomposed granite pathways, meandering here and there allowing you to slowly take in all sides of the planting areas.

One of the striking design elements I found in this garden was that of repetition.
In this case, repetition of form with the use of various agave and succulents with spiky shapes.  However, because the foliage consists of different colors and the plants are different sizes it works without looking insanely busy.  I love this so, so much!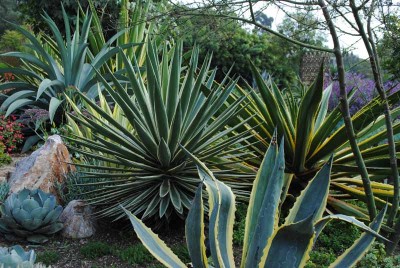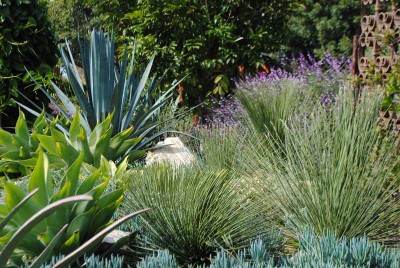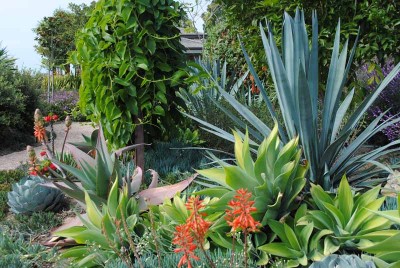 Another form of repetition is the use of color – in this case the color blue.
Blue can be a little tricky to use in the garden, but here it's successfully used in the forms of giant agave, the mid-sized a. parryi, and a ground cover senecio.
The blue plants gently weave throughout the bed, creating a flowing sense of consistency. When using mainly succulents and cactus it's important to include plants that soften the sometimes harsh shapes.  This garden has plenty of blooms not only from succulents, but from salvia, grevillea, leucadendron, and leucophyllum.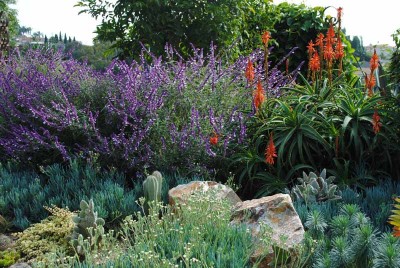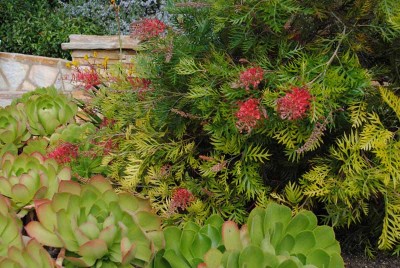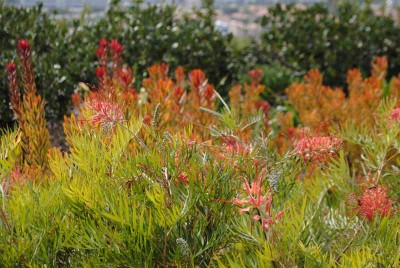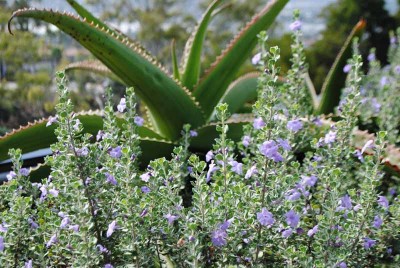 The blooms provide such a welcome contrast of textures and color, adding to the excitement of the garden.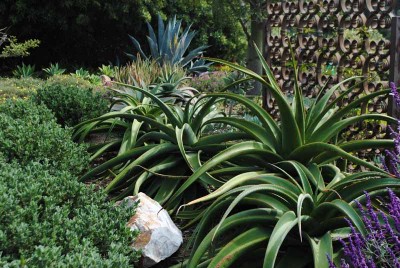 In one of the beds an old wrought iron gate from the original house is repurposed as garden art and as the perfect backdrop for this aloe.
In another bed, passion vines and a purple-flowered Queen's wreath vigorously scramble through the other gate.

And what garden wouldn't be complete without a place to rest while taking it all in?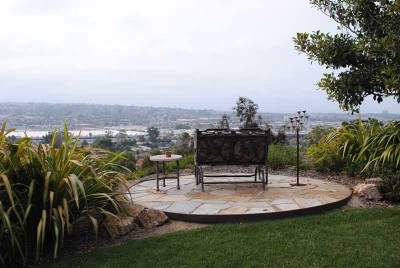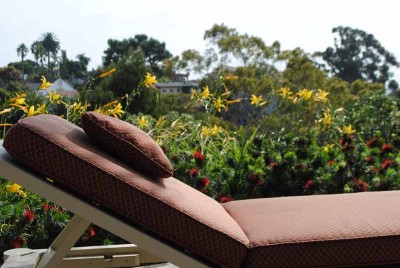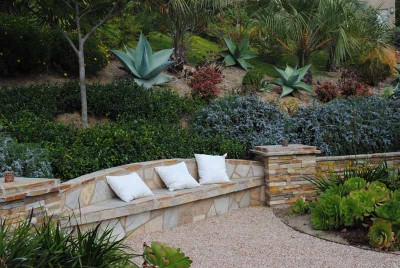 Whether sitting on a patio overlooking the valley below, sneaking away to a quiet corner to nap or viewing the overall garden from a built-in banquette this garden has many places for quiet repose.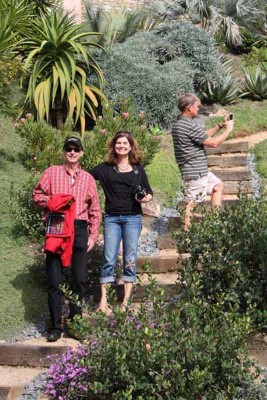 I love this photo, as it not only shows how thrilled I was to meet Frank and see the garden, but you can see for yourself that even Jim Bishop (who joined us for the day) couldn't pull himself away from his camera.
Hmmm…I hope Frank takes it as a sign of the highest form of flattery!