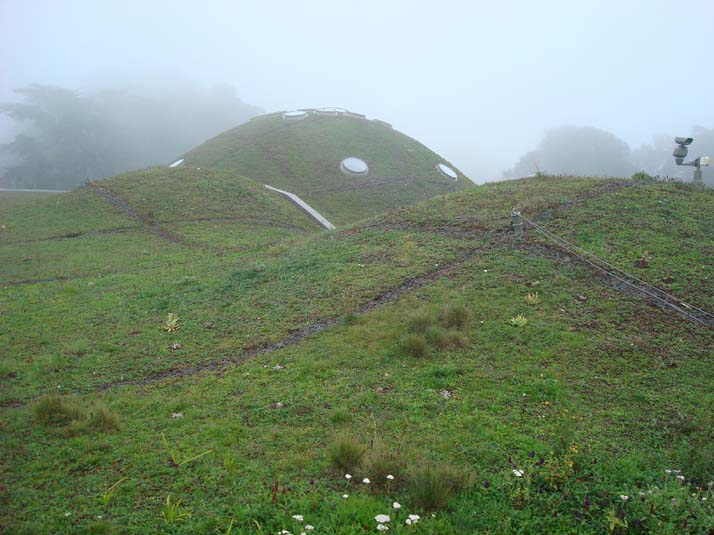 No, this isn't a scene from Teletubbies.
Last night I attended an APLD meeting in San Francisco to listen to Alan Good, the Academy's Landscape Exhibit Supervisor, give a fascinating presentation about the building's green-roof infrastructure and its plant life.
While I found the specific construction of the roof interesting, it was the little stories and odd facts he told us that really caught my attention.
Here's a few facts about the living roof: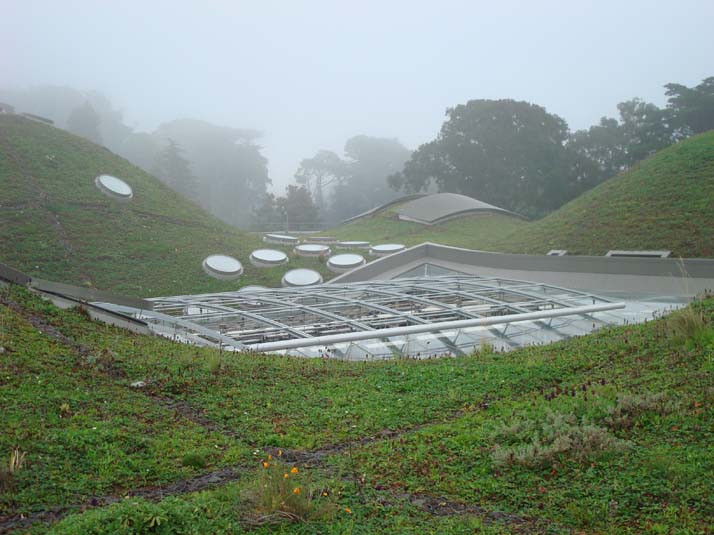 In 2008, this green roof, planted with 75 native California species, was installed on the San Francisco Academy of Sciences.  It spans 2 1/2 acres.
2 1/2 ACRES people!!
The roof's structure will last at least 40 years, compared to the 20-year lifespan of a traditional roof.  This is due to the plants & soil protecting the roof's waterproof barrier from damaging UV rays.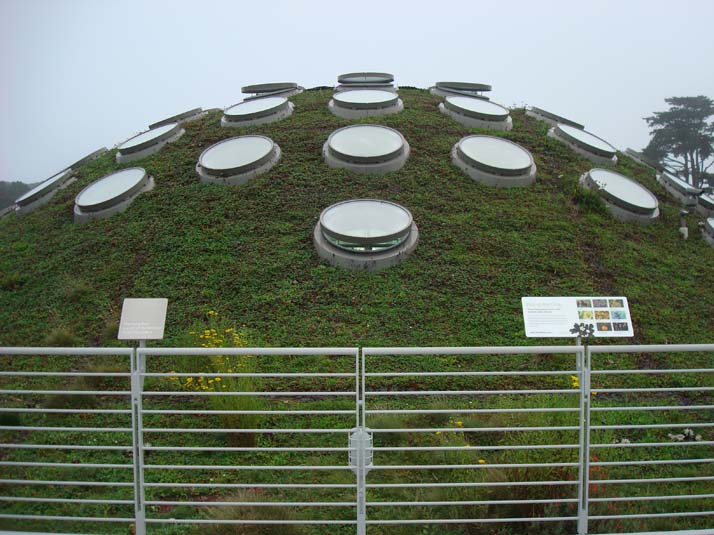 /
On the roof are giant domes, each dotted with circular skylights that are fitted with heat sensors, opening and closing to further cool the building when certain temperatures are reached.  Some have a lot of skylights (to provide light & warmth to the tropical rainforest housed in the building beneath it) and some have just a few.
/
/
Also on the roof are several super high-tech irrigation/weather stations. So high-tech it's taken Mr. Good quite awhile to fully understand them.  While he agrees they're wonderful inventions, he still thinks knowledgeable gardeners are sometimes better equipped at monitoring when the plants need to be watered.  In fact, he often just sticks his finger in the ground to determine when to water.  Hmmmm…something to be said for that.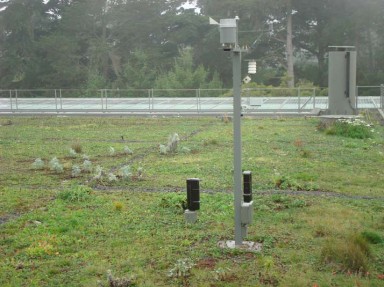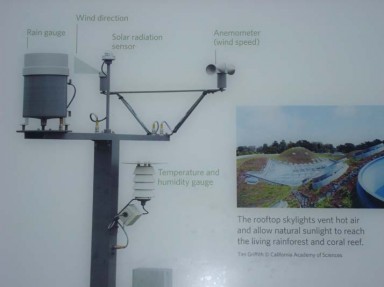 Some very cool facts about the roof, according to the Academy's press release:
– Padded with six inches of soil, the roof will keep interior temperatures 10 degrees cooler than a standard roof
– Due to the insulation, low frequency noise is reduced by 40 decibals
– The 'urban heat island' effect stays about 40 degrees cooler than a standard roof
– It will absorb about 98% of all storm water, preventing up to 3.6 million gallons of runoff from carrying pollutants into the ecosystem each year
Impressive, to say the least!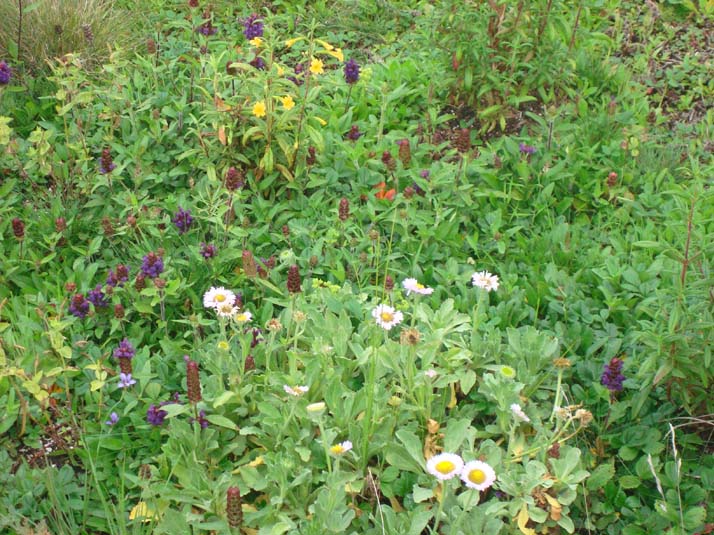 But what I also found so interesting were the different stories about the plants that have survived or failed, and the reasons why.  For example, despite a trial mound that was built and tested for 2 years, once it was actually installed and planted, Armeria (Sea Thrift) proved a giant FAIL.  In fact, there's only a few left that have survived.  The stonecrop was another disappointment as the roof just wasn't protected enough for them to thrive.  This year they're seeking out other native sedums to try in their place.
Prunella vulgaris, however,  was one of the plants installed and has proved TOO successful, to the point of becoming invasive. Dudleya farinosa and Oenothera are also two plants that turned out to be surprise success stories.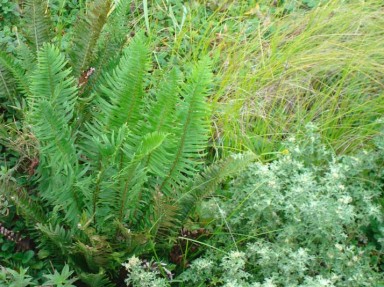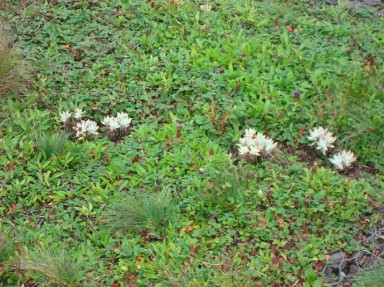 Some of the other plants on this roof are Beach Strawberry (which seems to thrive as well on a roof as they do in our gardens), Salvia spathacea, Yarrow, Western Columbine, Ferns, Erigeron, and Rocky Point blue-eyed grass.   Mimulus guttatus has somehow re-seeded itself on the roof and is thriving, to the delight of everyone.
Since one of the goals of this roof is to provide habitat for insects, grasses aren't really planted.  Besides offering little for pollinators, they tend to be very invasive and grow to have giant rootballs that stick out of the shallow planting beds, and end up looking like giant pineapples.  The ones you see on the roof have been planted by the wind or birds.
Speaking of birds… huge swaths of towering Gunnera freely grow in nearby Golden Gate Park, and thanks to the birds they end of on the roof !  Pacific Wax Myrtles, Cypress and Pines show up as well – thanks to the wind as well as the birds.    Another problem?  Three years ago, seed trays were grown and stored in an off-site location near Carmel, where there happened to be Willow trees.  To this day, Willows will re-sprout on the roof.  BAD for roofs!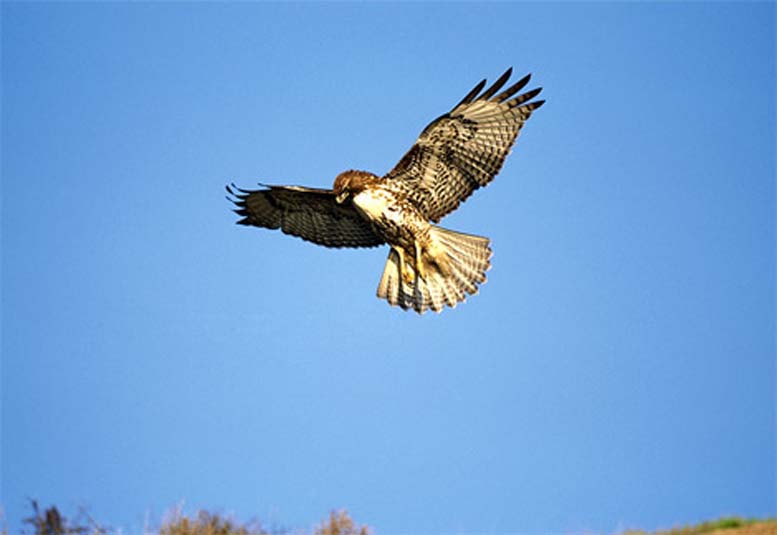 This summer, employees enjoyed watching a family of Red-Tailed Hawks fledge their young on this roof.  The hawks nested in nearby trees and would place dead animals on the domes to entice their young to fly from dome to dome.
When the roof was first installed, hawks would regularly stalk the roof, assuming it would be prime gopher territory.  They've since learned this is a terrible place for gophers.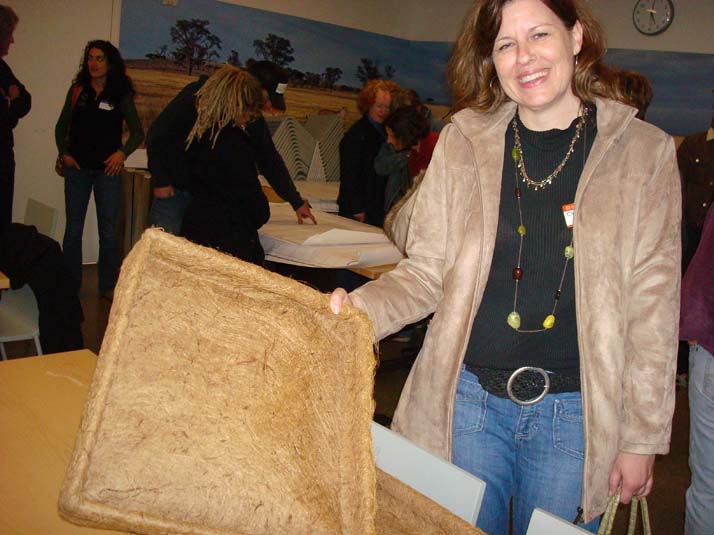 On this roof there are 50,000 coir biotrays.  These are trays made in a village in the Phillipines, from what would normally be a waste fiber.  Each tray lasts for a few years, until they decompose. Susan Morrison is doing her best Vanna White and demonstrating one for us…
.
.
.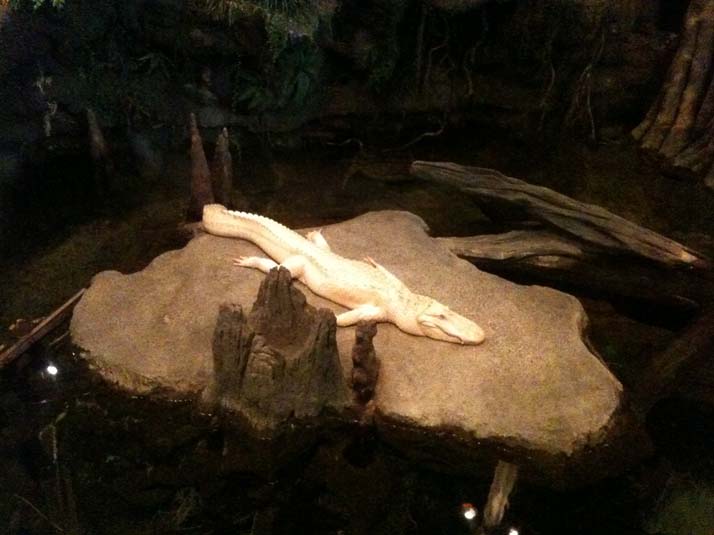 .
After we left the presentation, it was well past closing hours and we were the only ones left in the museum.  It was so quiet and so cool!
.
Unfortunately, we weren't allowed to roam around, but I couldn't help snapping a photo of one of my favorite inhabitants here – the albino alligator who is clearly enjoying the perfect climate thanks to the green roof above!
,
.