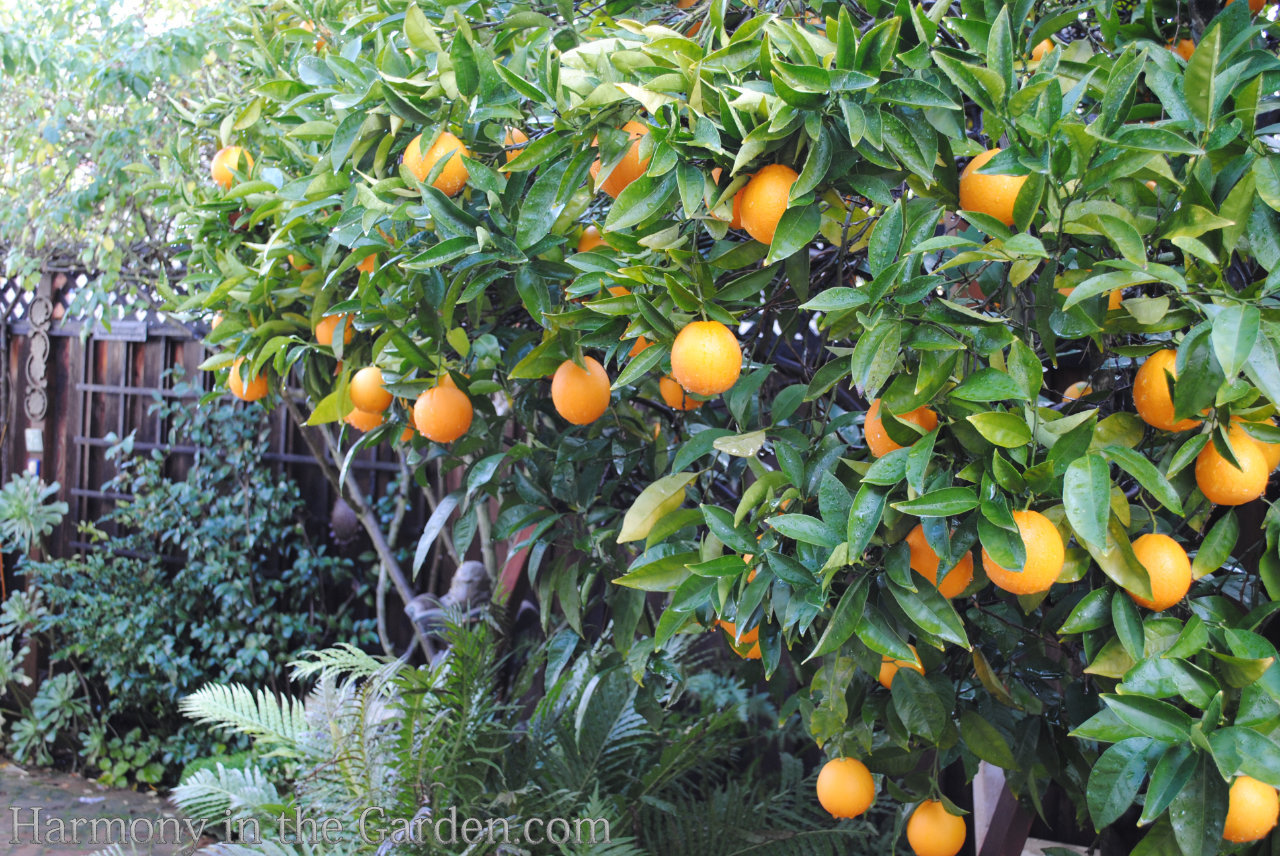 Meet Frankenstein, my wind-damaged 'Washington Naval' orange tree!
It's January here in Northern California and today I ate the first  orange off my beloved orange tree.
I love that first, sweet-with-a-hint-of-sour-taste from the season's first fruit.  
I look forward to it all year, beginning in late spring when my garden is blanketed with the scent of its heavenly blossoms.
Then again in the fall with its swelling green 'tennis-balls', and then again in late winter, when my dreary winter garden is punctuated with bright orange balls of color.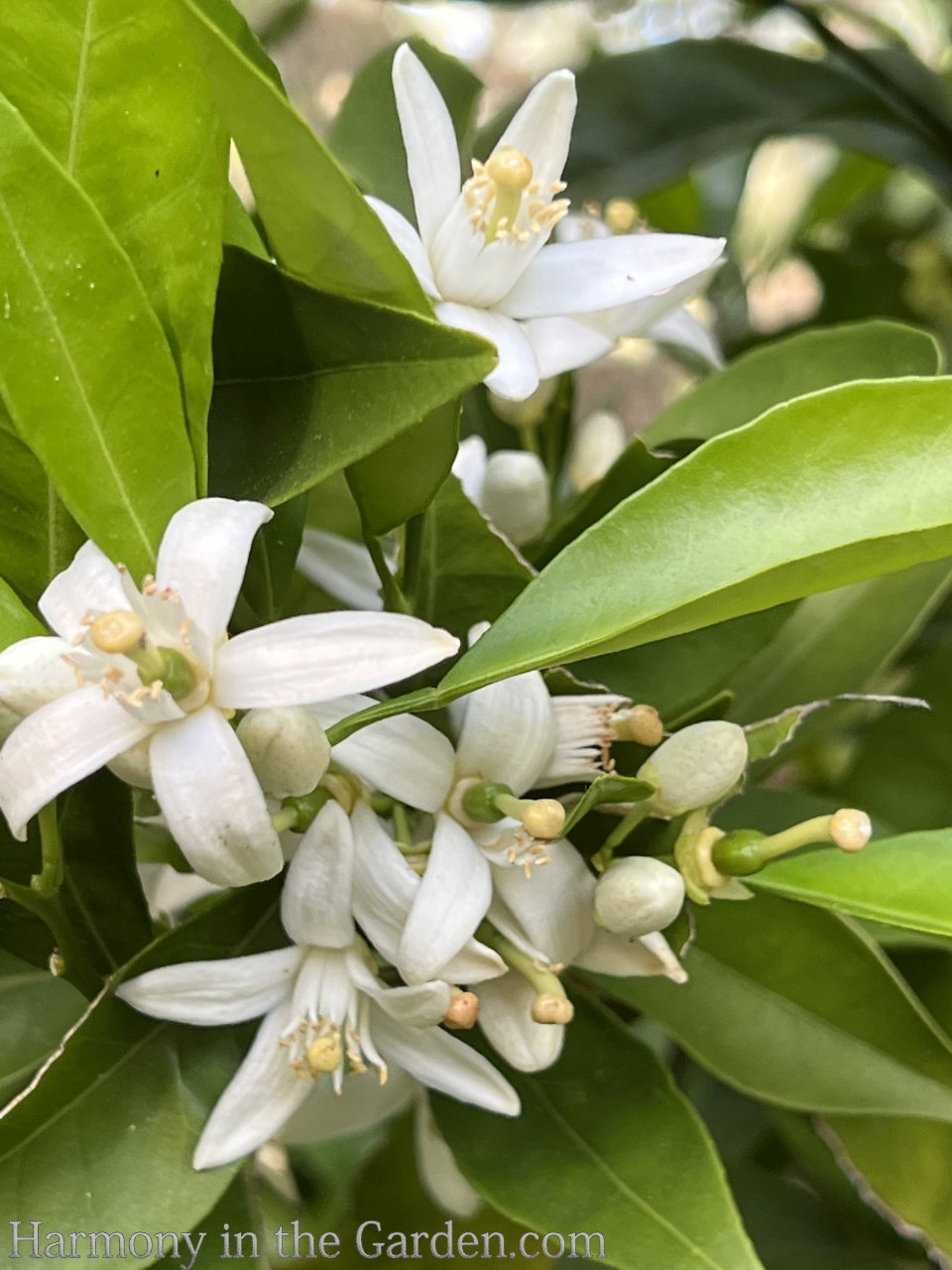 'Washington Naval' is the variety I recommend for my clients, as the fruit ripens in the late winter (in contrast to a Valencia orange which ripens in the summer).
Personally, I'd much rather have something delicious to eat from my garden in January, when there's not a whole lot going on, versus Summer's overwhelming abundance of fruit.
Plus, eating fresh fruit from your garden in the winter seems just a little bit more exciting.
But beware!
All citrus needs to be protected from freezing temperatures, which seem to be occurring here with more and more consistency.
Unusually cold temps in the mid-twenties can severely damage or possibly ruin an entire crop.
Luckily, it seems that once the tree has a few years under its belt it tends to survive the freezes with little damage.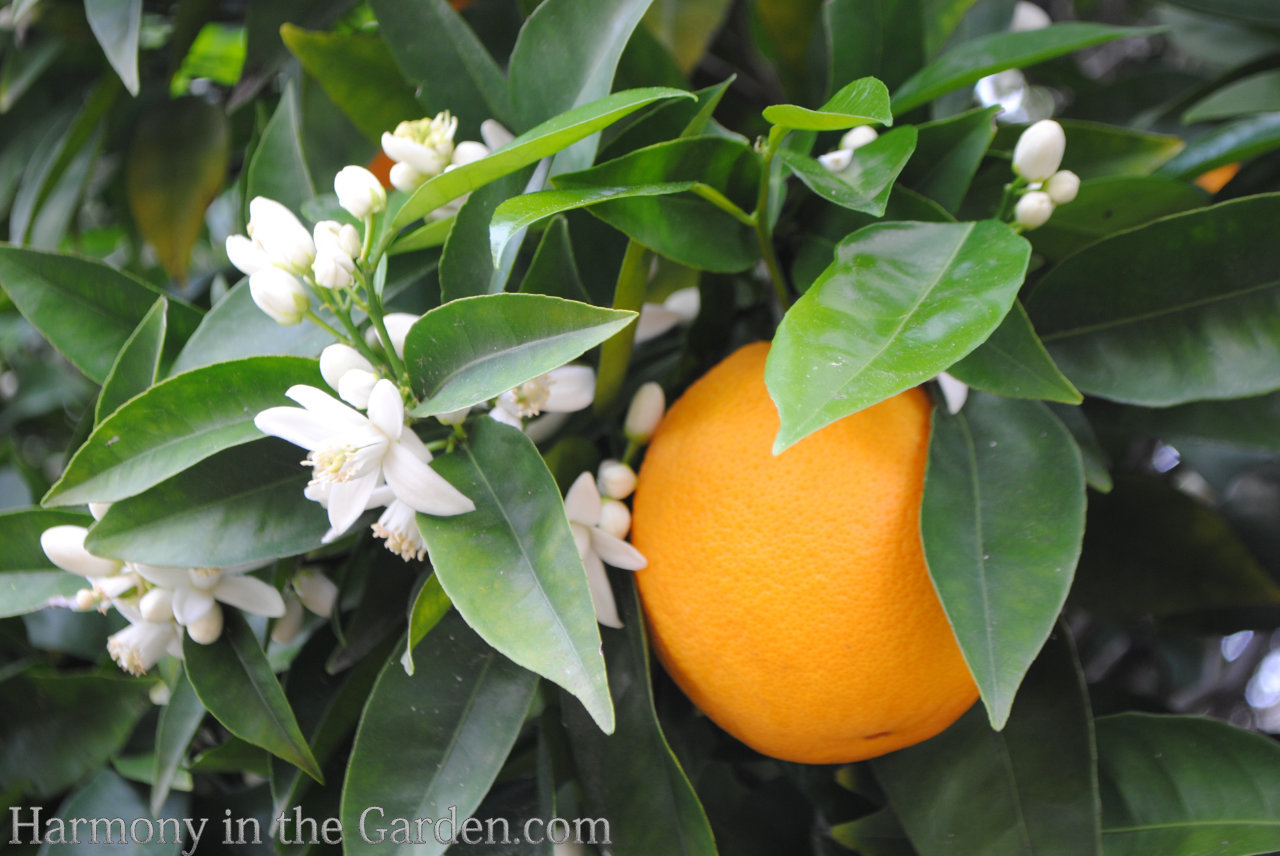 When your tree is young, though, pay close attention to the weather reports and if a hard freeze is coming make sure you cover your tree with burlap.
You can also wind old-fashioned Christmas lights throughout the inside of the tree (yes, they'll provide a little heat to help stave off damage.)
Also, once your tree is heavy with fruit pay close attention to unexpected strong winds and heavy rain which can weigh down your tree and cause it to split in half.
When a storm is coming, make sure to prop up its limbs (I use several strategically placed 2×4's.)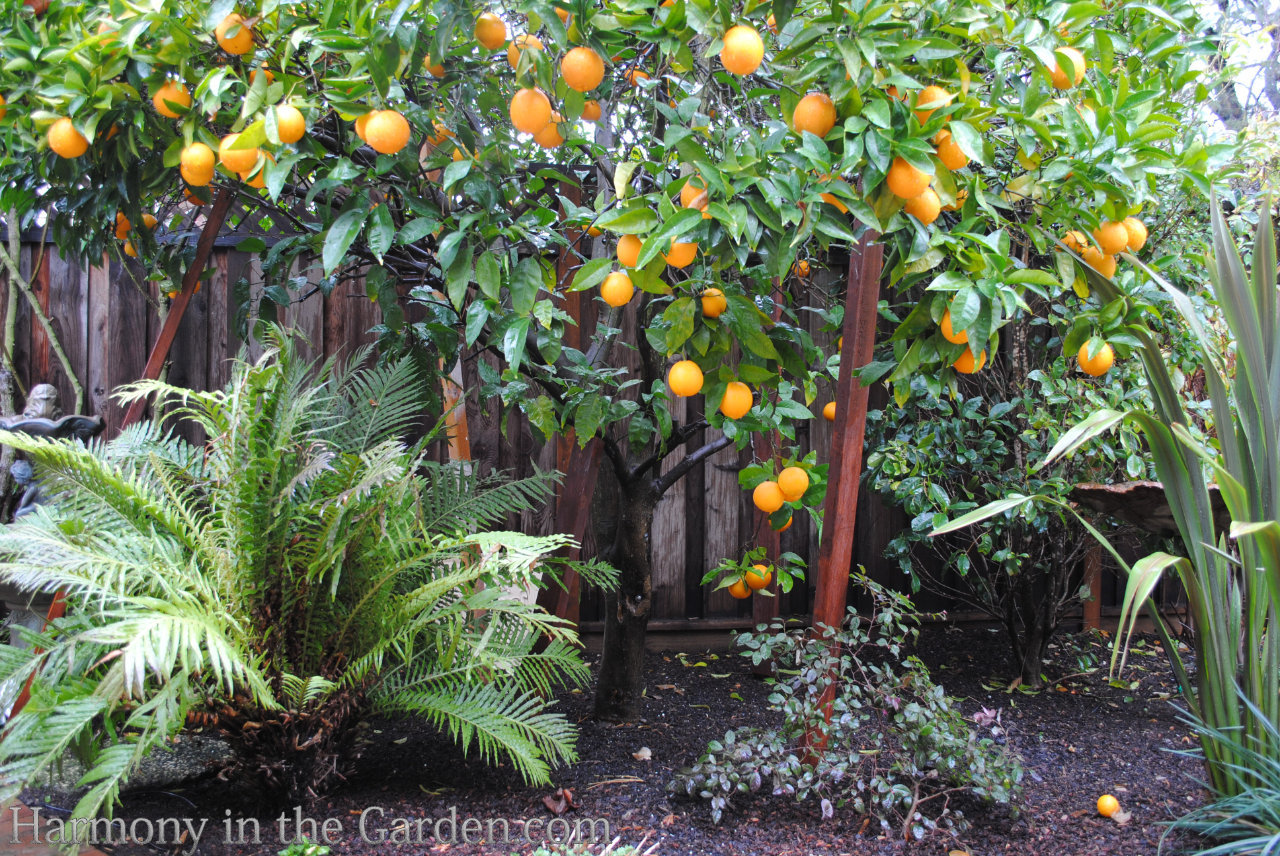 One fateful winter, I completely forgot to prop up the branches of my tree and watched in horror as 50 MPH winds ripped through my garden.
The wind split my tree down the middle – TWELVE INCHES FROM THE GROUND!  I kid you not.
I was frantic, as this tree is such an important part of my garden not only because I love the fruit, but because it blocks an unsightly view of my neighbor's roofline.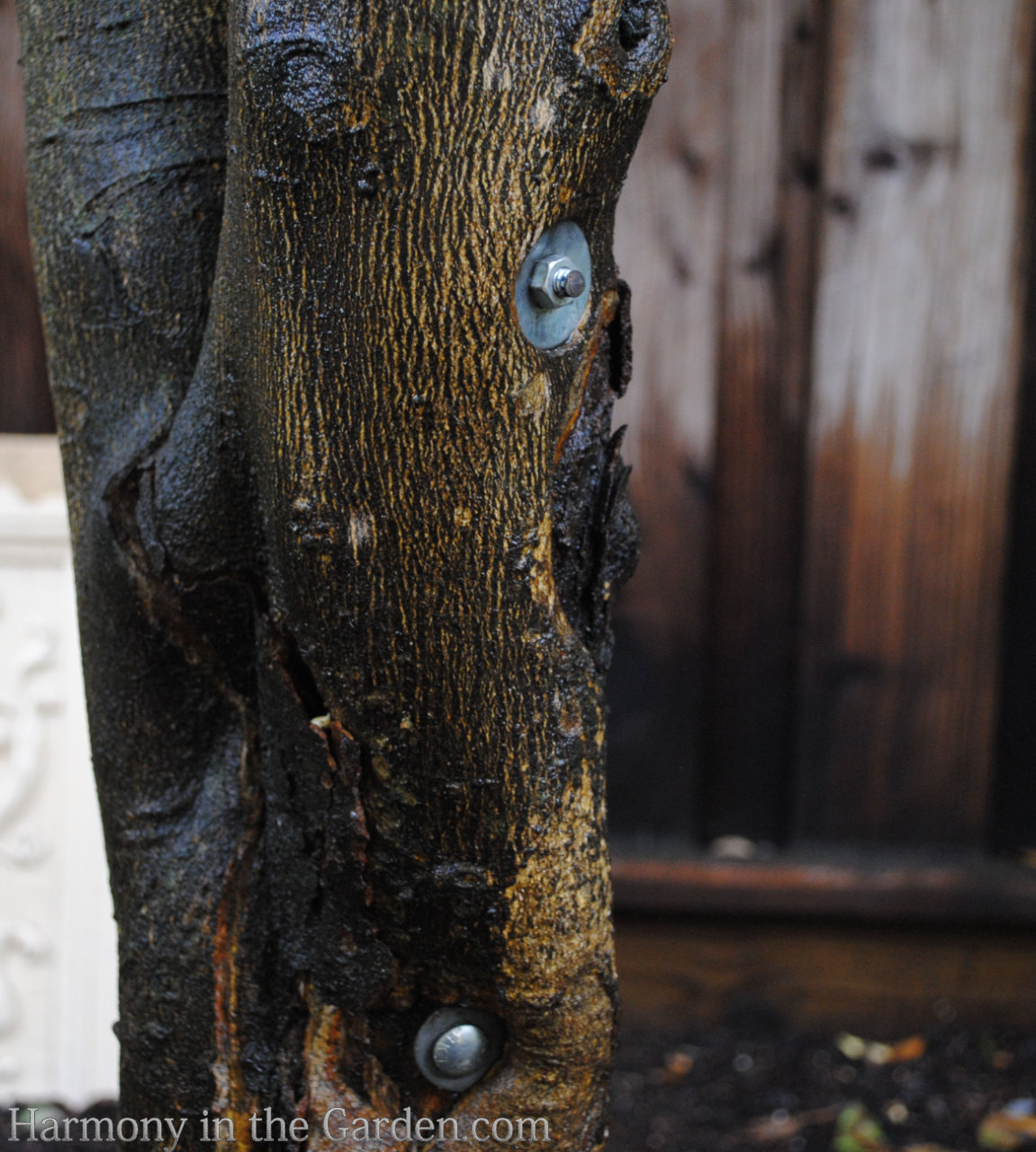 It would take me years to get another tree to grow to that size again!
My neighbors helped to hoist the tree back together, pulling it with a winch (that's how heavy it was!) and we bolted the trunk together 'Frankenstein-style'.
I was skeptical, to say the least, that my bolted tree would survive this terrible wound – but you know what?  It worked!  
This tree SHOWED NO SIGNS OF TRAUMA-EVER!  No wilting, no pouting, no dropping its leaves – nothing!
Well, not exactly.  
The following year, it never set fruit.  Instead, it focused it's energy on healing itself.  However, the next year we were back in business with a tree full of oranges.
Since then, I've since had several tree experts tell me that citrus trees are some of the most resilient around.  
Every winter, since that fateful storm, I look at its branches once again weighted down with glorious fruit and am amazed all over again by its unbelievable endurance.