.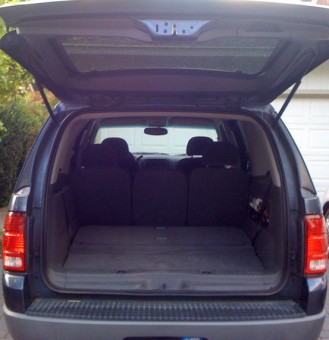 .
I drive a big SUV.  I know, I know..it's a gas hog, it's a polluter, it's totally uncool, but I need it's size to carry the zillions of plants I buy for my clients. A Prius just won't cut it.  As soon as I can I'll buy a really cool hybrid SUV or something like that….I promise.   But in the meantime, this is what I drive and these are some things I keep in the back of it – PERFECT for those nursery visits when I go a little crazy…
.
.

.
.
.
.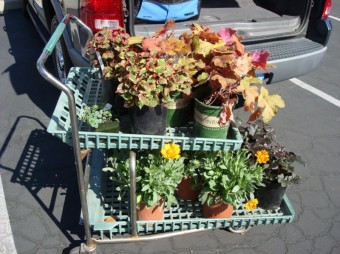 .
Problem: What to do when you buy a lot of plants at the nursery and need to get them home without them tipping over, breaking stems and dumping dirt in your car?
.
.
.
.
.
.
.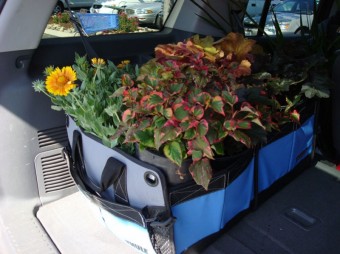 Solution:  Cram them into Thule's flexible 'plant holder' (it actually holds groceries really well, too, along with any other item you can imagine).
.
This is something that I can't live without.  Well, actually, I lived without this for most of my life, but ever since I bought this two years ago my life has been a TON easier..
.
It's super flexible so I'm able to squeeze in 9  1-gallons, 2 6-packs and 5  4″ pots with NO TIPPING OVER!  Plus it's got these handy pockets on the ends to store extra gardening gloves, pruners, etc.   And did I mention that it's COLLAPSIBLE?  It doesn't get any better than this!
.
.
.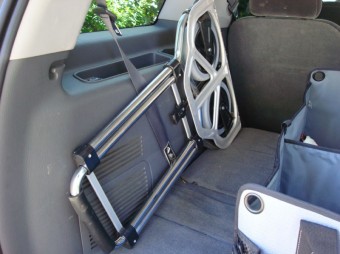 Next to my Thule thing-y I keep my collapsible, lightweight hand-truck.  It only weighs about 9 pounds so it doesn't hurt my back to lift it in and out of my car and it takes up almost no room at all.
.
It was a Christmas present last year from my husband – and I love it! Yes, diamonds are nice, but this thing is fabulous!! It's called 'Insta Truck' by Best Wheels, and it was purchased at Lowe's.  However, here's an update:  apparently they're hard to come by at Lowe's, so The Magna-Cart Folding Hand-Truck is another (suggested by Kerry at Container Garden), and have since had 3 clients purchase this and LOVE, LOVE, LOVE it!
.
.
.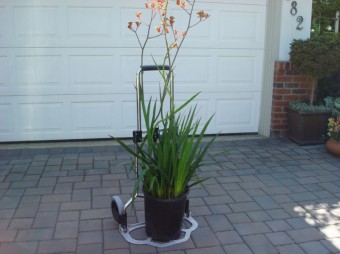 .
And this baby can MOVE MOUNTAINS!  Or a recently watered, heavy-as-heck 5-gallon Anigozanthos with ease…..
.
I must admit, I love being self-sufficient and feel like such a stud when I whip this out of my car and start moving super heavy things around my garden.
.
.
.
.
Remember…Christmas is only 10 weeks away!   …tick, tick, tick…..   (sorry to instill that bit of panic)
.
.