We kicked off the first week of summer by spending a few days at my favorite place in the whole world – Lake Tahoe.
Due to our unusually cool spring and summer, it was waaay too cold to spend any time on the beach, so one day we took a hike at D.L. Bliss state park.  The lake's shades of sapphire, turquoise and deep blue took my breath away and I couldn't help but take a few photos to share with all of you.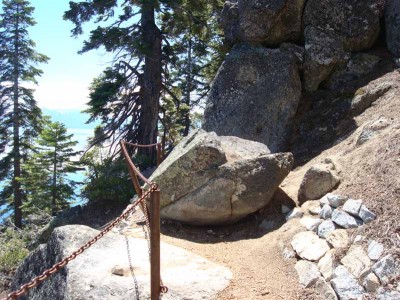 For much of the hike you're skirting the cliff, about 100 feet above the lake with nothing but a sheer drop-off should you lose your footing.
And yes, there's the occasional landslide, as evidenced by the massive stone blocking our pathway.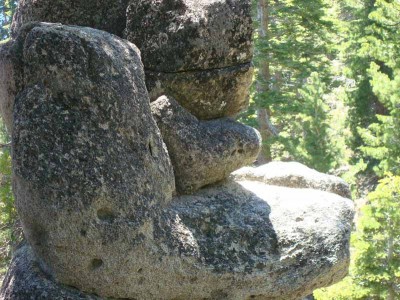 Some of the granite rock formations were crazy!
One giant stone had a little stone 'necklace' around its middle, another has a stone balanced on top of it, and one is even shaped like a heart.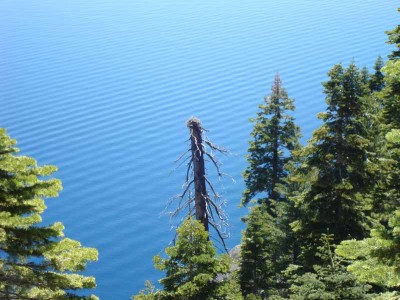 And thanks to serious conservation efforts, bald eagles are making a comeback!
If you read my blog at all, you know how I love to take action shots of birds, so you can imagine how it killed me when I just missed an eagle flying out of this nest!!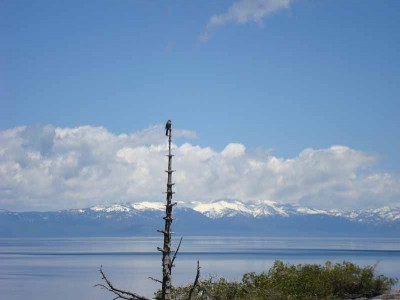 At least at the end of the hike a little bird posed long enough for me to take his picture.
Definitely not an eagle, but lovely just the same!