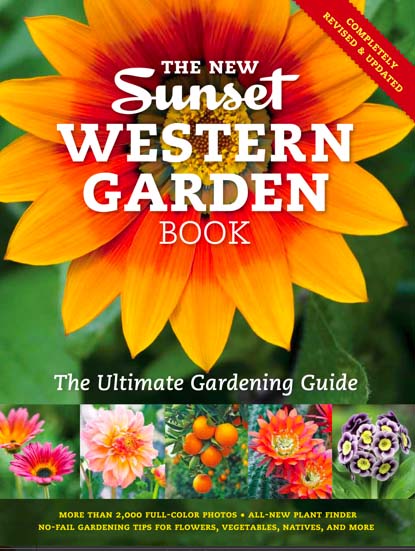 I have been dying to get my hands on the latest edition of the New Western Garden Book: The Ultimate Gardening Guide (Oxmoor House, 2012. List Price $34.95)
Well, it's finally here and I'm thrilled to announce that I've been given a copy to review.  And as if that weren't enough – Sunset is letting me give away FIVE copies, too!
Like many gardeners, I've had several different editions of the Sunset Book throughout the years, my oldest dating back to 1967 (borrowed from my grandmother).  But this one is, hands down, Sunset's finest effort yet.
There's so much that I love about this book, so in an effort to keep things brief I'll narrow it down by giving you my Top Five Reasons to Own This Book!
Reason #1
My very favorite part of the book is the new Plant Finder section that covers so many gardening situations.   Sure, their past editions had similar chapters with plants categorized by the roles they play in the garden, such as 'plants for shade', ' plants for fragrance', 'deer resistant plants', etc.
This edition, however, has a few new, and current categories that, as a designer, I will undoubtedly refer to over and over again.  For example: Plants for Moon Gardens, Plants for Structure, Plants for Slopes, Plants for Hedges and Plants for Tropical Effects.
And for those of you who are trying to garden more sustainably, you'll love these new categories:  Plants that attract Butterflies (or Birds, or Beneficial Insects), Ornamental Edibles (yay!) and Plants for Waterwise Gardens.
Reason #2
No more hand-drawings!  Not that they were bad (they weren't) but now we have beautiful, full-color photographs to accompany each plant making it so much easier to help with plant ID.
Reason #3
Once you actually dive in to the A-Z encyclopedia portion of the book you'll notice lots and lots of green break-out boxes sprinkled throughout, with such titles as 'The Daisy Clan', 'Using Euonymous', 'Clinging Vines' or 'The Dark Side of English Ivy'.   Not only are these cute and clever, but they're filled with interesting and helpful tidbits of information.
This book has clearly morphed from a reference book to the sort of garden book you want to read from cover-to-cover!
Reason #4
While this may seem like a small thing, I'm a huge fan of the book's new binding – which is somewhere between a hard and a soft copy.  I have a feeling it'll hold up much longer than my old, tattered ones with their soft covers just waiting to be ripped the second I drop it. Yes, it's happened to me more than once.
Reason #5
And finally, once you reach the end of the 'Z's, you come to a whole other book within a book, making this the Inception of garden books!
At the very end, you'll find a comprehensive Gardening, Start to Finish, which covers everything from planning, soil, irrigation, fertilizing, training, protecting plants from pests and diseases and managing weeds.  Truly, everything a gardener (especially a beginner) would need to know.
My one quibble (and it's so minor I almost hesitate to put it in) is that under the Plant Finder's 'Plants for Fragrance' there's a photo of the beautiful Brugmansia sanguinea.  The problem is, that's the one Brugmansia that doesn't really have much smell.  While it's the prettiest (IMHO) a 'Charles Grimaldii' or 'Double White' would have so much more fragrance.  See?  I told you it was minor!
In a nutshell
I've always told my clients who were just dipping their toes into the world of gardening to run out and buy this book.  Now I'm going to insist on it.  If I only had one book to recommend to a gardener, this would be it.
—————————————————————————————————————————————————–
UPDATE:  Congratulations Kathy G., Kim Greene, Becca Harms, Nicholas Daunoy and Debby – you're the lucky winners!  Just send me your address via email and Sunset will send the book to you!  I hope you enjoy it as much as I did.  And thanks for your comments, everyone.  I never respond when running a contest as I don't want to skew the random number generator, but I really enjoy reading them (and some definitely made me laugh out loud!!) 
Ready to win your own copy?  I have FIVE books to give away!  Just leave a comment letting me know either 1) what your favorite plant is, or 2) why you'd love this book and I'll randomly choose a winner on March 14th.  Please know that I won't be answering your comments as it'll mess up the random-number generator that I use to determine the winners.  But I read them all and am loving what you all have to say!!  🙂
A few more details:  The winner will be randomly chosen by midnight March 14, 2012, and contacted within 24 hours. If the proposed winner forfeits or does not claim the prize by March 21st, the prize will be re-awarded based on the sponsor's sole discretion. All prizes will be awarded. Please provide your name and email to enter this contest, so I can immediately contact you if you win. The winner agrees to allow his/her first name to be mentioned in conjunction with this giveaway.
The number of eligible entries will determine the odds of winning. This giveaway is limited to U.S. residents only, who are over the age of 18 years old. No purchase necessary to win. This sweepstakes is void where prohibited by law (not exactly sure where this might be, but I'd sure hate to live there).  By entering this giveaway, you are agreeing to these conditions.
Disclaimer: This is a sponsored post and yes, the product was provided for me to review. All expressed opinions, however, are absolutely and without a doubt, my own.  Good luck everyone!