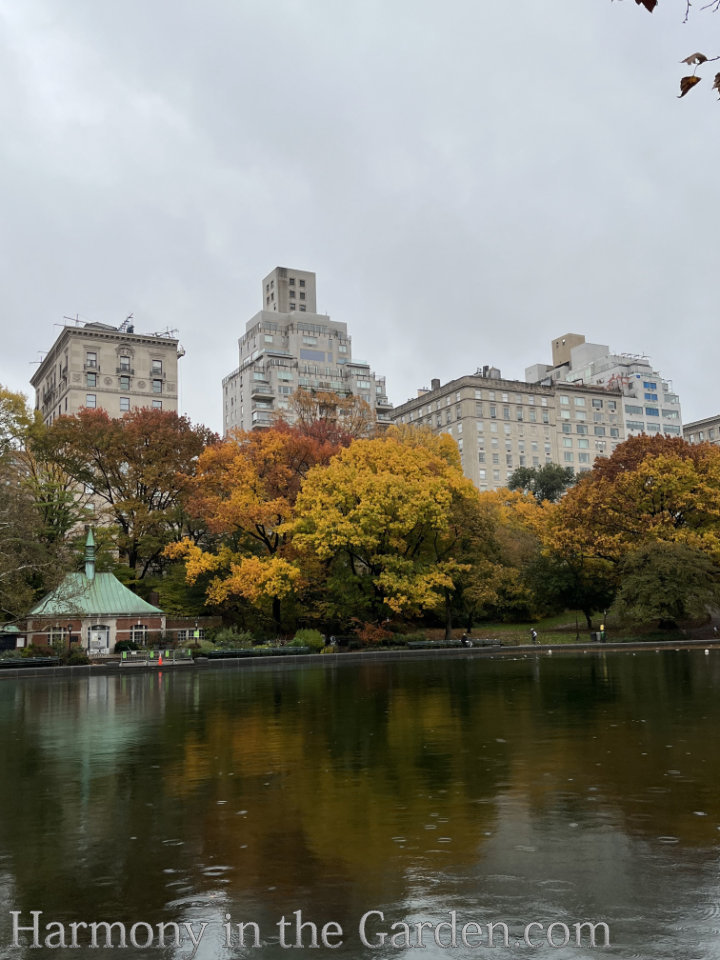 Have any of you heard of the Little Island garden before? 
Well, I sure hadn't, so imagine my surprise when I quite literally stumbled upon this breathtaking fall garden that appeared to float in the Hudson River!
A few weeks ago, my daughter, Emily, and I took a quick trip to New York City. 
It's been forever since we've traveled anywhere, and it was fantastic to get away after the crazy few years we've had.
The purpose was just to have fun, and fun we had! 
We spent the week shopping, going to the theater, enjoying the holiday decorations, and (of course,) visiting some of my favorite gardens to see how they're looking in the late fall.  Like Central Park, featured left and below.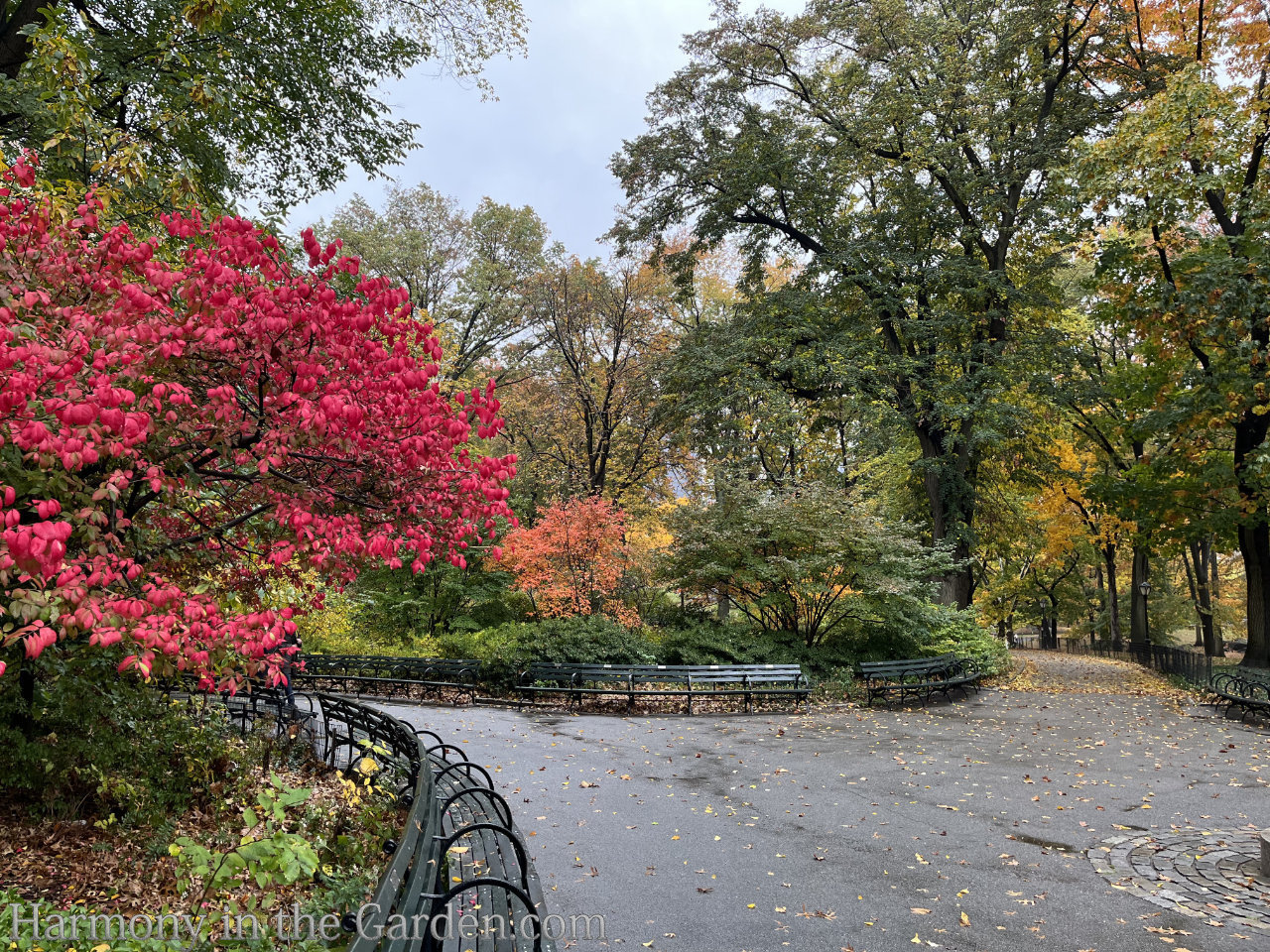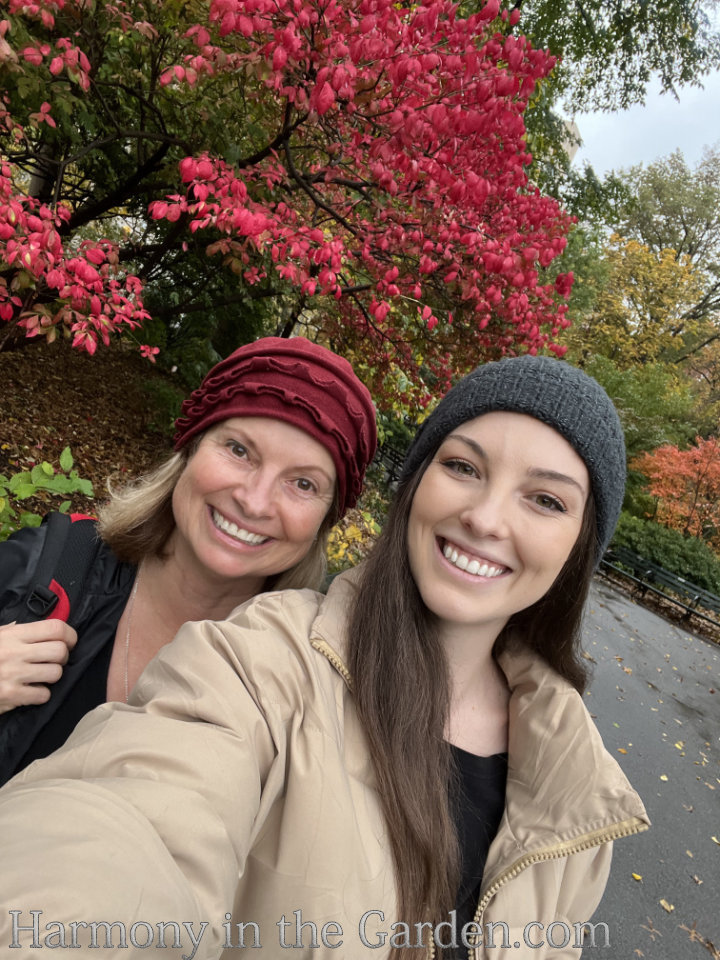 Now that Emily is older, she has finally embraced gardening.  Okay, embrace is a strong word -maybe 'warmed up to' is more accurate. 
However, she actually enjoyed letting me drag her around to garden after garden.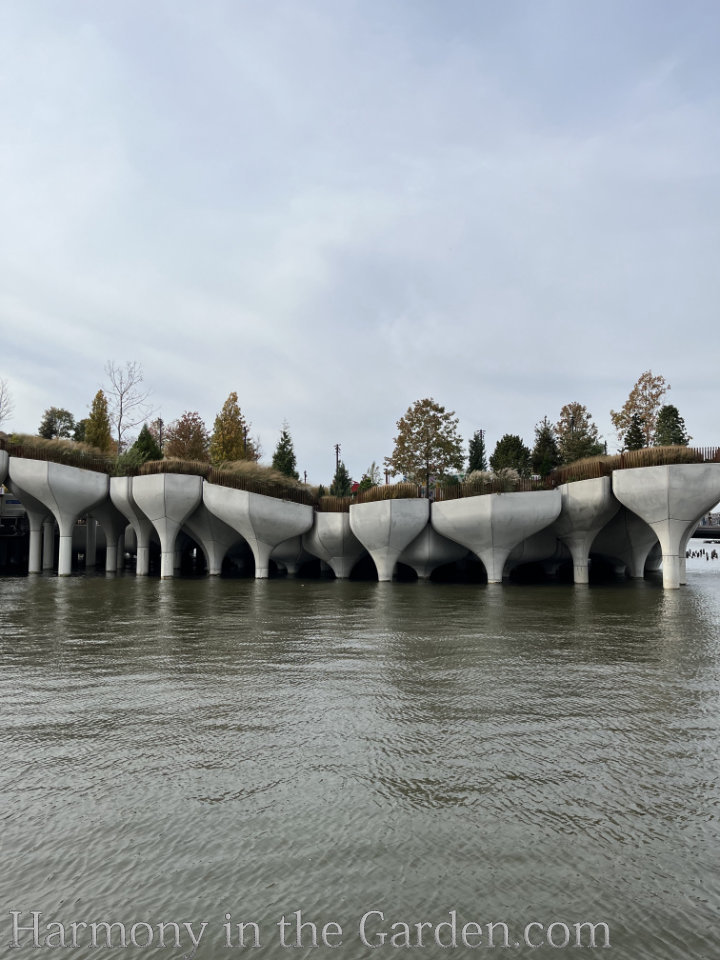 While looking for someplace to have lunch after visiting the Highline, we spotted something far in the distance. 
Whatever it was, it appeared to float in the Hudson River! 
Well, of course, we had to walk down to the river to see what it was. 
I thought I'd died and gone to heaven when I realized this was a floating, public garden. 
And not just any public garden, but an incredible, mind-blowing creation that did, indeed, float among the piers in the Hudson River Park.
Let me introduce you to the Little Island!
Don't feel bad if you've never heard of it, I hadn't either.  And that's most likely because it was planted in March 2020, just as the coronavirus was walloping New York!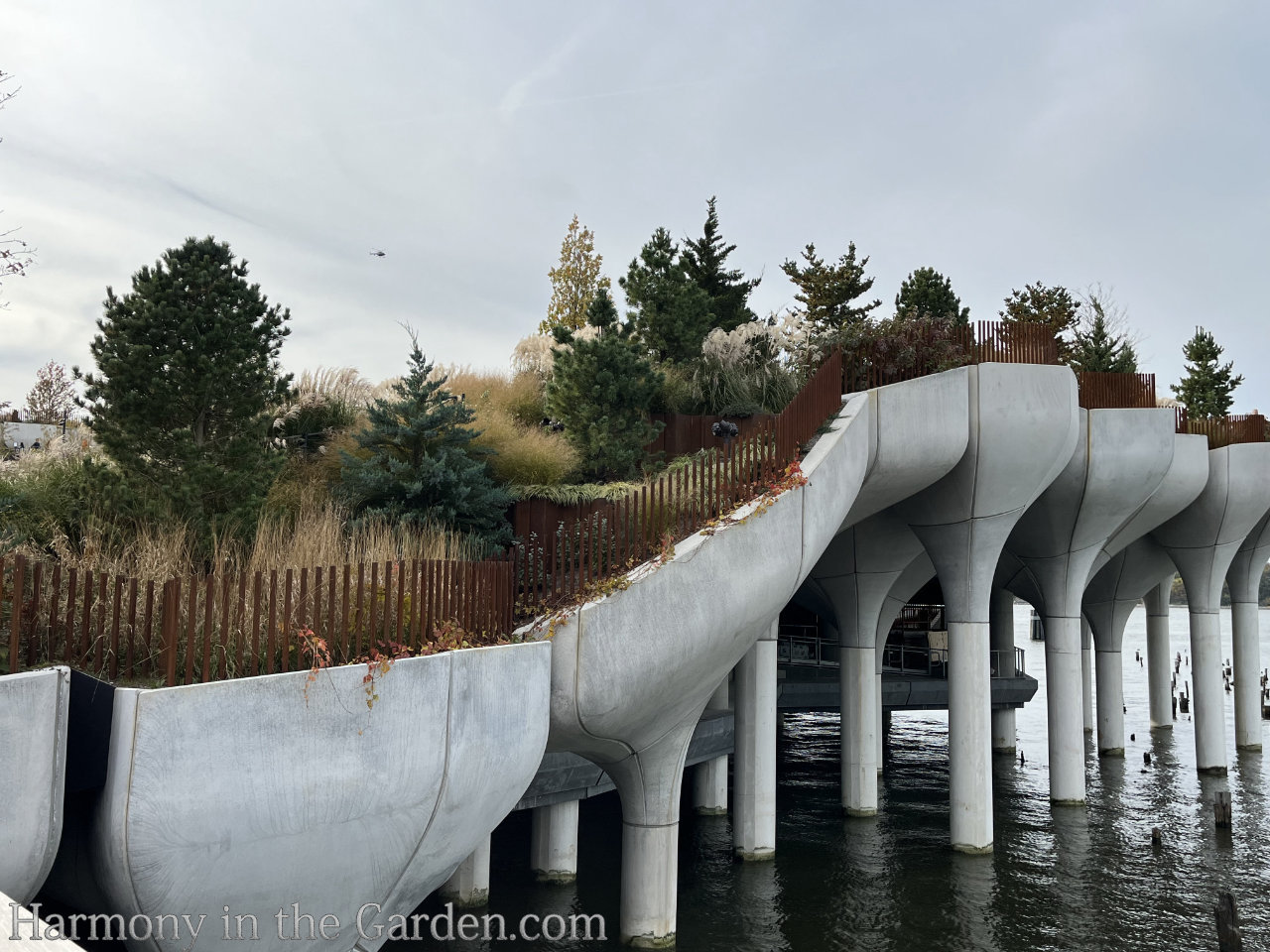 While the idea was conceived in 2013 by mega-donor & media mogul Barry Diller and the Hudson River Park Trust, it took several years to come to fruition.
Signe Nielsen, a principal landscape architect with MNLA, Heatherwick Studio (the design team behind the construction,) and countless other engineers and architects, finally introduced the garden to the public in 2020. 
It's difficult to convey with photos just how unique this space is, so I borrowed these from Heatherwick Studio so you can see an overhead layout and schematic of the garden.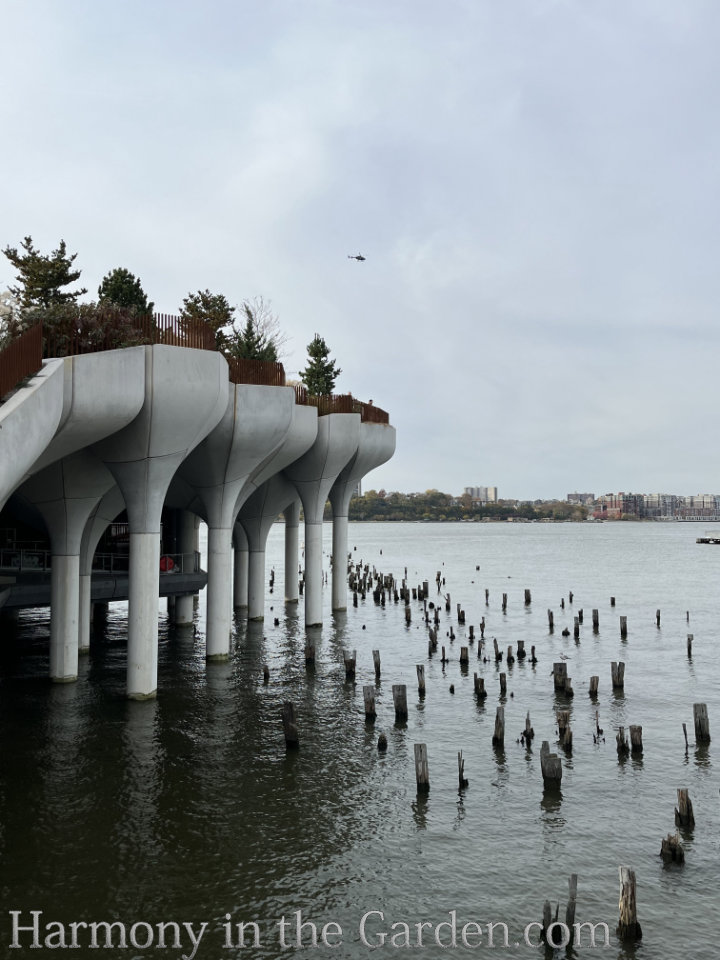 According to Ms. Nielsen, her goal in creating this garden was to have guests feel as if they were going to 'Oz', leaving the city far behind them.
She wanted the journey to the garden to be just as important as the garden itself.
The two bridges that lead you into the 2.4-acre garden are indeed journeys.
As you walk over the water, you're surrounded by pilings of piers past that still peek out of the water.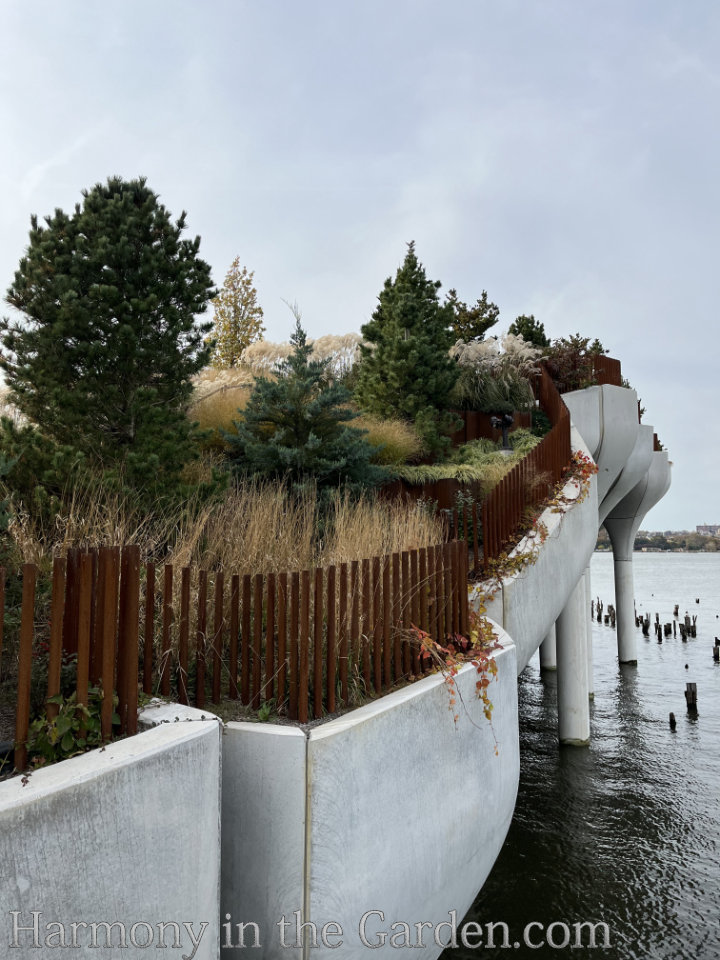 At the end of this journey, when you transition from bridge to garden, this is what you see.
A  gardener's version of 'Oz' to be sure!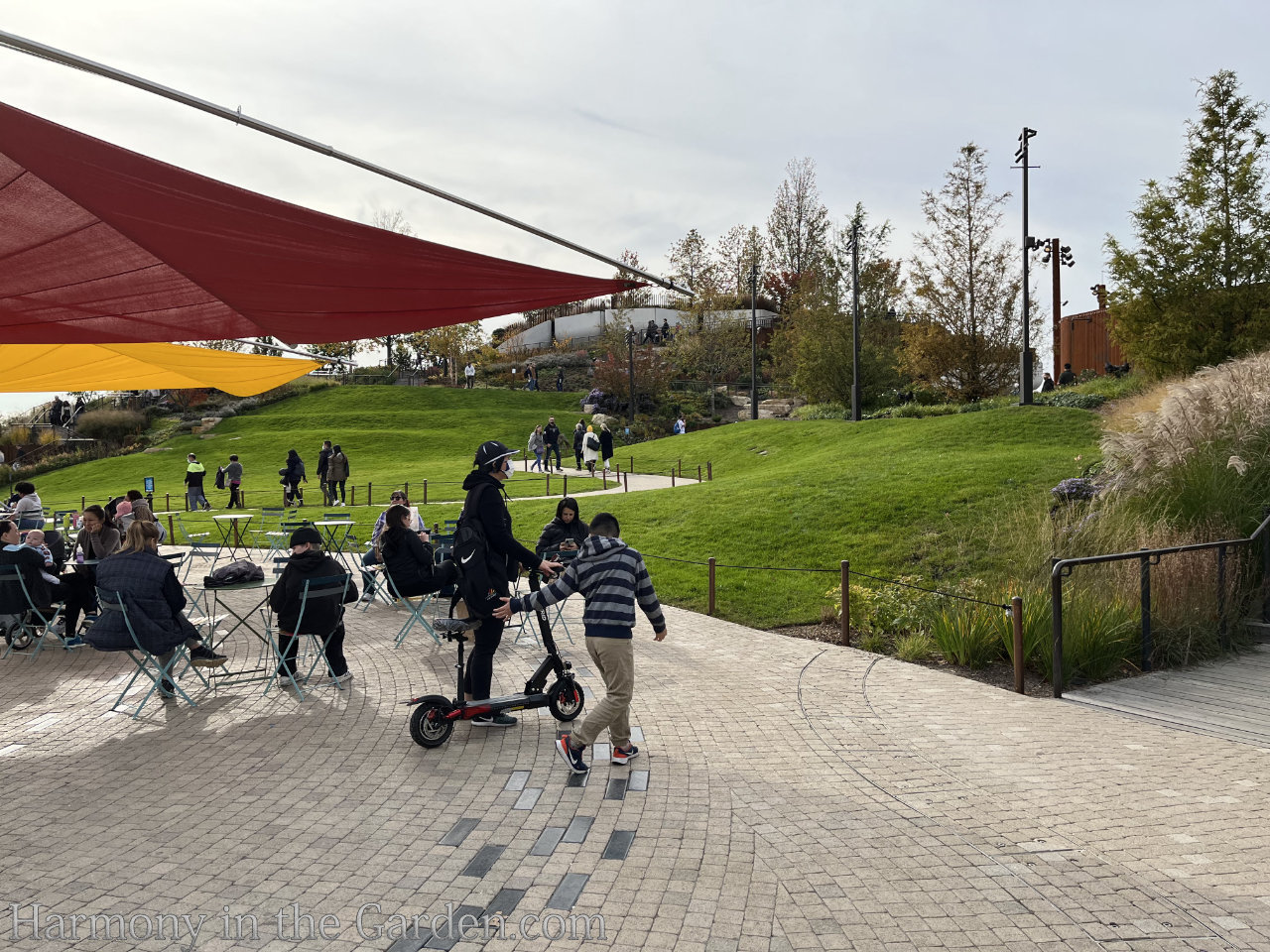 Upon entering the garden (at the park's lowest point), is an area with plenty of expansive lawns for seating, sunning, and playing.
Surrounding these lawns are tasteful play equipment for children, and a 700-seat amphitheater.
Even on this cold and windy day, plenty of children and families are enjoying this space. 
Imagine how fun it is when a special event or concert is happening.  It's such a fantastic addition to the city and another opportunity to bring nature to city kids.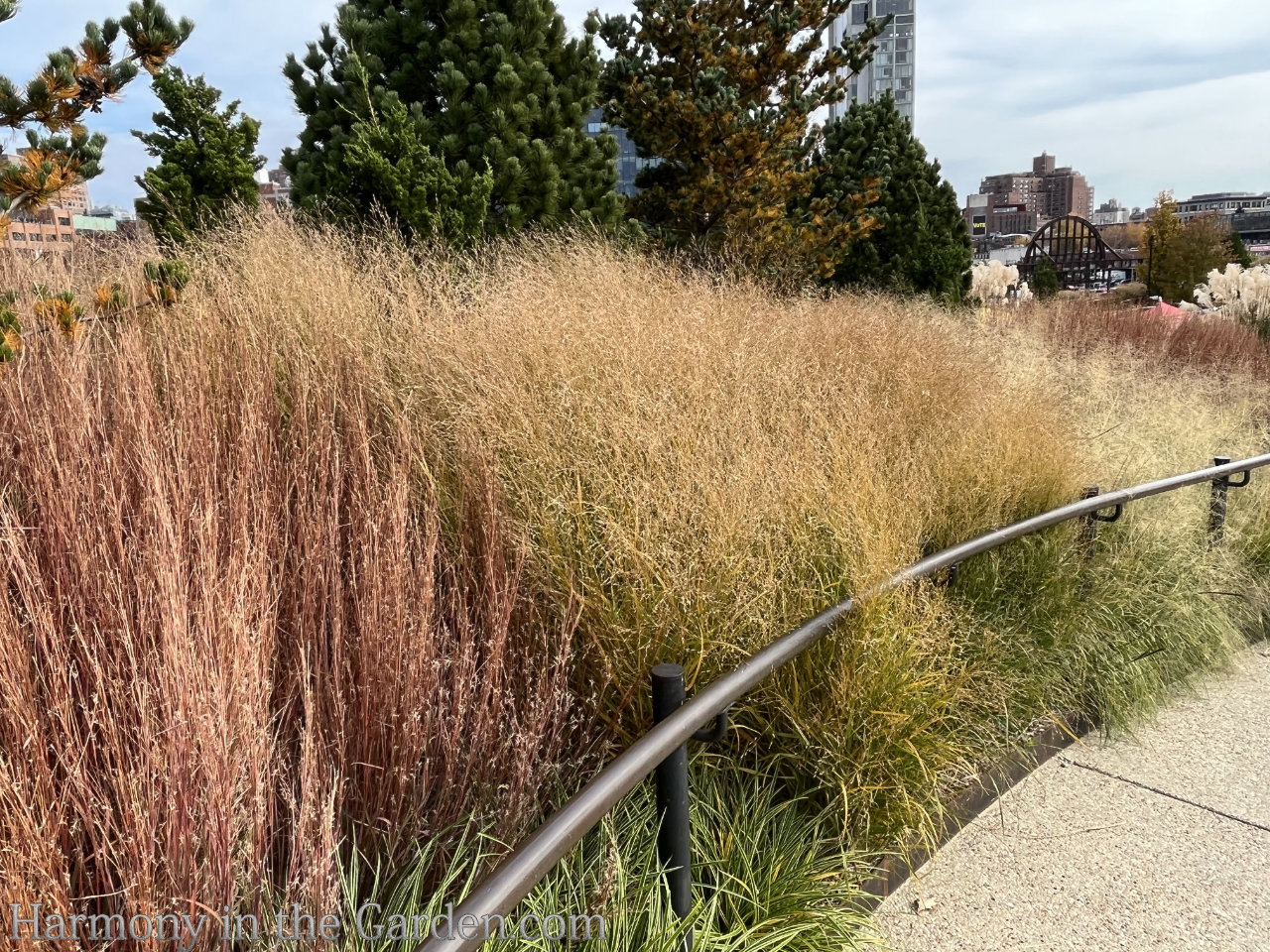 As many of you may know, I am a HUGE fan of grasses (click here for proof!) so you can imagine how much I appreciated Signe's ample use of grasses throughout this space.
And, since it was mid-November when I visited, the grasses were in their full glory.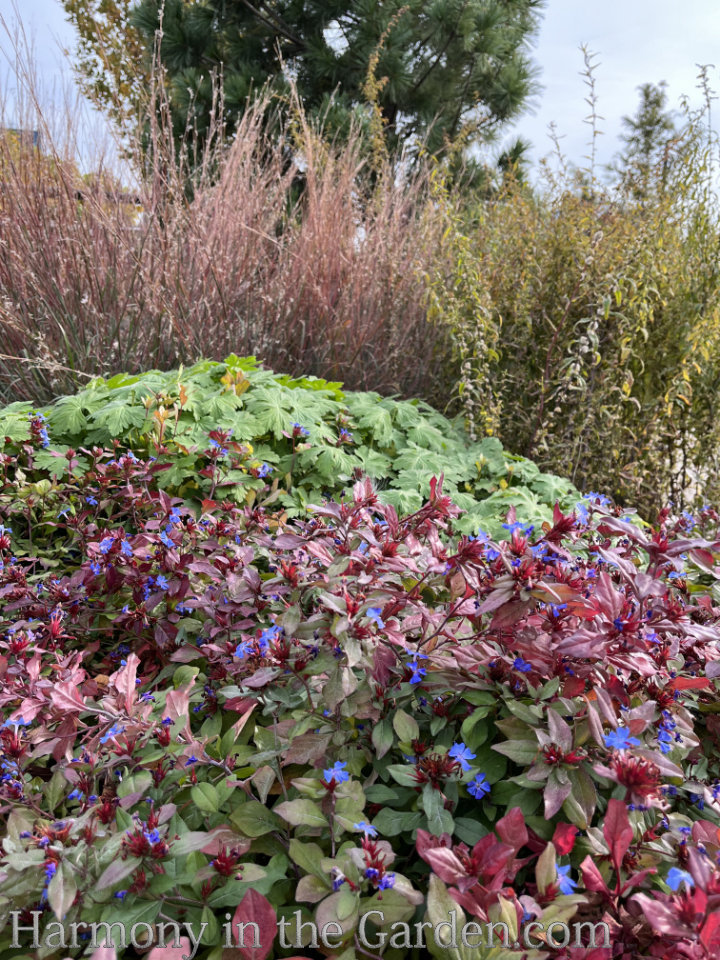 According to Ms. Nielsen, her planting strategy was, what she calls 'the out to the in' – with grasses in the back of the beds and colorful plantings (perennials, bulbs, annuals) closer to the front. 
In this instance you can see the tall grasses in the back, with lower-growing geranium and plumbago ground cover in the front.
This is also a technique used in many traditional garden beds, placing taller plants in the back with shorter ones up front.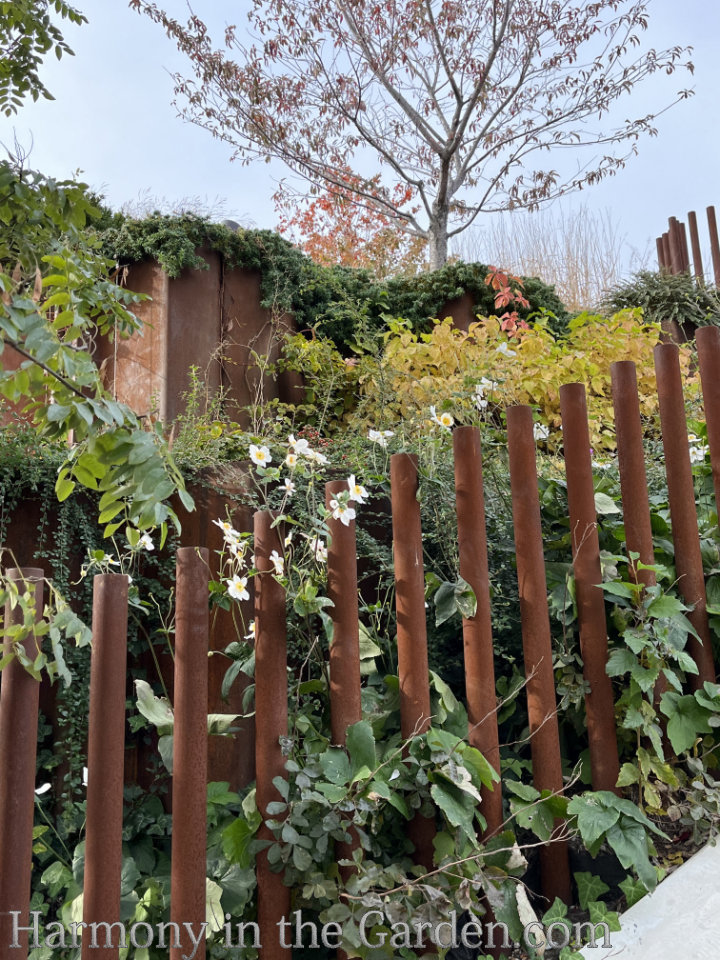 Weathered steel columns and walls, with the same warm, rusty hues of the grasses and fall colors, provide structure and support for the garden beds.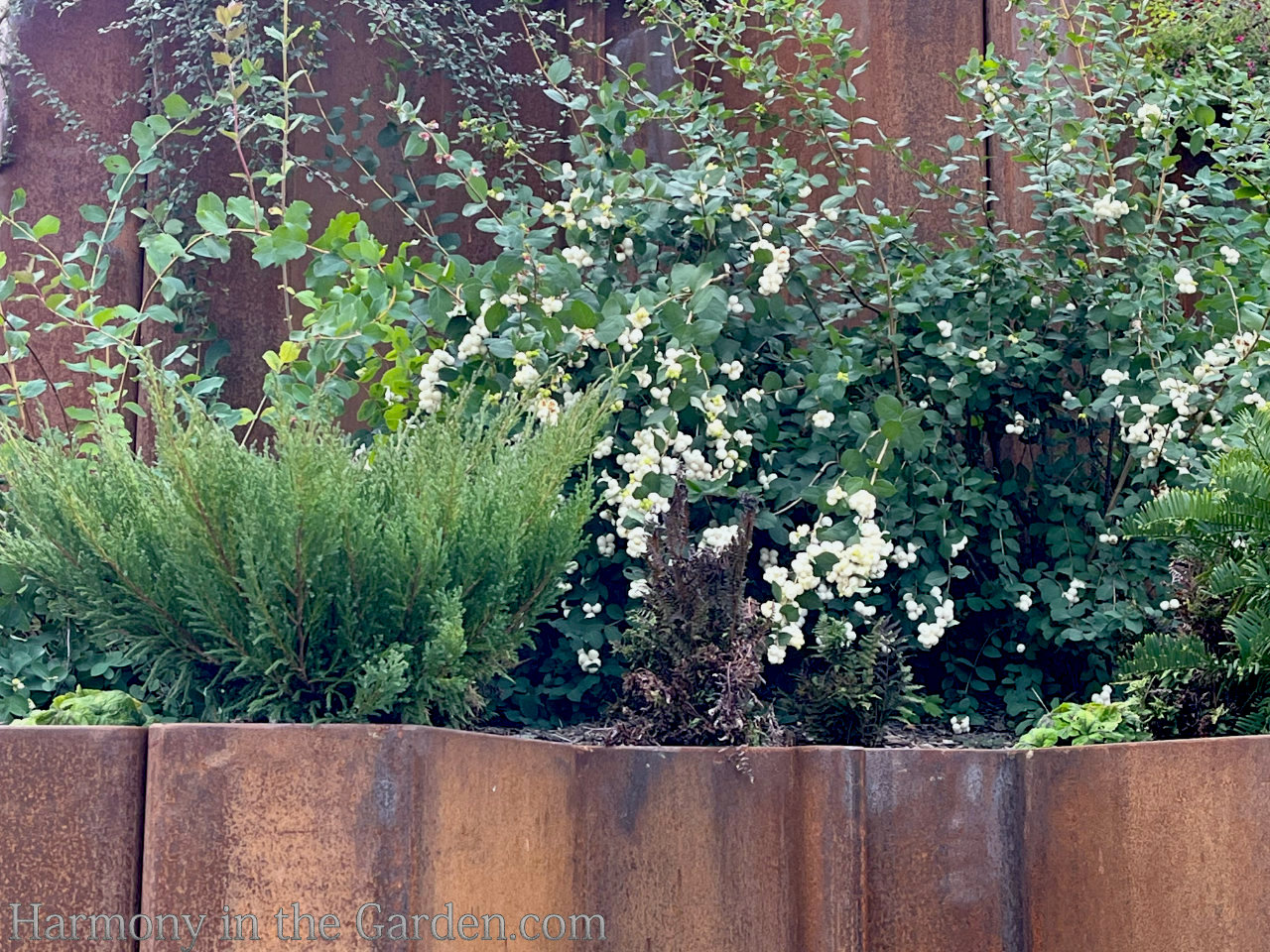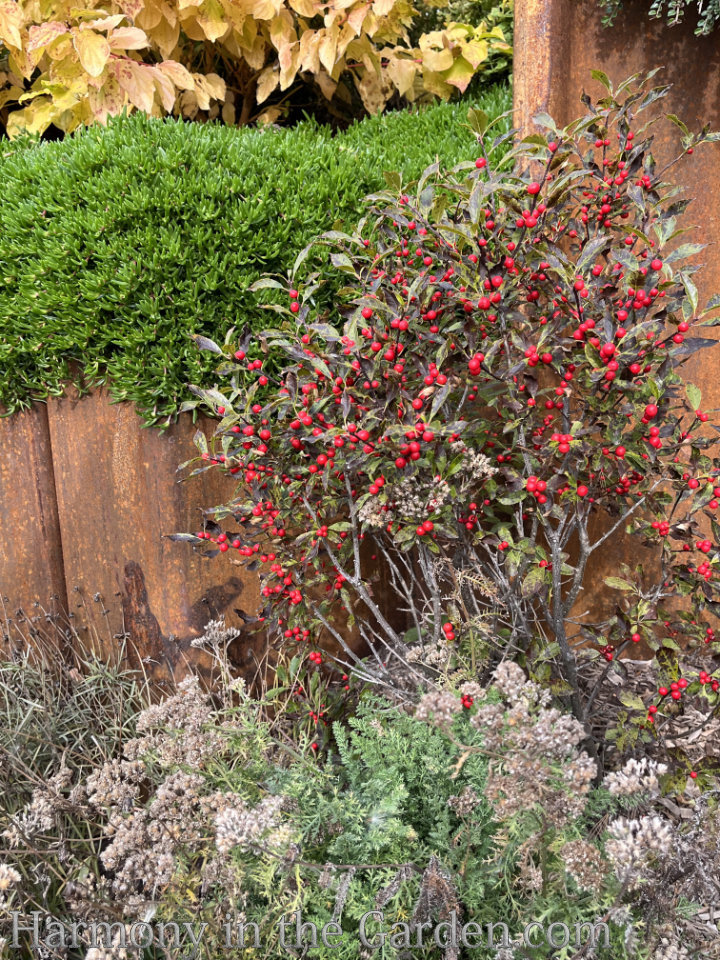 I especially appreciate that she didn't forget the colder months, including many plants with fall and winter interest.
These include plants with plenty of texture, fall colors, seed heads left on the plants, and colorful berries – all ways to have a four-season garden.  
Examples here are Snowberry (above), Winterberry Holly (left), viburnum, rose hips, and the seeds of blackberry lily, below.
Can you imagine the environmental challenges of creating a garden that thrives in a maritime environment? 
Just think of the salt spray, urban pollution and freezing, high winds (makes me embarrassed to complain about my hot summers!)  
Here are a few more interesting facts about this amazing garden: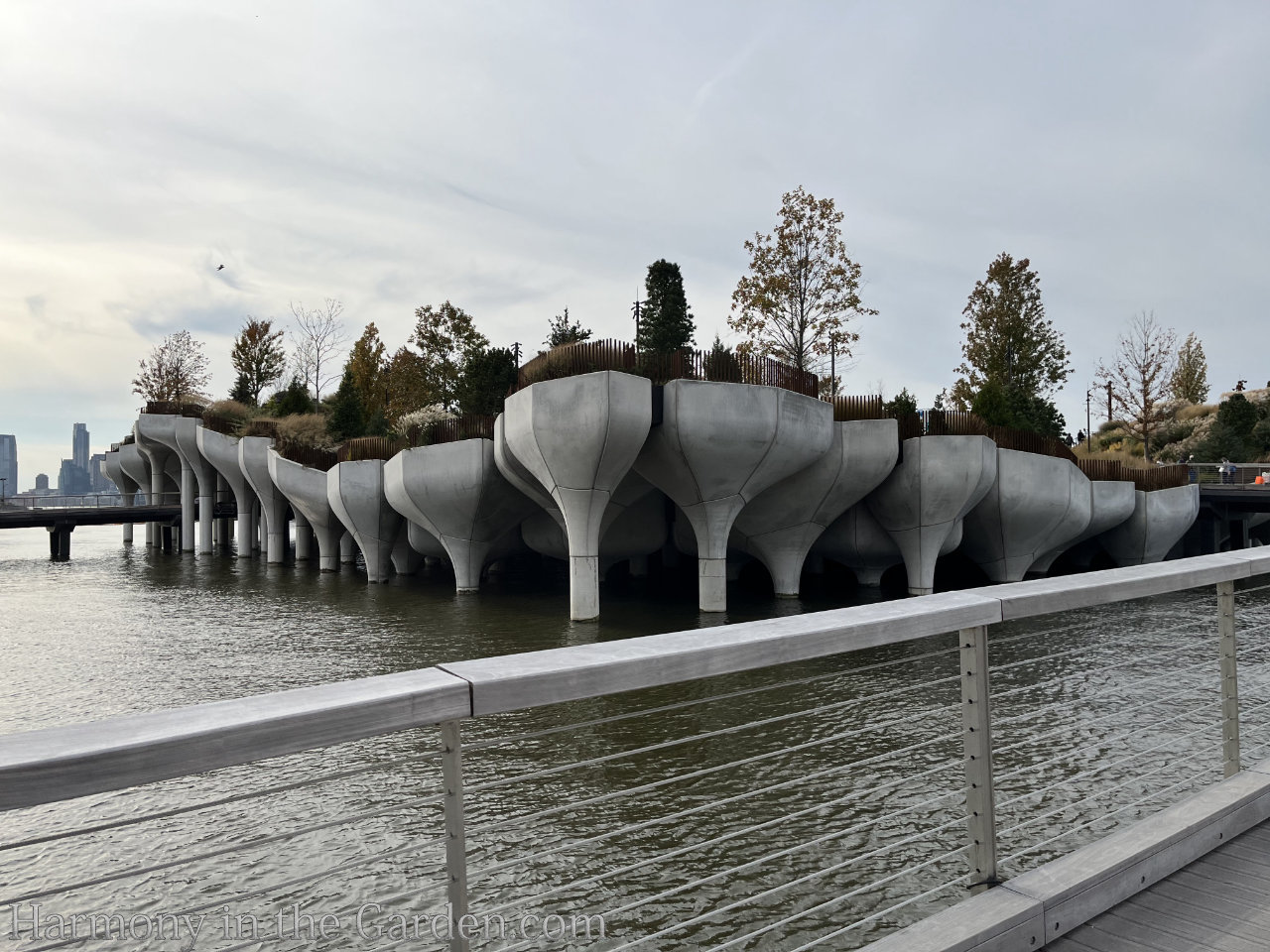 -It rises from the remnants of historic Pier 54 (which Hurricane Sandy destroyed in 2012)  Why is this pier historic?
In 1912, the Titanic survivors arrived to safety on this pier.
In 1915, remember the tragic 'Lusitania', sunk by the German U-boats five days later in World War 1?  It departed from Pier 54.
– The giant concrete structures are referred to as 'tulip pots'. 
– There are 132 of these pots, which hold up the island and are configured to support various load capacities.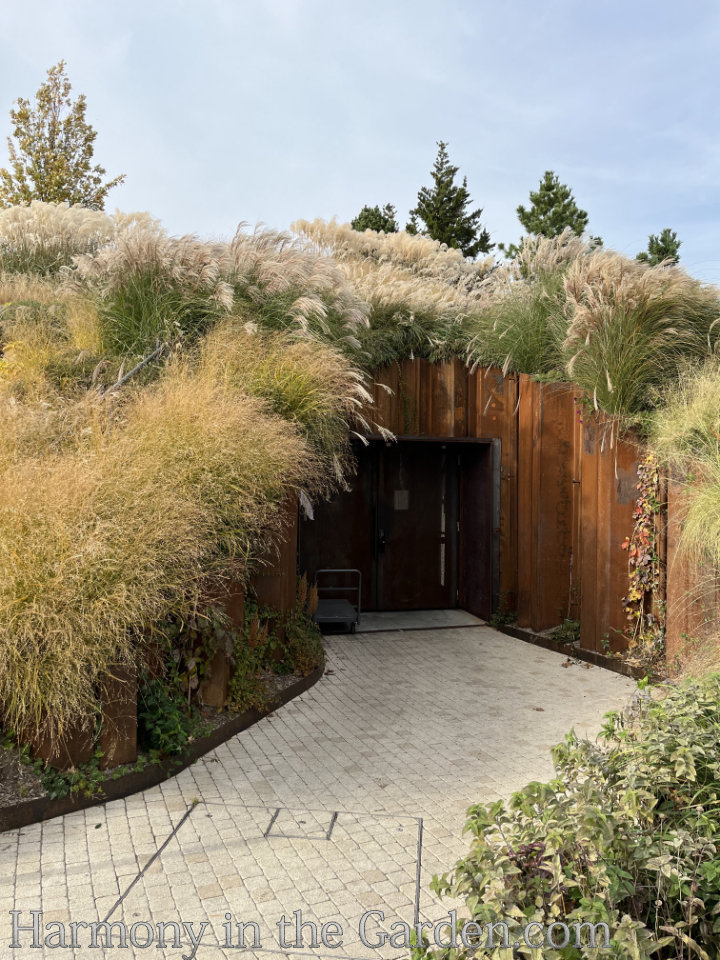 – The garden is a perfect square (320'x320') but feels so much more expansive because of the topography, the various views, and the winding pathways.
– There are 35 species of trees (70% of the deciduous trees are native,) 65 varieties of shrubs, 270 varieties of grasses, vines, perennials, and 66,000 bulbs!
– There are 114 trees, all planted in 2020.  Yep, that recently!  To achieve an old-growth effect, 19 of these are what they call 'hero trees' – weighing 16 to 20K pounds!  
– The soil depth ranges from just 14" for the turf to 6-feet for the trees. 
As you can probably tell, I'm a huge fan of this public garden and hope you can visit it one day!
For more information, I HIGHLY recommend listening to these interesting and detailed videos from Signe Nielsen.
A short version is here.
A more in-depth version is here.