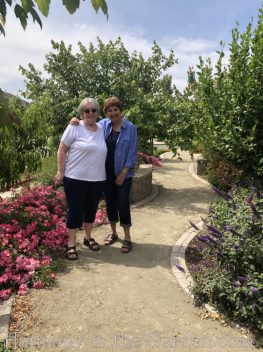 At one time or another, most of us have said 'gardening is therapy,' right? But seeing an actual therapeutic garden work its magic right in front of me is a whole different experience.
Recently, my mother and I visited my mom's cousin, Carol, to see the incredible garden she helped create for her adult daughter, Karen.
Karen has nonverbal autism, in addition to being blind since she was nine years old.
A few years ago, Carol enlisted the help of a local garden designer (Shelby's Garden Landscape & Garden Design) to help create a garden not only for Karen but also for herself.
As Karen's primary caregiver 24/7, Carol needed the garden to also serve as her sanctuary when feeling a bit housebound.
The back yard is primarily for the pool (which helps Karen to stay active), so the new garden needed to be created along the side and in the front yard.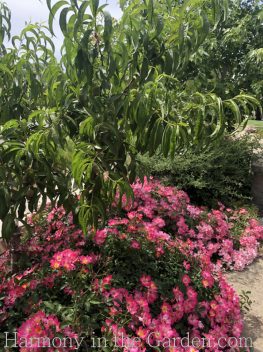 Carol grew up on a farm, so it was important she honored her past.
Despite the small size of this garden, she made sure to include fruit trees that reminded her of bygone days – including peach, apple, lemon, orange, cherry, and even a fig tree.
Oh, and lilacs in remembrance of her grandmother. So many memories in this garden!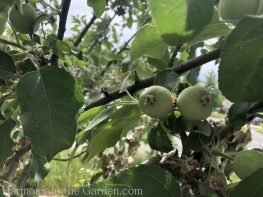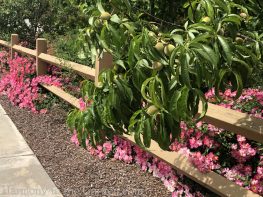 What does she do with all this fruit?
When ripe, Carol sets out a sign letting the neighborhood kids know to feel free to come and pick as much fruit as they'd like.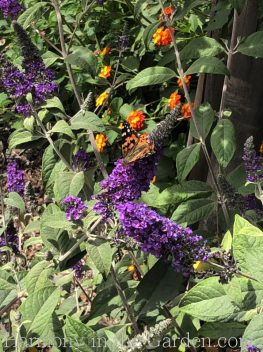 It's clear the designer spent a lot of time getting to know Karen to understand what her physical needs are and how best to help.
Even though Karen lost her eyesight as a young child, she remembers butterflies, which is why it was so important to include butterfly-magnets such as lantana and butterfly bushes.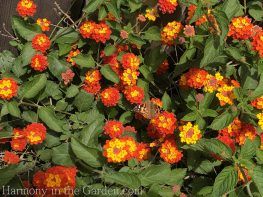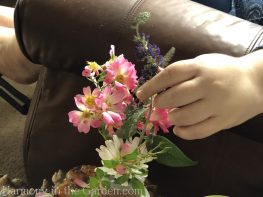 Karen is incredibly tactile, so each day mom and daughter stroll through the garden to pick a small bouquet to place next to her favorite chair.
While visiting inside, I watched as Karen sat and gently caressed her flowers the entire time we were there.

Touch is vital for Karen, so the emphasis was placed on very tactile surfaces, such as the flat and smooth boulders placed throughout the garden (which Karen loves touching when they're warmed by the sun.)
The small Japanese maple develops winged seedpods which are also appealing for her to touch, as are the rough leaves of lemon verbena and the oh-so-soft lamb's ear.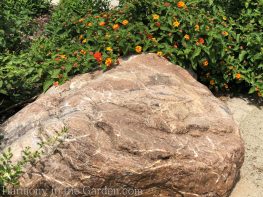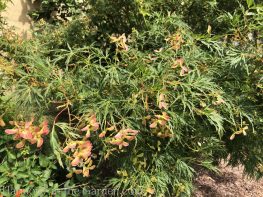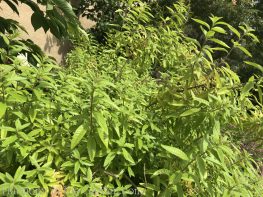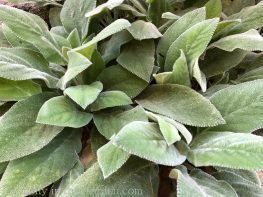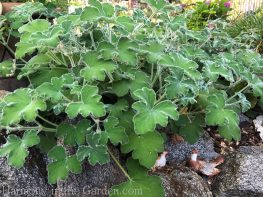 As a gift, I brought a cutting of my peppermint-scented geranium (geranium tomentosum).
It has the softest leaves I've ever touched and just wait until they smell the minty leaves!

Just as important as touch, is scent. Plants such as lemon verbena, lavender, and rosemary border the pathways waiting to release their delicious smells when brushed against. Other flowers, such as jasmine, and the blossoms from the orange tree also help to perfume the air.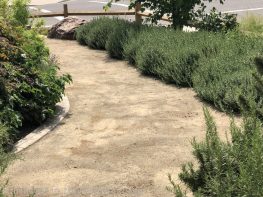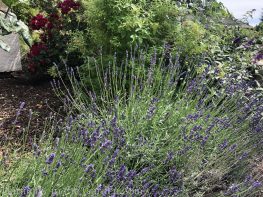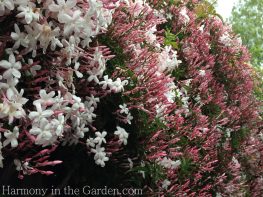 I shared one of my favorite tricks to extend a jasmine vine's fragrance.
When possible, I like to plant pink jasmine (jasminum polyanthum) next to star jasmine (trachelospermum jasminoides), as the two plants will bloom in succession.
Once the pink jasmine stops blooming the star jasmine kicks right in, providing seven to eight weeks of glorious scent.

Throughout the garden are wide and gently curving pathways made of decomposed granite. This material provides a soft and consistent surface for Karen to navigate, as well as offering a pleasing crunching sound.
Bordering the pathways are several low seating walls for Karen and Carol to sit while listening to the hummingbirds, and inhaling the scents of the garden.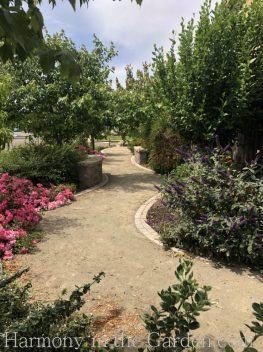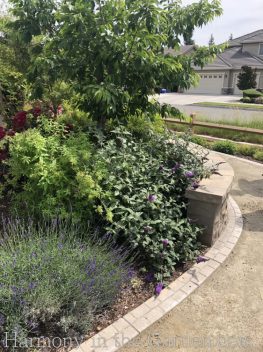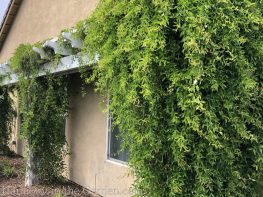 Even the contractor (Harvey's Landscaping) contributed his thoughtful touches to this garden.
Having two special need children himself, he was very in tune with the importance of adding meaningful touches whenever possible.
For example, he built a pergola just outside of the window where Karen likes to sit, hanging a wind-chime to provide its gentle sounds.
He then covered the pergola with a Carolina jessamine (gelsemium sempervirens) vine to display its cascading yellow flowers (yellow used to be Karen's favorite color).

And to top off this already amazing garden,  Carol insisted her garden be as sustainable as possible – all organic with no pesticides allowed.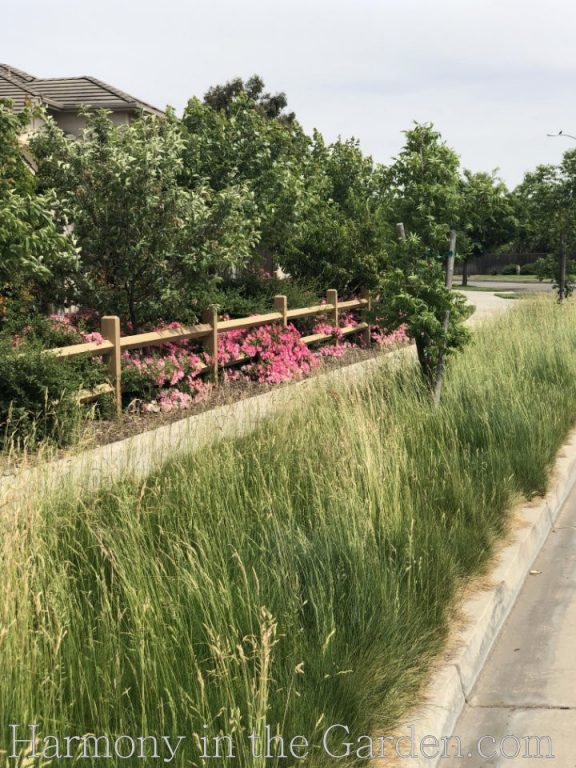 She replaced the skinny front lawn sections that were currently in the 'hellstrips' with a blend of low-water grasses.
Watching the grasses wave softly in the wind is mesmerizing, and is a welcome sight on suburban streets filled with endless lawns.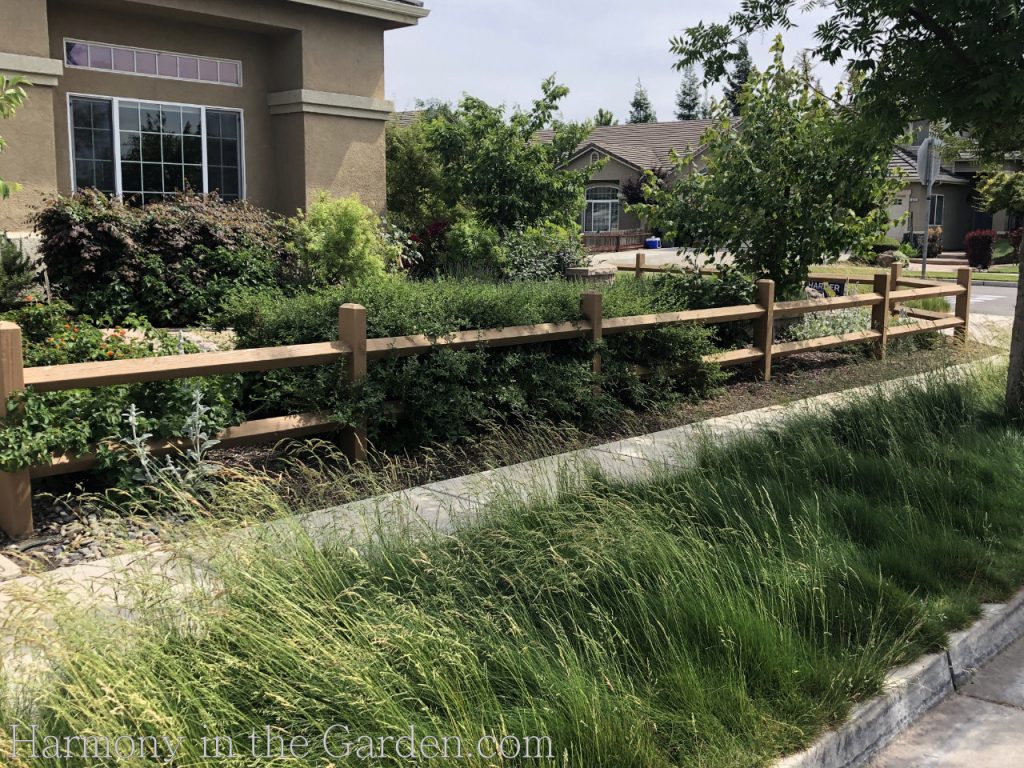 Now, do you see why I say this is one of the most meaningful gardens I've seen?
Small but mighty are two words that come to mind.  Mighty in memories both past and present, and in providing joy to Carol, Karen, and the entire neighborhood, as well.
For a few more gardens designed to help body and spirit, click here and here.