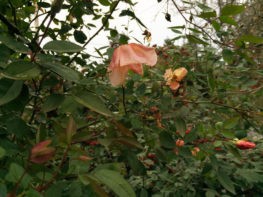 When the garden begins to shut down and take on its melancholy tones this time of year, I often think of my grandmother.
I don't know why, exactly, but one of the things I often remember is her empathy for fading flowers.
Roses, in particular, that are just a bit past their prime and barely hanging on. 'Oh, don't prune that one quite yet – it's still so pretty' she'd say as I'd help her clean up in the garden.
Or, if I'd begin to tidy up an older bouquet of flowers in the house, she wouldn't want me to throw out any flowers that still had a hint of life to them.
As I look back on this sentiment coming from a woman in her 80's, the poignancy of her feelings weren't lost on me.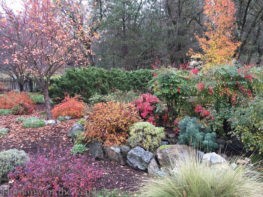 I just returned from visiting my parents this past week to help out as my mother had to undergo heart surgery (all is well, thank heavens).
My father and I had plenty of time walking through their cold and frosty garden together, contemplating life and watching the winter season unfurl before us.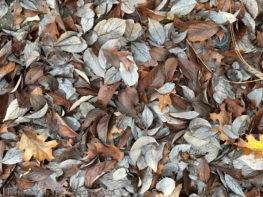 I was particularly fascinated by the sheer quantity of leaves that have accumulated everywhere.
Black oaks abound here (17 in their garden to be exact), along with dogwoods, crepe myrtles, and pine.
He reminded me that in addition to leaving flowers to finish out their days in the garden, my grandmother also used to dread the day when the leaves needed to be raked up.
She much preferred seeing them remain just 'one more day' in the garden.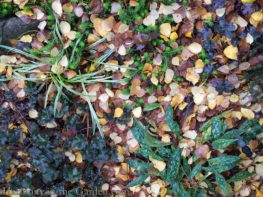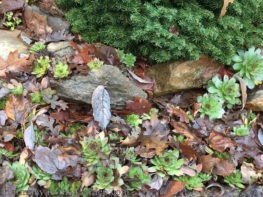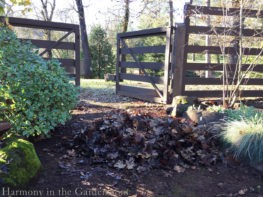 After photographing the endless amounts of leaves, my dad and I spent HOURS over the next two days raking and raking and raking until I thought my arms would fall off.
While I thoroughly enjoyed working in the garden, I won't deny this was a back-breaking chore.
We filled my dad's trailer with mounds of leaves while barely making a dent.
I'm beginning to see why my grandmother wanted to leave them in the garden just one more day.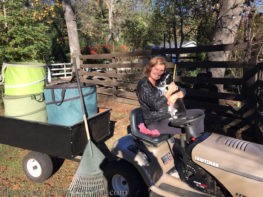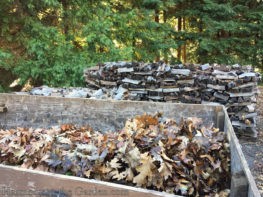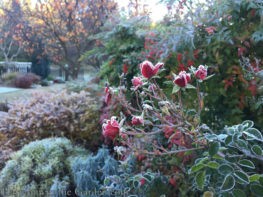 The temperatures dipped down into the low 20's every morning, and I would bundle up to wander outside with my camera.
I just love how the traces of frost highlight the shape and texture of the last remaining flowers and leaves.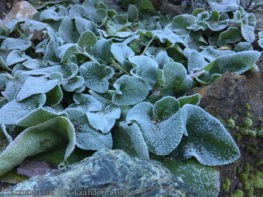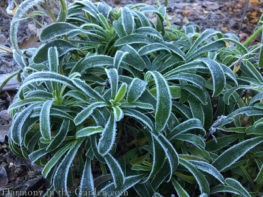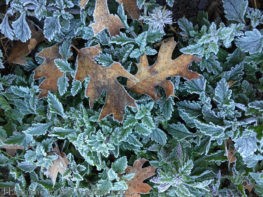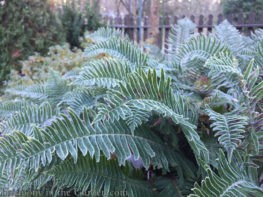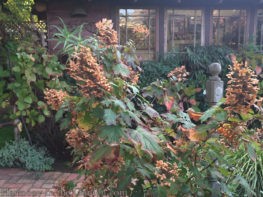 I think my own gardening style tends to mirror that of my grandmother's.
I, too, always wait until the last possible moment to cut down the last remaining stalwarts in my garden.
Of course, if I wait too long they'll become obliterated once the first strong winds and rain hit – but that usually doesn't happen for a few more weeks.
Here are some of my favorites this time of year, adding subtle textural and structural interest.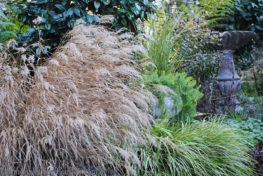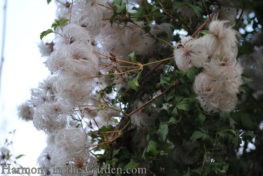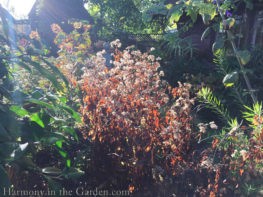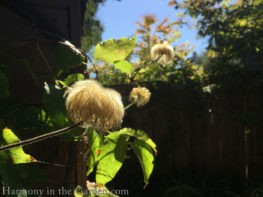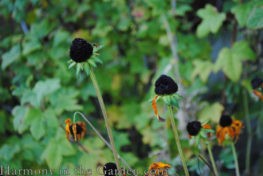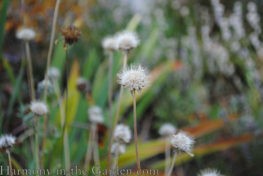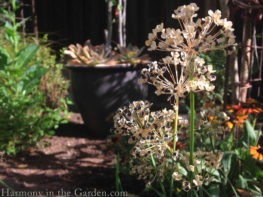 In addition to the dried grasses and feathery clematis seed heads, one of my favorite early winter beauties are dried chive flowers.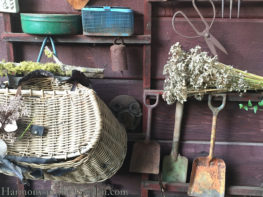 The dried flowers are surprisingly sturdy once picked and bundled together will last for months tucked alongside my old tool collection.
So for now, I take my time in saying a temporary goodbye to the perennials in my garden, savoring the last fleeting moments before their long winter nap.