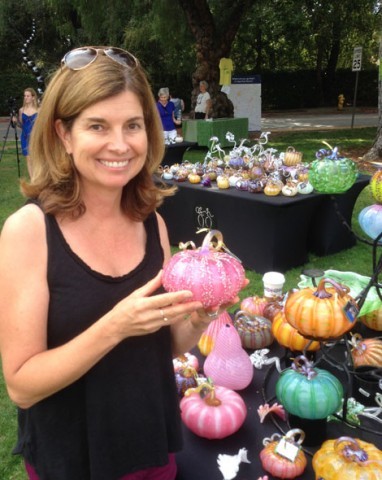 One of the things I look forward to each year is the moment when fall finally shows up, usually announced by the arrival of the The Great Glass Pumpkin Patch.
This year was a little earlier than usual as my hometown got a jump on things and had their own glass pumpkin festival a few weeks ago.  I've always found something magical about these beautiful pieces of art, their different shapes, sizes and colors all making it virtually impossible to choose which treasure to take home.
This year, however, the choice was simple.  The pretty pink pumpkin tucked among the more traditional oranges and yellows called to me as a beacon of hope as just a few weeks ago I was diagnosed with breast cancer.
While I have quite the 'journey' ahead of me, (I use this term loosely as it's one often associated with breast cancer and for whatever reason I just hate it.  I associate the word journey with things that are fun, like a vacation – not cancer.  But I digress…)
I know that when fall is over and I carefully pack my pumpkin away with the rest of my collection, I'll forget about it.  Until I pull it out again next year at this time when my 'journey' will have come to an end.  And I can only imagine the thrill it'll give me knowing that I've gone through the unknown and come out just fine.  I can't wait to unpack my pink pumpkin!
I'm sharing this with you as my particular type of cancer (called Her2+) requires immediate chemotherapy, so when I see you next in person I'll definitely look a little different.  This cancer has an incredibly high cure rate (something like 98%), I'm stage 1, and I have the widest and strongest net of support anyone could ask for.  I feel unbelievably blessed.
So in the meantime, I'll carry on.  I'll continue writing this blog, consulting, and traveling to speak to various garden clubs and organizations.  While I might slow down just a bit, I have no plans on stopping.  These are all things I love to do and they add so much to my life.
Okay – now that this is out of the way, let's get back to gardening!