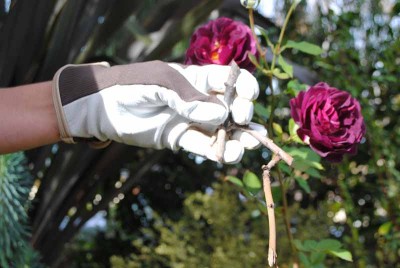 It's time for another holiday giveaway, but HURRY – this contest ends December 5th!
A few weeks ago I was given the opportunity to review a pair of Fields & Lane gardening gloves as well as offer a contest for my readers.  And all I can say is HOLY COW, I LOVE these gloves!
Gardening gloves are normally something I go through at the speed of light.  I'm very hard on them, and they seem to last about a month or so before I blow out the fingertips.  I'll admit, I don't spend much on my gloves, probably in the $5-10 range, but I figure since I'm so rough with them why spend more?  I also don't spend a fortune on sunglasses since I'm always losing or breaking them, but that's another story.
I'm also really picky about my gloves since I don't want anything thick and cumbersome, preferring to feel whatever I'm touching. In fact, I'd prefer to garden bare-handed any day if it didn't completely destroy my skin and nails.  Because of my pickiness, I requested to review a different pair of gloves (the Flex Gardener) than the thicker pairs offered in the contest, knowing I'd prefer the lightweight version.  And after giving them a massive workout this past week I am probably their #1 fan!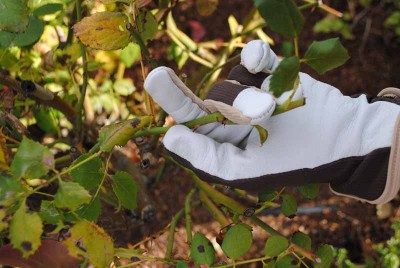 At first I thought they might be a bit snug for me, and therefore drive me crazy.  I had measured my wrist, according to their directions, and ordered the small size.  As soon as I began to garden, though, they felt as if they were custom made for me, quickly conforming to the shape of my hands.  I even forgot I was wearing them when I tried to access the messages on my phone, which I was successfully able to do without taking them off!
The goat leather is fantastic, allowing me to handle pruning thorny rose bushes with ease.  In fact, my daughter didn't believe they could be so puncture-proof so she even tested them for herself and now wants a pair for herself!
Another reason I love goat leather so much is it doesn't get stiff and crackly after its been wet (like my cheap plastic gloves do!)  After gardening all day yesterday, in the wet mud no less, I was able to put my gloves on today and within 5 minutes they had warmed up and felt good as new!
And the breathable fabric on top of the glove lets my hands stay cool all day long – crucial when gardening non-stop.
Fields & Lane is located in Carleton, Oregon and sources all leather within the United States.  The gloves are then assembled in a fair trade factory in Costa Rica. This company impressed me on so many levels, one of the main reasons being its commitment to community.  They're huge into philanthropy and won me over immediately.  See for yourself:
Company & Community

We take our values seriously, integrating them into our business and our personal lives. Our focus on special-needs children has its roots in owner Bob Laughlin and his wife Dorothy's experience with their own daughter Bonnie, who had cerebral palsy.
In 1992 the Laughlins started helping at La Escuela de Ensenanza Especial, a public school for children with special needs in Costa Rica.  Their involvement with the Escuela is really how they got involved with the community there and why we set up shop in San Isidro.  Our factory has been making semiannual donations to La Escuela since we started producing in 1995.
The factory also makes monthly donations to support two homes, or hogares, for community members with special needs in San Isidro.  Hogar Manuel is a group home for adults with disability.  Hogar Bethania is a care center for adults in their last years of life, average age over 80.
We've also helped the victims of the Haiti earthquake and the 9/11 attacks by donating our work gloves to support the relief efforts after those disasters, shipping over 900 pairs to Haiti and 2400 pairs to relier workers after 9/11.
Okay, so what's the prize?
The Fields & Lane Prize Package: One lucky Gossip in the Garden reader will win 2 pairs of gloves, including 1 pair of Forester gloves (valued at $27; men's and women's sizes available) shown on the right, AND 1 pair of Wave gloves (valued at $29.35; only women's sizes) shown on the left.
2 Ways to Enter this contest  It's easy to enter this giveaway! Just do one the following before midnight on December 5, 2011:
1)      Leave a comment on this site telling me why you want these gloves, what you look for in gardening gloves, any tips you might have, etc.
2)      Or you can also head over to the Fields & Lane Facebook page and sign up on the company's mailing list.  Just make sure you leave me a comment letting me know you did that!
A few more details:  The winner will be chosen at random by Dec. 7, 2011 and contacted within 24 hours. If the proposed winner forfeits or does not claim the prize by Dec. 12, 2011, the prize will be re-awarded based on the sponsor's sole discretion. All prizes will be awarded. Please provide your name and email to enter this contest, so I can immediately contact you if you win. The winner agrees to allow his/her first name to be mentioned in conjunction with this giveaway.
The number of eligible entries will determine the odds of winning. This giveaway is limited to U.S. residents only, who are over the age of 18 years old. NO PURCHASE NECESSARY TO WIN. This sweepstakes is VOID WHERE PROHIBITED BY LAW.  By entering this giveaway, you are agreeing to these conditions.
Disclaimer: This is a sponsored post, and product and compensation were provided. All expressed opinions, however, are absolutely and without a doubt, my own.
Don't forget!  You must enter this giveaway before midnight on Dec. 5, 2011.
Good luck everyone!
 UPDATE!!!  And the Random Number Generator has chosen…..drum roll please…..Meghan Phillips!  Congratulations Meghan! I'll be contacting you today to get your address!  
Thanks for your comments, everyone.  I truly enjoyed reading them as some were actually quite funny!  I wish I could give each of you a pair, but alas I cannot.  Here's hoping Santa leaves some for you in a few weeks!  🙂