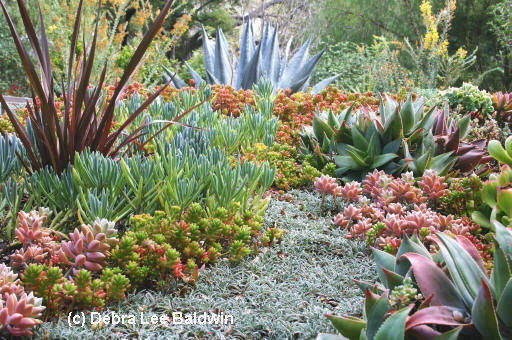 Since there's already so many glowing reviews of Debra Lee Baldwin's Succulent Container Gardens on the internet, I thought I might do something a little different – review the author first, and then review the book.
I mean, really – who doesn't want to know all about the person who wrote the book? I know I do!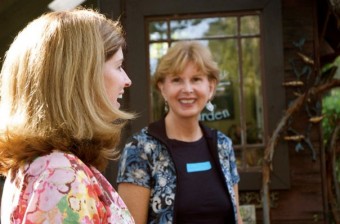 I was fortunate to meet Debra at a party I threw in 2010, in preparation for the San Francisco Garden Show which opened the following day (that's Debra facing the camera), Debra was one of my guests, and I not only spent several hours with her at my party, but several hours the following few days at the show. So here are some things I found out….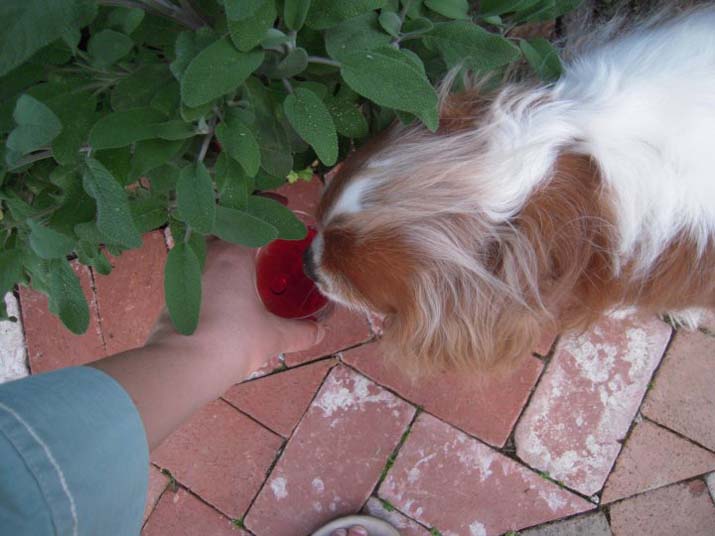 1. She loves small dogs. My dog Daisy and Debra bonded for life. Sure, it might be due to the fact that Debra kept sneaking her treats the whole night – but regardless, they're best friends now. But should she show up at your party – beware! I'm not entirely sure it's beyond her to stuff such a dog into her purse and sneak her home. It's only because she flew here that should couldn't easily snatch her up – and she thought about it too! I heard her saying several times things like 'hmmm…I'm pretty sure I could fit her in the overhead compartment'.
Don't say you weren't warned…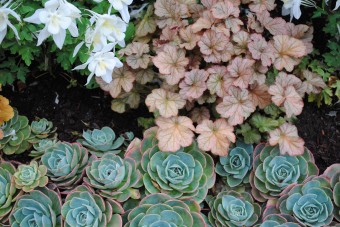 2. You can't take Debra anywhere without her seeing things through the lens of a camera (even when 'the camera' is in her mind's eye). One moment she'll be talking to you, then all of a sudden her eyes will shift to the left and you just KNOW she's seeing something fantastic. And sure enough, she'll point out what a great photo 'such and such' would make. This is one of her favorite plant combinations in my own garden that she kept coming back to – even to the point of telling people about it the next day!!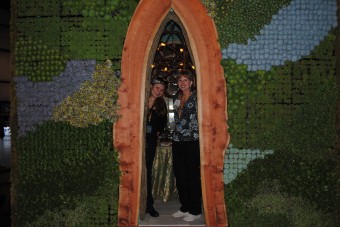 3. Debra has a great sense of humor. Follow her on Twitter @Debrabaldwin or Facebook at Debra Lee Baldwin and you'll see for yourself! She had me laughing the entire time I was with her.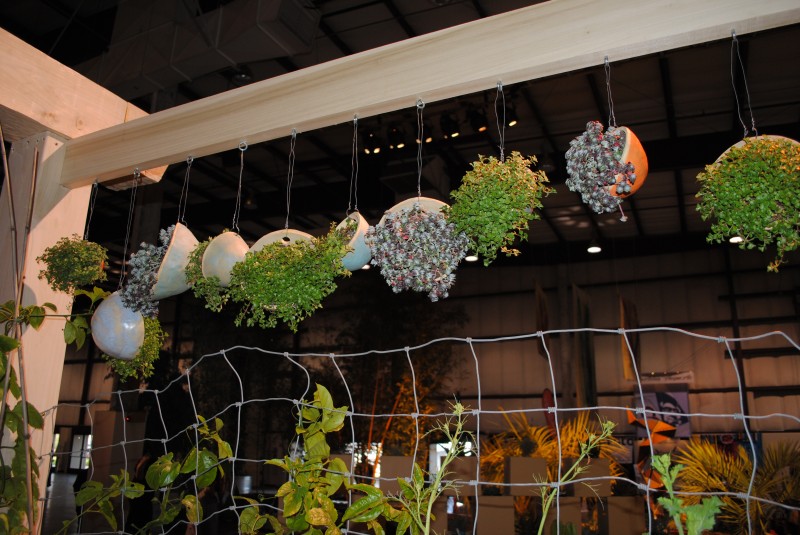 4. Debra also has a great eye and is quite often pointing out things that most of us wouldn't necessarily notice.
Like these succulents, for instance, that were hanging up high in one of the display gardens at the show. I would've walked right on by, but she made me slow down and see how beautiful they really were.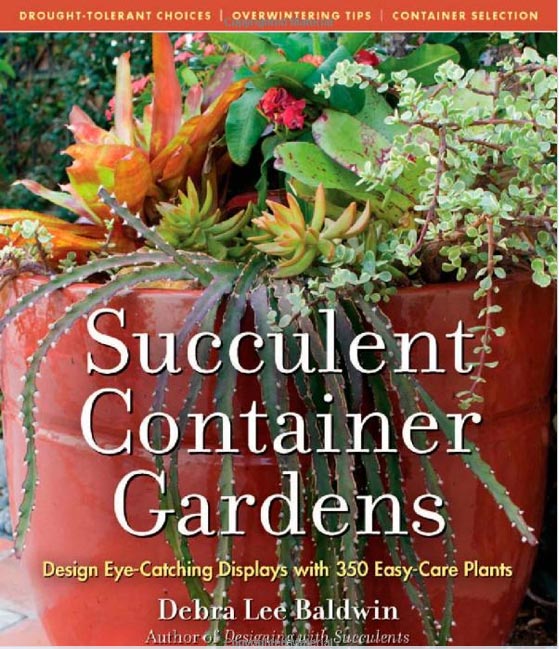 Okay – enough about Debra…now on to the book review!
First of all, I'd like everyone to know that overall, I feel this is the best succulent book I've ever read. If you know me at all, then you know I LOVE succulents. And because I love succulents so much, I've read a ton of succulent related books over the years. So trust me when I say this book rocks!
What makes this book better than the others I've read?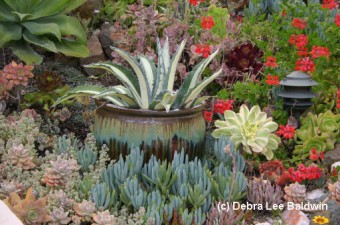 1. Well, for one thing, the photos are TO-DIE-FOR gorgeous.
2 And on top of that, it's written in a very clear and simple format making it ideal for those who are just discovering the joys of succulents and don't quite know where to start. Finally – someone who can explain the basics in an easy to understand manner!
3. But it's not overly simple, or those of us with more experience would find it boring. I don't know how she does it, but she's managed to create the perfect balance of simplicity and complexity, all wrapped up in neat little paragraphs.
4. Have only a few minutes to sit down and read something? Debra's book is full of tips and brief yet engaging informational paragraphs, perfect for those of us who don't have time to spend 45 minutes reading a lengthy chapter of the history of succulents.
In fact my mother came to visit over the weekend and casually picked up this book. My mother is somewhat of a harsh critic, and upon seeing Debra's inscription in my book, my mother exclaimed 'you KNOW her?' When I casually said ' why yes, I do', she promptly said 'well you must tell her that this is a gorgeous book and I LOVE that it has brief sections that I can just plop down and read in a few minutes'. So there you have it – my mother's a fan, too!
5. Peppered throughout are fantastic design tips that help people understand how to pair succulents and pots, instead of just telling folks what to do. I love it when people take the time to actually teach others, and teach she does – not only talking about the styles of pots available, but also about the basics of design (such as repetition of form and color, contrasting textures, etc).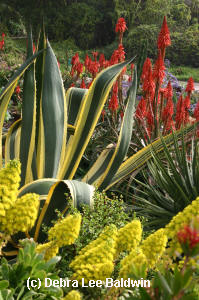 6. Of course her book goes into the specifics about the planting, care and propogation of succulents – something which will benefit every reader, experienced and novice alike.
7. The book ends with a chapter listing specific plants, but not listed alphabetically, but by design characteristic. For example succulents might be listed by Height, Color, Texture, Fillers, Flowers or Cold-Hardy varieties. Genius!
To sum it up, you simply must add this book to your garden book library. I have no doubt you'll use it over and over again for years to come!