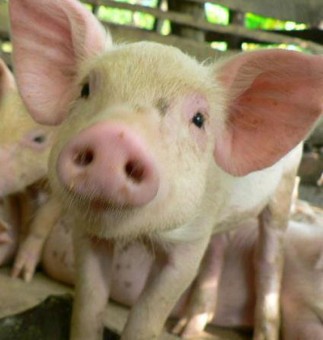 Today I heard from the doctor that I have the dubious distinction of officially being the first Landscape Designer in Northern California to have come down with the Swine Flu -and I survived!  True, I spent 4 miserable days in bed with a high fever, the achiest muscles I've ever experienced and a deep, wicked cough.   But, in and out of my fever, I had PLENTY of time to lay there in my comfy bed which looks out onto my garden and think.  Well…not really think, but to LISTEN.  I had such a bad headache, I couldn't really keep my eyes open, so I just layed there and listened to the noises around me.
.
It slowly dawned on me how beautiful my garden really sounded, despite my situation.  It was so pleasant to listen to all the birds feeding on the bird-feeders, and the canaries singing in their aviary.  We had a slight breeze blowing, causing the wind-chimes to create their music.  My husband turned on one of my smaller fountains so I could hear it in the distance, too.  And my neighbors, along with their 2-week old baby, were in their backyard so I could hear it's sweet, tiny cries off and on.  All in all, it was really quite peaceful.
.
And then I remembered  two videos which I made last Winter, talking about 1) Ways to attract wild birds to your garden, and 2) The different sounds of wind chimes.  Perfect timing, huh? I must've made them for this exact moment!  Funny how life happens, isn't it?
.
My advice?  Swine flu is coming!  Better prepare now, and get your garden's sounds in order…..
.
[http://www.youtube.com/watch?v=BAT01-Slsec]
[http://www.youtube.com/watch?v=Stp9hCPtz5c]