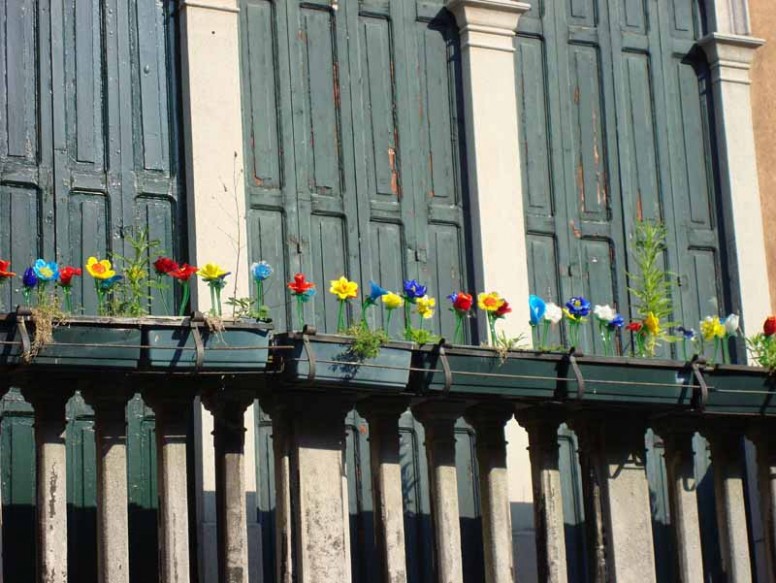 I just can't stop thinking about gardening up (can you blame me?)
When writing our first book, Garden Up, Susan Morrison and I had to draw the line somewhere, and unfortunately a few topics didn't quite made the cut.
Window boxes were one of them, and it's too bad because I feel that people don't use them enough in their gardens.
The Europeans have used window boxes for centuries, adorning their modest homes with small gardens overflowing with geraniums, succulents, and anything providing cheery color.
But where are ours?
Most of the clients whose homes I visit could certainly use a window box or two to add a little vertical interest to their gardens.  Personally, I have several window boxes in my garden, and just love them.
Not only because they're one more area in which I can garden, but they're perfect in tight spaces, and help draw the eye upwards.
Sure, a planting bed might look okay without it, but why not give your garden that extra punch?

Shady Spots
Many times window boxes are in the shade, due to the overhang of your home's roofline.
To provide months of color, while brightening up a gloomy spot, consider planting the window boxes with a mix of evergreens (such as ivy, ferns, and lamium) combined with colorful annuals (such as begonias, fuchsias and impatiens).

Sunny Spots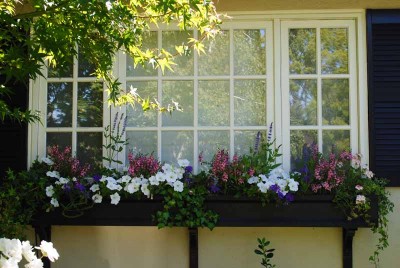 One of my window boxes (above) is in partial sun.
I love planting it with brightly colored annuals and perennials so I have a season's worth of blooms for the butterflies and hummingbirds that visit.
Or, I may choose colors for a specific holiday (like the orange and black violas for Halloween)

Succulents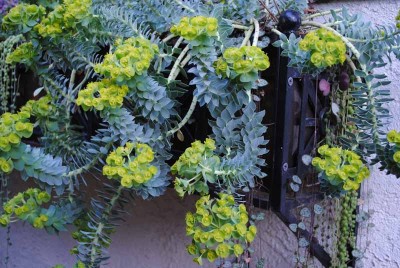 And don't forget the beauty of succulents!
Many are perfect for shadier areas, or those with partial sun. And because they're evergreen in milder climates, they provide year-round interest, as well.
One of my favorite succulents to plant in window boxes is the draping Euphorbia myrsinits. 
It snakes its way over the sides of the box with its spiky (yet soft) arms, then explodes with acid yellow blooms.
I always advise my clients to hook their window boxes up to irrigation if at all possible.  On a hot day, the limited soil in these boxes can dry out in as little as 24 hours.  And you just know a heat wave will hit as soon as you go on vacation!
If you're worried about the irrigation tubing looking unsightly, strategically place a draping plant in front of it to hide it! I find trailing ivy works wonders for camouflaging tubing.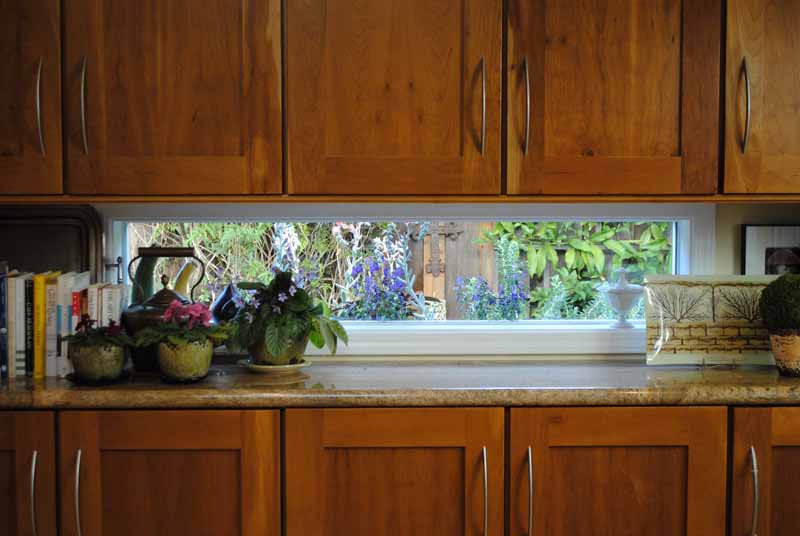 Don't forget how great window boxes look from inside your home as well!
This window box is placed just outside of my kitchen, and I make sure to always have it filled with flowers and colored foliage that I can enjoy every day of the year.
It's so much more fun than buying a bouquet of flowers at the store!
So what are you waiting for?  Surely there's a window box in your garden's future!