.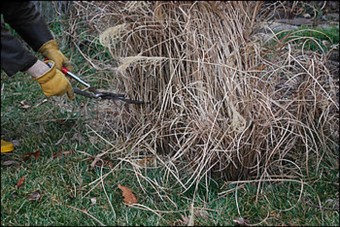 Here in Northern California (specifically the Bay Area – USDA zone 8b), ornamental grasses can look fabulous all the way through December.  But once the temperatures start to dip and the occasional frost hits, the grasses start to lose their form and color and one day you walk outside and all you've got is a big, messy clump.  Because our winters tend to be mild (average lows here are in the mid-30's) those grasses can 'hang on' for quite awhile… half alive-half dormant.  Many of my clients aren't really sure when to cut them down, or even HOW to cut them down.
.

Some people cut them back as soon as November – some cut them back in March – my advice?  Enjoy their golden color – yes, it's dormant, but it's Winter and they can still add a lot to the Winter landscape.  However, once their fronds really start to dry up, you'd better get out there and cut them back before you have a big storm and have a REAL mess on your hands.  That's usually in January or so.  If you wait too long to cut them down (March or April, for example) it'll be too difficult to cut back the old growth without hacking back the tender new growth inside of it.
.
Check out this video to see exactly what I'm talking about!
.
Need more help?  My friend Genevieve, at North Coast Gardening in Humboldt County has written a great article along with another video as well.  Between the two of us, you should be more than confident this coming Winter – get out there and tame those grasses!
.